Do you feel like this year is speeding by? I do! My family and I were just enjoying summer and trips to the beach, and now we are already firmly entrenched into the school year! It won't be long before my family will be planning dates for 2015, so we'll need a 2015 calendar! So I thought I'd make up my own free printable 2015 calendar for both my family and yours! Who couldn't use a free printable calendar?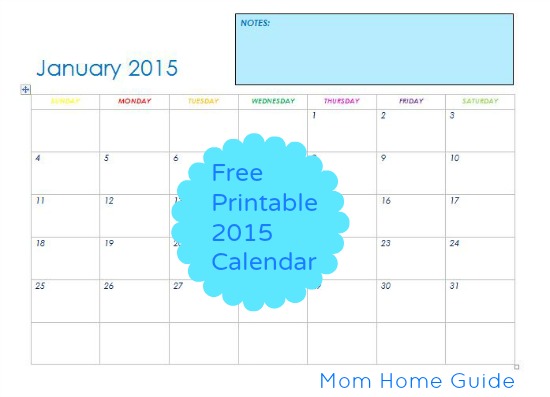 The free printable calendar has fairly large boxes for each date so hopefully there's room to track every family member's busy schedule! I am lucky that my kids are twins and like many of the same pursuits, so they share a few activities. Thank goodness! That's helpful for a busy mom!
I got my idea to make a free printable calendar from Abby from Just a Girl and Her Blog, who always makes great printables! Feel free to check out her free printable 2015 calendar, too!
More Free Printables
I have been into making fun printables to help keep my family organized, so be sure to check those out! I've recently made a free printable chore chart for tweens (or older kids) and a free printable weekly cleaning schedule. Hopefully these printables will help us manage our busy fall schedules more easily!
I am linking this project up at Creative Spark Link Party.