One night last week after getting home late from an evening full of my kids' after-school activities, we found that I didn't really have anything to prepare for our family's dinner in the fridge.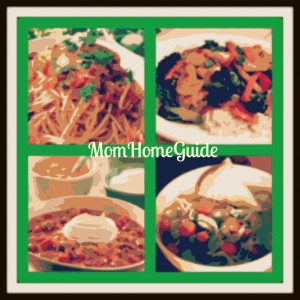 My kids didn't want to go to the grocery store, so instead of getting calorie-laden (and expensive) take-out food, I decided to prepare our family's meals from what I could find in our pantry. My husband and I had frozen French bread pizzas, and my daughters had boxed mac 'n cheese, one of their all-time favorite meals. To get a little green element in there, I opened up a can of peas.
Our meals weren't the best in the world, but they saved me from having to make a late-evening trip to the grocery store or order yet another pizza.
So, I decided to stock my kitchen's pantry and freezer with items that I can use to throw together as a busy mom for a few quick family meals in a pinch should I need to. These are some of the items that I plan to keep on hand:
Pantry Items
Black beans
Red Beans
Rice
Pasta
Diced tomatoes
Soft tortillas and hard tacos
Tomato sauce
Packets of chilli and taco seasonings
Chicken soup stock
Soy sauce
Assorted spices: Red pepper flakes, bay leaves and oregano
Freezer Staples
Cooked shredded chicken
Browned ground beef (some seasoned with taco seasoning and some plain)
Assorted frozen veggies
Ready to Go Meals
With these pantry and freezer staples, I'll have a few quick weeknight dinners to throw together when I have no other meals planned:
Pasta with meat sauce: Heat up browned beef in tomato sauce and pour over some pasta. I could also jazz up the sauce with any veggies I have on hand.
Soft and hard tacos: I could throw some tacos together with the browned beef or shredded chicken, and add some beans and diced tomatoes.
Chilli: For this, I would simmer some cooked ground and seasoned beef with beans and diced tomatoes, and serve it over some rice.
Stir Fry: For this, I would heat some of the shredded chicken in a pan with frozen veggies that have been sautéed in soy sauce. (In our family, we would probably add some red pepper flakes and a little sesame oil, which we always have on hand.) I would serve the stir fry over rice.
Chicken Soup with rice or orzo: To make this soup, I would put a container or two of chicken soup stock (I buy organic) in the crock pot, and would add some of the shredded chicken and frozen veggies. I would season the soup with spices that I have on hand, such as a bay leaf and oregano.
With these items on hand, I should be good to go for those weekday nights when things get just too busy for our family and the refrigerator isn't well stocked.