This shop has been compensated by Collective Bias, INC. and The Coca-Cola Company, all opinions are mine alone. #ServeWithACoke #CollectiveBias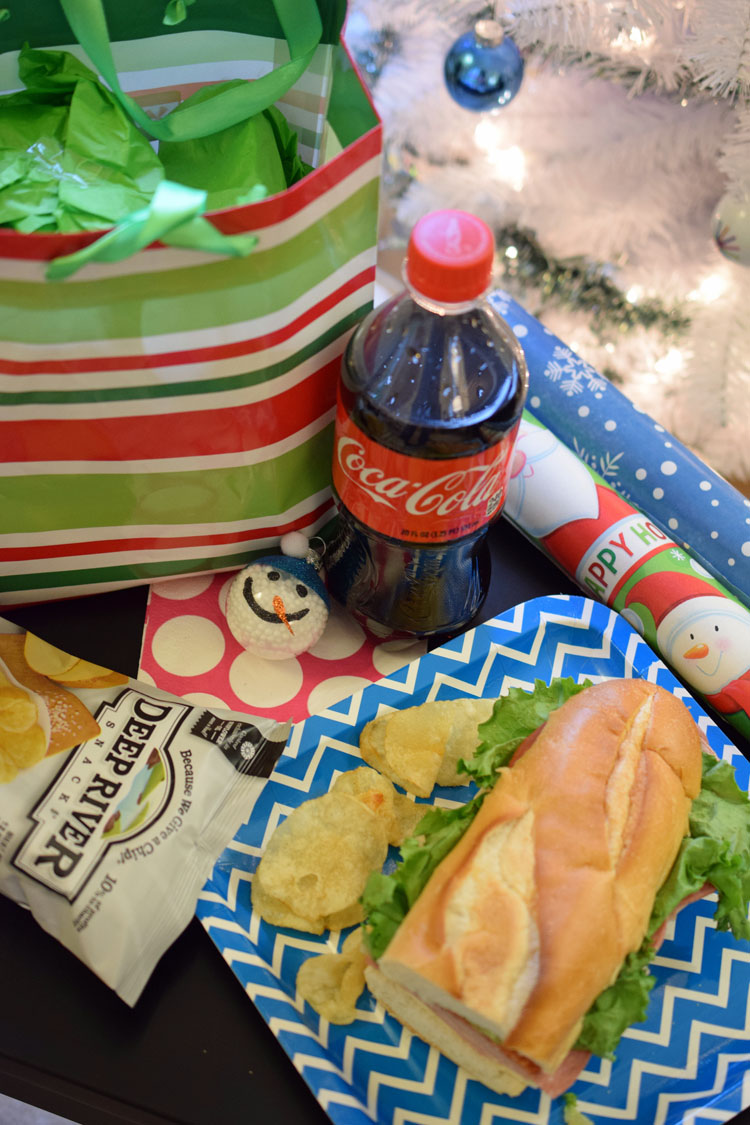 With Christmas around the corner, my family and I have so many presents to wrap! My teen daughters, husband and I exchange gifts with each other, family and friends. We also like to buy presents for local children in need. We like to wrap gifts together during a gift wrapping party to make wrapping presents easier and more fun. I put together some tips and ideas on how to have a a festive and productive mini gift wrapping party. You can use these ideas, too, with your family. Let's get started!
Making Gift Wrapping Easier
1. Provide food.
Before you start wrapping, bring home something to yummy to eat for your family.
A good choice is the deli meal combo at Stop & Shop. Each meal combo comes with a loaded half or whole sub, a fresh salad or wrap. You also get a 20-ounce Coca-Cola™ beverage and a side. You can choose from a 2-ounce bag of Cheese Fusions cheese bites, Deep River chips or Mott's sliced apples, or an .85-ounce package of Rods pretzel sticks.
For my meal, I chose a half Classic Italian sub, a bag of Deep River chips and a bottle of Coca-Cola. (My meal cost me only $6.) My half sub was filled with fresh cold cuts and was so filling that I enjoyed some the next day while wrapping gifts for my kids.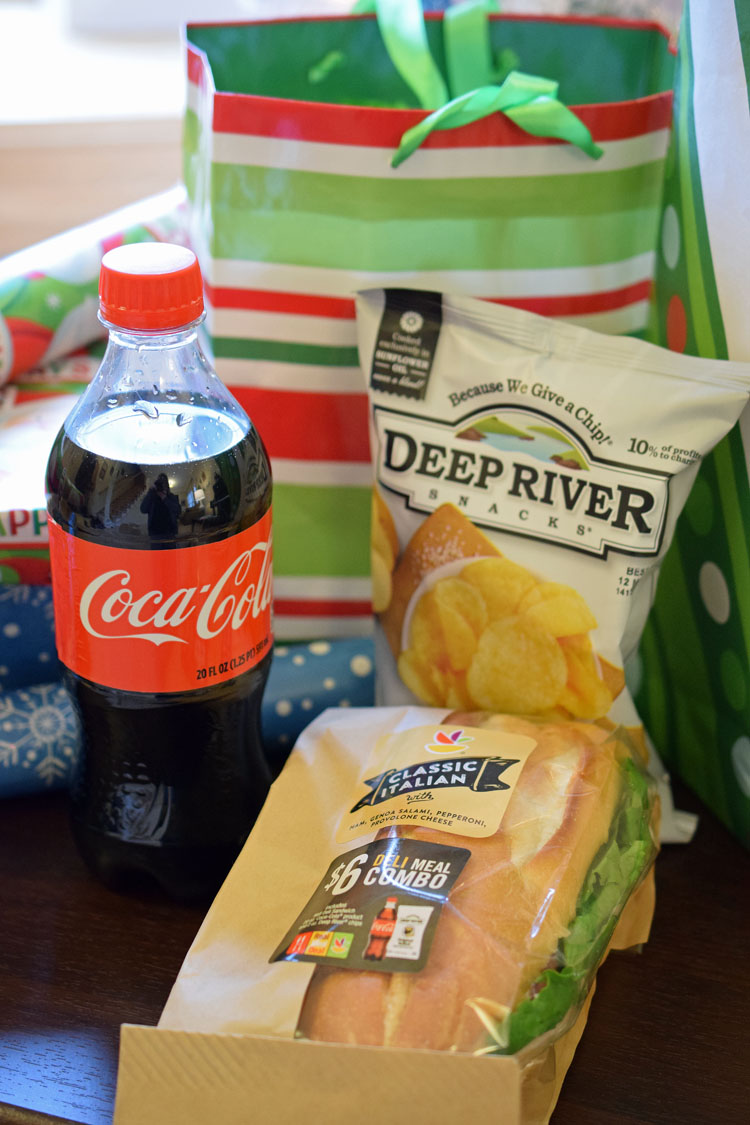 It didn't take me long to pick up the meals at Stop & Shop. I found the subs in the section where prepared foods are sold.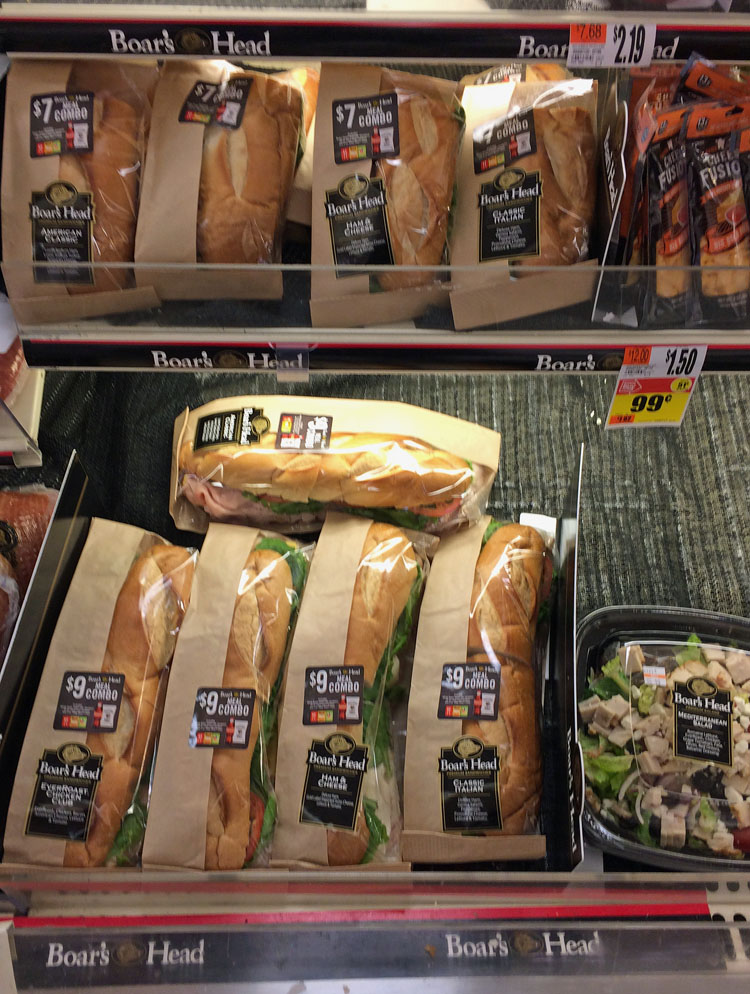 I found the chips in the same section of the store, just above the sub sandwiches.
I found cold Coca-Colas in a mini fridge where the check-out lines are.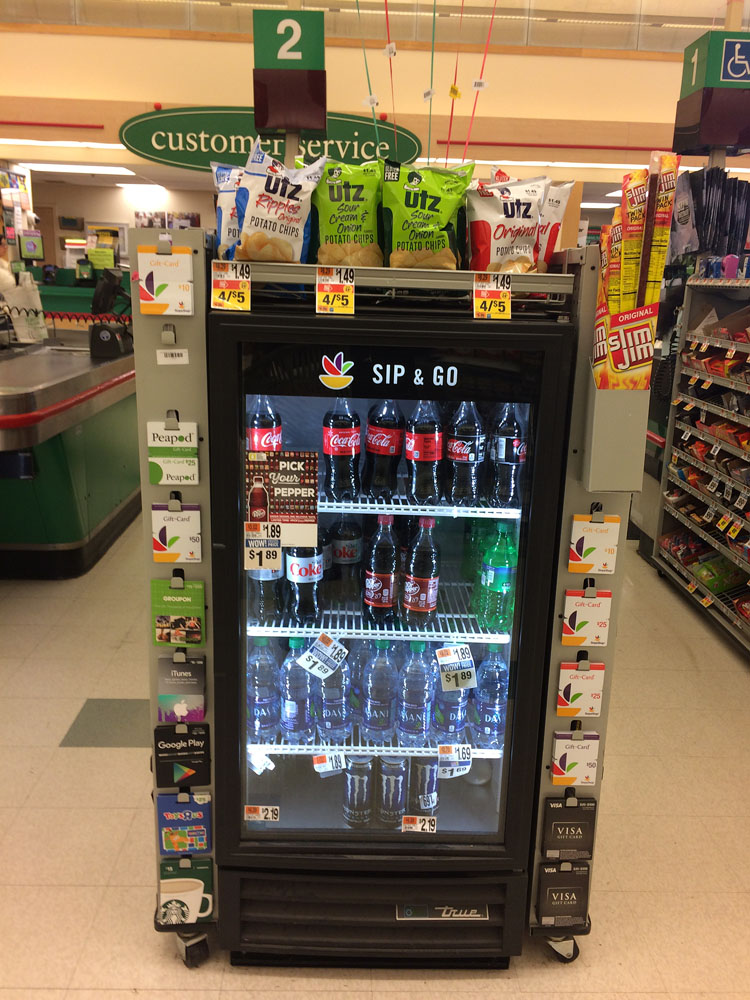 2. Stretch Out.
A big space is best for wrapping gifts, as is a flat surface. You could spread out your supplies on a clean floor or use your kitchen table. Wrapping is not as easy if you are in a tight space. You need room to roll out the wrapping paper. I like to set up gift wrapping supplies on the floor by the Christmas tree in our living room for a festive atmosphere.
3. Collect your materials.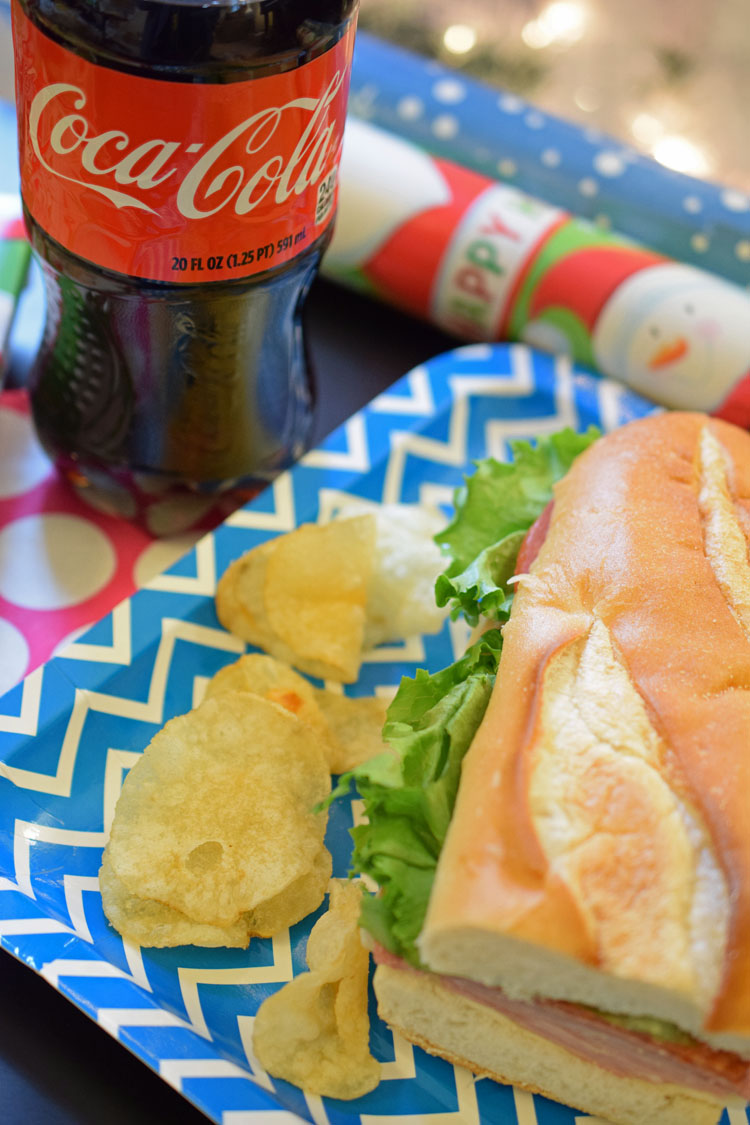 Get the paper, bows, tape, etc., you need to wrap your gifts beforehand. I usually keep my supplies in an extra large bin or tote.
4. Gather items to wrap.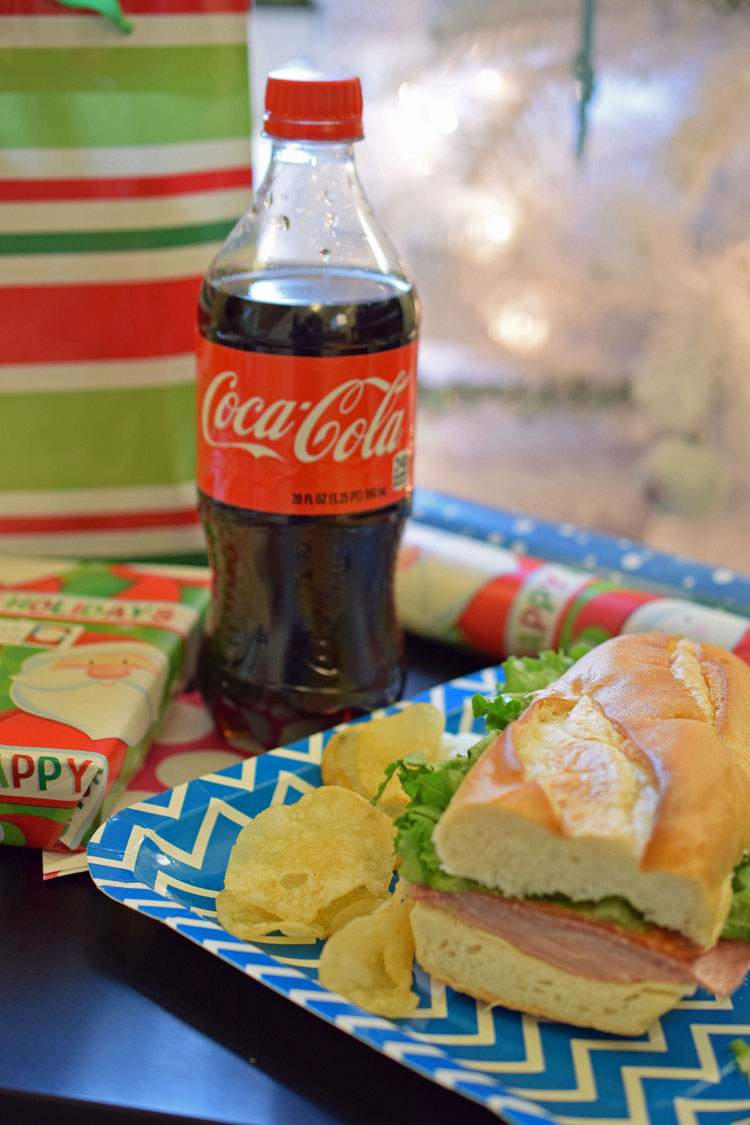 Locate the gifts you want to wrap. Believe it or not, this can be a tough task! I tend to stash gifts here and there and sometimes misplace them! If you can store your gifts in the same place before wrapping, you are more likely to find them – lol.
5. Enjoy some holiday music.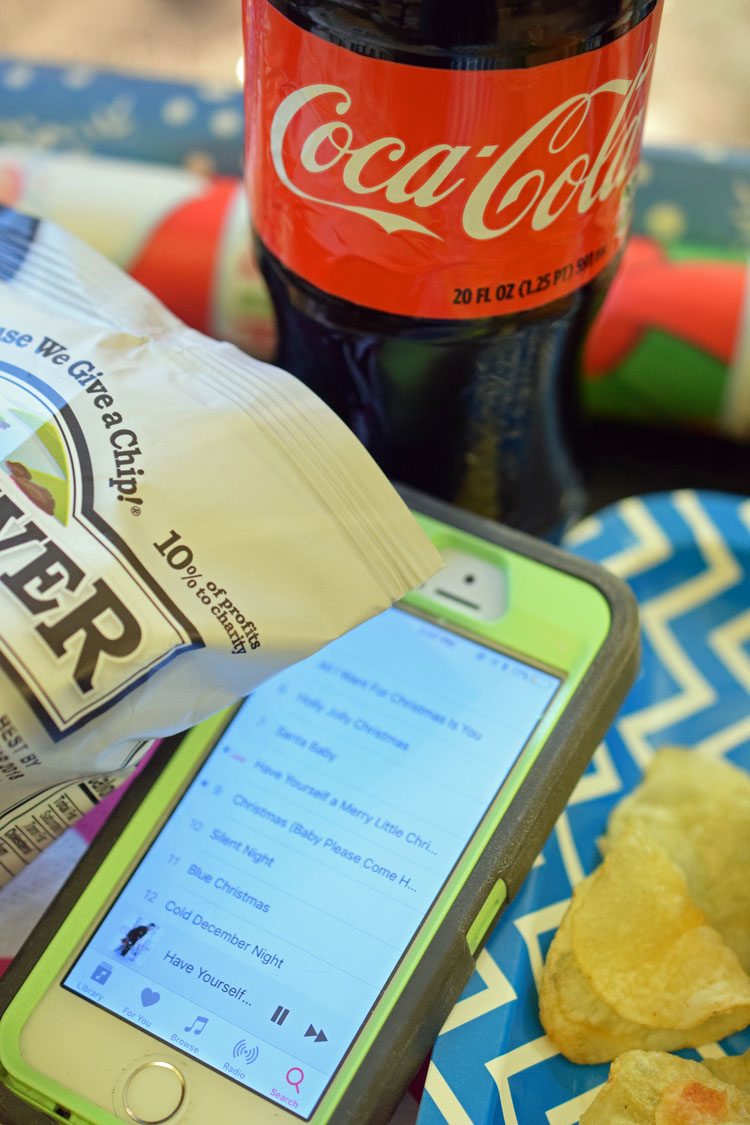 Christmas music can set the tone for a gift wrapping session. My choice would be jazzy renditions of traditional Christmas favorites that my daughters and I enjoy.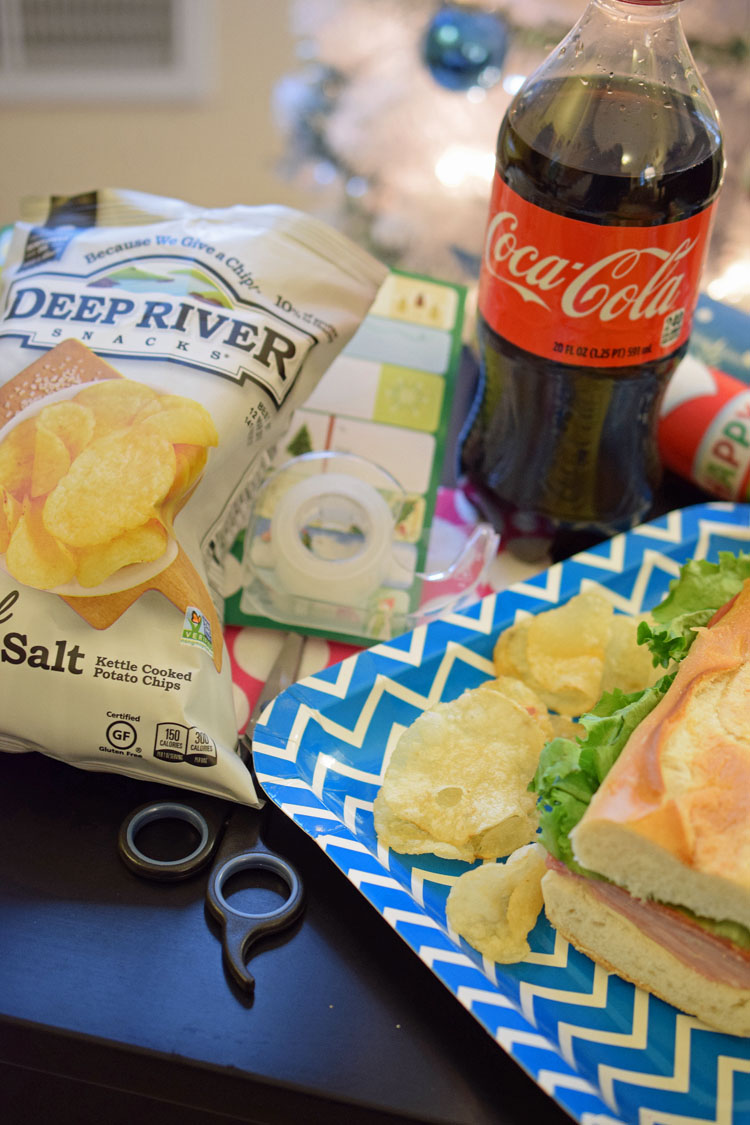 Happy Holidays!
These tips should help you and your family enjoy gift wrapping together. My family and I have some more Christmas gifts to wrap, so I might have to pick up some more Coca-Cola and deli meal combos at Stop & Shop! What meal combo or Coca-Cola beverage would you choose?
Does your family have any holiday traditions when it comes to wrapping and giving Christmas gifts? Please share in the comments! Here's wishing a wonderful holiday to all of Mom Home Guide's readers! 🙂