Cave Tools provided me a Stainless Steel 5 Hook Rack in exchange for my honest review. This post contains Amazon affiliate links.
It's warming up here in New Jersey, and I'm getting read to grill! Over the weekend, I prepped my patio's grill by giving it a good cleaning. I also got the DIY beverage cart that I made two summers ago out of the shed and cleaned that off, too. I think the cart will come in handy when grilling this summer. I added a useful and beautiful Stainless Steel 5 Hook Rack from Cave Tools to the cart to make grilling easier. (Check below for a coupon code to get a discount on this hook rack.)
I got my new Weber Spirit E310 Liquid Propane Gas Grill,
only 2-3 years ago, and I love it! In the summer, I try to make as many meals as I can on the grill. It's so much more fun to cook out in the fresh air than in the kitchen!
My new
Stainless Steel 5 Hook Rack from Cave Tools
was easy to install. It's been a while since I used my drill, so I just used an awl to pierce two small holes for the screws in my beverage cart. I then used the screwdriver that came with the rack to attach the screws.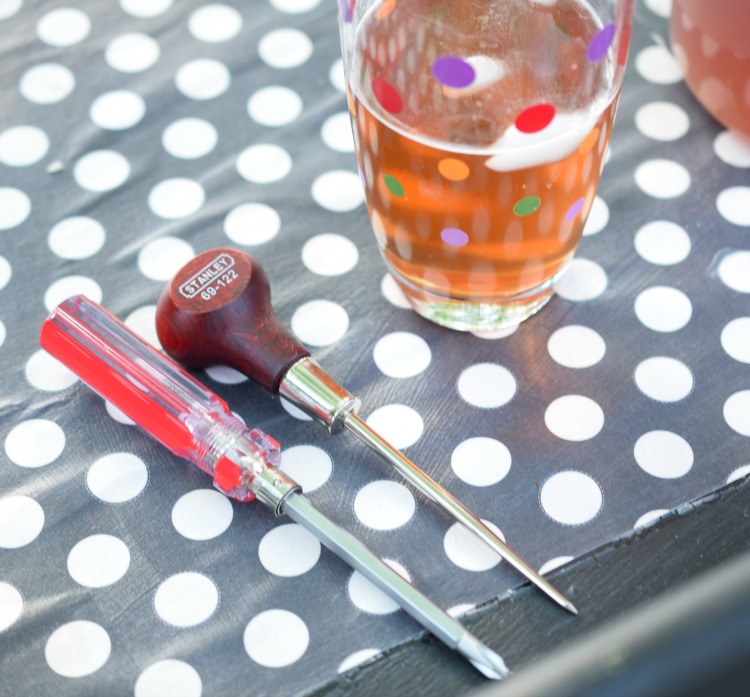 This is a closer look at my new and helpful tool holder for the grill — now I'll have a place to put my tongs and spatula while grilling! (Before I added this rack to my beverage/grill cart, I was thinking of installing it in the kitchen. I could use more mug storage space for my kitchen's coffee/tea/Keurig bar.)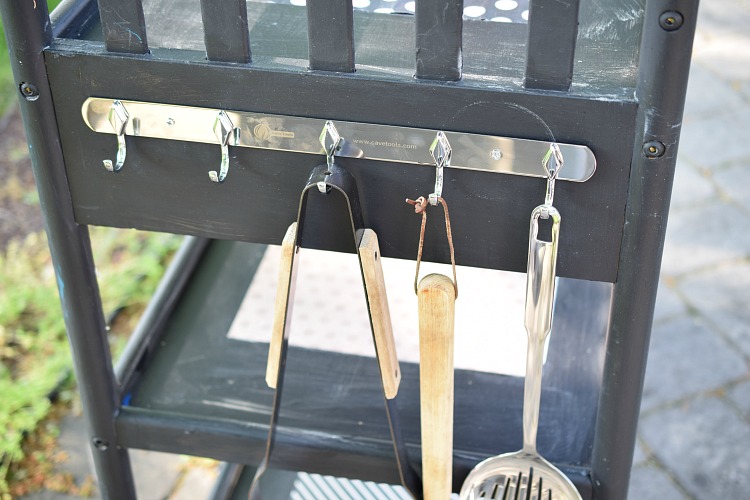 I first put my beverage cart to work at my sister's wedding shower. The cart is actually a baby changing table that I painted with black chalk paint. The table is quite handy! I've been needing a table to keep by the grill when prepping food on the patio, so I thought the beverage cart would be a great place to place my new Stainless Steel 5 Hook Rack.
This is a look at my grill and my DIY beverage (and grill) cart. You can see that I added a big pitcher of iced tea to keep me refreshed while grilling!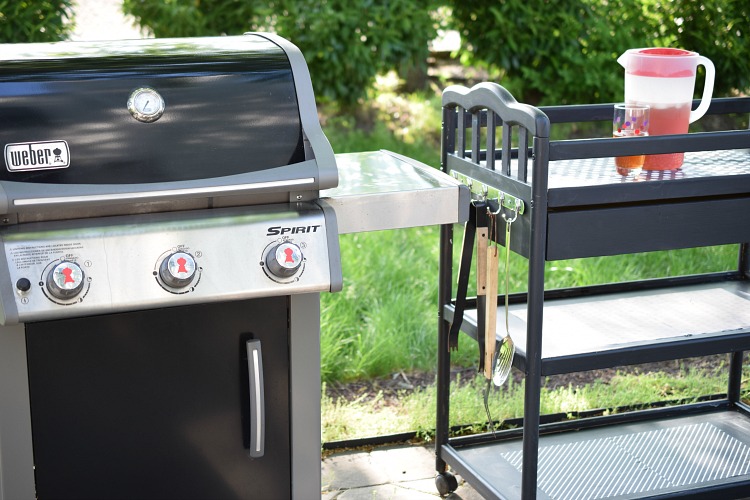 My daughters and I are hoping to grill some homemade pizzas soon. My "new" DIY grill cart with its Stainless Steel 5 Hook Rack from Cave Tools will be very useful!
Check back later this month — I am hoping up update my patio with some potted flowers, and if I'm lucky, I'll get our patio pond up and running with some goldfish and water plants!
Are you looking for a really cool hook rack? Use the code HOOKRACK15 to get 15% off the Stainless Steel 5 Hook Rack from Cave Tools.