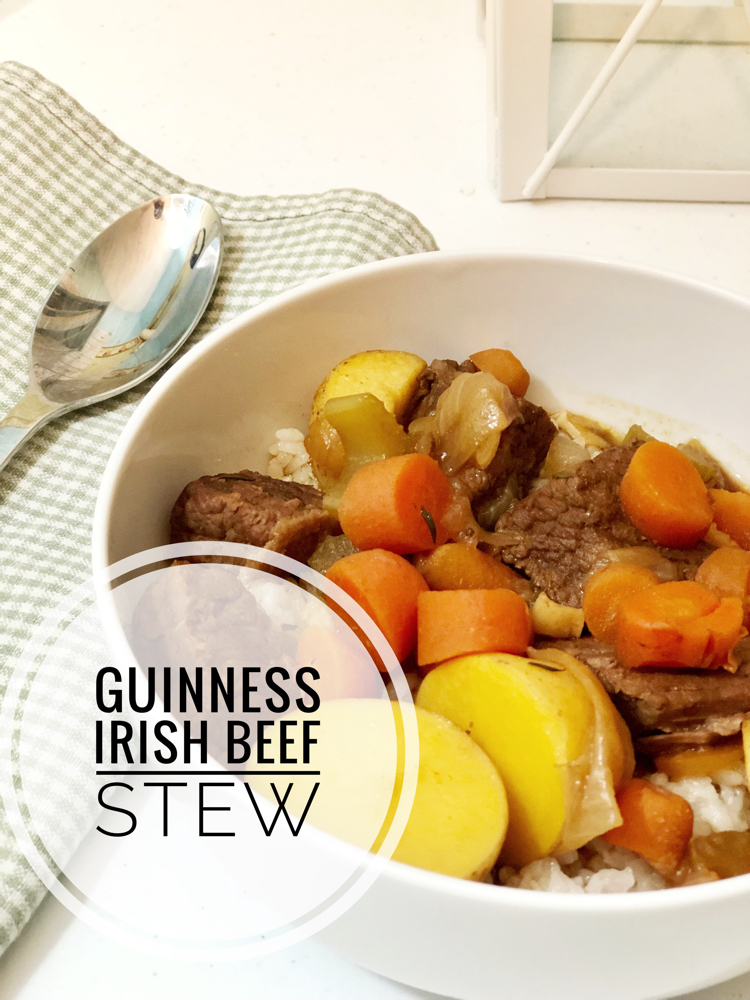 I've always known I'm a little bit Irish — I've been told that one of my great grandparents was from Ireland. I recently completed a genetics test from Ancestry.com. The results told me that 20% of my Ancestry is from Ireland and Scotland. I'm celebrating St Patrick's Day with some extra vigor this year! I love beef stew — so I made a big pot of Guinness Irish Beef Stew for my family Friday night. It was a hit! The stew features melt-in-your-mouth, tender beef, carrots and potatoes simmered in full-bodied Guinness Extra Stout beer. I am sharing this recipe as part of the Taste Creations Blog Hop. Each month, my blogging friends and I get together to share recipes along a particular theme. This month's theme is beer and Irish whiskey, in honor of St. Patrick's Day! Be sure to check out my friends' Baileys-infused recipes at the end of this post. With my Guinness beef stew recipe and my friends' Baileys dessert recipes, you can have a fabulous St. Patrick's Day meal! Like this recipe? Be sure to PIN IT HERE.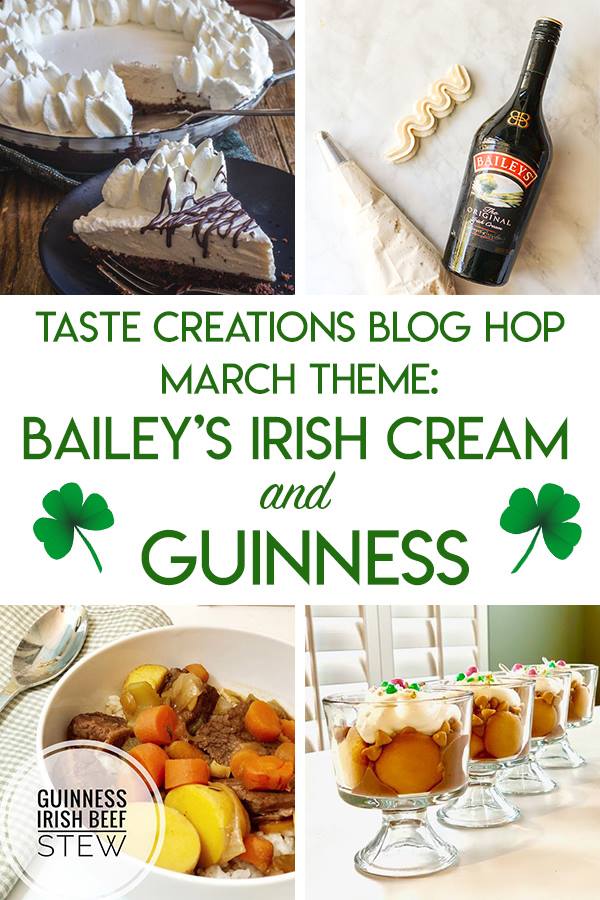 Beef Stew with Guinness Extra Stout Beer
I'm not normally a beer drinker. I appreciate how beer and wine in a recipe can enhance the taste of food, however When I tried a sip of Guinness Extra Stout while making my stew, I liked it! I think it's because Guinness Extra Stout is a creamy beer. Guinness Extra Stout features a significant amount of unmalted barley — which is also why I think I like it. I love the taste of Korean barley tea (boricha), for example. The beer in this recipe creates a tasty multidimensional base for this stew. My teen daughters love this stew — it doesn't have an overpowering beer flavor to it. I adapted my recipe from Laughing Spatula. I love how easy this recipe is. After you cut up the ingredients and brown the beef, most of your work is done. (The stove or crockpot will do the rest of the work for you.) If you'd like to make this recipe even easier, you can use pre-cut stew meat from the grocery store instead of carving up a roast on your own.) I used a roast that I cut up since that way I was able to get exactly the amount of meat that I needed.
Easy Guinness Beef Stew Recipe – Cook on the Stove or in a Slow Cooker
(Recipe adapted from Laughing Spatula) Ingredients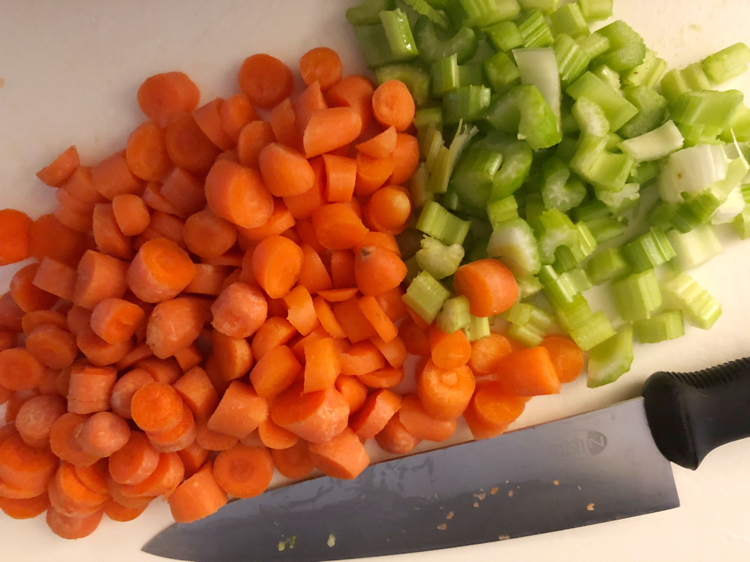 2.5 pounds beef chuck roast, cut into 1″ pieces 1 large white onion, chopped 4 large garlic cloves, chopped 1/3 cup all purpose flour 1 12-ounce Guinness Dark Beer (I used Extra Stout) 3 tablespoons tomato paste 4 carrots, peeled and chopped 1 pound small white potatoes, halved 4 cups beef broth 1 tablespoon Worcestershire sauce A few sprigs of fresh thyme 1 teaspoon salt (add more to taste) 1/2 teaspoon pepper (add more to taste)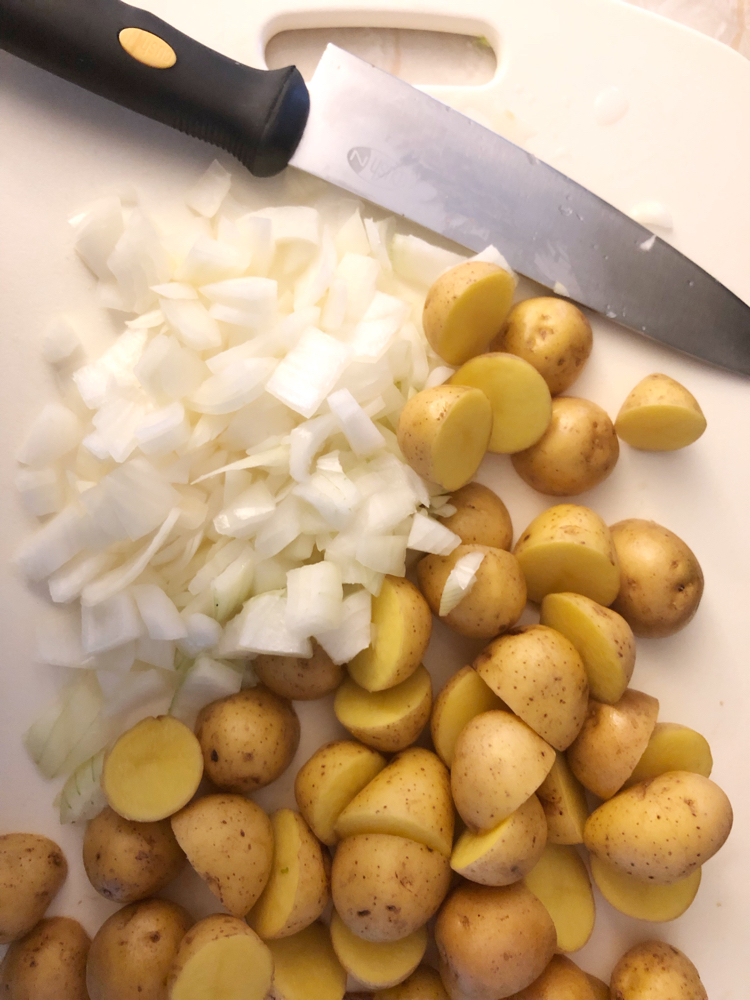 Heat a large dutch oven or soup pot on the stove. Add one tablespoon of olive oil. Season the meat pieces with salt and pepper. Brown the stew meat. Remove meat and set aside.
Add onion to pot or Dutch Oven. Cook until the onion is translucent. Add garlic and cook 2 more minutes.

Add flour to the onions in the pot and cook for 2 more minutes. Add the Guinness. Simmer until the mixture has thickened.

Add the tomato paste and stir until it has dissolved. Add the beef stock and bring the mixture to a simmer.

Throw in the potatoes, carrots and seared beef along with the juices. Add the thyme, 1 teaspoon salt and 1/2 teaspoon pepper. (If using a slow cooker, pour the mixture in now. Turn to low and cook 4-5 hours).

Taste the mixture when the meat is cooked through. Add more salt and pepper if needed.

When the meat is fork tender, your stew is done. Serve the stew with rice or with fresh bread. (I served the stew with white rice cooked in my family's rice cooker.)
Recipe Notes
For Slow Cooker: Follow instructions 1 thru 5 and add the ingredients to a slow cooker. Cook on low for 4-5 hours or high for 2-3 hours. The stew is done when the meat is tender.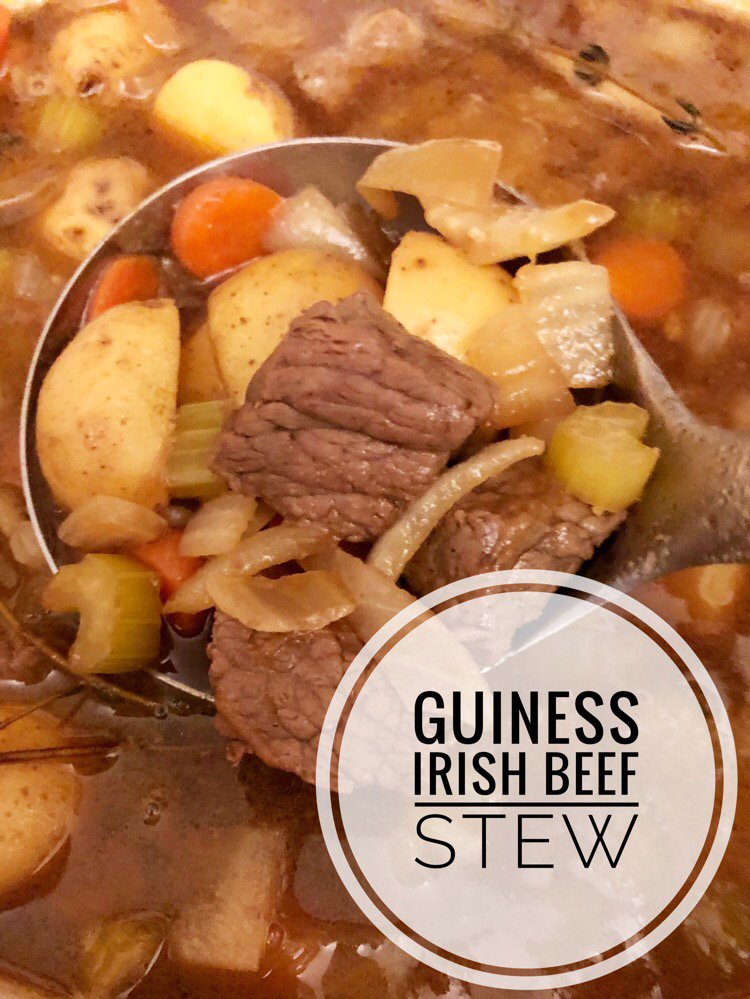 Check out my friends' delicious beer and Baileys recipes: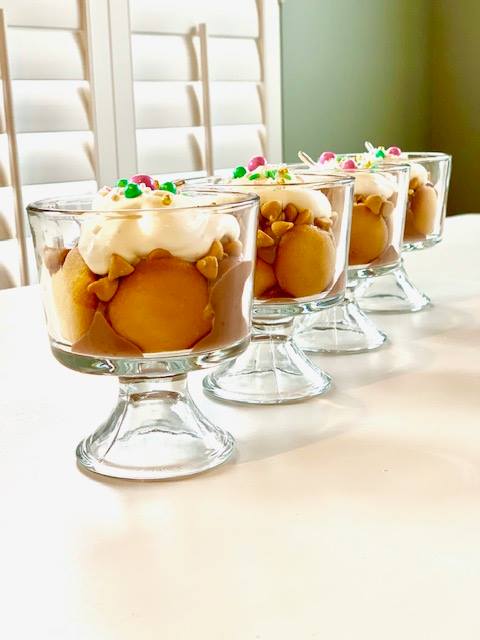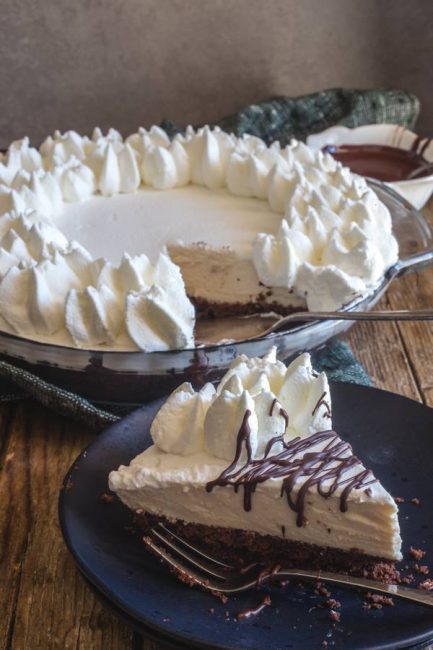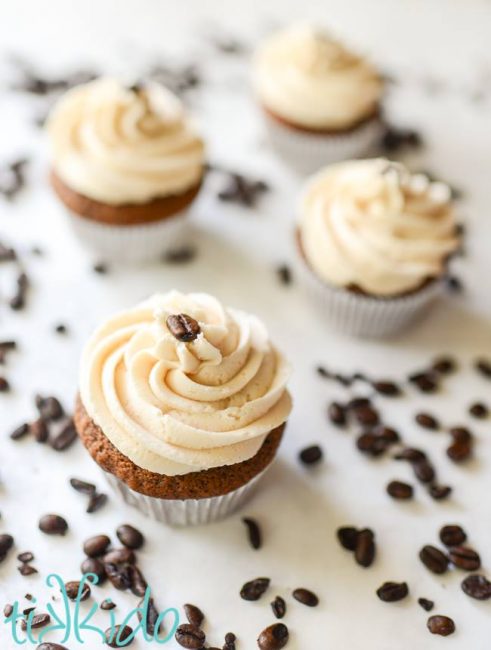 This project was shared at the Homestyle Gathering Party.