Happy Friday, everyone! I am still little bit behind on things, since I have been working on rehabbing my wrist (which I broke in January). I have been feeling a little down about the wrist (since I am not sure how the metal plate and screws will affect my wrist's mobility in the future), so I decided to share with you one of my favorite projects from last year. I sewed and hand-stenciled this valance for my home's powder room last year. I think the valance has a great message and is uplifting, since it has powerful and hopeful words like "love" and "family" stenciled on it. You should try this project — it is really a fun and easy project, and my kids love it!
Lately, I've been noticing beautiful stenciled burlap curtains and projects on Pinterest and on other blogs. I especially like the stenciled burlap pillows that I found on blog, Ugly Duckling Transformations — beautiful! So I decided to make a stenciled burlap curtain for my home's downstairs bathroom — the bathroom that guests to our home usually see.
Faux Stenciled Burlap Curtain
I like the look of burlap, but I wanted my stenciled burlap curtain to look a little more modern, so I chose a heavy but smooth piece of scrap fabric from my local Joann fabric and craft store for my project. I got my fabric for just over $12, so it was a steal! I also picked out some self-stick fabric stencils (with words like "love," "family," and "hope") and fabric pens (in black, gray and glitter black) for my stenciled burlap curtain project.
I then taped the fabric to the pool table that sits in my living room (the pool table is covered with a heavy vinyl cover) and placed some newspaper under the fabric for extra protection. I then got to work! The project wound up taking me a few days, since I stenciled whenever I had a few extra minutes — adding all those stencils took longer than I thought it would!
Once I finished my stenciling, I ironed my fabric, and used fabric tape from Stitch Witchery to seal my edges and to create a pocket for my curtain rod. I also opted to use the Stitch Witchery because I didn't want to see any stitches in my curtains.

It was then time to hang my curtain. I hung the stenciled burlap curtain in our downstairs powder room, which already had a curtain rod up, so the job was pretty easy. I think the curtains came out pretty well — what do you think?
You Might Also Like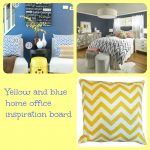 Yellow and Blue Inspiration Board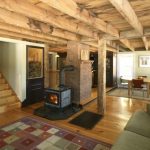 Ideas for Cheap Basement Remodeling