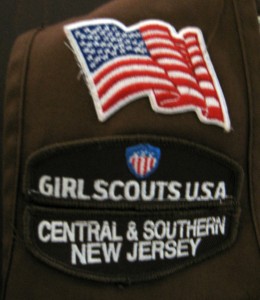 I am a Girl Scout Mom. My daughters are both Brownies, and I co-lead their Brownie troop with a friend and neighbor. We've been Girl Scouting together for almost four years now, so today I'd like to take the time to wish Girl Scouts a happy 100th birthday!
Girl Scouts was founded 100 years ago today in 1912 when Juliette Gordon Low founded the first ever Girl Scout troop (of 18 girls) in Savannah, Ga.
There are many reasons to like Girl Scouts, such as how the organization fosters self-confidence and community among young girls. Over the years, these are the reasons why I appreciate my own little Girl Scout community of Brownie girls and moms:
Our Troop has become a cohesive unit of girls, one on which hopefully our girls can rely for support and friendship as they mature and go on from elementary school, to middle school, high school, college and beyond.
 We've shared many fun and educational activities over the years with overnights, park cleanups, yoga and fitness sessions and tours of local businesses about town. We have participated in parades and have given back to our community through charitable food drives and park cleanups.
 The moms in our troop our great – they pitch in often and definitely contribute to our troop's overall experience. We even recently enjoyed our own "moms' night out," during which we painted pottery and enjoyed wine, cheese and other goodies.
 Our troop meets tomorrow night, and as we blow out the candles on our Girl Scout birthday cupcakes, I'll make a wish for several more happy years of scouting for our girls!