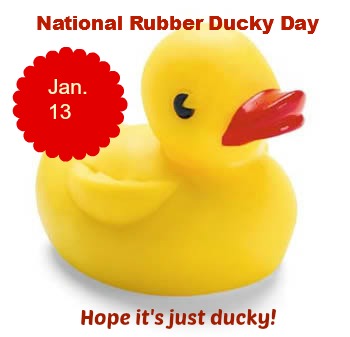 I bet you didn't know it, but today is a special day! That's because it is officially national rubber ducky day! I didn't know about the holiday until just a few days ago, but I am sure glad that I found out!
I have been a fan of the rubber ducky ever since I saw Jim Henson's Ernie sing the rubber ducky song on Sesame Street on TV. I sang that song all the time as a child! I used to sing the song to my kids when they were tots, and my daughters told me they always loved when I sang that song! I never knew all the lyrics to the rubber ducky song, but now I do!
RUBBER DUCKIE
Ernie (Jim Hanson)
Rubber Duckie you're the one
You make bath time lots of fun
Rubber Duckie I'm awfully fond of you
Rubber Duckie joy of joys
When I squeeze you, you make noise
Rubber Duckie you're my very best friend it's true
I find a little fellow who's cute and yellow and chubby
Rub a dub dubby
Rubber Duckie you're so fine and I'm lucky that you're mine
Rubber Duckie I'd like a whole pond of you
Rubber Duckie I'm awfully fond of you
To celebrate the day, why not give a rubber ducky to a favorite someone, sing Ernie's rubber ducky song, or take a bubble bath with a little rubber ducky — like Ernie!