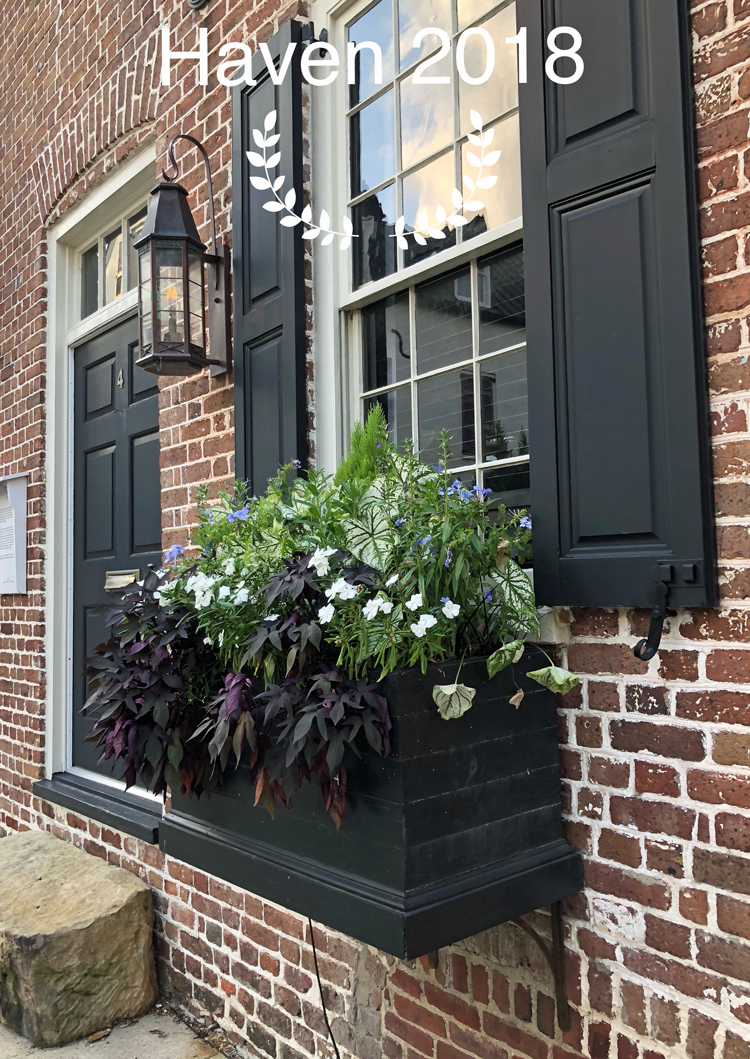 Late Sunday I returned home from attending the 2010 Haven DIY and design blogging conference in Charleston, S.C. It was a whirlwind of a trip! I finally got to meet my blogging friend, Carrie of Curly Crafty Mom, in person, learned great blogging tips, tried out and saw some wonderful crafting and DIY products and made many new friends.
I arrived in Charleston, S.C., on Thursday afternoon, a day before the conference started on Friday. I was invited to lunch with a bunch of sweet and wonderful bloggers at the Saffire Restaurant in the Charleston Marriott, hotel. That's the hotel where the conference was being held and where I was staying. It was so nice to connect with bloggers whom I've admired and connected with online for some time now!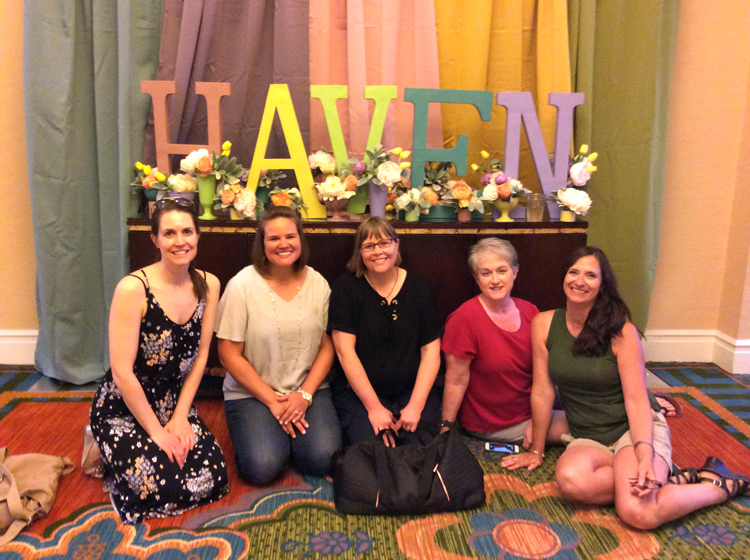 Among those I lunched with are Marissa of Squirrels of a Feather, Jennifer of Eight Hundred Furniture, Julie of My Wee Abode and Sonya of Sonya Burgess.
At lunch, but not in the above photo (but in the photo below) were Rita of Harbour Breeze, Lynne of My Family Thyme, Michelle of Our Crafty Mom and Leanna of Faeries and Fauna.

Meeting and Making Friends at Haven
Thursday evening I finally got to meet my good blogging friend, Carrie of Curly Crafty Mom! She and I have been friends ever since I was chosen to be her secret Santa by influencer advertising agency, Clever Girls, more than 3 years ago. It was wonderful to finally meet in person!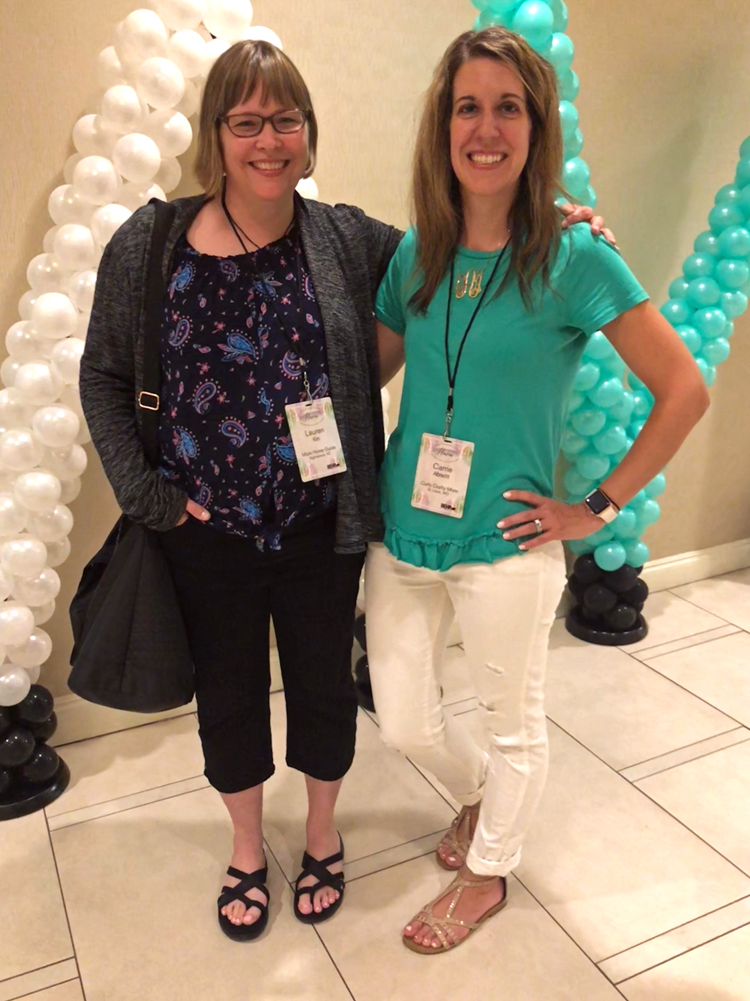 Carrie and I had a late dinner with her husband, Brian, at the hotel. (Carrie's flight got delayed!) We all ordered the same dish — the seafood trio, which had scallops, BBQ shrimp, crab cakes, veggies and fries. I enjoyed a sweet tea with my dinner — I was drinking sweet tea constantly during the trip!
Even though we weren't roommates (I had my own room and Carrie brought her husband, Brian, along), we exchanged "roomie" gifts. Carrie gave me a really sweet gift of a beautiful wooden bead garland with a tassel she made, a white ceramic farmhouse strawberry crate, a business card holder and a cute sign she got from a store at an orchard near where she lives in St. Louis, MO.
I haven't unpacked my Haven bags yet (I'm wiped out from the trip), so I'll be sharing those gifts here later! I think the adorable items from from Carrie will look great on my home's living room console table.
Roomie Gifts and Blog Conference Swag Bags
I got Carrie some gifts that I thought she could use at the conference. I got her a face mask, makeup remover wipes, a coaster/mini easel set, a mini notebook, some hand lotion, and a ring binder and hole punch for organizing all those business cards one accumulates at a blog conference. The photo below is one Carrie took of her gifts.
I think Carrie's gifts were so much cuter than the ones I gave, so I'm planning her birthday gifts now! (Her birthday is in a little over a month.)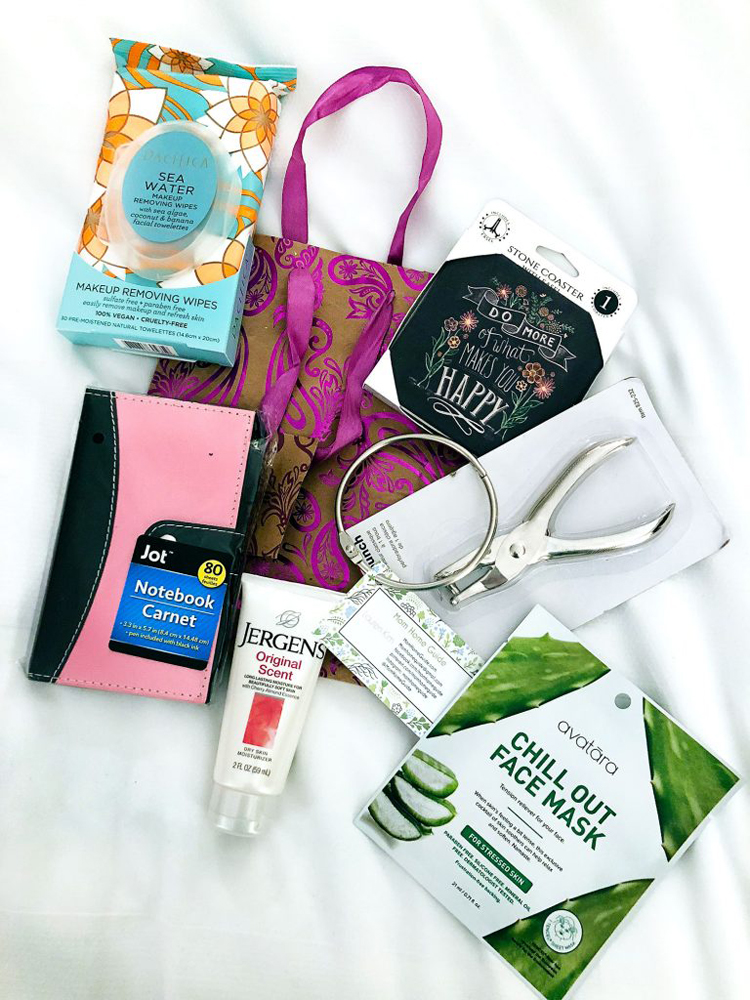 After I got back to my room, I Facetimed with my husband and daughters and checked out my Haven swag bag. I found lots of fun goodies in the bag! The below is a photo I took of my swag bag for Carrie, since she got in later and was curious to see what everyone was getting!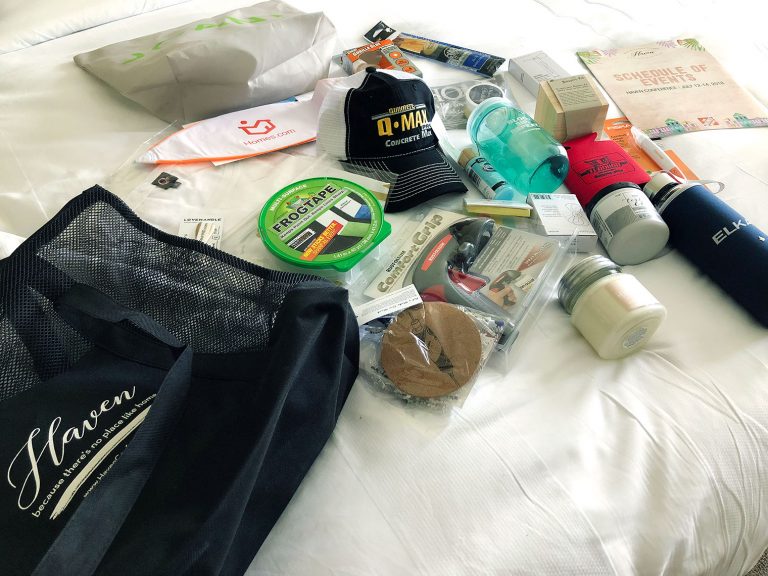 Thursday was a busy day, and the conference didn't technically start until Friday! So much happened during and after the conference — I will be sharing that here later this week!