Earlier this month, I wrote about my first and second days at the Haven Conference in Charleston, S.C. Today I'll be sharing about my final day at the conference and the day after, when I toured Charleston with my new blogging friend, Lynne of My Family Thyme.
Haven is a three-day conference for bloggers who mainly work in the DIY, decorating and design blogging space. The first day I got to meet my blogging friend, Carrie of Curly Crafty Mom. We've been blogging friends for more than 3 years and it was so nice to finally meet in person!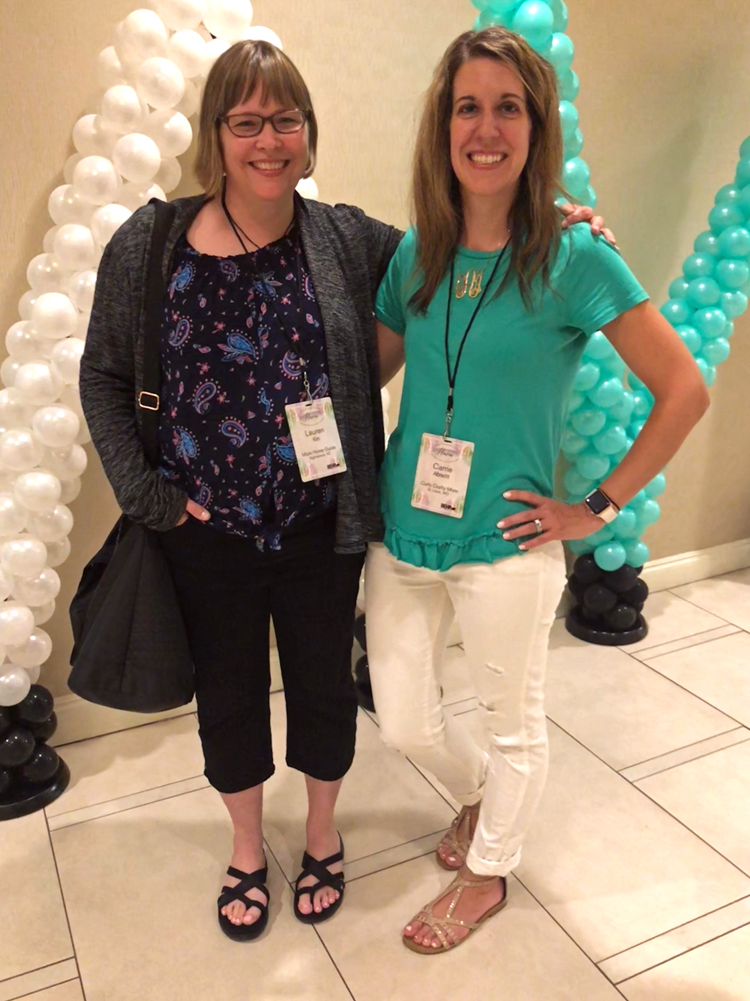 Home Depot Orange Tank Competition
The main event for me on Saturday was Home Depot's Orange Tank competition. About a week before the conference, I was told that I was one of 12 finalists out of about 72 entries in the Orange Tank Competition. The Orange Tank Competition at Haven is a contest in which bloggers pitch their dream DIY projects to Home Depot in three budget tiers — $500, $2,500 and $5,000. Home Depot awards the winners of each tier the money they need to complete their DIY project. I competed at the $500 tier.
Puppy Friendly Garage Mud Room
The DIY project I proposed was creating a puppy friendly mud room space in my home's garage. My family and I adopted a Shih Tzu puppy in January. He makes quite a mess in our house when he comes in from his walks — I find dirt and leaves everywhere!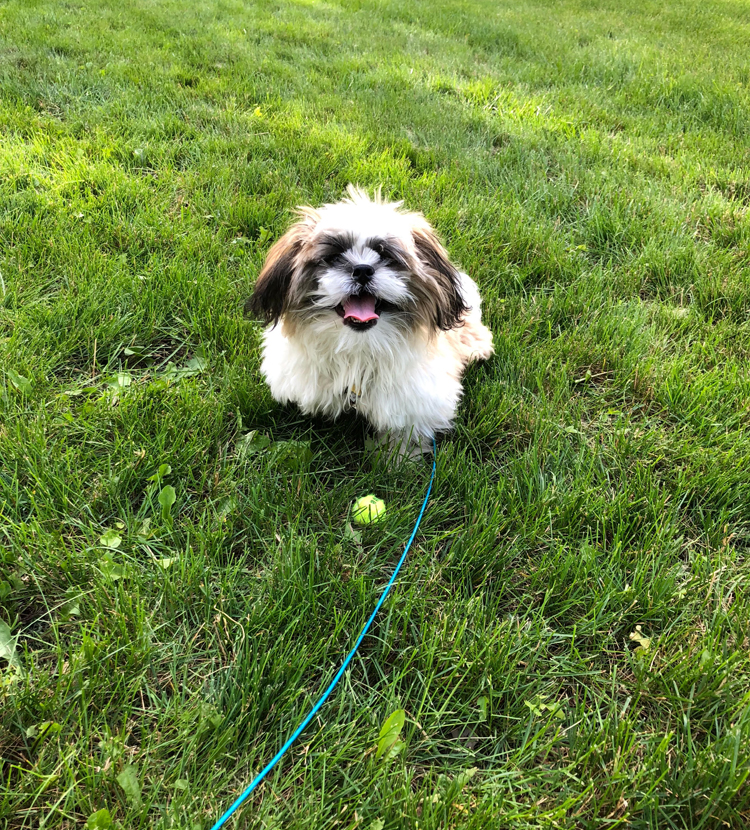 Our garage has a side door entrance from the outside, and another door that leads from the garage to our laundry room. The laundry room leads to our home's family room. It would be great if our puppy could shed some of his dirt in the garage before entering our home! At the moment my home's garage is quite messy, and nobody really wants to go in there.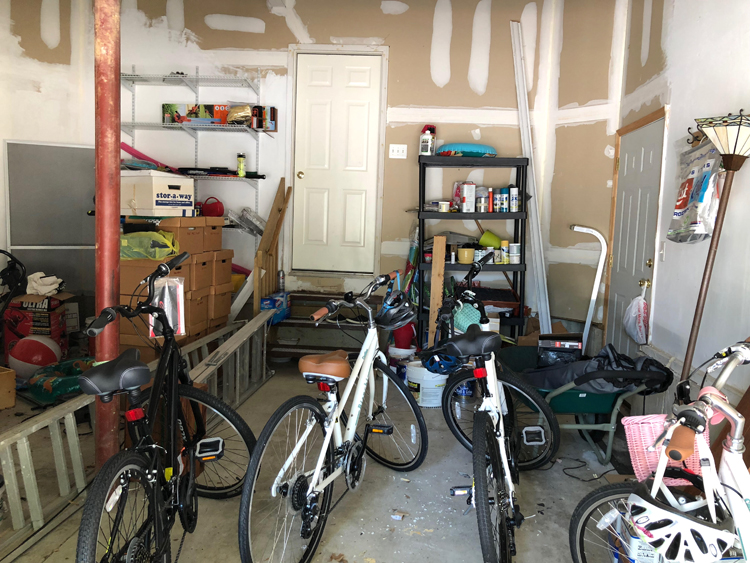 To present my idea for a puppy friendly mud room area to Home Depot, I created an inspiration board to show my ideas for the space. I was the first person to present at the competition — you can see me presenting my idea below. I was a bit nervous doing my presentation, but I think the presentation went well overall.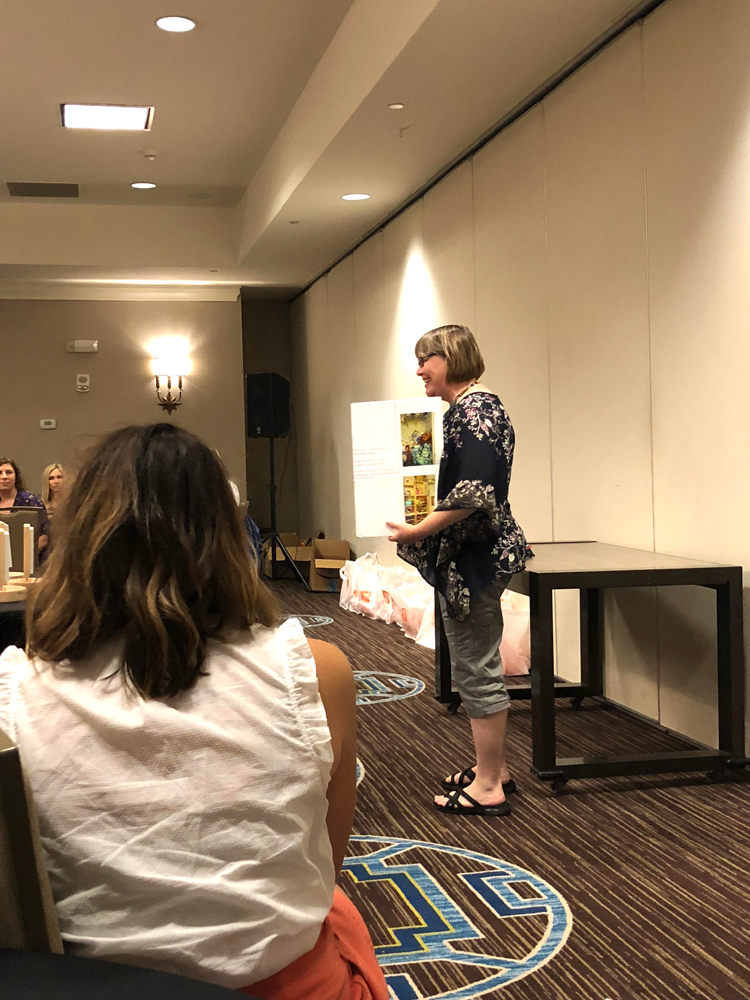 The below image is a closeup of how I'd like to transform a portion of my garage into a puppy friendly mud room space.
In my presentation, I detailed how I'd lighten and brighten the garage space by painting the walls white and adding a gray epoxy coating to the garage floors. I'd add wall shelving for puppy's food, toys and grooming supplies. I'd make and hang on the wall a DIY dog treat and leash holder. I'd also stencil a cute paw print welcome mat and add storage for our coats and shoes. I'd make space for our mud room area by hanging the bicycles and ladders currently stored in the garage on the walls and ceiling. I would also add fun pops of color to the space with colorful storage bins, and puppy-related stenciled patterns.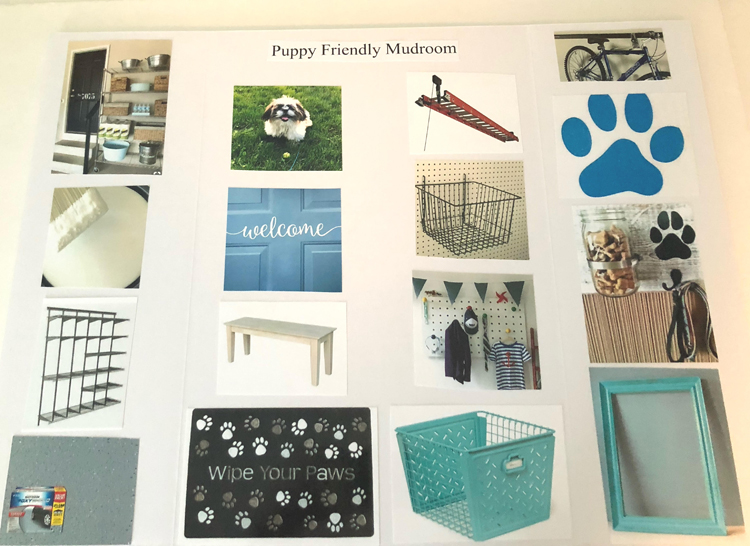 I didn't win the competition, but I did receive a gift bag from Home Depot filled with a Home Depot travel mug and a $100 Home Depot gift card.
The card should cover some of my expenses for the project! I've already received some cute paw print and bone stencils from Stencil Revolution and Colorshot Spray Paint in Island Girl . So I have some of the materials I need to start my garage to mud room transformation!
Night on the Town
Saturday night I got together with my blogging "bestie," Carrie of Curly Crafty Mom, and her husband, Brian, and went into Charleston for a fun night on the town that Carrie planned for us. She did a great job planning! The first event of the night was a beautiful carriage ride through Charleston. We passed Charleston's beautiful waterfront area, and toured historic sections of the city.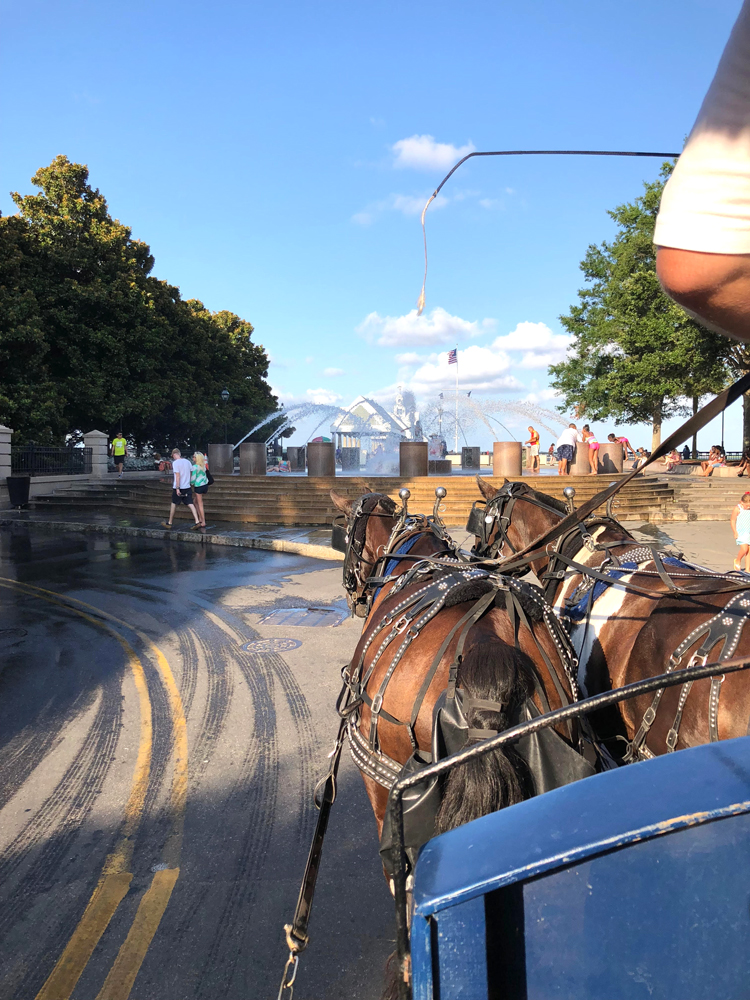 Before dinner we walked over to Rainbow Row — a street of colorfully painted historic homes in the city. So pretty!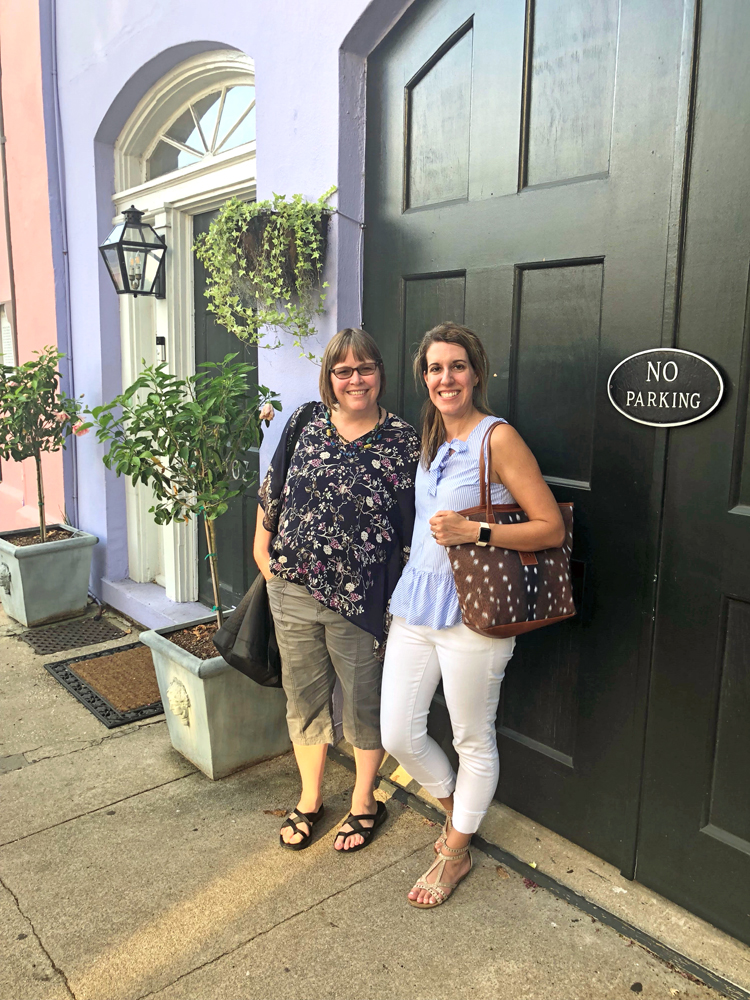 We went for dinner at Poogan's Porch on Queen Street. The restaurant is in a beautiful old Victorian home and features LowCounty cuisine.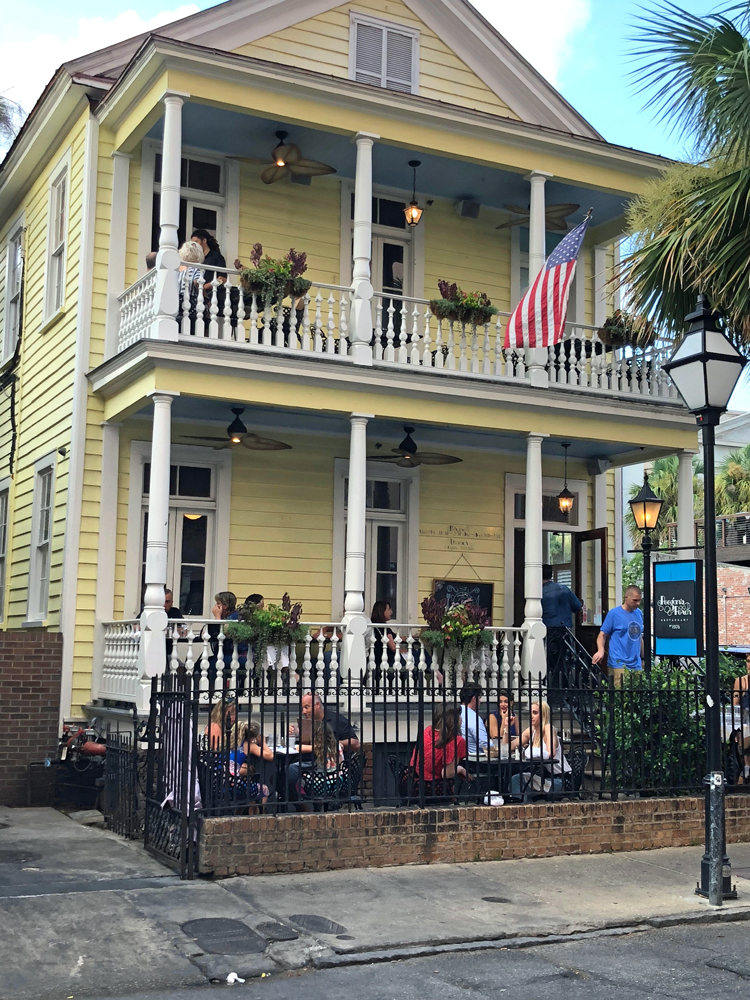 Carrie, Brian and I had some amazing pimento cheese fritters as an appetizer. Carrie and I both ordered the scallops with ricotta dumplings as our main dishes. The dumplings and the scallops were both amazing!
After dinner, the three of us went to Buxton Books for a graveyard ghost tour. During the tour, our tour guide told us quite a bit about Charleston's history and the city's famous ghosts. We even got to visit the Unitarian Church graveyard where a woman who was believed to be
Edgar Allan Poe's young lover is buried. Some say they have seen her spirit haunt the graveyard. (We didn't see any ghosts, thank goodness.) Our tour guide, a retired public defender, is quite the storyteller and has a wealth of Charleston history stored in his brain!
Breakfast and Afternoon in Charleston
Sunday morning, I went with my new blogging friend, Lynne of My Family Thyme, to breakfast at the restaurant, Toast. This Charleston restaurant has an extensive breakfast menu! Lynne and I both ordered sweet tea and the seafood omelette, with scallops, shrimp, pepper jack cheese, mushrooms, green peppers and tomatoes. The omelette was super good! The omelette also came with an enormous biscuit and potatoes.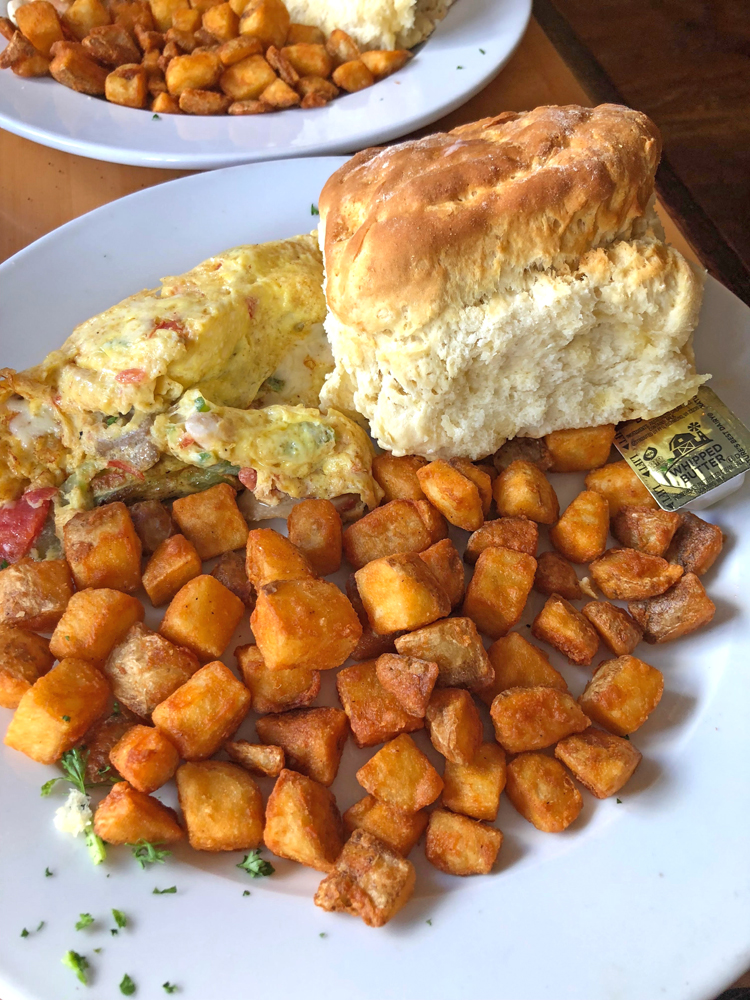 Sunday I was able to get another look at Rainbow Row with Lynne.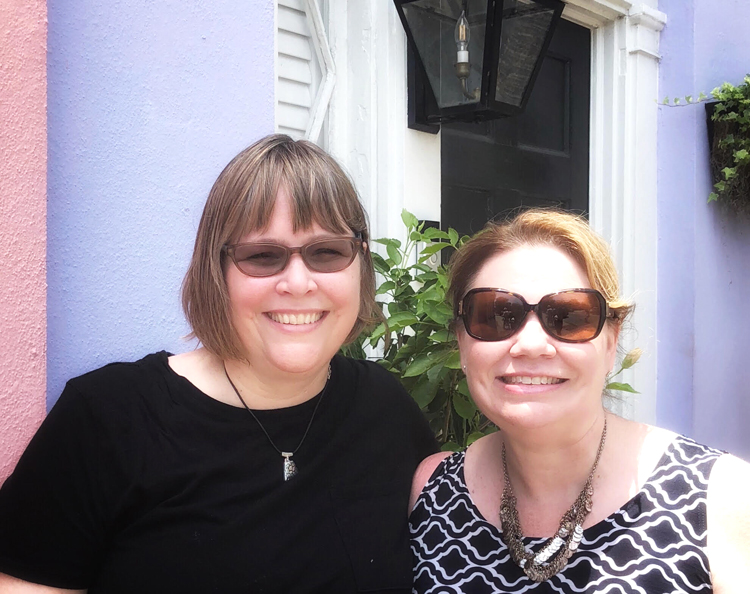 After our breakfast, Lynne and I did some shopping at the City Market in Charleston. We both bought the same tea towels that feature a recipe for Charleston sweet tea. During our shopping excursion, I picked up some Charleston handmade soaps and body lotions for my daughters, and some Charleston salt water taffy for my daughters.
Lynne and I parted ways at the hotel, where I took an Uber for my flight home. It was nice getting to know such a sweet and talented blogging friend!
In all, I had a wonderful experience at Haven 2018. I hope to share more about my Haven experience in the coming weeks!