*Disclosure: "I participated in an Influencer Activation on behalf of Influence Central for Always Discreet. I received product samples to facilitate my review and a promotional item to thank me for my participation." #PeeHappens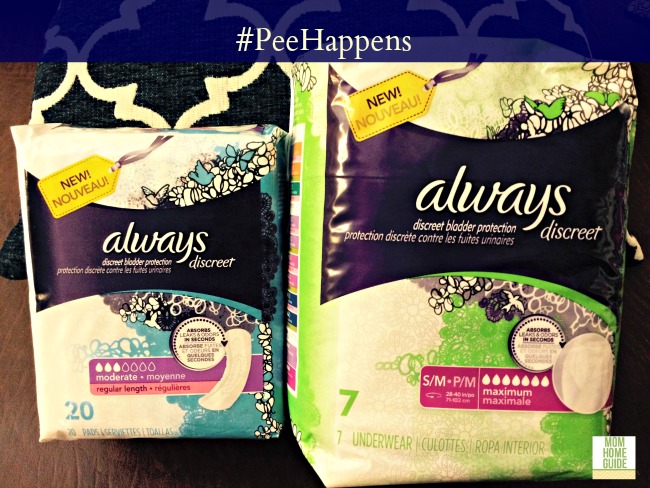 There are so many changes as a woman ages.  I am in my upper 40s, and since I've hit my 40s, I've noticed some new things in my life. I still am a night owl, but now that I am older, I can't spring back from those late nights as easily as I used to! I've also developed a low thyroid condition, so I tend to have a little less energy and have practically no metabolism!
I haven't hit the "change" (menopause) as some of my friends have. I've also noticed another problem that some women face as we age — developing a sensitive bladder. It happens to 1 in 3 women in the U.S. and is nothing to be embarrassed about! Sensitive bladder leaks happen to more than 40 million women but only 1 in 9 use the correct product. (Many women use products designed for period protection.)
For women as we age, it seems that sometimes, pee happens!
I personally don't have a real problem with bladder leaks, but have noticed a handful of times since having my twins that if I don't make a pit stop in a long time (I tend to avoid taking bathroom breaks when I am busy), a tiny drop can leak out when I sneeze! (I have allergies and sometimes sneeze as many as 3 times in a row!)  I worry about needing a sensitive bladder product some day in the future. I also tend to drink a lot of tea (with caffeine) and not enough water, both habits that I think sometimes irritate my bladder.
But women like myself shouldn't worry — Always has revolutionized the way women manage their sensitive bladders with its newest product, Always Discreet. Wearing Always Discreet won't feel any different from wearing a pantiliner or a maxi pad, and are like their name, "discreet."Always Discreet comes in liners, pads and underwear, depending on the type of coverage needed. The pads have OdorLock™ technology to neutralize odors , and the extra protection of Dual LeakGuard barriers™, providing a sense of relief.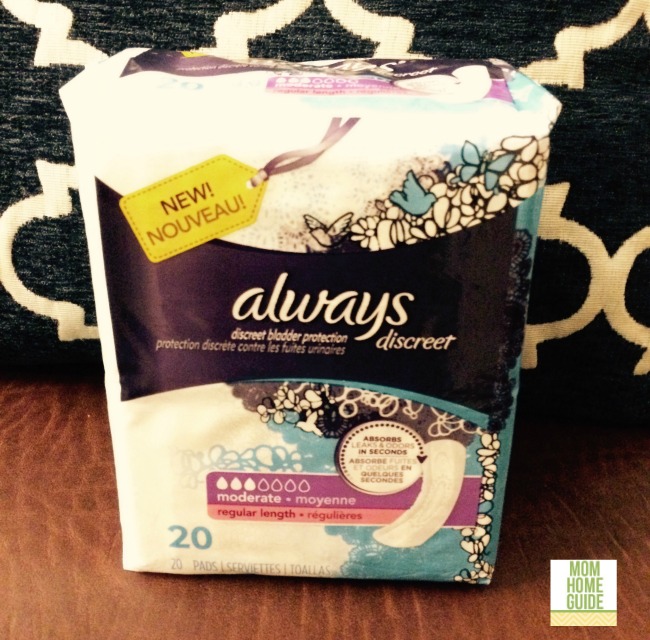 In fact, Always Discreet pads are up to 40 percent thinner than the leading brand and absorb two times  as much fluid as women may need, based on average U.S. consumer usage. Also, Always Discreet was recently granted the Good Housekeeping Seal and named Product of the Year in the bladder protection category, and granted a Better Homes and Gardens Best New Product Award.
I have been a fan of Always maxi pads for a long time, so I sure that Always Discreet is a fantastic product! I like that an Always maxi pad always feels dry no matter what kind of period you're having! In fact, Always is the only brand maxi pad that I buy. I have honestly only been buying Always pads for more than 20 years — that I how much I love the Always brand!
Facts About Bladder Health
( I learned these helpful tips from the Always website):
Urinary incontinence (involuntary urination, or leaks) can happen at any age.
Not drinking enough water (not staying hydrated) can irritate your bladder and raise your risk of urinary incontinence.
Urinary incontinence can be brought on by life changes like pregnancy or menopause.
Weight loss can relieve pressure on your bladder and help reduce urinary incontinence.
Exercise in general and pelvic exercises can help you have better control over your bladder.
Caffeine can irritate your bladder and bring on more leaks.
Additional Resources
Always Discreet Website:https://www.alwaysdiscreet.com/
Always Facebook: https://www.facebook.com/always?fref=ts
Always Twitter: https://twitter.com/Always
Hashtag: #PeeHappens