I received the products below in exchange for sharing my honest opinion.
With Christmas and the New Year coming up, I thought I would offer a fun giveaway to Mom Home Guide's readers! The giveaway is sponsored by Brentwood Home, a creator of comfortable and healthy items for the home made from organic, nontoxic, and natural materials. Through this giveaway, Brentwood Home will give to one Mom Home Guide reader a Brentwood Home Holistic Wellness Bundle, valued at $153.
The Brentwood Home Holistic Wellness Bundle includes a meditation pillow designed with guidance from one of Los Angeles' top yoga instructors, Angela Kukhahn. The pillow is designed to provide proper support for the spine during meditation practice and is made will all natural materials and all natural cotton. Brentwood Home is an American company based in California that is about providing luxurious and healthy home essentials at honest prices.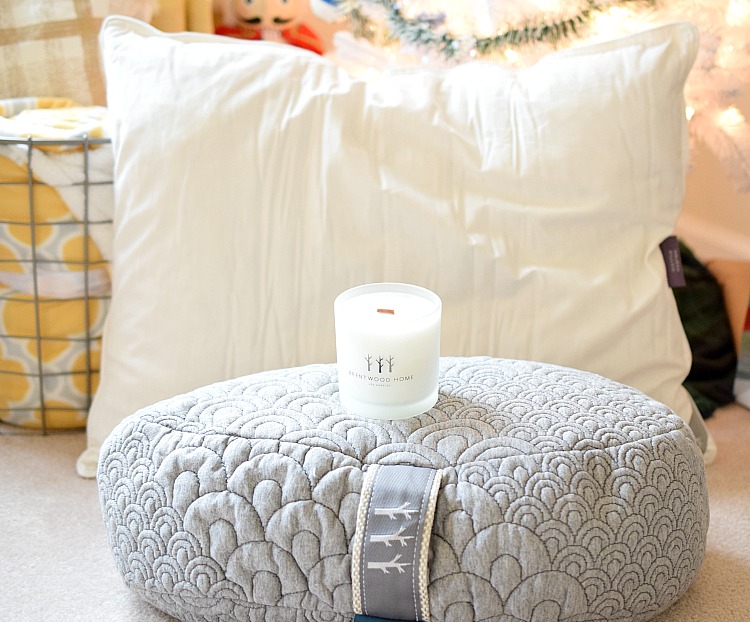 I don't practice yoga now, but I am hoping to start doing some yoga soon. Also, as a blogger who spends a lot of time in front of the computer, I thought it might do my body good to sit in a more proper position on the meditative pillow instead of sitting at a desk on a chair, or on my family room sofa. I like that the outer cover of the pillow is removable and washable. Plus, the pillow has an upholstered carrying handle.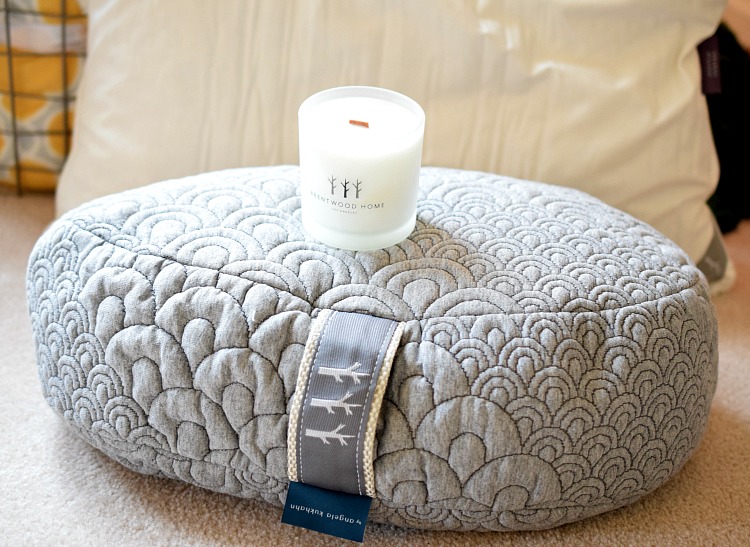 I've also been one who prefers sitting on the floor instead of on the sofa — I don't why. I've found the Brentwood Home meditation pillow to be very supportive, yet comfortable.
Also included in the Brentwood Home Holistic Wellness Bundle is a Latex/Kapok Pillow that combines the smoothness of silk and fluffiness of cotton. The pillow is made to contour to the neck and head, and is perfect for people like me who switches between multiple sleeping positions. Plus, the cover is made of organic cotton that was grown without toxic pesticides or fertilizers, so I can sleep better.
I love the scent of the candle included with the bundle. The candle is made of natural soy wax and essential oils. The candle adds a nice aroma to my home for the holidays, and looks great on my Christmas console table.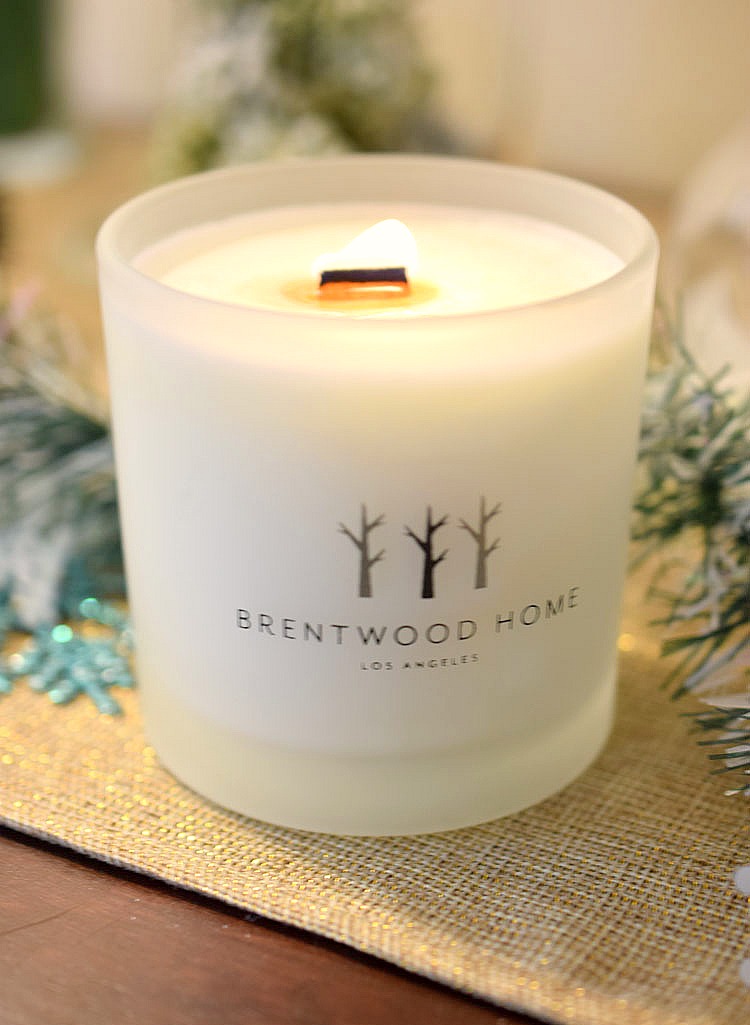 Brentwood Home offers a wide variety of items for the home, including sheets, pillows, mattresses, pet products and quilts and sheets.
I would be interested in trying Brentwood Home's high quality mattresses, sheets and pillows. My family's guest room has a year's old mattress and sheet set that really needs to be replaced. For instance, Brentwood Home's memory foam mattresses feature CertiPUR-US Certified Gel Memory Foam and are handmade in Brentwood Home's Los Angeles workshops.
Save on Brentwood Home
Brentwood Home is offering special savings especially for Mom Home Guide readers! If you visit their site (www.Brentwoodhome.com) and use the coupon code, OURHOME, you will get 10% off your purchase site wide.
Win a Holistic Wellness Bundle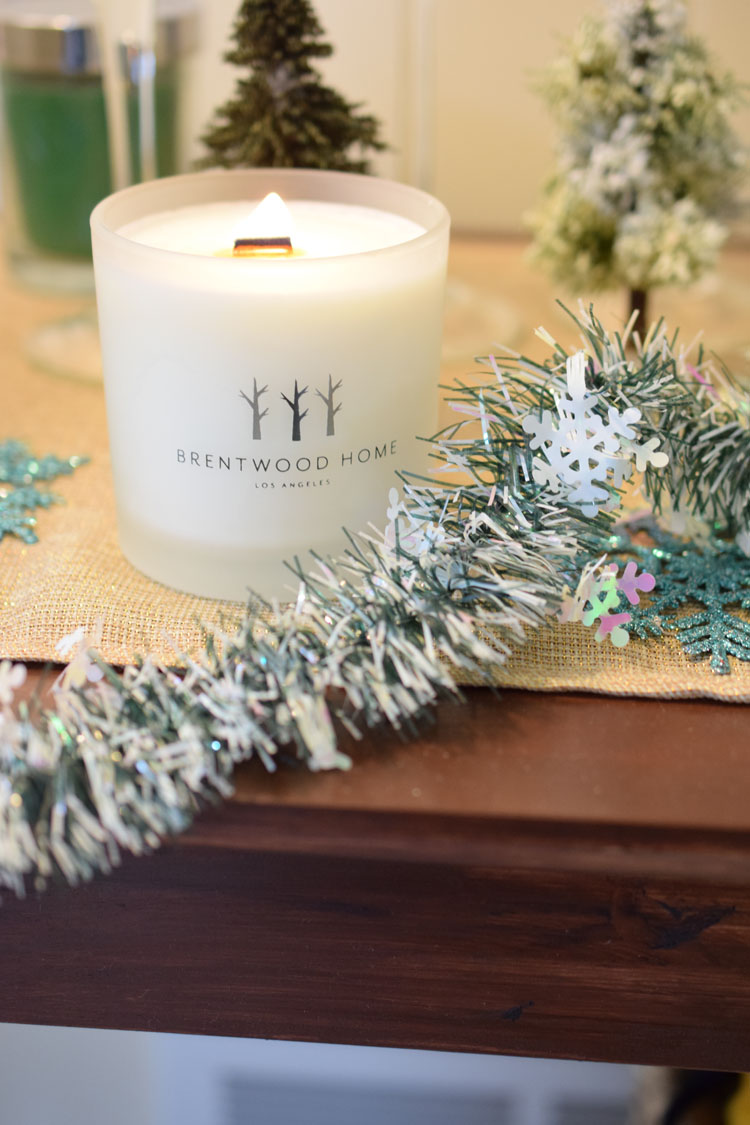 Use the Rafflecopter widget below to get your entries in for a chance to win the Brentwood Home Holistic Wellness Bundle.
a Rafflecopter giveaway