(No special machine or equipment required.)
Mom Home Guide participates in the Amazon Associates affiliate program. The shopping links in this post are for your shopping convenience and cost you nothing. These links help sustain Mom Home Guide. Thanks for your support!
Today my blogging friends and I are participating in the Taste Creations Blog Hop! Consider it a virtual party – today we will be sharing recipes for frozen treats! For this party, I made a simple strawberry mason jar ice cream. You only need a handful of ingredients for this recipe and no fancy equipment. To make the ice cream, you shake the ice cream in a mason jar and stick the mason jar in your freezer for a few hours to do its magic. This recipe is a fun one to make with the kids!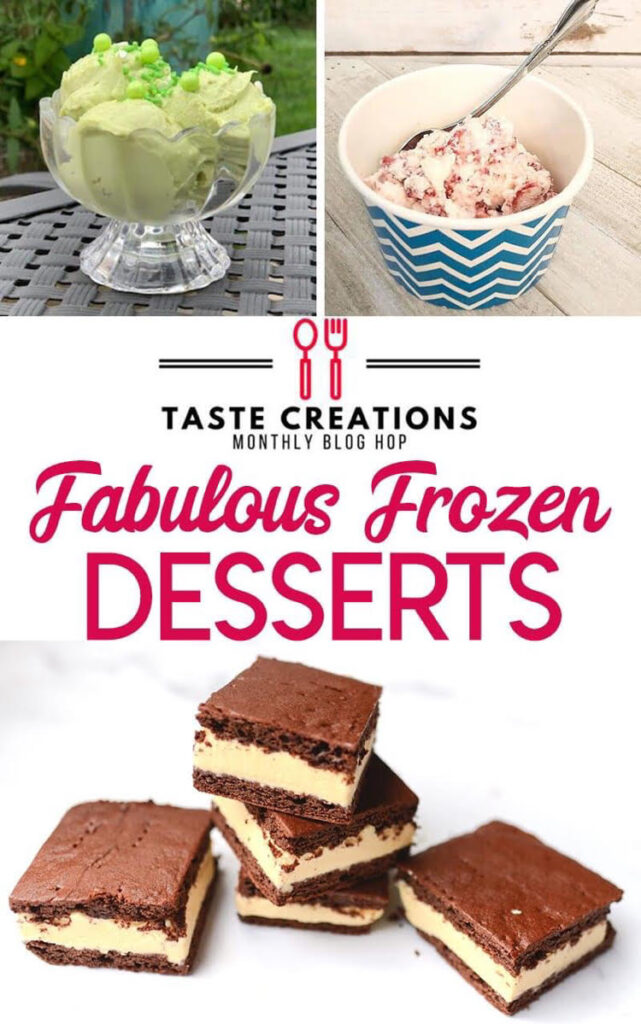 Mason Jar Ice Cream Recipe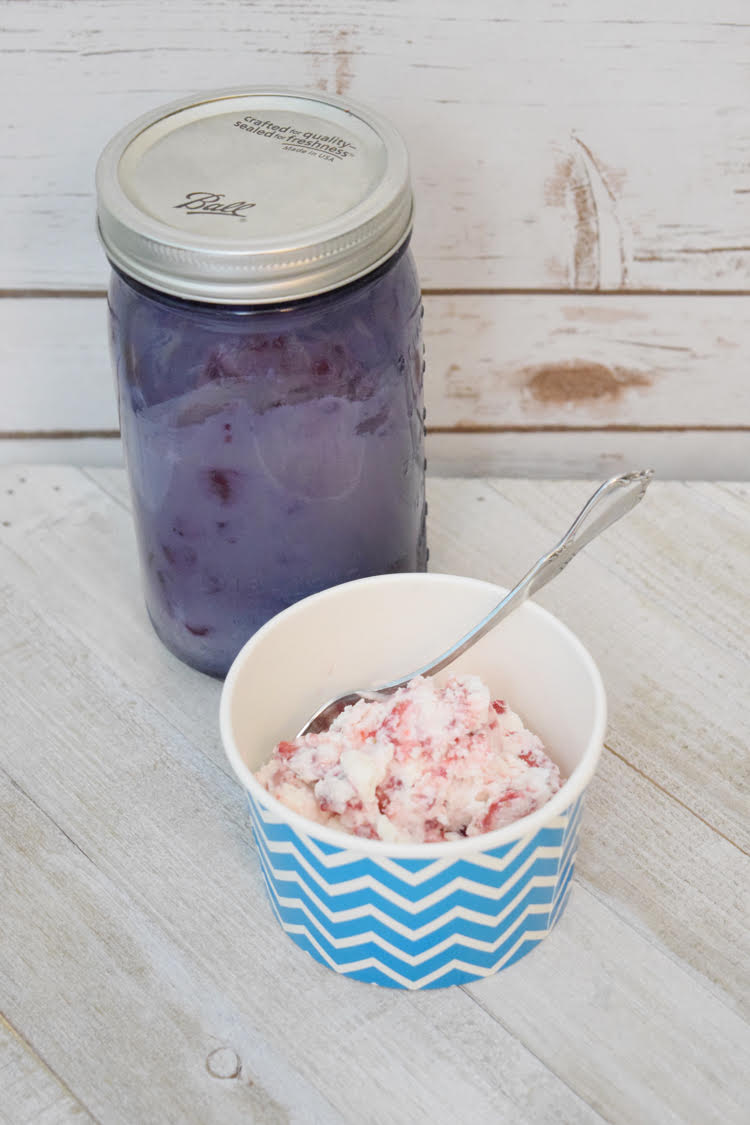 This recipe is a great one if you are sheltering at home. It's likely that you might already have the ingredients on hand. Also – a main part of the ice cream process in this recipe involves shaking your ice cream ingredients in a jar for at least 5 minutes. This part of the ice cream making process is something that your kids might find fun! (My daughter jumped up and down for some of the 5 minutes.) Your kids might like watching the cream transform into a frothy, thick mixture the more they shake the jar.
Another fun thing about this recipe is that you make the vanila ice cream base with just 4 ingredients. You add your flavors to the jar after shaking and before freezing. (My daughters and I added chopped strawberries to one jar, raspberries to another jar and Hershey's chocolate syrup to another jar.)
Mason Jar Ice Cream Ingredients
(Approximately 2 large servings)
1 Cup Heavy Cream
1 1/2 Tsp Sugar
1/2 Tsp Vanilla Extract
Pinch of Kosher Salt
Mason Jar Ice Cream Flavorings
(These are some flavor ingredients you can add to your ice cream.)
1 cup chopped strawberries
1 cup raspberries
3-5 squirts of Hershey chocolate syrup
1 Cup Chocolate Chips
Mason Jar Ice Cream Instructions
Add the heavy cream, sugar, vanilla extract and salt to a quart-sized mason jar. (The drinking glass-sized mason jars are too small.)
Screw on the mason jar top or lid. (I used a Ball quart-sized mason jar.)
Energetically shake the jar for about 5 minutes until the mixture thickens and can coat the back of a spoon. (You can tell when the mixture is thickening up when you are shaking it – there will be less sloshing around in the jar as you shake it.)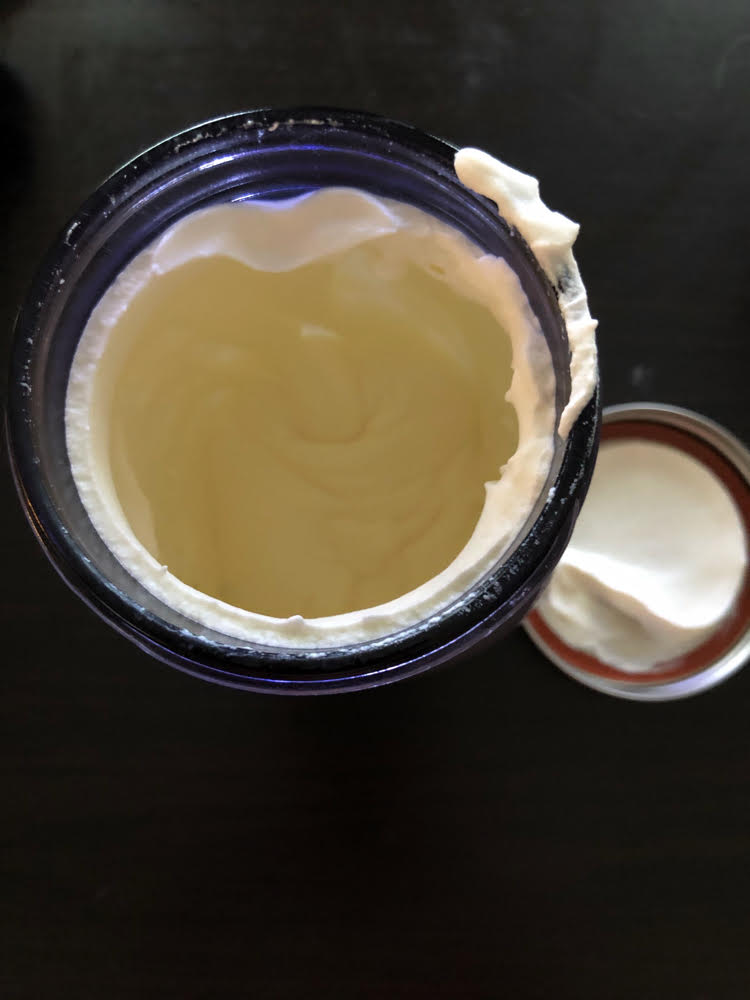 Once the mixture has thickened up, stir in your flavor ingredients. (We made one with strawberries, one with raspberries and one with Hershey's syrup. I only took photos of the strawberry ice cream since my daughters were eager to eat the ice cream!)
Place the jar in a freezer and freeze for at least 3 hours.
The ice cream is a little icy when first removed from the freezer, but becomes more creamy as it warms up a bit.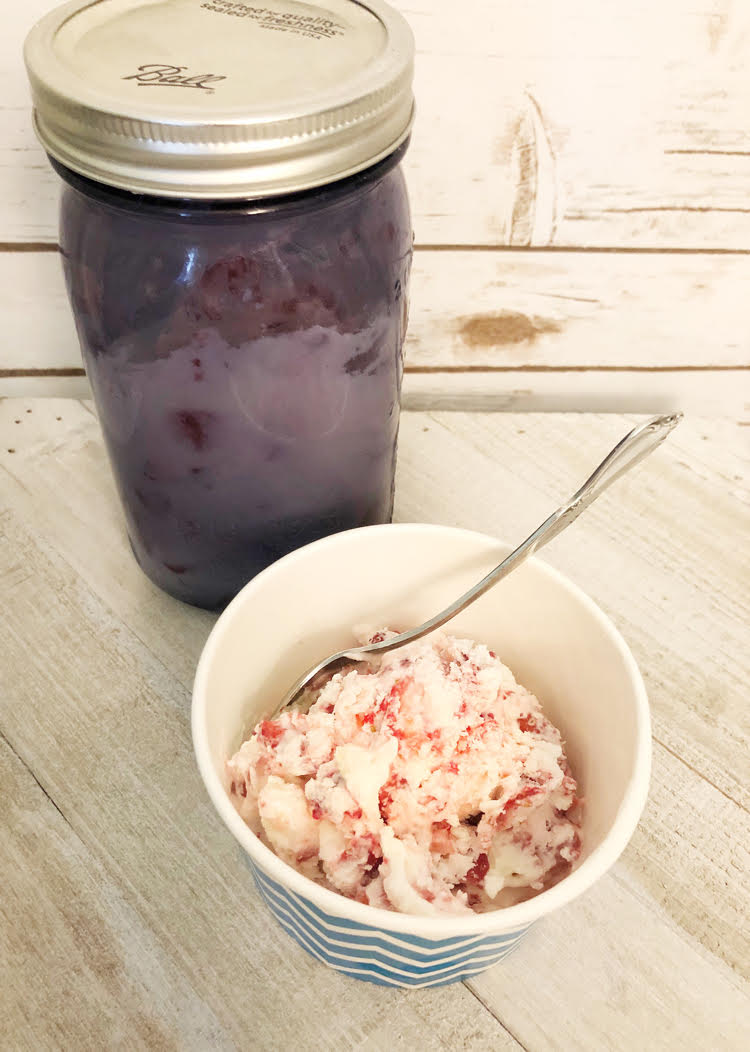 While I wouldn't compare this ice cream to the super decadent pints of ice cream my family and I sometimes purchase and enjoy, we do like this ice cream.
I would say this ice cream has a lighter consistency. A big plus is the fresh flavor ingredients in the ice cream.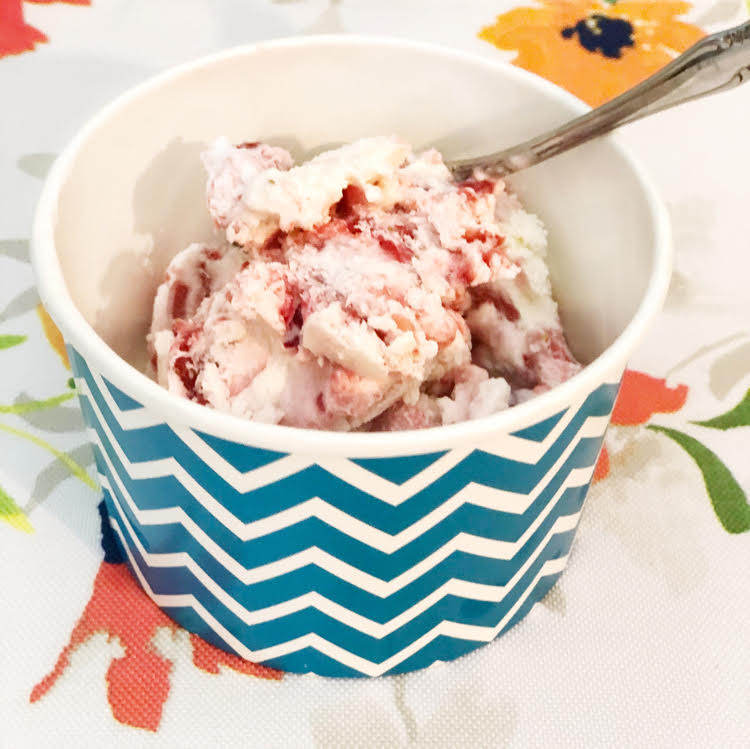 I really enjoyed the chopped strawberries in our first batch of ice cream.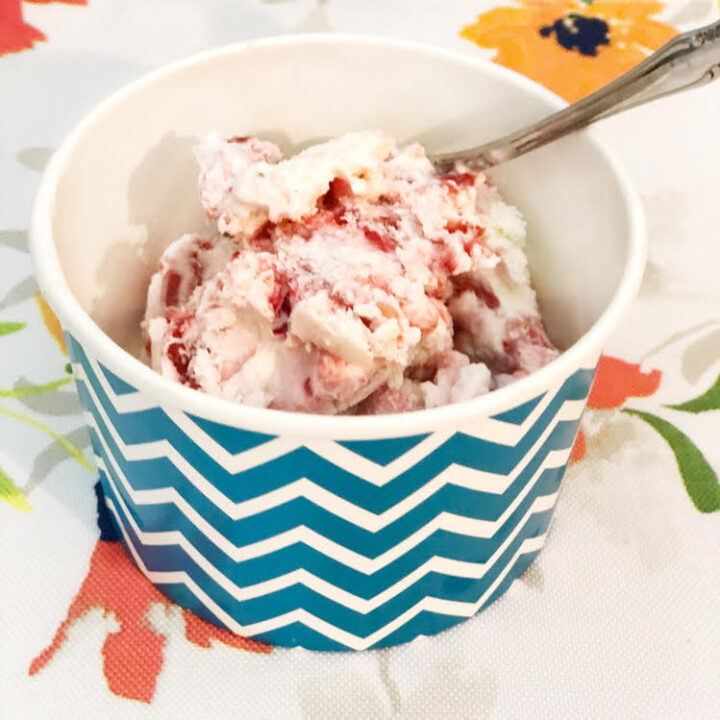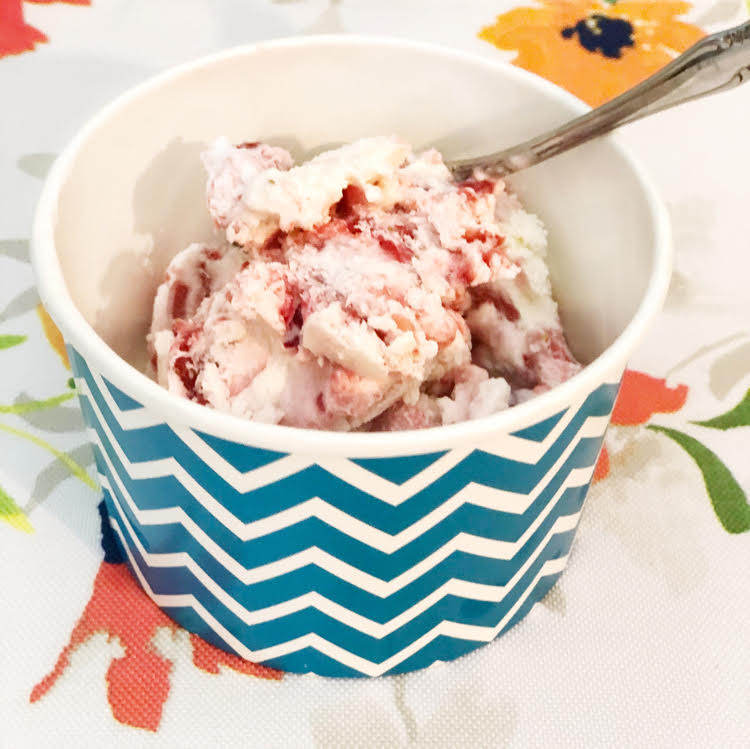 Homemade No Churn Ice Cream
Total Time:
4 hours
15 minutes
This delicious ice cream can be made with just 4 basic ingredients in a large mason jar.
Ingredients
1 cup heavy cream
1 1/2 Tbsp. sugar
1/2 tsp. vanilla extract
1 pinch of kosher salt
Instructions
Place the cream, sugar, vanilla extract and salt in a clean mason jar.
Screw the mason jar top on securely.
Shake the mason jar vigrously for at least 4-5 minutes. The cream mixture will thicken, double in size and will be able to coat the back of a spoon.
Stir in extra flavors/ingredients of your choice. (E.g., chocolate syrup, chopped strawberries, raspberries, nuts, etc.)
Freeze for 4-5 hours.
Scoop the ice cream into a bowl or eat the ice cream out of the mason jar with a spoon. Enjoy!
Notes
Use a large quart-sized jar or mason jar for this recipe.
Be sure to check out my friend's recipes for frozen treats!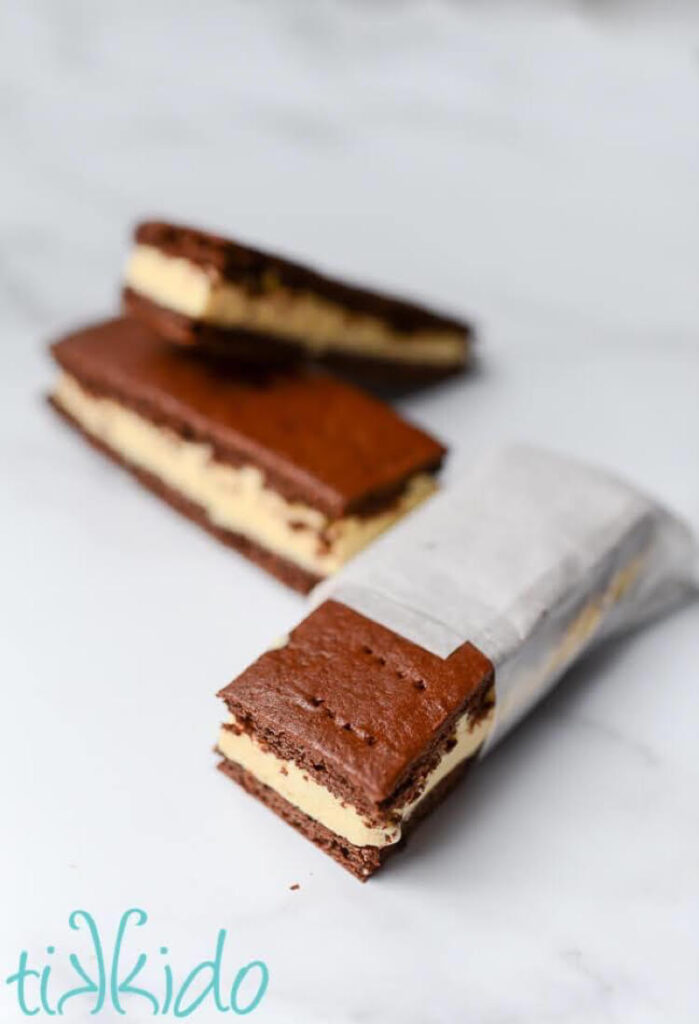 Keto Friendly Avocado Ice Cream