This shop has been compensated by CollectiveBias, Inc. on behalf of its advertiser, ZonePerfect. #SnackandRally #CollectiveBias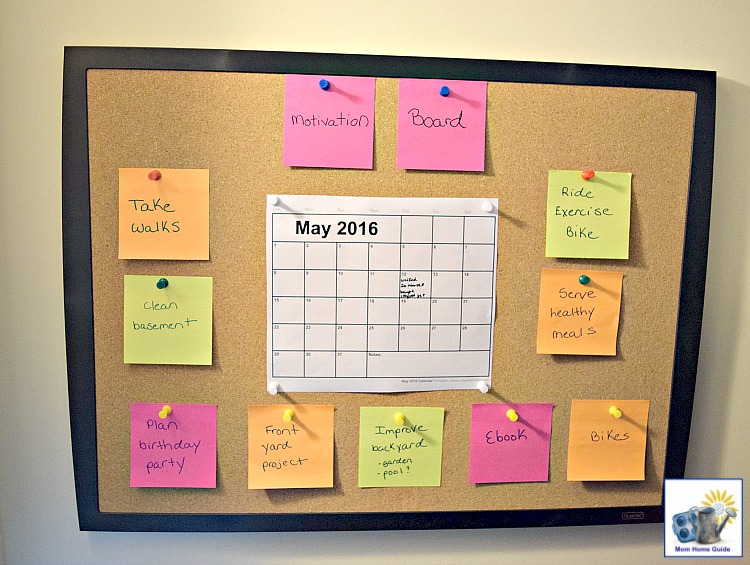 If you've been following my blog lately, you'd know that I've been setting monthly goals for myself. (My friend, Carrie of Curly Crafty Mom, got me started with this with, and it's been a great motivator. I'm glad that I've started tracking monthly goals, because I've looked into how to stay motivated for some time! Check out my April and May monthly goals.) One of these goals is to start exercising at least a few days a week.
Admittedly, I haven't been doing that well at working toward this goal — unless time spent working around the house and cleaning counts! (I've been doing a lot of organizing lately. E.g., I cleaned out a very messy coat closet and built it into a pantry!)
DIY Motivation Board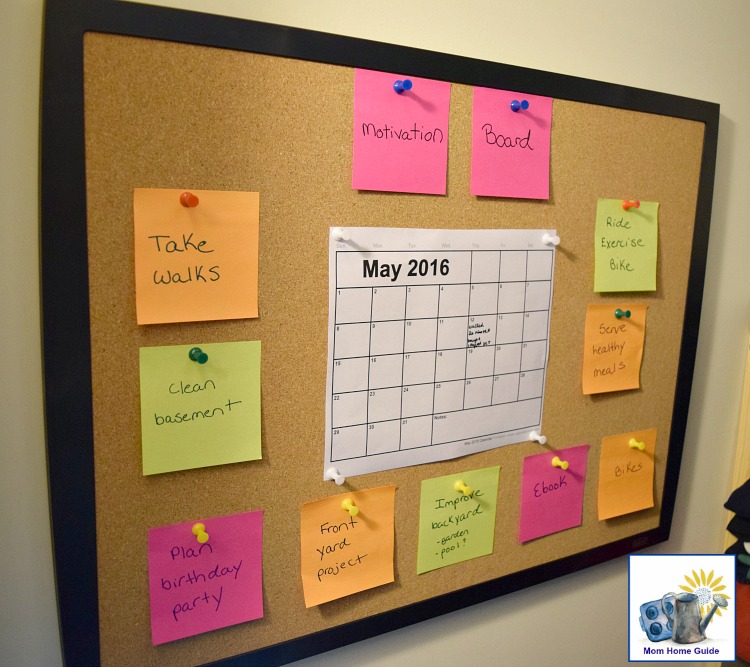 With summer (and bathing suit season — EEK!) coming up, I needed to find out how to get motivated to achieve my fitness goals. So, I've decided to create a fun motivation board for myself! I've been working on organizing a small second bedroom closet for myself, so I thought that this closet would be the perfect place to hang my new motivation board!
For my motivation board, I utilized a few useful, but inexpensive materials, all of which I picked up at Walmart:
Materials
Cork Bulletin Board
Sticky Notes
Thumb Tacks
Markers
Month of May calendar printout (I printed one off my computer)
I used sticky notes to note some tasks/goals I'd like to tackle in the next few weeks, like planning my tween's birthday party, getting the backyard summer ready, getting in some more exercise and beautifying my home's front yard. I am especially hoping to do some more exercise, as I really need to shed some winter weight before it's time to wear shorts and bathing suits!
To put together my motivation board, all I did was use my thumb tacks to tack my calendar to my motivation board and to stick my sticky notes to the calendar. I hung my cork board to the wall with the adhesive squares that were included with the cork board.
Motivation to Exercise
I've been meaning to start exercising for a long time now. I had foot surgery in July, and my foot has healed well enough that I should be able to walk for a few minutes at least every day. But somehow, I always seem to push off walking for other chores and responsibilities!
So, I decided to use ZonePerfect® Nutritional Bars as the perfect motivator! These healthy nutrition bars are a healthy snack and have no less than 10 grams of protein. Plus, they are a good source of fiber.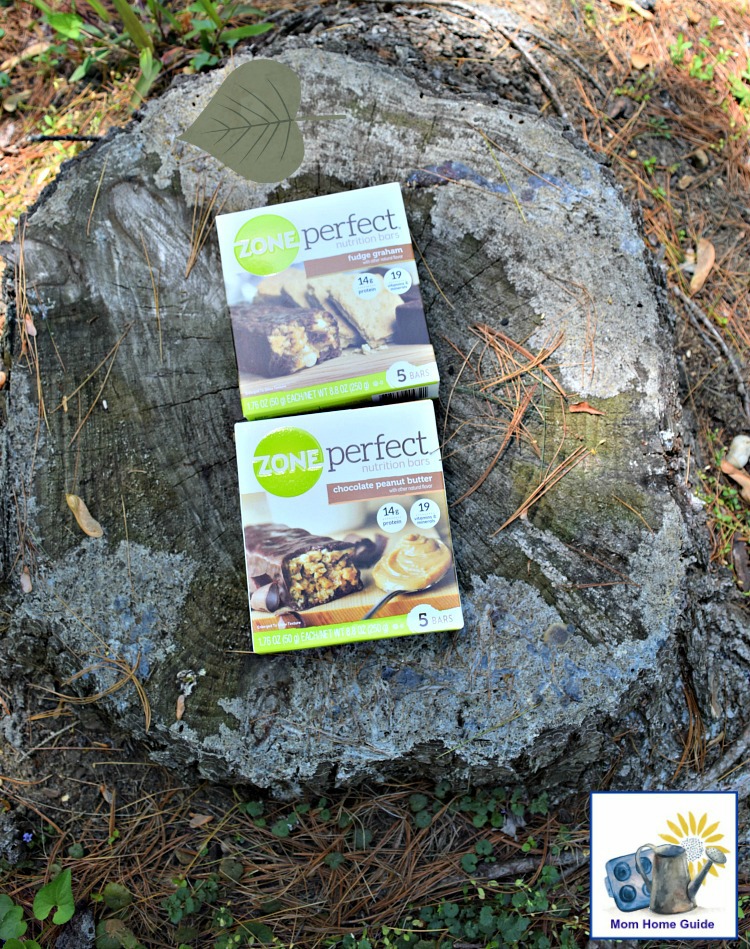 I went walking on a beautiful wooded walking trail near my home the other day. Before I left my house, I grabbed a fudge graham ZonePerfect® Nutritional Bar, my iphone and a water bottle. I had everything I needed! I decided that I would reward myself with a delicious ZonePerfect® Nutritional Bar after I completed a 20-minute walk. I also took my Nikon 3300 camera with me – I enjoy taking nature photos, so being able to take some photos during my walk was also a good motivator!
I started out my walk by crossing over a pretty bridge that spans a beautiful stream behind my local library. I've always loved this bridge.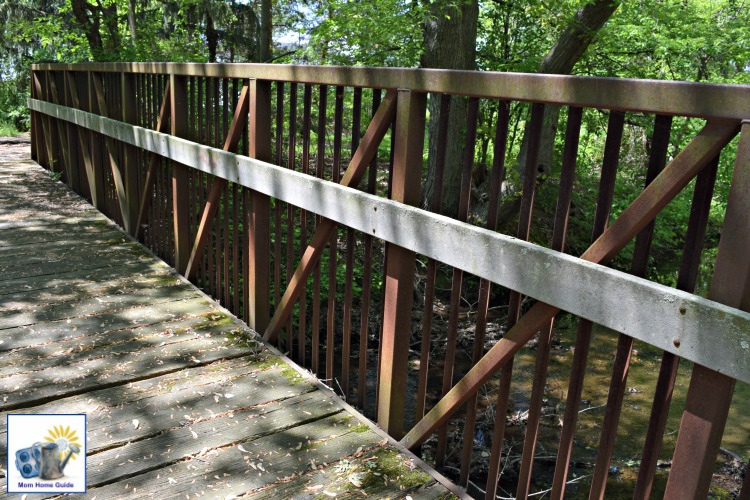 I set my iPhone to start off with the song, "Somebody Like You," by Keith Urban. I'm not usually into country music, but I like Urban's mix of country and rock – plus, it's the perfect tune for walking in the woods.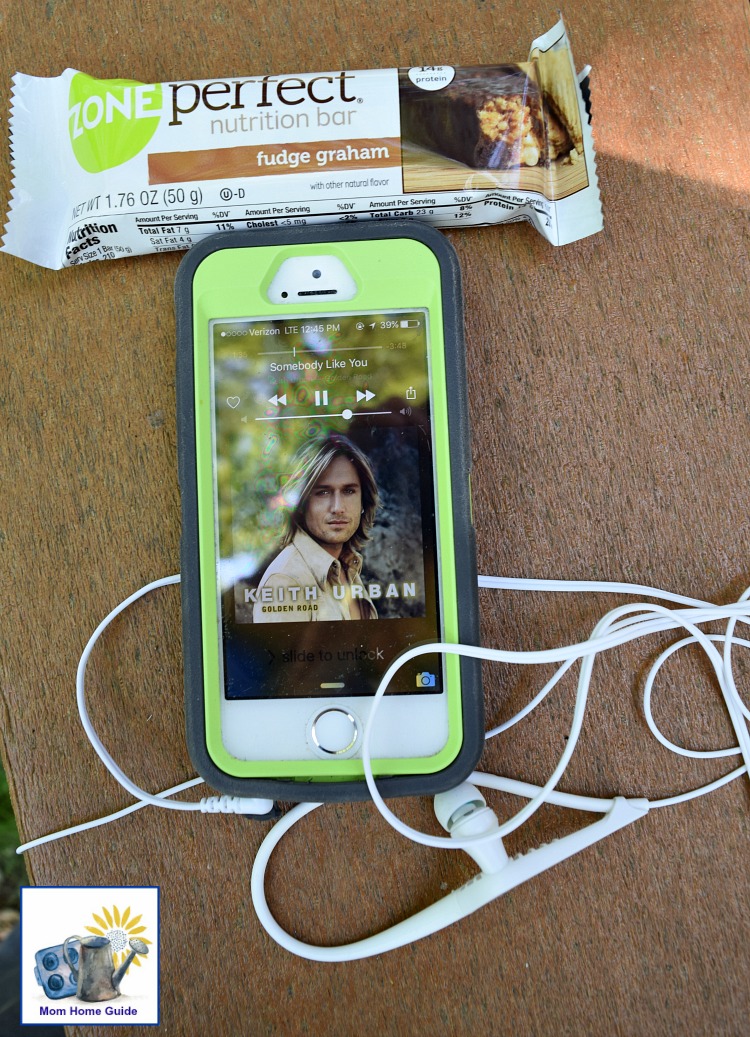 Walking along the trail was quite a pleasant experience – I ran into several other friendly walkers and runners along the way, and the day I chose to walk was a bright and sunny day!
After my 20-minute walk, I stopped by a lilac bush to have my tasty ZonePerfect® Nutritional Bar treat! The bar has just enough chocolate to satisfy by sweet tooth, plus protein to keep me going!
My walk was quite a pleasant experience! I plan to grab a ZonePerfect® Nutritional Bar and my camera and hit the walking trail a few times next week!
Save on ZonePerfect® at Walmart
The ZonePerfect® Nutritional Bars were easy to find at my local Walmart in the pharmacy section where the nutritional bars are sold.
Now at Walmart, you can buy two boxes of ZonePerfect® and save up to $4!
Adding to Motivation Board
The day I went walking was a good day. The walk gave me the energy to get things done. Also that day, I was able to get in touch with someone who was selling her used croquet set and buy the set for a backyard birthday party. (Getting ready to host the birthday party is one of my goals.)
Once I got home, I noted both of my accomplishments on my new motivation board.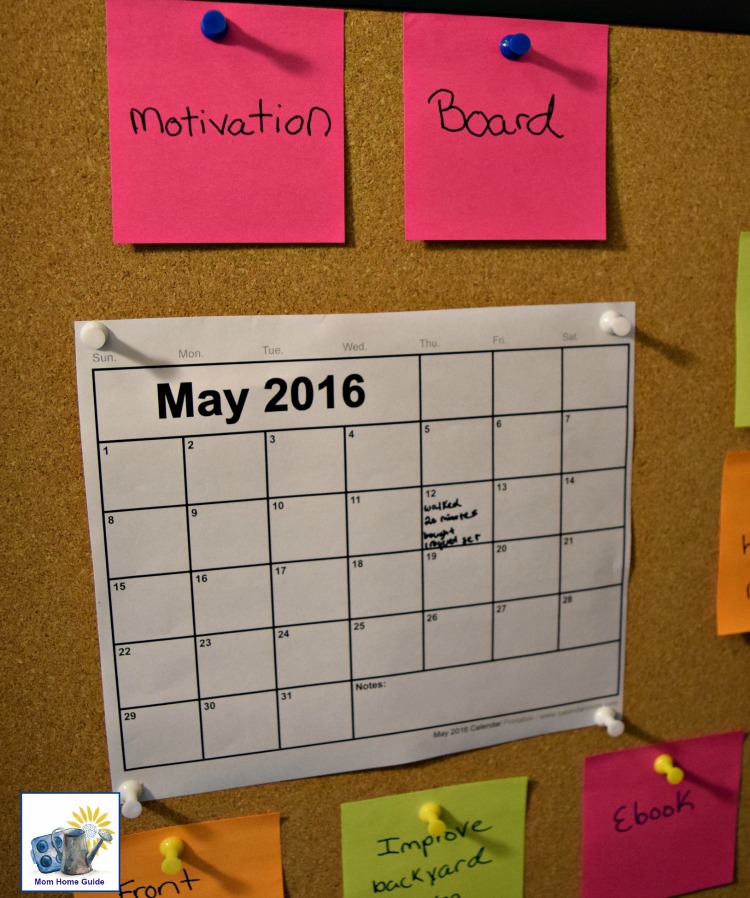 I tend to remember things best visually, so having all my goals and accomplishments laid out in one easy-to-see place is quite helpful for me. I am looking forward to crossing more goals off my list ad adding new goals to my motivation board!
This post has been shared at the Creative Corner Link Up Party