*I received free Ball® brand products in exchange for this post, but all opinions expressed here are 100% my own.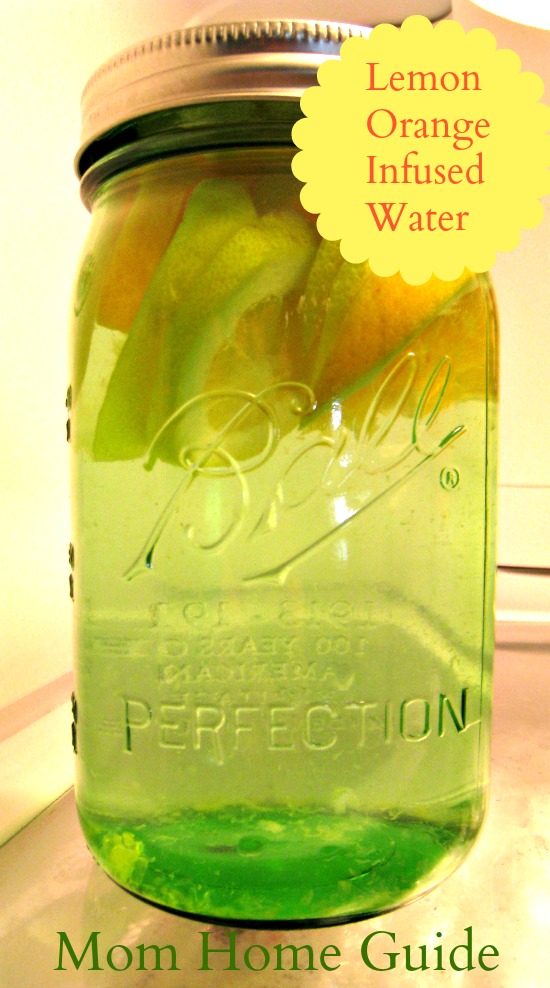 When the Ball® brand contacted me to try out their Ball® brand jars, I was excited! I love Ball® brand's products, and have seen many great uses for their Ball® jars on Pinterest. Top on my list of Ball® brand projects to try was making healthy fruit and veggie infused waters for my family.
My family has been trying to eat lighter and healthier this summer. We have been having a lot of fresh salads with grilled chicken, fresh veggies and fruit, like berries and oranges. So, I have a lot of fresh fruit on hand, perfect for making infused water. My kids are already infused water fans — at a local frozen yogurt place we love, there is often some water infused with cucumbers, strawberries or other fruit for patrons.

To make my fruit-infused water, I sliced some oranges and lemons, and then added them to one of my new Spring Green Mason Jars. I just love these jars — spring green is my favorite color! I left the fruit flavor the water for a few hours in my fridge, and then my girls and I had some together with a fresh salad. It was delicious!
International Can-It Forward Day
I am looking forward to tuning in online to International Can-It Forward Day on Saturday! On its website, www.freshpreserving.com, Ball® brand will share live craft and food demonstrations with their Ball® brand jars, hosted by judge of Bravo's Top Chef Hugh Acheson! The event will start at 10 a.m. and will be held in New York City at Brooklyn Borough Hall.


Ball® Brand Giveaway
Now for the really fun part, a Ball® Brand Giveaway! Enter the Rafflecopter form below for your chance to win this great Ball® Brand prize pack! ($43.95 ARV)
The New Limited Edition Spring Green Heritage Collection Jars 1 case pint, and 1 case quart varieties. (Pint retail value: $9.99 per case/ Quart retail value $12.99 per case)
4-pack 16oz Drinking Mugs (Retail value: $9.99)
Mason Jar Infuser This sturdy BPA-free plastic top fits on any wide mouth mason jar and has a hanging basket to fill with herbs and fruit to flavor water, tea or spirits. (Retail value: $5.99)
Sip & Straw Lids: These fit on any Wide Mouth or Regular Mouth Ball Jar. (Retail value: $4.99)
Follow Mom Home Guide on

Instagram

!