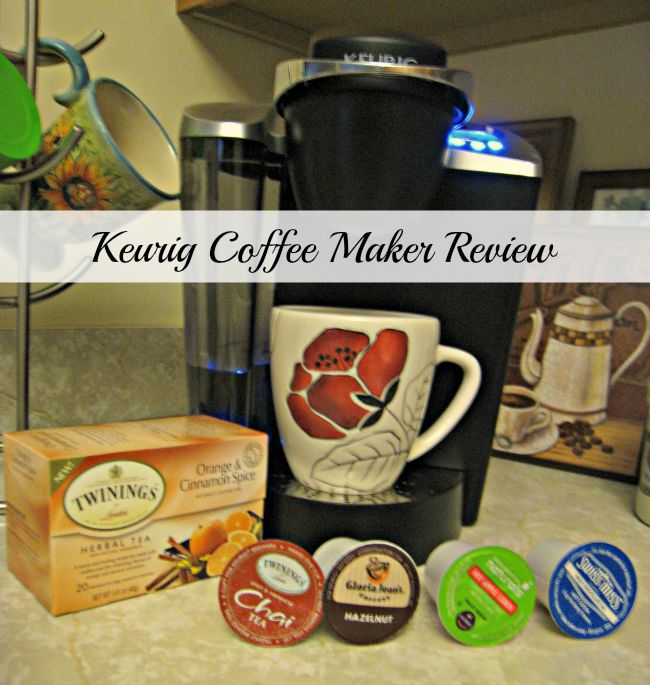 I love my family's Keurig K-Cup Home Brewer. I originally bought the coffee maker as a gift to give to my husband for Christmas, but my kids convinced me to give the brewer to him right away, since he often drinks coffee on the way to work in the morning. If the man in your life doesn't have a K Cup home brewer, it would make a perfect Father's Day gift!
The brewer has become a family favorite. My kids love it, because now they can make their own hot drinks on their own, instead of asking me to heat up some hot apple cider, hot chocolate, etc., in the microwave. I keep large mugs in a great stand I got (the Satin Nickel Euro Mug Holder) from Amazon.com  next to the brewer. Our K Cups are stored in a long narrow drawer near the coffee maker. All my kids have to do is choose a K cup, place a cup under the brewer, and hit the size of beverage they want to brew. So simple! (My kids are both 9 and are very careful, so they can handle the brewer with no problems. I would not recommend a young child using the brewer on her own, as if she stuck her hand in the hot water, she could hurt herself.)
My daughters' favorite beverage is the Green Mountain Naturals Hot Apple Cider, which I order in bulk from Amazon to keep costs down. I love the hot apple cider, too — I am actually drinking one while I write this post!
I also use the Keurig to make hot water for my tea — I just open and close the K cup holder (without inserting a K cup) to start the brewer, and then choose my mug size. I put a tea bag of my choice in the cup, and I have instant hot tea!
While my husband and I love the simplicity of the K Cups, we often fill our K Cup reuseable K Cup filter (instead of using a plastic K Cup), so we can be more eco-friendly. The reuseable filer is really quite easy to use.
At the moment, we store our K Cups in a long rectangular drawer that's near our K Cup brewer, but at some point, I would like to get a K Cup stand to store our K Cups.
You Might Also Like
Organization Spree: The Kitchen