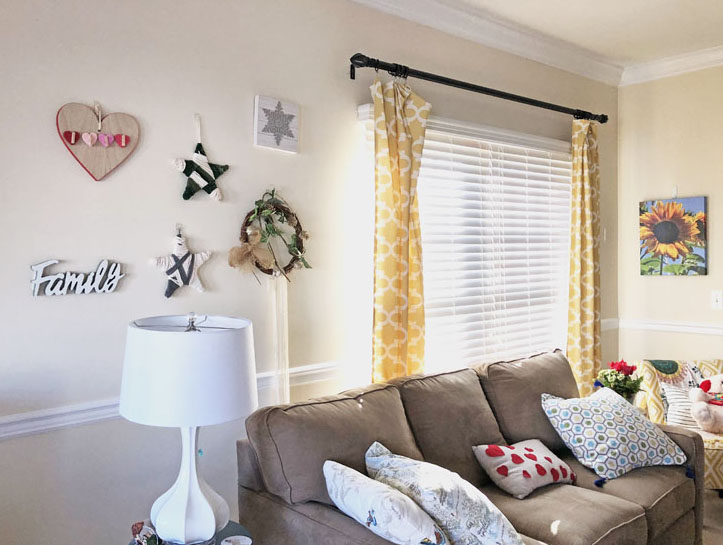 Welcome to the March Pinterest Challenge Blog Hop, hosted by My Pinterventures. The purpose of this Pinterest Challenge is to motivate all the participants of this hop (and you, too) to not just pin, but to make it happen! So this month, I chose to update my living room gallery wall. A few years ago I created a simple living room gallery wall. I used Command strips and hooks to hang the items on my gallery wall. The Command products are easy to hang and also make it easy to swap out the items on my living room gallery wall as inspiration hits.
I've pinned many living room gallery walls on Pinterest. One gallery wall that has especially inspired me is the living room gallery wall by Liz of Love Grows Wild. I love how she only spent $20 on her living room gallery wall by repurposing items, upcycling some and using old thrift store frames that she repainted.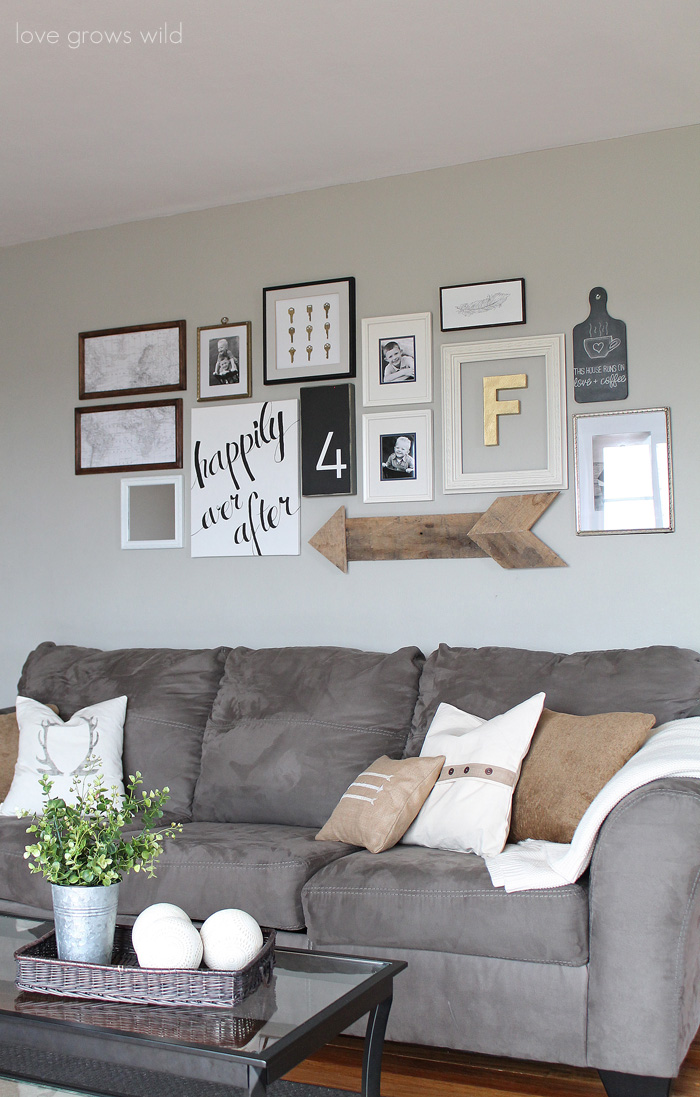 Like Liz's gallery wall, my gallery wall was very inexpensive. I made the stars on the wall by wrapping cardboard stars that I had cut out with yarn and hot gluing the yarn on. I made the heart sign by buying a simple wooden heart at the dollar section of a local store and gluing on smaller, colorful clipboard hearts. I think it would be fun to use the clips to display a photo or two.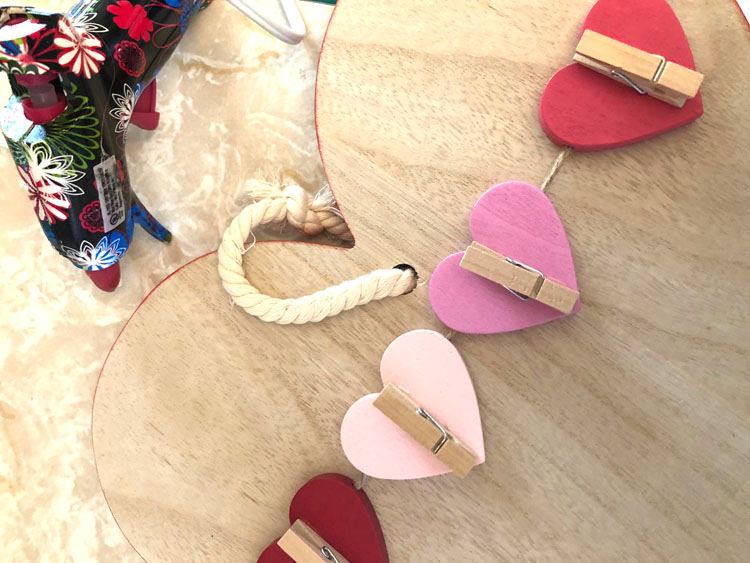 I was going to hang the heart sign for Valentine's Day, but fell a little bit behind schedule. I think a heart is fun anytime of year, though!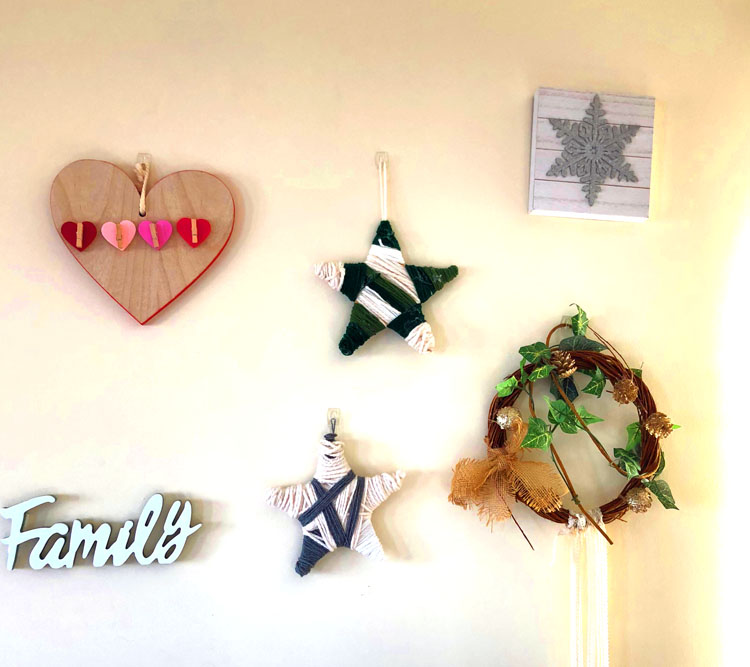 The ivy grapevine wreath I made myself very easily with just a few supplies from my local dollar store. I created the wreath just before the winter holidays, but I kept it up because I think it can work for just about any season.
I'm looking forward to updating the gallery wall again this spring!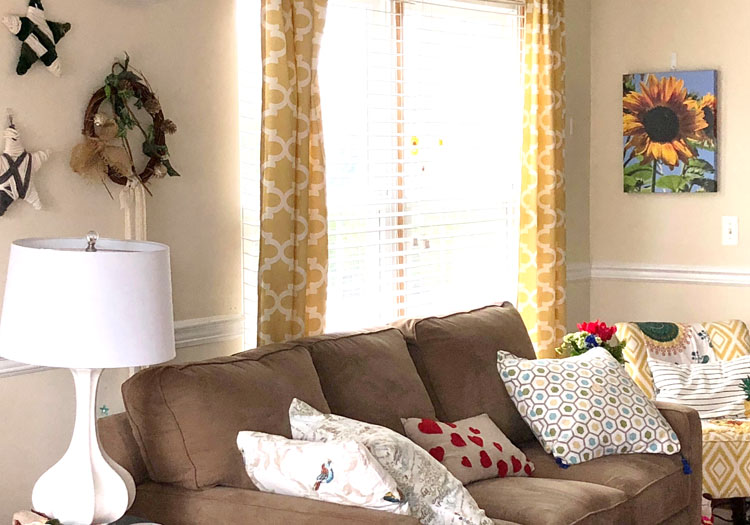 To join next month's challenge, click here to sign-up – April Pinterest Challenge
---
Now let's see what other things Pinterest inspired! Head over and visit the other hosts to see what they crafted, cooked, built, or tried!
Erlene – My Pinterventures • Shirley – Intelligent Domestications
Jenny – Cookies Coffee and Crafts
Joanne – Our Unschooling Journey • Magen – The Kusi Life
Roseann – This Autoimmune Life • Kelli – The Olympic Nest
Lynne – My Family Thyme • Beverly – Across the Blvd.
Debra – Shoppe No. 5 • Pili – My Sweet Things
Laurie – My Husband Has Too Many Hobbies • Kristie – Teadoddles
Julie – Sum of their Stories • Gwen – Geez, Gwen!
Marie – The Inspiration Vault • Candice – Fearlessly Creative Mammas
T'onna – Sew Crafty Crochet • Kenyatta – My Design Rules
Cherryl – Farm Girl Reformed • Lisa – Blogghetti
Leslie – Once Upon a Time & Happily Ever After
Micah – Home Faith Family • Kelley – Simply Inspired Meal
Lauren – Mom Home Guide • Deborah – Salvage Sister & Mister
Gail – Purple Hues and Me • Terri – Our Good Life
Lauren – Wonderfully Made • Sue – A Purdy Little House
Toni – Small Home Soul • Maureen – Red Cottage Chronicles
Marci – Stone Cottage Adventures • Michelle – Our Crafty Mom
Maria – Tinselbox