This post contains Amazon affiliate links as a shopping convenience, should you like any of the products I've used.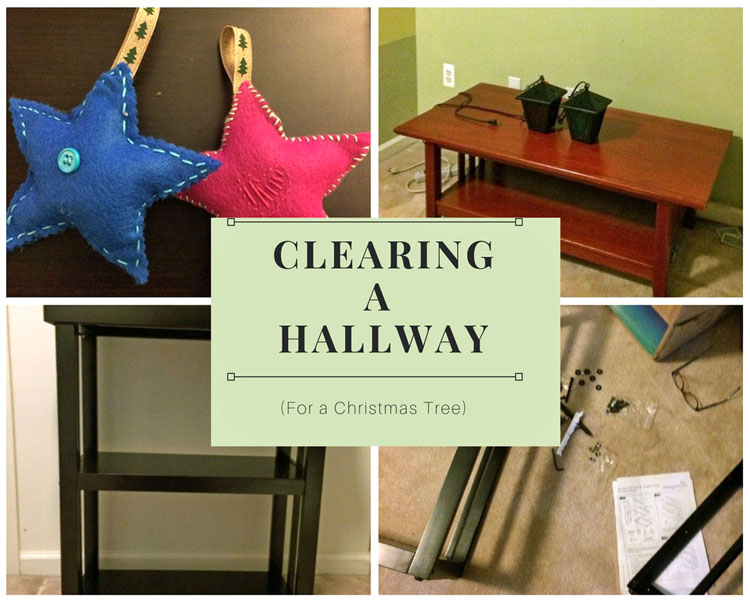 Once a month, my friend, Carrie of Curly Crafty Mom, and I each set a goal for ourselves and share our goals on our blogs. It's fun tracking the goals we've set and seeing what we have accomplished over the past few months!
This year, I've been invited by Treetopia, an online seller of faux Christmas trees, garlands and holiday decorations, to decorate one of their Christmas trees in a blog hop with a few other bloggers! The blog hop is a lot of fun! For the hop, I will be decorating the tree along a theme I picked. I am hand-making several of the ornaments for the tree, and can't wait to share the finished result with you! I'm also looking forward to seeing how the other bloggers in the blog hop decorated their trees!
(Stop by here on Wednesday to see my decorated Christmas tree!)
Last year, I decorated one of Treetopia's slim white pencil trees in a snowman theme, and displayed the white christmas tree
in my home's living room. I loved the fun modern look of the tree!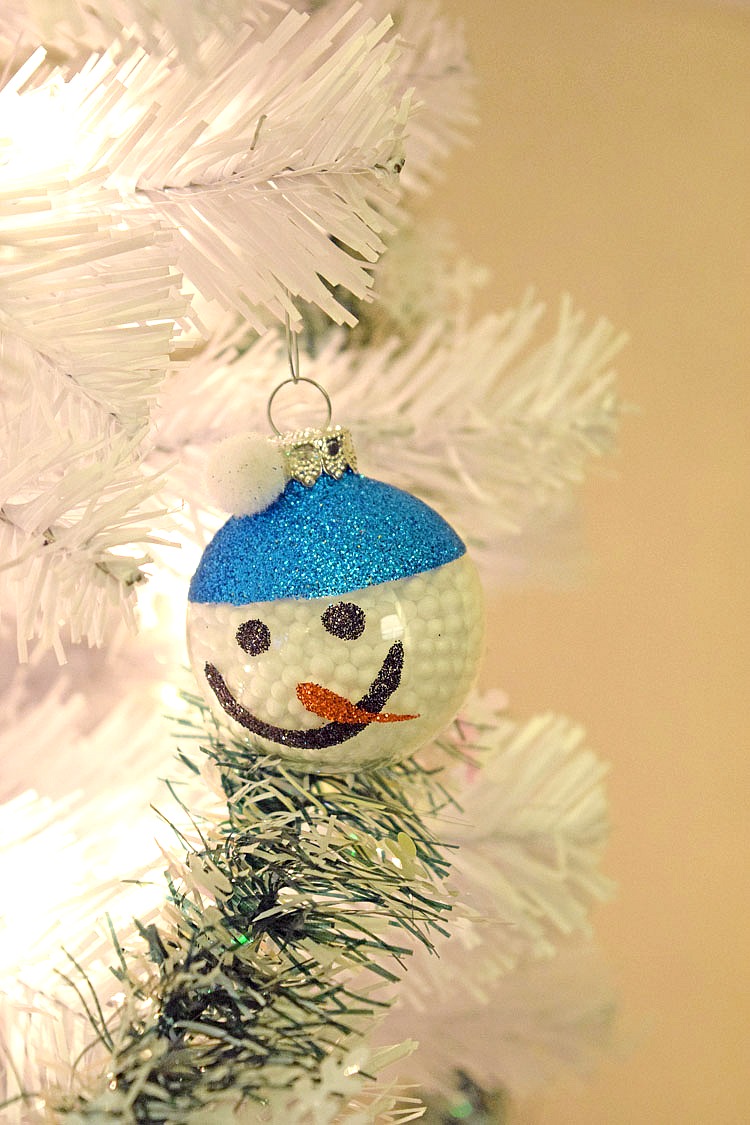 I'm planning to display my white Christmas tree in my home's living room again this year. I already have a tree for my home's family room, so my new Treetopia tree is going to have a spot of honor in my home's large upstairs hallway.
Clearing a Hallway
The problem is that the upstairs hallways has been a catch-all and storage place in my home. When my husband and I moved into our house 15 years ago, he put wall-to-wall bookshelves in the space. Those bookshelves accumulate a lot of stuff. (My husband and I have many books, etc.)
Plus, I got my kids a 20-gallon fish tank a few years ago. That fish tank sat on a large hand-me-down coffee table against one wall of the wide hallway. If I'm going to set up a tree in that hallway, I have to find a different home for the fish tank and clear up the mess that tends to spill out from the very full bookshelves. (You can see the old coffee table, the fish tank construction process and the new aquarium stand in the photo collage at the top of this post. In the collage is a pretty pink ornament one of my daughters made and a blue one I made.)
My goal for this month is to clear out the upstairs hallway and get my family's new Treetopia tree up and decorated! It's a big job!
Thankfully, I already have much of the cleaning/decluttering job done. I've emptied out the large 20-gallon tank and relocated the fish temporarily to a fish bowl.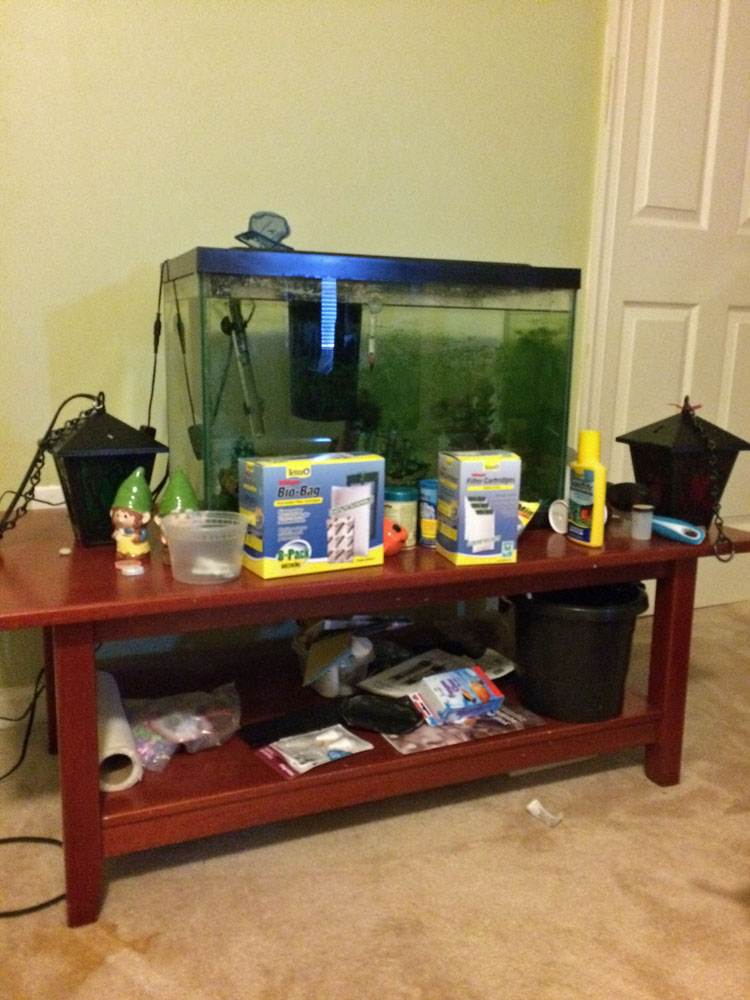 I also put together an aquarium stand (that's much smaller than the large coffee table the 20-gallon tank sat on) to hold a smaller, 10-gallon tank for the fish. The stand has two extra shelves, so there is room to add a tank for our goldfish. (The goldfish lives outside in a patio pond during the warmer months, but we bring him in when it gets cold outside. I was able to net him and get him inside just the other day.) The stand I got is the Imagitarium Newport 20 Gallon Wooden Tank Stand
.
I also vacuumed and spot cleaned the carpeting in the space. The space has been neglected since I got my
diagnosis of early-stage breast cancer
in June!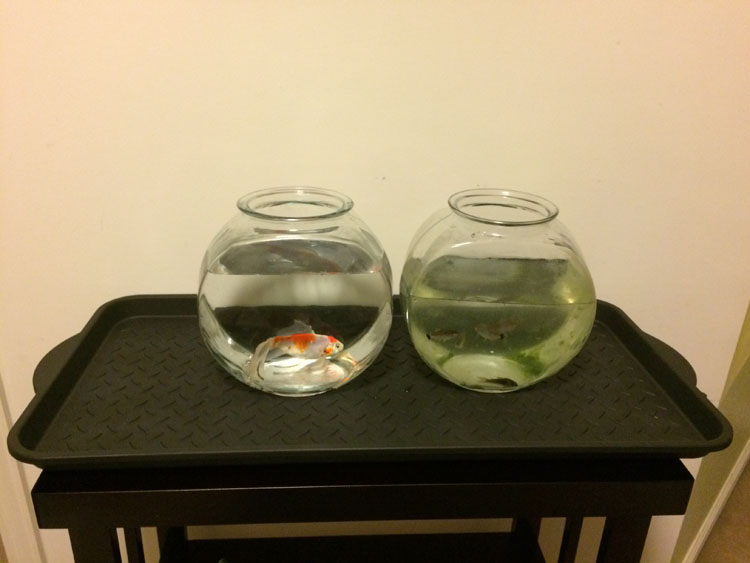 Putting Up a Christmas Tree
Now, I have to get the tree up. I also have to finish making the handmade ornaments that I have for the tree! It's a lot to do considering that my weekend is completely scheduled with other activities. I'm feeling the pressure to get this project done! Don't forget to stop by Wednesday to see if I got my goal done and to see how my tree turned out!
Carrie of Curly Crafty Mom is sharing her November goal, today, too!