** This post contains affiliate links. If you make a purchase from any of these links, I receive a small commission that helps to fund this blog. Thanks!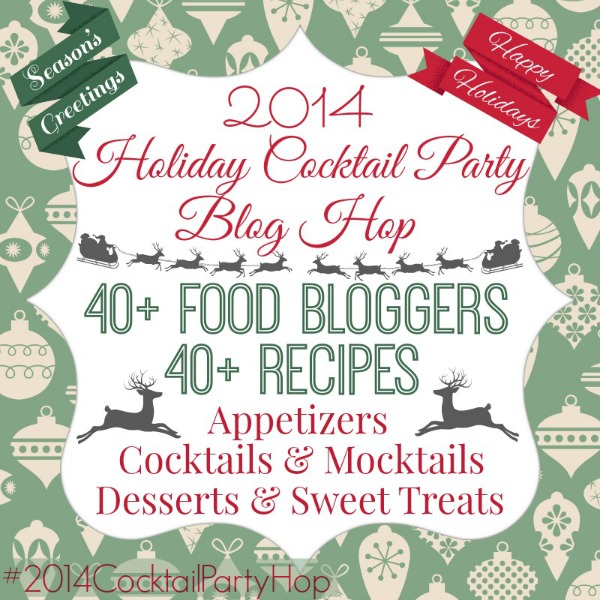 Today I am getting together with some of my favorite bloggers to host a Holiday Cocktail Party Blog Hop! It's time to get your party on! I am being joined by about 40 other bloggers and we are sharing our favorite holiday recipes: appetizers, cocktails and mocktails, desserts and sweet treats! I will be sharing one of my family's favorite appetizers, a marinated blue cheese and onion spread.Check the links at the bottom of this post to check out the holiday recipes from my blogging friends!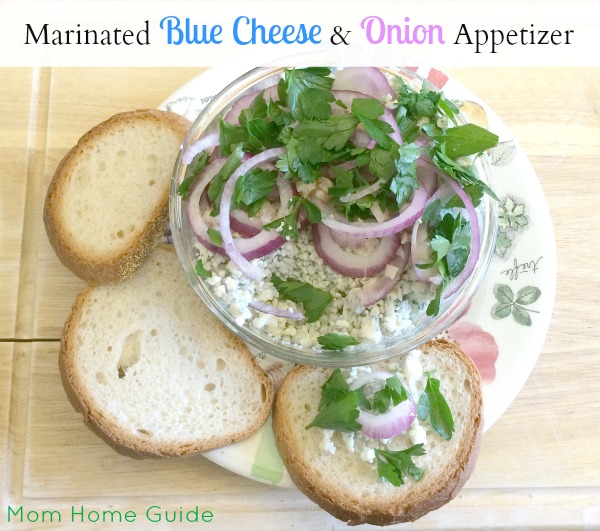 When I was a kid, there was an appetizer recipe that my mom always served around the holidays that I just loved. The appetizer recipe is really quite simple — it combines fresh, crumbled blue cheese with sliced onions and parsley. It is marinated in a homemade oil, vinegar and garlic marinade. The marinated blue cheese mixture is served on mini slices of rye or pumpernickel bread. This deliciously pungent, richly flavored appetizer recipe used to disappear quickly in my house!
Holiday Appetizer Recipe
I think my mom found the appetizer for the blue cheese, parsley and onion appetizer in a local newspaper. For years, I had a xeroxed copy of the recipe tucked into one of my cookbooks. I haven't been able to find the xerox for some time now, but luckily, I had written the recipe down in a Deluxe Recipe Keeper
that I have. Thank goodness!
Ingredients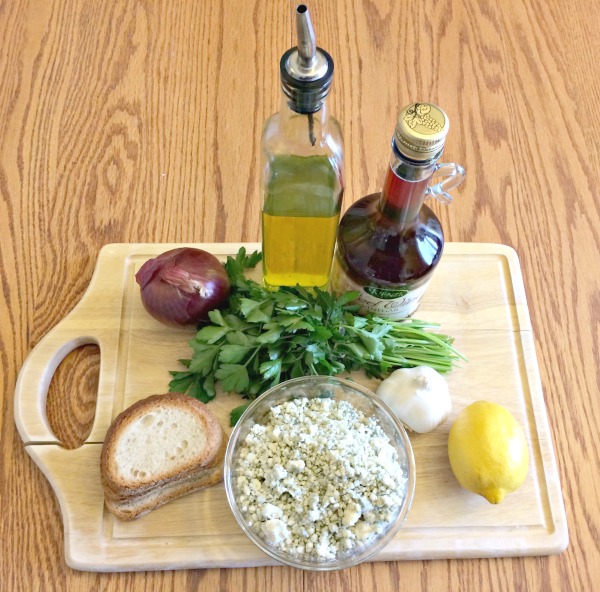 (enough for 40 hors d'oeuvres)
8 ounces crumbled roquefort or blue cheese
1 red onion, sliced
1 tablespoon fresh lemon juice
1/3 cub olive oil
1 tablespoon red wine vinegar
2 cloves garlic, chopped or crushed in a garlic press
1/2 teaspoon mustard powder
1/4 teaspoon black pepper (I like using a pepper mill
to get the freshest pepper)
1/4 cup chopped fresh parsley (chop your parsley with a sharp chef's knife
on a good cutting board
)
1 loaf cocktail pumperknickel or rye bread
Blue Cheese and Onion Appetizer Spread
Finely crumble blue cheese into a 9-inch or 9.5-inch Glass Pie Plate
or Glass Bowl
and top with onion slices. Combine oil, lemon juice, vinegar, garlic, mustard and pepper into a small jar or salad dressing bottle
and shake well.
Pour the oil and vinegar marinade over the cheese and sliced onions. Cover with chopped fresh parsley. Cover the cheese mixture with plastic wrap and refrigerate for at least 2 hours or overnight, to allow the oil and vinegar marinate to soak in.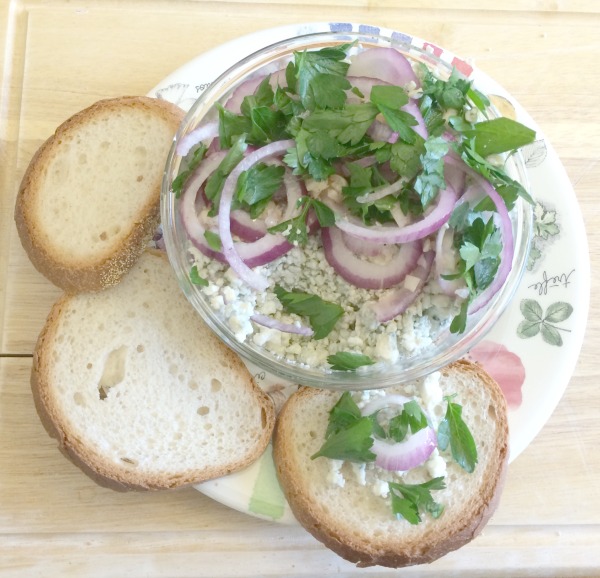 When ready to serve, serve the marinate cheese and parsley mixture on a serving platter
with cocktail bread slices. Have some stainless steel appetizer spreaders
and cocktail napkins
on hand.
Please take a look at the blogs participating in this Holiday Cocktail Party!
Appetizers
Domestic Superhero – Just Us Four – The Blue Eyed Dove – Sweet Pea – Glued To My Crafts – Patricia Eales Nutrition – Lemons and Laughs – Cupcakes&Crowbars – Sowdering About – Vegetarian Gourmet – Yesterday on Tuesday – Mom Home Guide – My Craftily Ever After – The Love Nerds – One Krieger Chick – Kenarry: Ideas for the Home – A Dish of Daily Life
Cocktails & Mocktails
One Artsy Mama – The Blue Eyed Dove – Sparkle – Albion Gould – Southern State of Mind – Eat Drink Eat – A Labour of Life – My Creative Days – Shelstring – I'm Bored Lets Go – Blue Crab Martini
Desserts & Sweet Treats
Major Hoff Takes A Wife – This Is The Life I Have Chosen – Crazy for Crust – Sypsie Designs – DIYfaerie – Little Blog on the Homestead – Living Better Together – Laura's INKlings – Life Made Sweeter – Tried & True – FrugElegance – Play. Party. Pin.