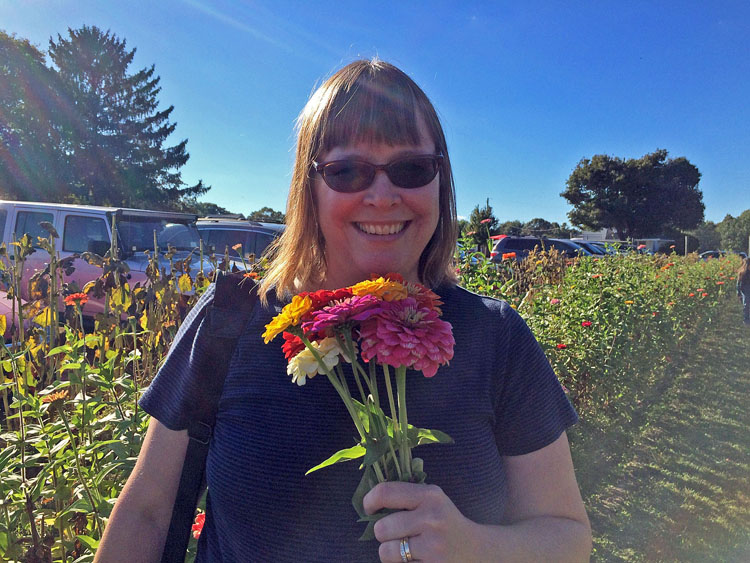 Welcome to the next installment of 12 Months of Goals. Each month, my friend, Carrie of Curly Crafty Mom, and I each take a moment to set a personal goal for ourselves. I find that when I take the time to set a goal each month, I am much better at getting things done. So far this year, most of my goals have centered around accomplishing a certain DIY task — like painting my kitchen's cabinets or updating my home's master bedroom. But for my October goal, I am going to do something different. I am going to resolve to not take on too many DIY or blog projects.
That's because in June, I was diagnosed with early stage breast cancer.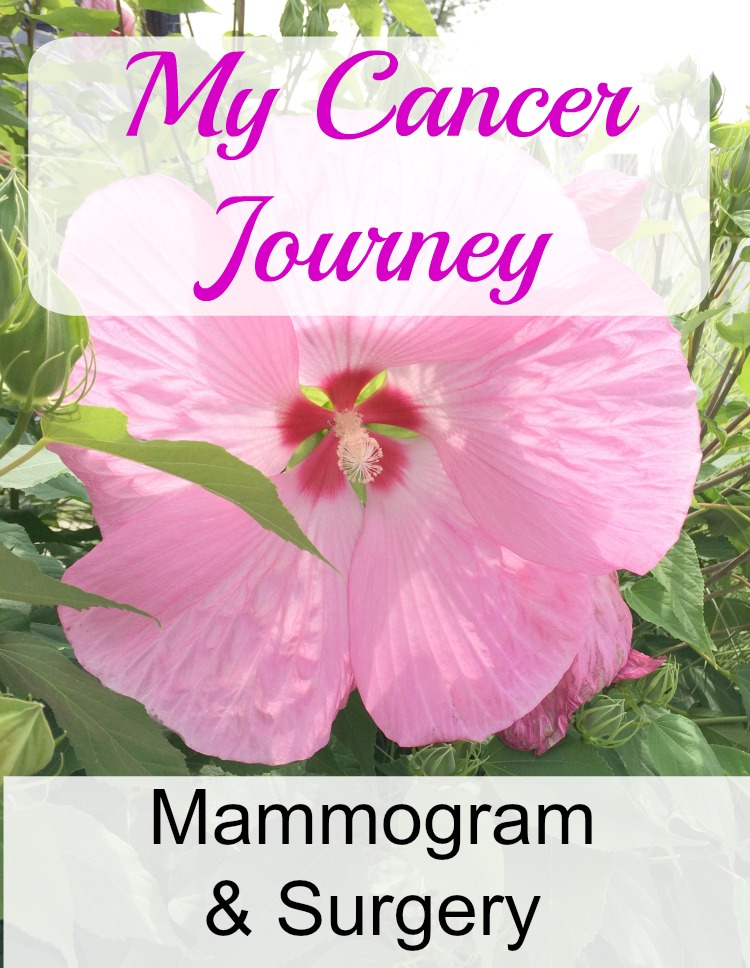 While there is cancer in my family, I've never really expected to face the disease myself. (Even though I've always worried about getting cancer.) I especially didn't expect to face it at my age. But, the doctors say we caught the cancer early. They also expect that after my treatment, there should be only a low chance of it recurring. I had a lumpectomy last month and expect to start radiation treatments this month. Radiation is said to cause fatigue in patients, so I plan to slow down a little this month to take better care of myself.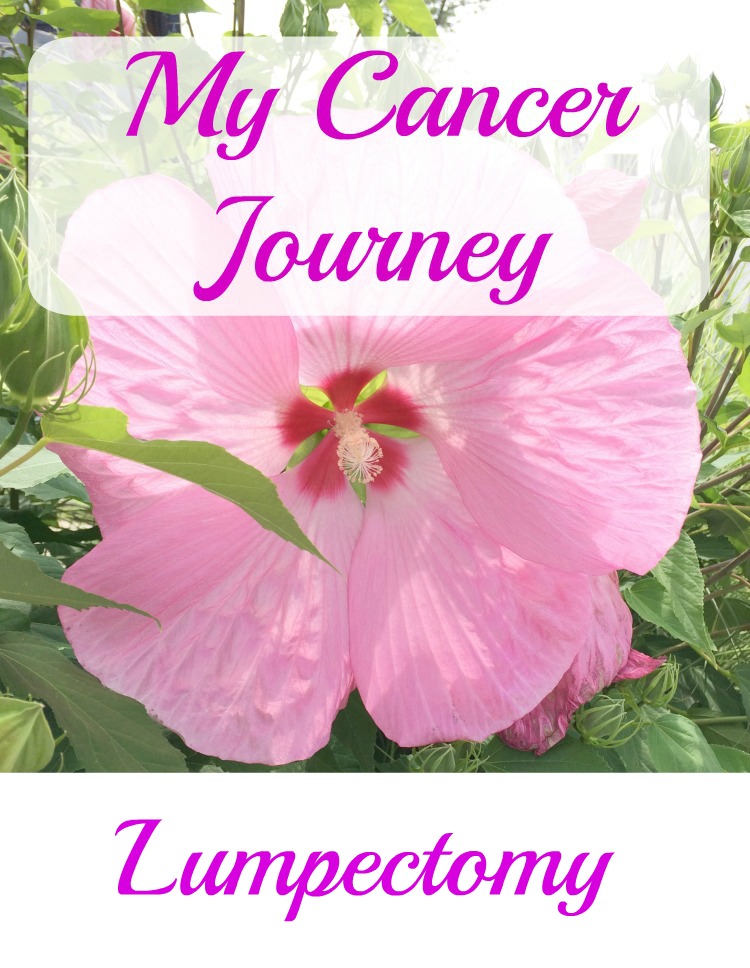 October Goal – Ways to Focus on Me
Once I start radiation treatment, I'll need to get a small dose of radiation 5 days a week for 4-6 weeks. The radiation itself should only last a few short minutes each time, but after adding in the time needed to check in for the treatment, set up for the treatment, check out, and drive to and from the treatment, that'll be a significant amount of hours out of my week.
I'm planning not to take on too many new blog posts this month — although I'll still be blogging a few times a week. I won't tackle too many DIY and decorating around the house, either. (Unless I have more energy than I expect to have.) I hope to spend more time resting and doing things I especially enjoy (like taking nature walks, spending time with my husband and kids, and sharing fun times with good friends).
For instance, on Sunday, I did some of the things I enjoy sharing with my daughters. The photo at the start of this post was taken Sunday. My daughters and I walked along a wooded nature trail and visited a local farm in our area. At the farm, we cut some zinnias to take home with us. It was an enjoyable day together!
My September Goal — Hanging Art
My September goal was to hang some art in my home. I had several canvas photos and other items in my home that I had meant to hang, but hadn't gotten around to.
I'm happy to say that I got much of that goal accomplished.
I added some DIY signs to my living room's gallery wall. The signs I hung are ones I made for autumn. I hope to update the wall for winter in a few months.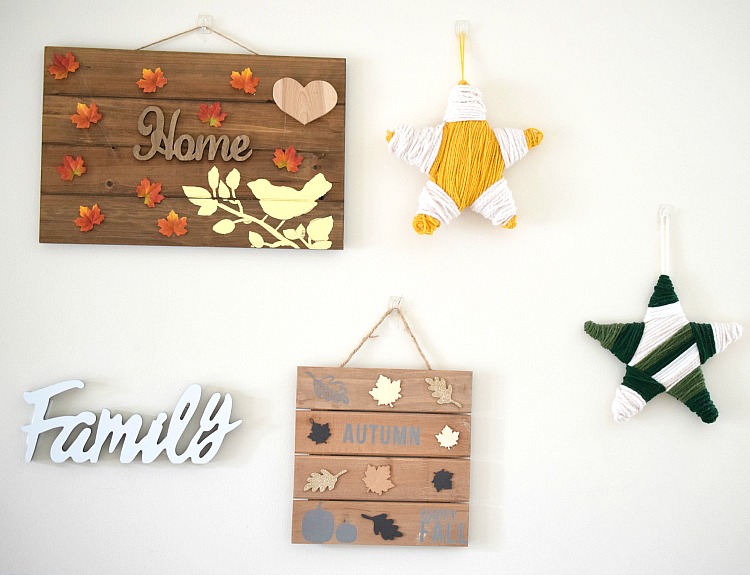 I also added to pieces of art to a mini "reading nook" area of my home's living room. (I took the photo of the sunflowers during a visit to local gardens.)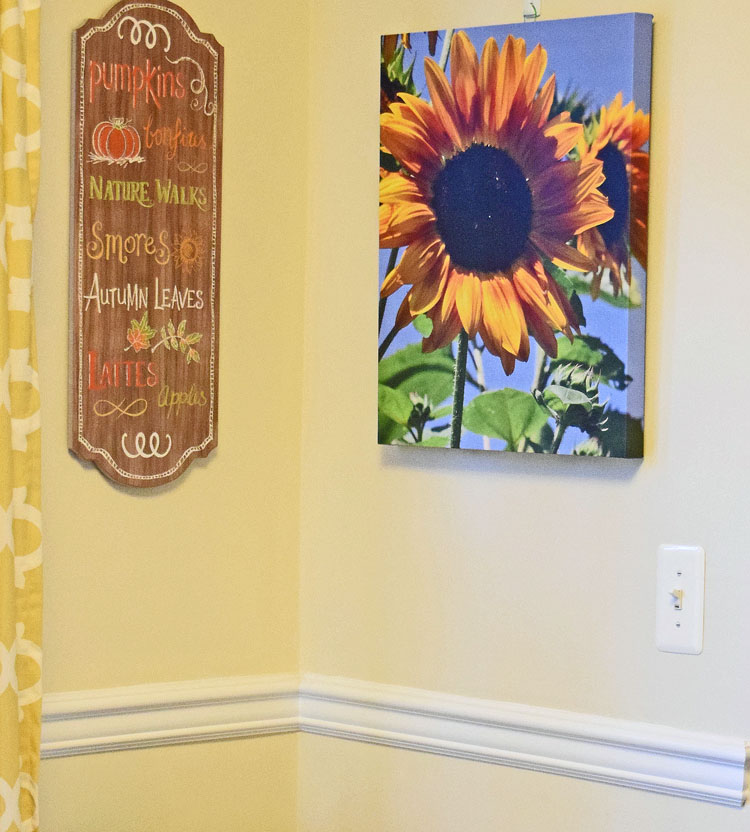 I also hung a photo canvas in my home's master bathroom. The photo is of a water wheel. I took the photo at Peddler's Village, a pretty shopping area in Bucks's County, Pennsylvania.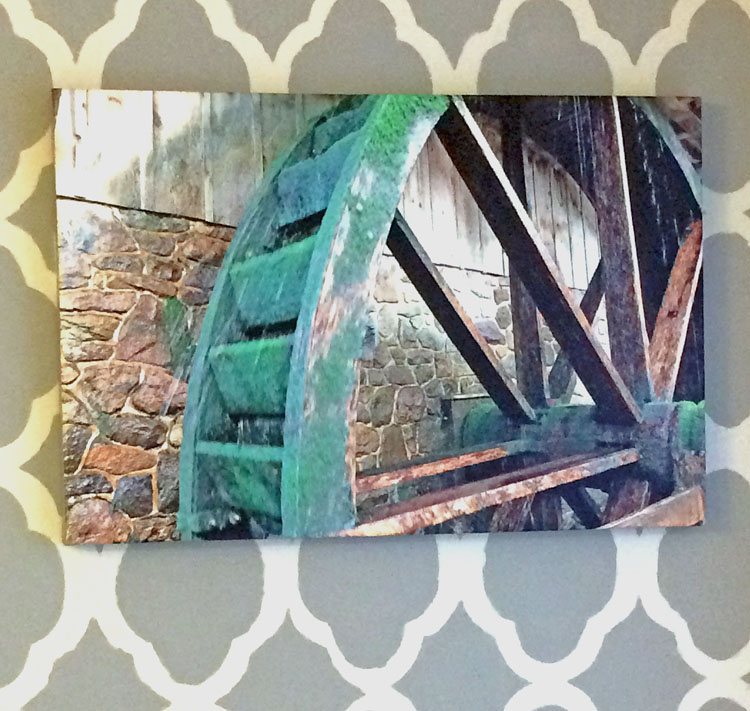 I was glad to finally get some of the art I have up on the walls!
Carrie of Curly Crafty Mom is also sharing her October goal. Be sure to visit her blog and see the goal she has set for this month!