Editor's Note: As I posted earlier, I broke my wrist last month when I fell on the driveway during a snowstorm. (I went out onto the driveway to take the garbage can in, and I fell immediately!) Luckily for me, my good friend and neighbor, Kim, saw me fall and came right over. (This is a shout out to Kim for all her help during my injury — thanks, Kim!!) You really appreciate good friends and neighbors in times like these.
My neighbor's husband watched my kids for me (thanks, Tyson!), while Kim accompanied me in the ambulance to the hospital. (At least the kids got a fun playdate out of it!) Two days later, I got surgery on my wrist, and a metal plate and pins were inserted to mend the wrist. Lucky me! But my sweet hubby has been taking good care of me, as you can see by the Snapple and the Peanut M&M's in the picture below — they were gifts from him. He knows me well! My kids have been taking good care of me, too — they have watching over me and helping with chores, etc. (Thanks, sweeties!) And while I am at it, thanks to my extended family and to friends like Lela and Elise who have been checking in on me — you are the best! 🙂
So, to make things easier for me while I recuperate, I am reposting a craft I made a few months ago. I think I am going to have to revisit this craft and maybe make a monogram letter for my home's entryway! It would also be fun to spell out "Valentine" with craft letters like these for Valentine's Day! Enjoy the post!
2/20/2013: Over the weekend, I finally got around to Mod Podging my craft letter. I've always liked large crafty letters, so I though I would make one of my own.
The project was really easy — I just traced the craft letter (backwards) on the back of some pretty green striped scrapbook paper I found at the craft store. Then, I carefully cut out my traced scrapbook paper letter.
Using a paint brush, I painted Mod Podge onto the top of my craft letter, and applied the scrapbook paper on top. To give the craft letter some shine, I painted some Mod Podge on top. I also added some scrapbook stickers on top for decoration.
I was going to place the letter on the mantle in my home's family room.
But after some thought, I think the letter would be a cute addition to my kids' new media and study room – it matches the color of the room pretty well. What do you think?

I think my new craft letter might be a good fit for my kids' new media and study space!
You Might Also Like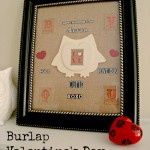 Framed Burlap Valentine's Day Collage