A new sofa is due to arrive soon for my home's living room, so I have been working on designing a new living room design scheme for our "new" living room! With the exception of a piano and some toy chests, our living room has never had much in it — it's always been more of an open play space for the kids!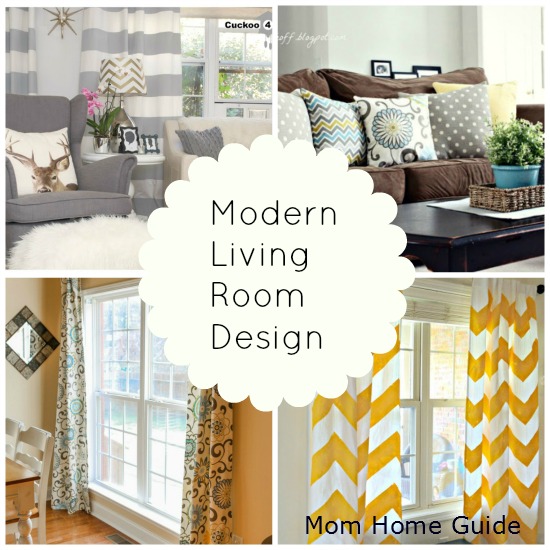 Modern Living Room Design
Now that my kids spend more time reading on their Kindles and playing games on their Ipods, I've decided that it's time to take back the living room!
I would like to take down the heavy drapes and replace them with something more fun and colorful, and the glider will most likely get moved to an upstairs guest room.
A brown sofa that I ordered (the Kennedy sofa from La-Z-Boy) should be arriving sometime this month. I am thinking that I would love to accent the sofa with bright yellows, reds and greens and dress up the room with an area rug, new curtains and colorful throw pillows. So, I've been searching my favorite blogs for inspiration, and these are some of the ideas I've come up with. I'd love it if you could let me know how you think these ideas would work in my space!
Colorful Throw Pillows
In her Home Tour, April at House by Hoff has a beautiful photo of her brown sofa with some gorgeous throw pillows on them. The funny thing is that the sofa looks very much like the sofa I ordered, and one of the throw pillows seems to be covered in a fabric that I just LOVE — Waverly Pom Pom Play Spa
. I think April's mix of prints against the brown sofa looks just fabulous! I would like to dress up my new sofa in a similar way to make my home's living room more fun and playful!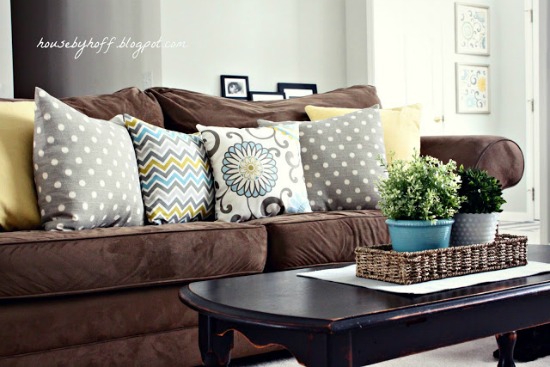 Krista at the Happy Housie (I just love that blog name!) uses a really pretty mix of colorful throw pillows on her home's sofa. On her blog, she has a really great tutorial on how to make DIY envelope pillows, so I will most likely follow her tips when making my own pillows! I just love how Krista uses color in her house — her fun use of color really makes her house look like a happy home!
Playful Curtains
I've found three curtain designs that I would like to use in my room — I just can't decide which one! But, there's a possibility that I will use one set of curtains in the living room, and make another set for my home's living room. The custom valances in my home's living room were made for me by the same designer who made the living room curtains, and they, like the living room curtains, have a much more formal look than what I want for my home right now.
Chevron or Stripe Curtains
I love the idea of adding yellow and white chevron or striped curtains to my living room. I think the combination is so happy and uplifting! Kelly of Here Comes the Sun has a great tutorial on how to make DIY chevron curtains from plain white curtains, painters tape and paint. (Kelly used curtains she already had from Ikea.) One needs patience to make chevron curtains this way, but it looks like it's worth the effort!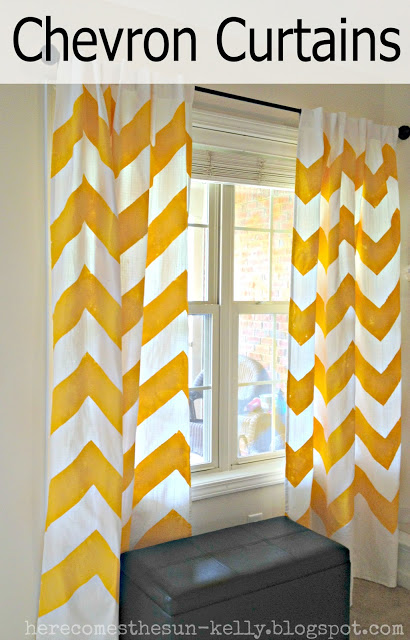 I also like the DIY striped curtains that Julia of Cuckoo 4 Design made with paint, painters tape and Ikea curtains. Her room looks so modern and stylish!
Waverly Pom Pom Play Curtains
Another curtain design I've been crushing over are the handmade curtains made with the Waverly Pom Pom Play Spa
 fabric that I've been seeing on Pinterest and home decor blogs. I love the mix of yellows, blues and greens in the Waverly Pom Pom fabric. Joanna of Southern Daisy made curtains from this fabric, and the curtains look just beautiful!
My new sofa should arrive in 2-3 weeks, so I need to make my decisions soon, so I can put everything together! If you have any ideas on what you think would work best in my space, I'd love to hear from you!
See My New Living Room
Wondering how my new living room turned out! Then take a look at my living room — this post shows what it looked like after I got my new sofa, ottoman and accent chair. Stay tuned for more updates to the space!
More From Mom Home Guide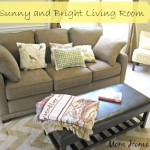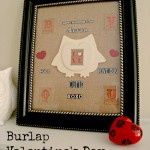 This Post Was Shared At