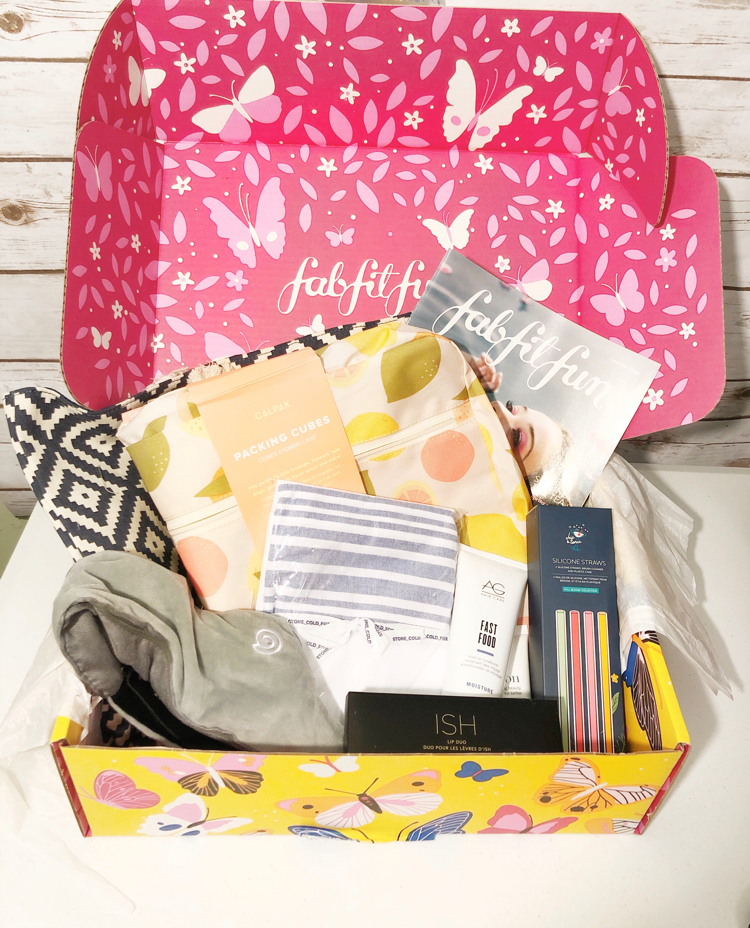 My spring FabFitFun box recently arrived! FabFitFun is a beauty, fashion and lifestyle subscription box that contains fun finds tailored to the season. You can subscribe to FabFitFun by a single box/season for $49.99, or for the year for $179.99. If you subscribe for the year, you will receive 4 boxes with full-sized fashion, beauty and lifestyle items – in the spring, summer, fall and winter.
If you buy a yearly subscription, you get to choose some of the items that will arrive in your box. It's nice getting to pick out some of the items in my box! FabFitFun is a great way to receive high quality and trendy products at a discount, too!
If you use my referral link, you can get 20% off your first FabFitFun box!
My Spring 2020 FabFitFun Subscription Box
I will start out by sharing some of my favorite items in the box.
Calpak Set of 3 Packing Cubes ($40 Retail Value)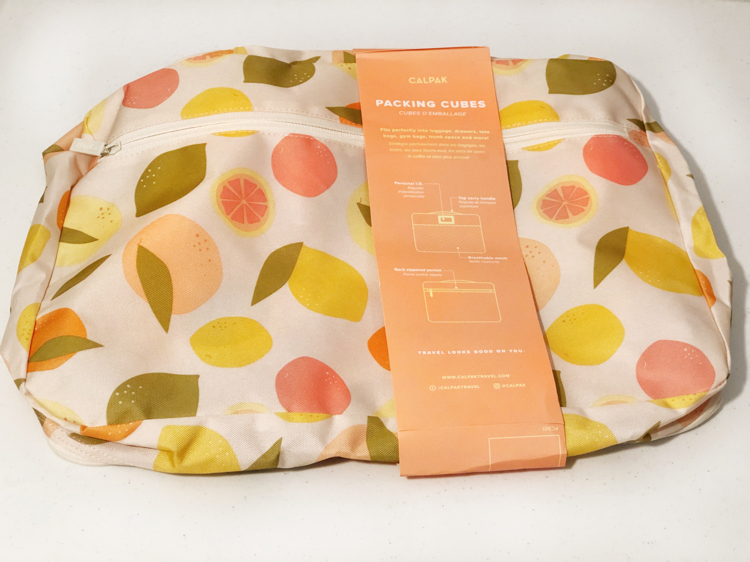 My top favorite item in my spring FabFitFun subscription box is the Calpak Set of 3 Packing Cubes in Tutti Fruity. I received 3 packing cubes in small, medium and large. These cubes can be used to organize a suitcase, dresser or closet. (I am planning to save them for traveling.) I have wanted some packing cubes for a while now, and these cubes from Calpak are so pretty!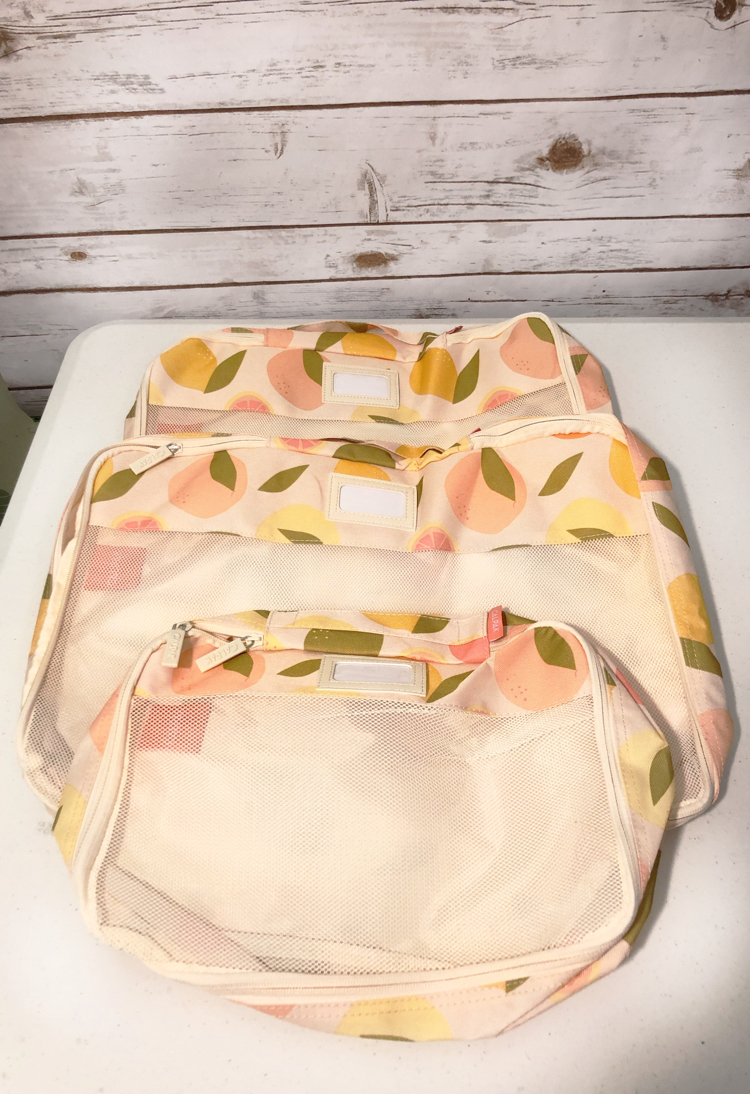 I like that the packing cubes have a mesh back for air circulation and have an extra zipped pocket on the back. There is also a spot to hold a label for extra organization! I know these packing cubes will be a great help on my family's next overnight trip.
Summer & Rose Navy Diamond Tote ($50 Retail Value)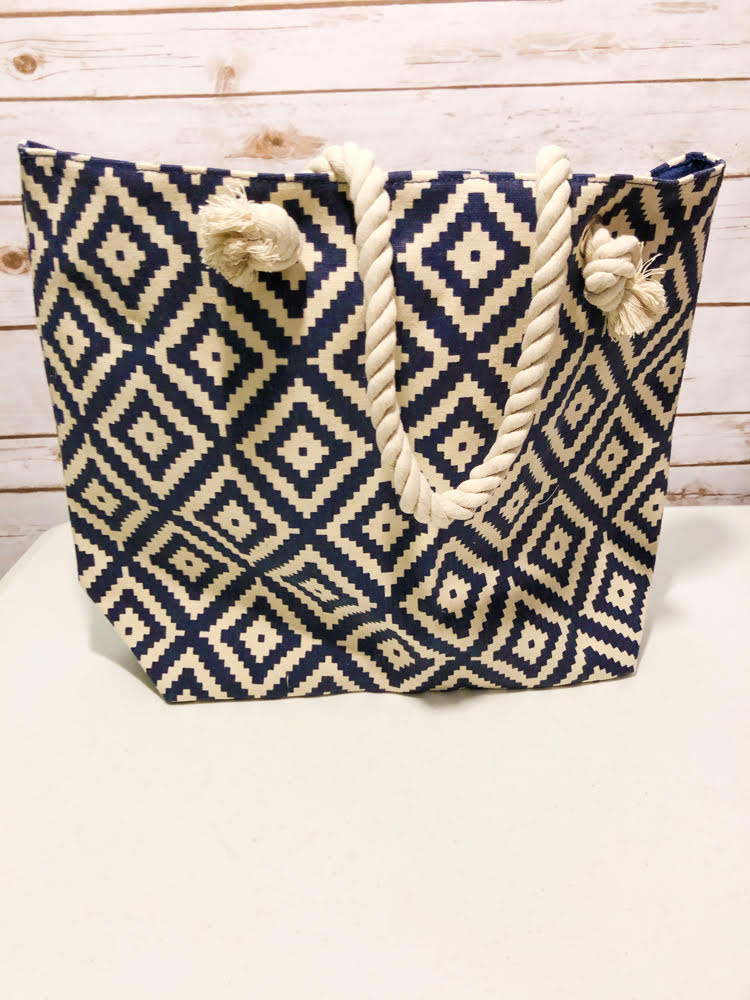 As the mom of two busy teens, the Summer & Rose Navy Diamond Tote from my spring FabFitFun box will really come in handy! I often ferry my kids from activity to activity, and spend a fair amount of time waiting for them in the car. This all-cotton tote with a snap on top will hold my magazines and a book or two to keep me occupied while I wait.
Once summer hits, it will be the perfect companion to my family's swim club. This tote is well made and is pretty, too!
Chic & Tonic Silicone Straws ($15 Retail Value)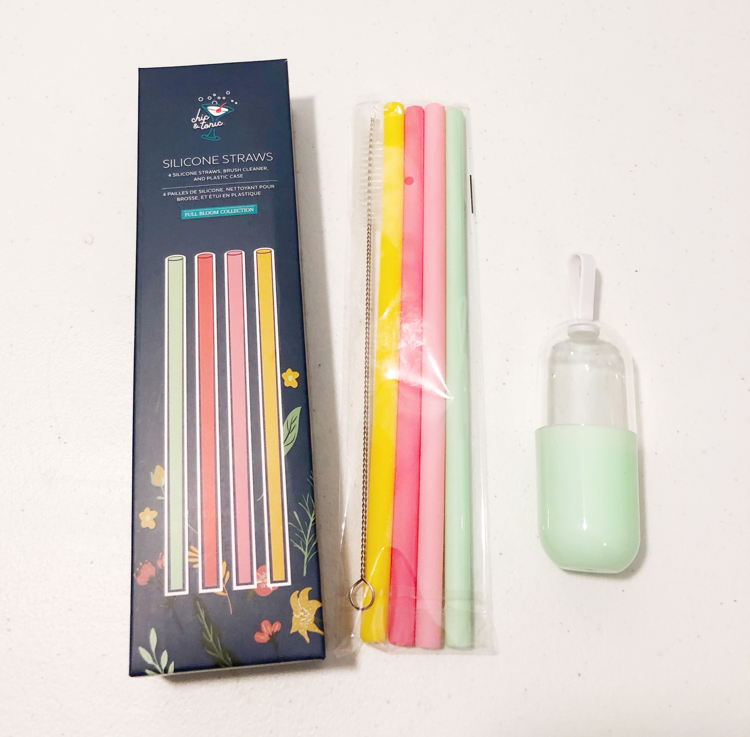 My daughters and I have been avoiding plastic straws. So I love the Chic & Tonic Silicone Straws that I received with my Spring FabFitFun box. I can carry a straw with me in the included adorable carrying case, so I have it on hand should I pick up a cool drink when out and about. (My daughters and I love bubble or chai teas!) The included brush cleaner will help me to keep the straws clean.
Stone Cold Fox Tea Towels ($38 Retail Value)
I love the simplicity of these tea towels. I like the simple blue and white stripes, too. These towels are absorbent and durable, also. They will lend some simplistic style to my home's kitchen.
Gravity Weighted Sleep Mask ($39.99, retail value)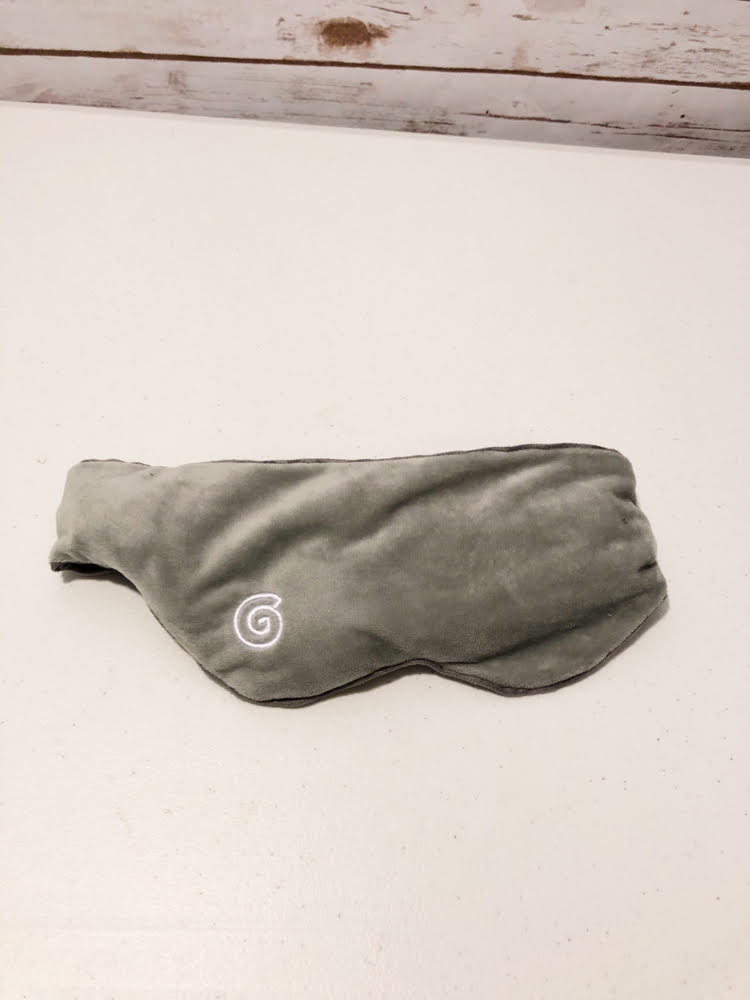 The gravity-weighted sleep mask is something I chose for my Spring FabFitFun box. But I am not wild about this sleep mask. I am not even sure I will use it! FabFitFun's description of the sleep mask says it "distributes a light touch across key pressure points." I find the mask too heavy. It scares me to have so much weight on my eyes. One of my daughters tried the mask, and didn't like it, either. But the mask has a zipped opening, and it is possible to remove the weighted portion of the mask. So maybe I will use this mask after all. The fabric of the mask is very soft and soothing.
FabFitFun Beauty Products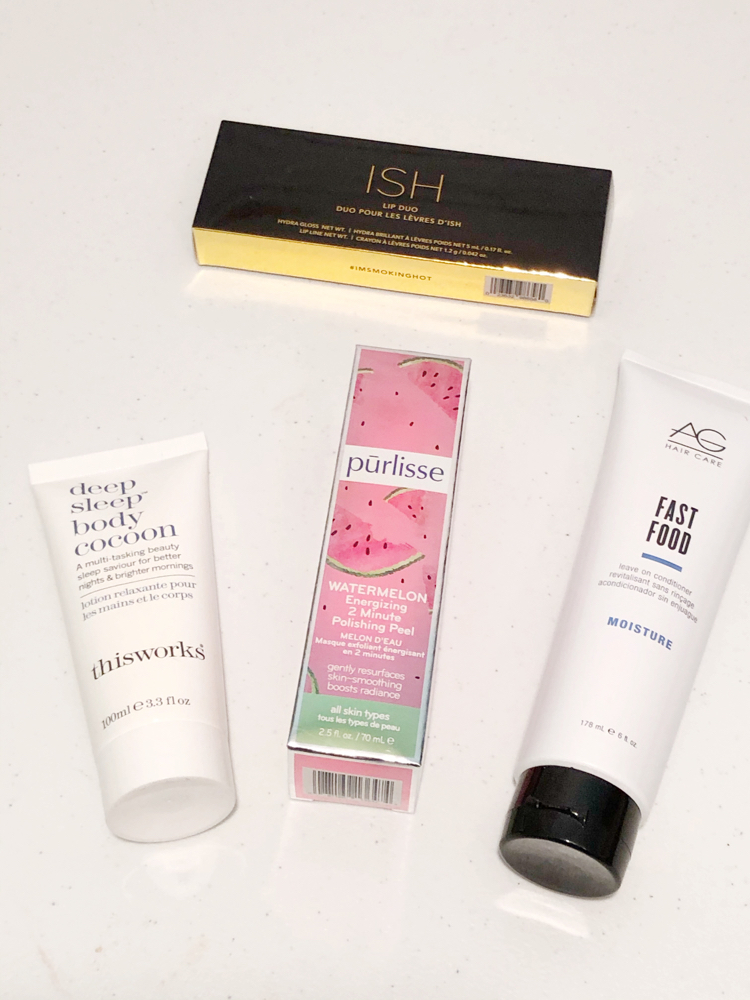 I received several beauty products in my latest FabFitFun box.
Deep Sleep Body Cocoon ($40)
This thick, soothing hand cream is perfect for my dry winter hands. Plus, it has a delicious and calming scent. I put this hand cream in my home's downstairs powder room so my daughters can enjoy it, too.
Purlisse Watermelon 2 Minute Polishing Peel ($35)
I am looking forward to trying this facial polish, which is infused with both watermelon and lychee. Yum! The peel is designed to gently exfoliate and brighten skin. This is something I might also share with my daughters, as I am sure they will appreciate it, too!
AG Fast Food Leave On Conditioner ($24)
I gifted this leave-on conditioner to my daughters, and they are looking forward to using it! This product is designed to calm frizzy, thick or coarse hair. It also conditions while adding shine. (I have very fine hair, so I don't think this product is right for me – plus it has some ingredients that I am sensitive to. I have many allergies!) My daughters love it when I share my FabFitFun goodies with them!
ISH Lip Duo (Retail Value $26 – I paid $5)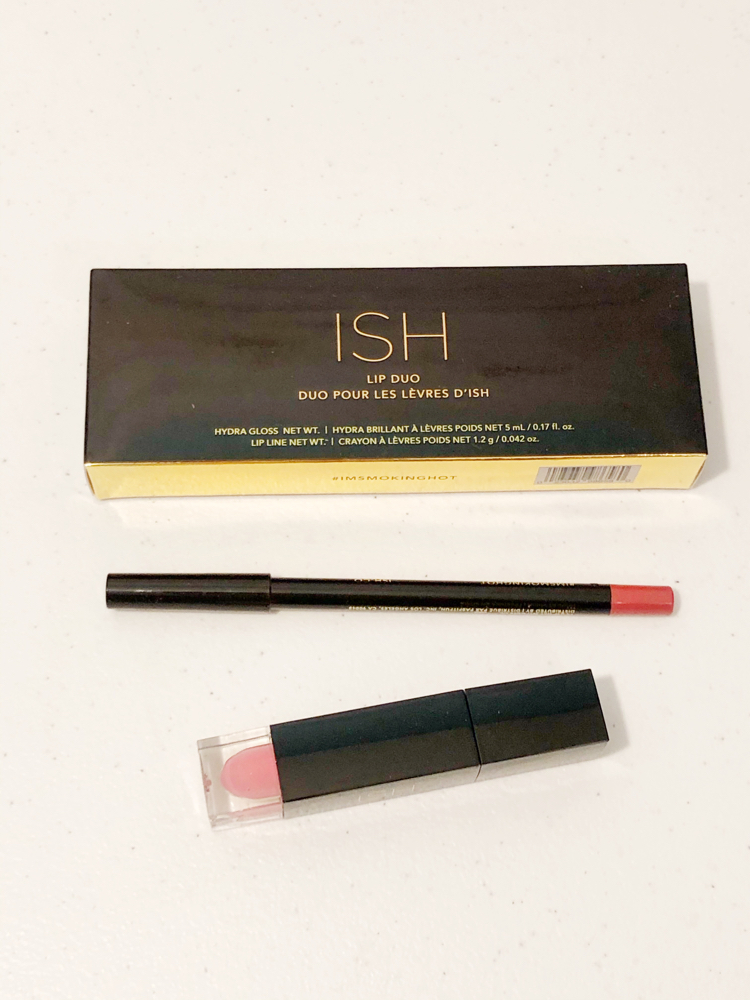 My favorite item is actually an ad-on item that I paid extra to have in my box. I had received ISH beauty products in past FabFitFun boxes, and really liked them! That's a fun part about being a FabFitFun subscriber — you get the chance to try a lot of awesome products at a big savings.
The Ish Lip Duo combines a lip liner (in "Kiss") and an ISH Hydro gloss. The pair is perfect for everyday wear and has some real staying power! The lip liner is in a shade I normally wear — it's like a nude or a really light rose.
Don't forget — If you use my referral link, you can get 20% off your first FabFitFun box!
Check Out Some of My Past FabFitFun Boxes