*This post contains Amazon affiliate links. If you click an Amazon link and make a purchase, I earn a small commission that helps to fund this blog. Thanks!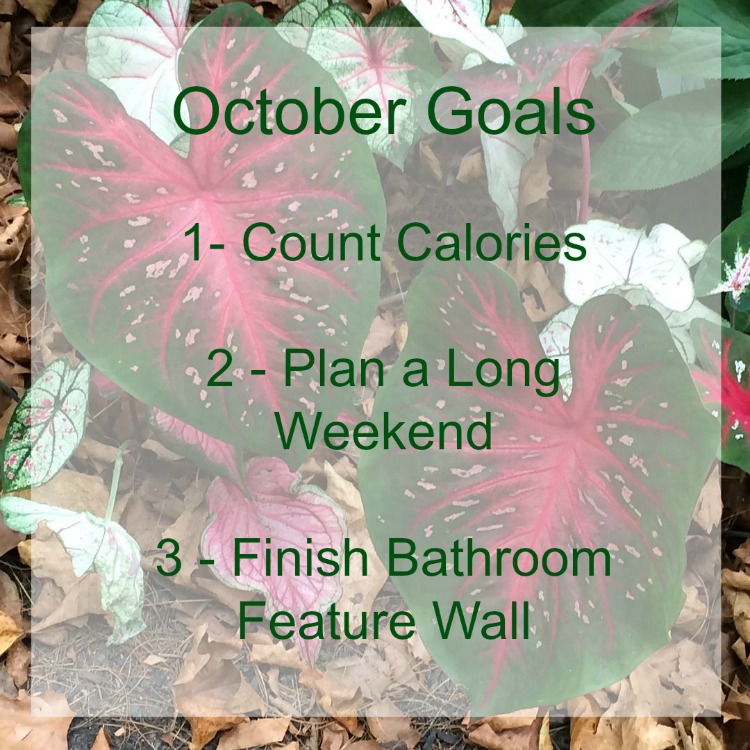 Every month, I set three monthly goals for myself. These goals are smaller things I hope to achieve or accomplish in the next few weeks. I've found that goal setting, or establishing small goals each month helps me to get things done! My friend Carrie at
Curly Craft Mom
got me started on this helpful habit of goal setting! The recap of my September goals are at the bottom of this post. These are my October goals:
1 – Count Calories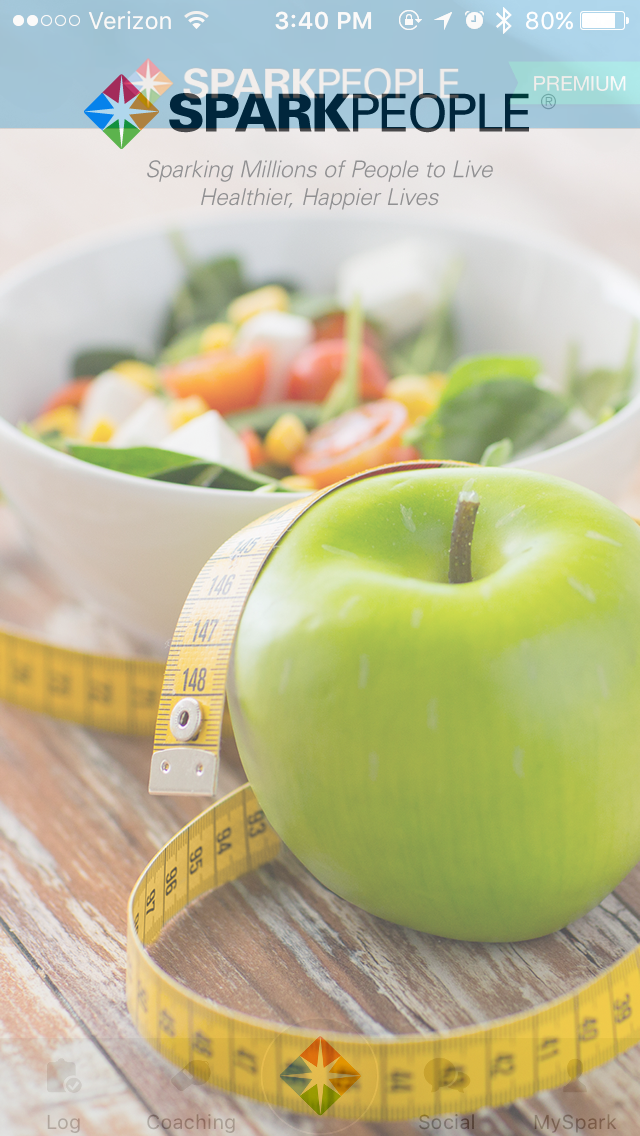 Ever since being diagnosed with hypothyroidism and getting bunion surgery for a severe bunion last summer, I've experienced significant weight gain. I've been unable to do much walking lately, since my foot hasn't completely healed from my surgery. I am back in physical therapy for my foot, thankfully, so I hope to be able to do more exercising at some point. I've also resolved to start counting calories!
Carrie of Curly Crafty Mom told me about SparkPeople. With the app, I can type in what I've eaten throughout the day, and get an estimated calorie count for how many calories I've consumed. I've entered my weight loss goals in the app, and the app has given me a calorie range that I should stick to every day. We'll see how it goes — hopefully it helps! I've never really counted calories before, so I am hoping this app is what I need to lose weight. The app makes me more honest — since I have to input what I've eaten daily, I've been laying off my favorite sugary drink (bottled lemon flavored tea) and have been using Stevia in my hot tea instead of sugar. I've also been drinking lots of water.
2 – Plan a Long Weekend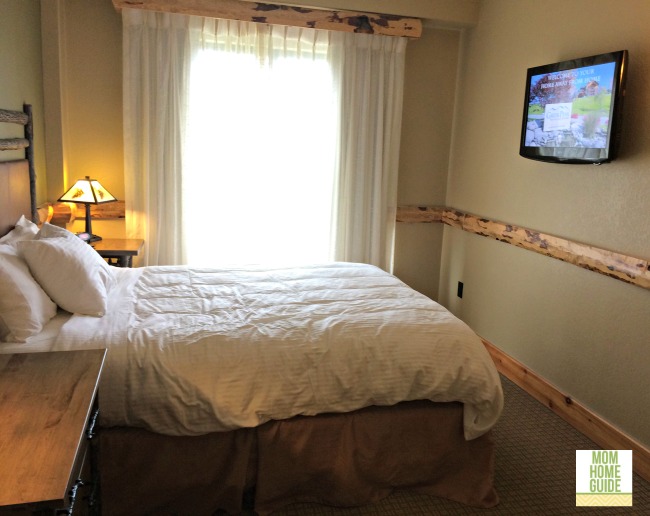 My kids have some days off from school in the fall, so I'm hoping to plan a mini trip for my husband, kids and me. I'm on the hunt for somewhere fun we can stay in the New York/Pennsylvania/New Jersey area. I'll be searching Groupon and online for deals. I'd love to find an all-inclusive type of resort where we could go hiking, swimming and maybe even get some spa treatments! I'd love to find a place like Hope Lake Lodge in Upstate New York, where my family stayed the summer before last. The resort has an outdoor adventure center with zip lining and a mountain coaster, and an indoor waterpark. We also hiked a nearby park and saw many amazing waterfalls. That area of New York is beautiful! I would love to take a trip like that again.
3 – Finish Bathroom Feature Wall
For the past several days, I've been working hard on creating a feature wall for my home's master bathroom. It's been a lot of work so far, but also fun! In a few weeks I plan to reveal my bathroom's new feature wall and some new bathroom decor, too. I can't wait to show off my master bathroom's new look. (I have a lot of work to do in the next few weeks!)
How Did I Do on My September Goals?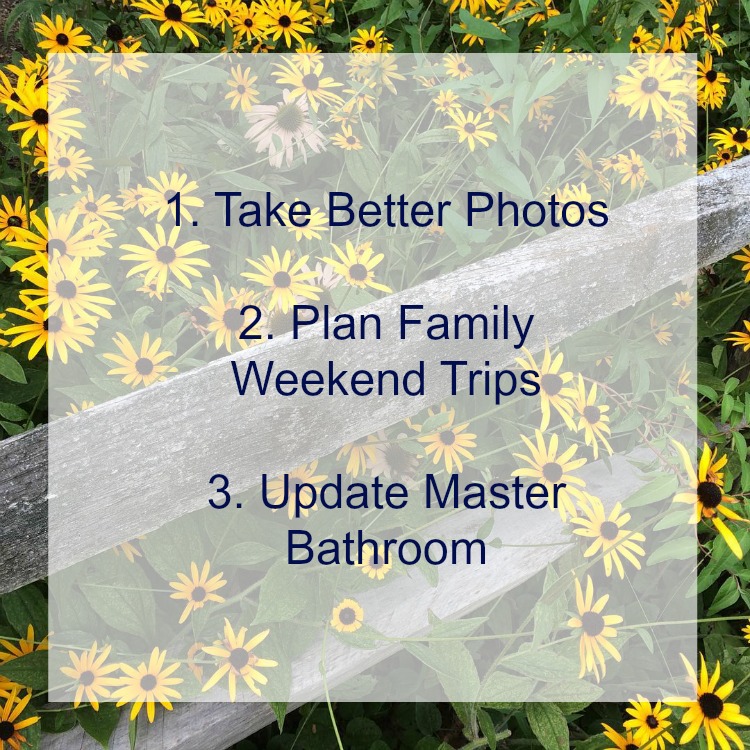 1 -Take Better Photos: I've been working hard to improve my photography skills this month. I think I've made some improvements. To increase my skills, I've been reading two books to get to know my camera better and to improve my photography skills: I am reading"Digital SLR Photography All-in-One For Dummies
."
I am also reading "The Beginner's Photography Guide
." We'll have to see if the photos on Mom Home Guide start looking better soon.

2 Plan Weekend Trips for the Family: My husband, kids and I have been better about taking advantage of our weekends together to explore the area. I've been finding that if we're better about planning ahead for our weekends, we get to see so much more! (When we don't plan ahead, we sometimes spend much of our day deciding what to do!)
3 Update Master Bathroom : I have almost completed a feature wall for my home's master bathroom. I'll be revealing it next month! I've also made some décor decisions for the space that I will be sharing on the blog next month, too.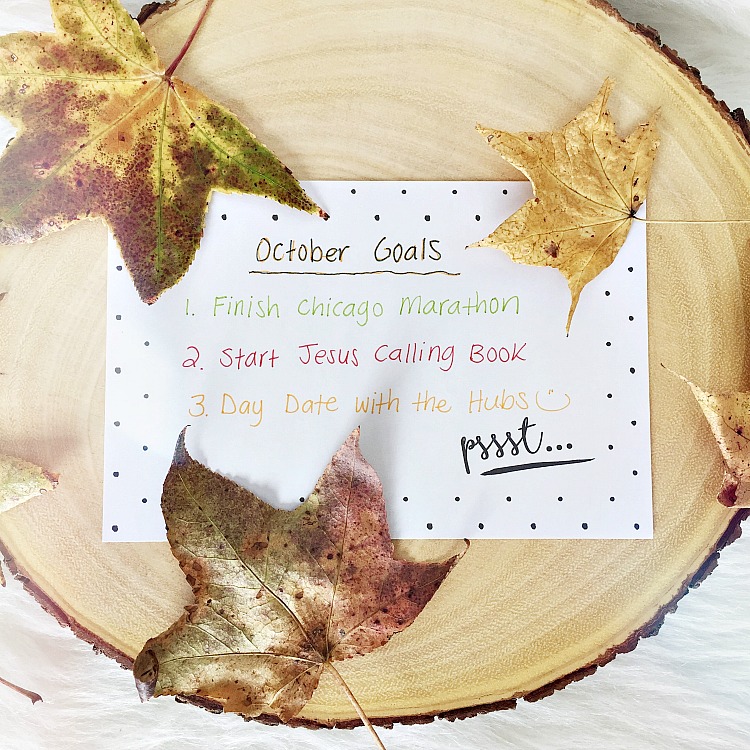 Please be sure to check out the October goals for my friend, Carrie, on Curly Crafty Mom!