This post contains affiliate links which means I may receive a small commission if you buy something through my link or ad. This does not change your cost – it just helps keep this blog running. Thanks for your support! Thanks also to Tuttle Publishing for providing me with my copy of the "Japanese Origami Kit for Kids." All opinions expressed here are my own.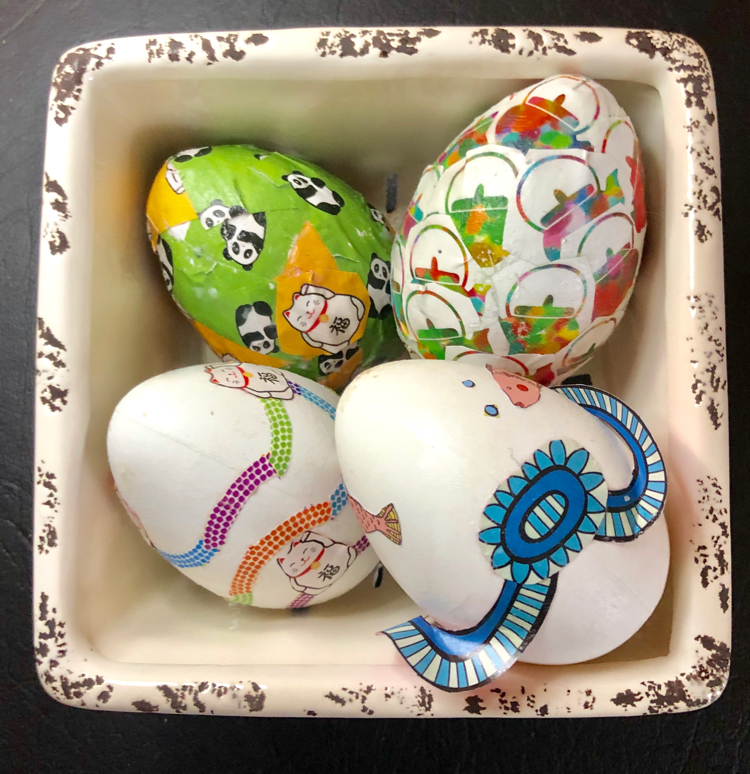 My daughter and I decorated some Easter eggs over the weekend. But we didn't use dyes of any kind, or real eggs of any kind. What we did use was faux craft eggs, origami paper and Mod Podge. Our Easter egg crafting session was a lot of fun!
I am sharing my Easter egg craft as part of today's Pinterest Challenge blog hop. The blog hop is hosted by Erlene of My Pinterventures. The blog hop challenges its participants to not just pin projects and recipes on Pinterest, but to complete them!
To join next month's #pinterestchallenge, click here to sign-up ? May Pinterest Challenge
I got my idea for decoupaged Easter eggs from Hip2Save. Their beautiful decoupaged Easter eggs are decorated with paper napkins. I wanted to tweak the idea with my own spin. I recently received the Japanese Origami Kit for Kids: 92 Colorful Folding Papers and 12 Original Origami Projects for Hours of Creative Fun!
from Tuttle Publishing. I adore the adorable Asian-themed prints of the origami paper — the paper is embellished with images of sushi, pandas, Asian teapots, etc. I love it! I thought the origami paper would be perfect for my project.
Besides all the beautiful origami paper, the book has fun origami projects that can be done with your kids.
Decoupaging craft Easter eggs is an enjoyable way to make beautifully decorated Easter eggs. A plus is that these don't have to be refrigerated like real Easter eggs do.
Supplies for Origami Paper Decoupaged Easter Eggs
Craft Easter eggs
Origami paper
Craft paint brushes
Mod Podge
Multipurpose Scissors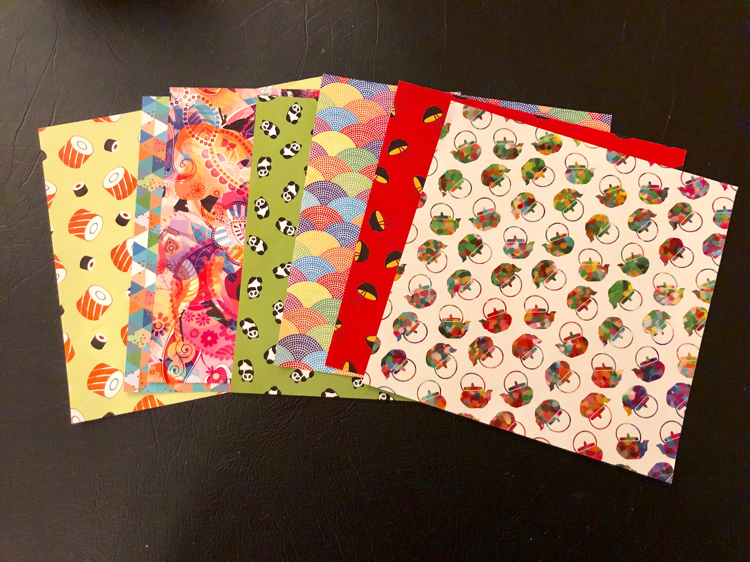 How to Decoupage Easter Eggs
The technique of decoupaging Easter eggs is really quite simple. We simply cut up bits of the origami paper. We then applied some Mod Podge to craft Easter eggs with small artistic paint brushes. We pressed the bits of origami paper to the eggs and then painted an extra layer of Mod Podge on top to seal the paper to the eggs.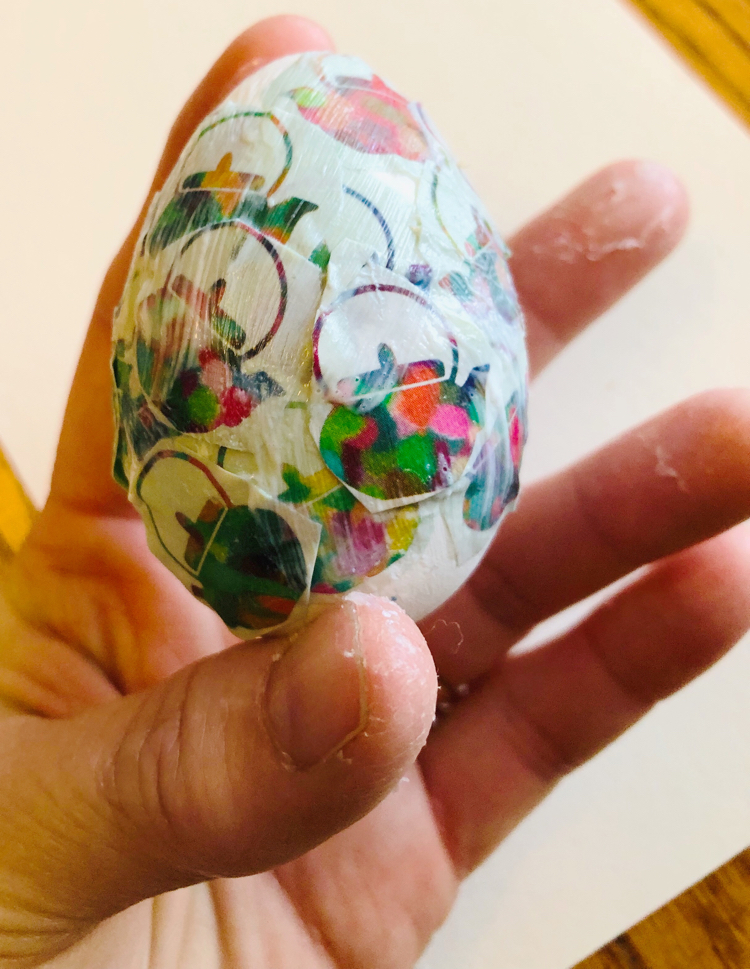 I decoupaged my first craft Easter egg with a teapot design origami paper. I basically covered the egg with cut outs of various Japanese teapots. Decoupaging all those teapot cutouts took a little more time than I expected. But it was nice getting some quality time in with my daughter!
The beauty of Mod Podge is that it looks a bit messy while you are using it, but it dries clear.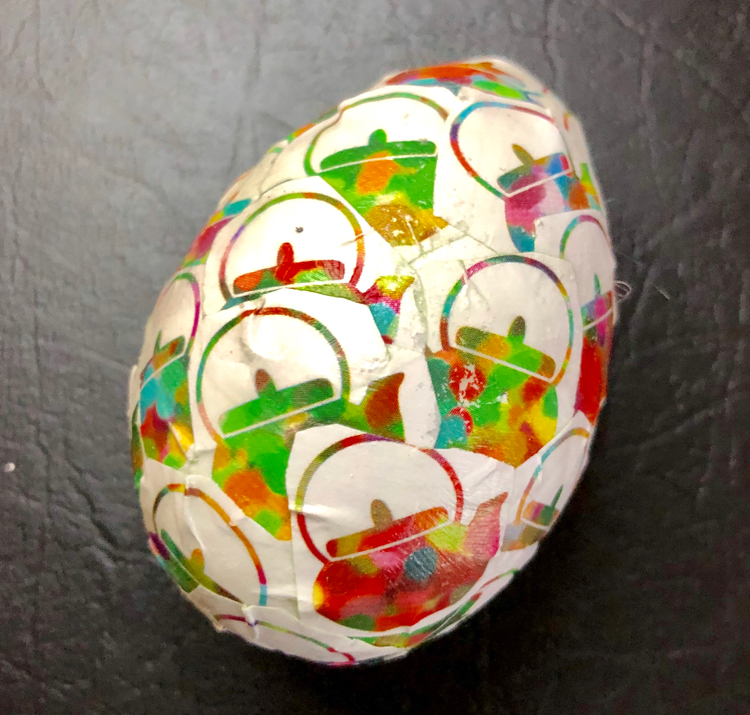 I really like my daughter's approach to decoupaging the craft Easter eggs – like how she decorated the below Easter egg with curvy strips of origami paper and Japanese maneki-neko, or beckoning cats.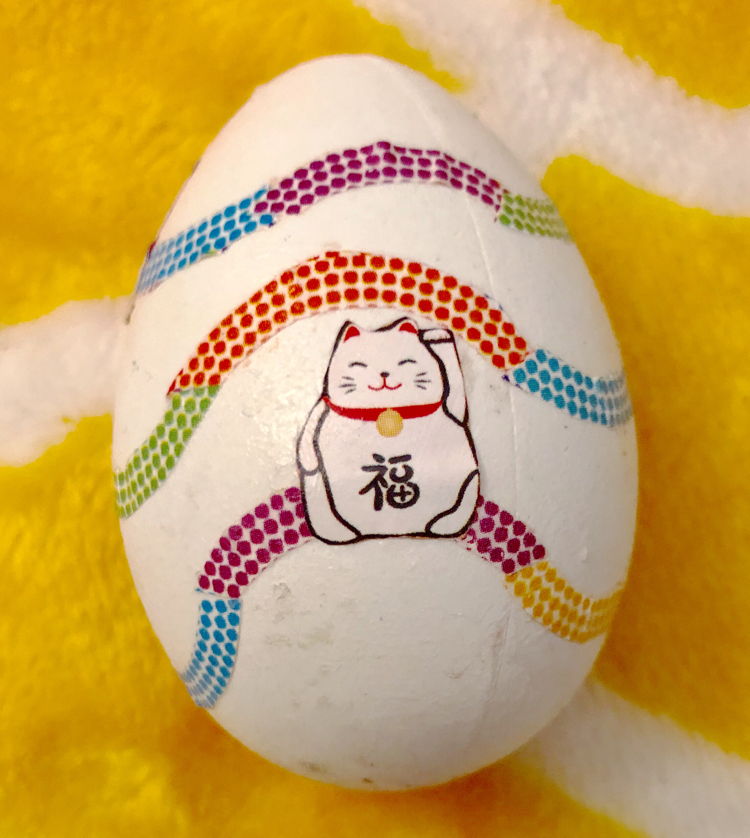 I also like the 3D approach she took for another Easter egg that she decoupaged.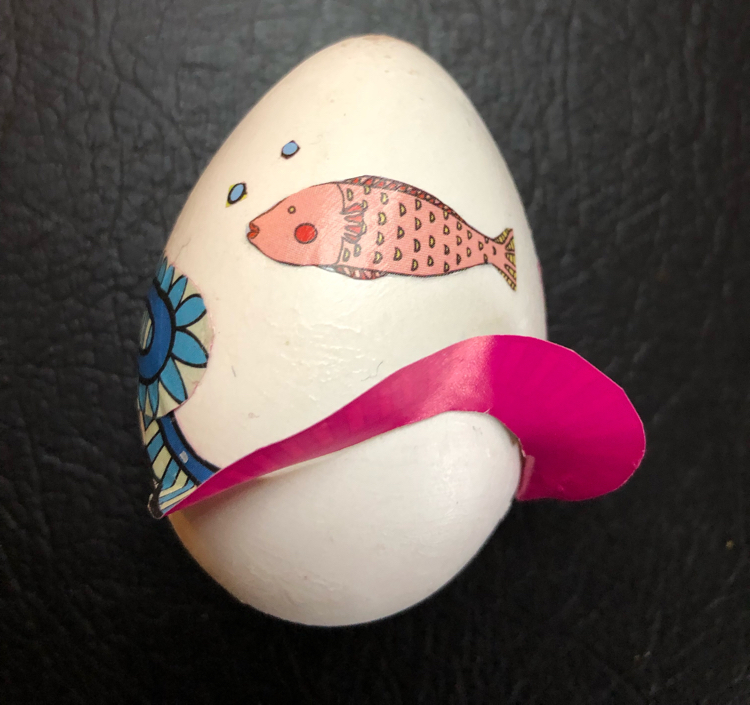 Decoupaging the Easter eggs with my daughter was a fun project! I love that we can keep our Easter eggs once the holiday is over and remember our fun day together. Maybe I'll be able to fit in some time decoupaging more eggs with both my daughters this week!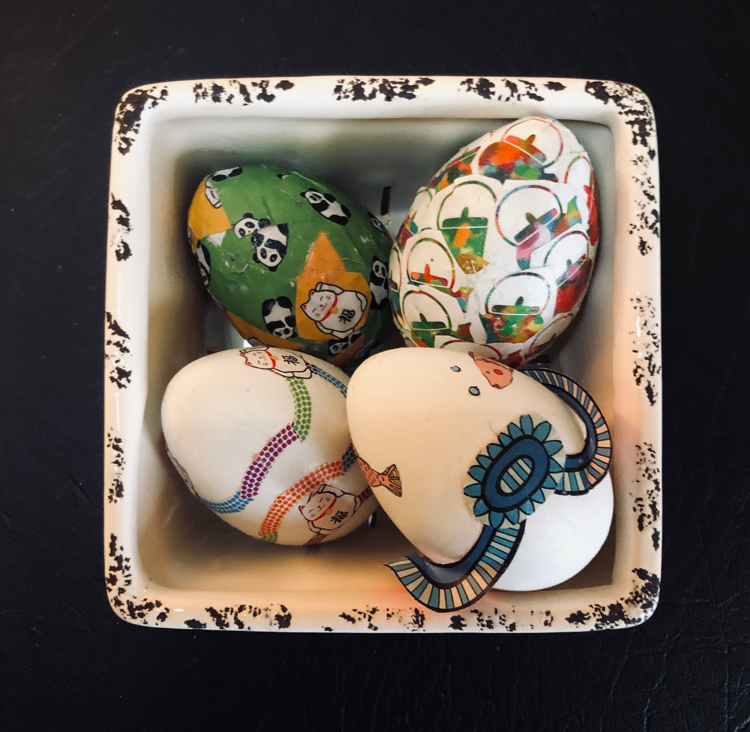 I found the perfect place to display our decoupaged Easter eggs — a ceramic berry box given to me by my friend, Carrie of Curly Crafty Mom. Thanks, Carrie!
If you like this project, be sure to pin it for later!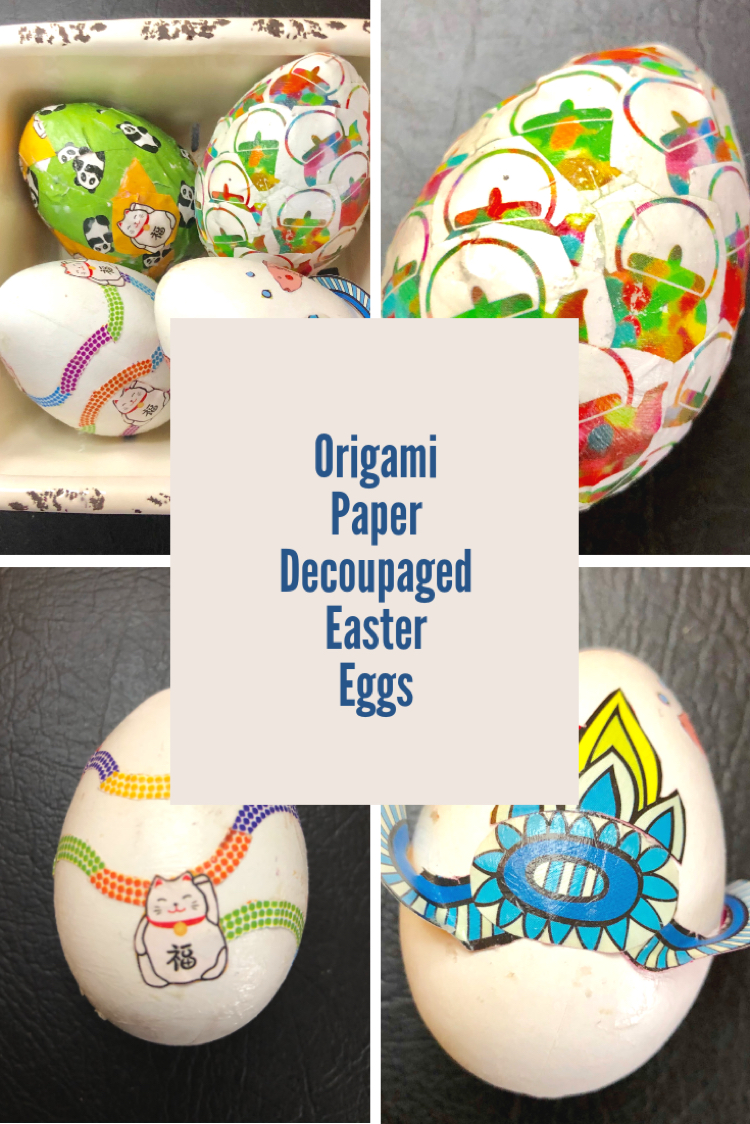 Let's meet this month's Pinterest Challenge hosts!
Erlene – My Pinterventures • Jenny – Cookies Coffee and Crafts
Lynne – My Family Thyme • Pili – My Sweet Things
T'onna – Sew Crafty Crochet • Julie – Sum of their Stories
Erin – The DIY Nuts • Roseann – This Autoimmune Life
Beverly – Across the Boulevard • Kristie – Love My Little Cottage
Ali – Home Crafts by Ali • Cherryl – Farm Girl Reformed
Leslie – Once Upon a Time & Happily Ever After • Terri – Our Good Life
Lauren – Mom Home Guide • Joanne – Our Unschooling Journey
Shirley – Intelligent Domestications • Gail – Purple Hues and Me
Audra – Renewed Projects • Kristie – Teadoddles • Alayna – Alayna's Creations
Marie – The Inspiration Vault • Susan – Suzerspace
Lydia – Lydia's Flexitarian Kitchen • Terrie – Decorate and More with Tip
Emily – Domestic Deadline • Marci – Stone Cottage Adeventures
Now, let's see what the other hosts have created ??