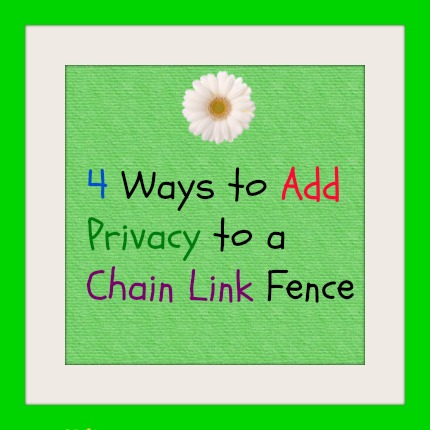 For homeowners whose backyard backs to a chain link fence, lack of privacy can be an issue. Finding ways to create privacy for a chain link fence can be difficult.
Such is the case with my home's backyard, which has a schoolyard behind it. The school's chain link fence separates the school playground from my home's backyard. The playground is filled during the day and some afternoons with children who are very curious about my activities should I venture into the backyard when the schoolyard is filled. (Luckily, the schoolyard is quiet and empty most weekends.)
So, if I'd like to use my home's paver patio during school hours, I need to add privacy to the backyard. I have already taken some steps to add privacy to my backyard, but I am mulling over some others. So, I've been doing a lot of research on chain link fence privacy solutions.
Chain Link Fence Privacy Ideas
These are some tactics that can lend privacy for a chain link fence:
1. Plant evergreen trees and shrubs on your side of the fence to create a year-round "living fence." I've already done this by planting a row of evergreen "skip laurels" (which are more formally known as prunus laurocerasus ) in my backyard, directly in front of the fence. These evergreen bushes are said to grow rapidly both vertically and horizontally, and can be pruned into a nice, thick hedge. My skip laurels are about 4 feet high at the moment with at least 3 feet in between them, so they aren't large enough yet to provide adequate privacy.
2. Consider adding fence slats to the chain link fence. These plastic fence slats, such as those from YourFenceStore.com, are designed to be woven into your chain link fence to create a visual barrier between your property and the property on the other side of the fence for privacy. The slats come in a variety of sizes and styles, which you can choose depending on your budget or designed look/amount of privacy. Fence slats can also be purchased in aluminum, too.
3. Secure a fence tarp to your side of the fence. I had a fence tarp from FenceScreen.com last summer attached to my fence (see the dark tarp in the photo above), but since I forgot to take it down last fall during the hurricane, it got destroyed. Since fence tarps are fairly inexpensive, I might purchase a new one for chain link fence privacy.
4. Zip-tie rolled bamboo fencing to your fence. I am thinking of securing bamboo fencing to my side of the chain link fence to lend more privacy until the evergreen bushes I planted fill out. I like the look that the fencing will provide and the visual appeal of the natural bamboo. This type of fencing is available in a variety of heights and widths.
If you decide to go the bamboo fence route for creating privacy for a chain link fence, this helpful video from bamboofencer.com can show you how to install it:

Have some chain link privacy solutions? I'd love to hear them!