This post was sponsored in part by K9 Sport Sack, which provided me with a K9 Sport Sack Air for my puppy, Mochi. The K9 Sport Sack Air made it easier to travel this summer with our new family dog! This post contains Amazon affiliate links.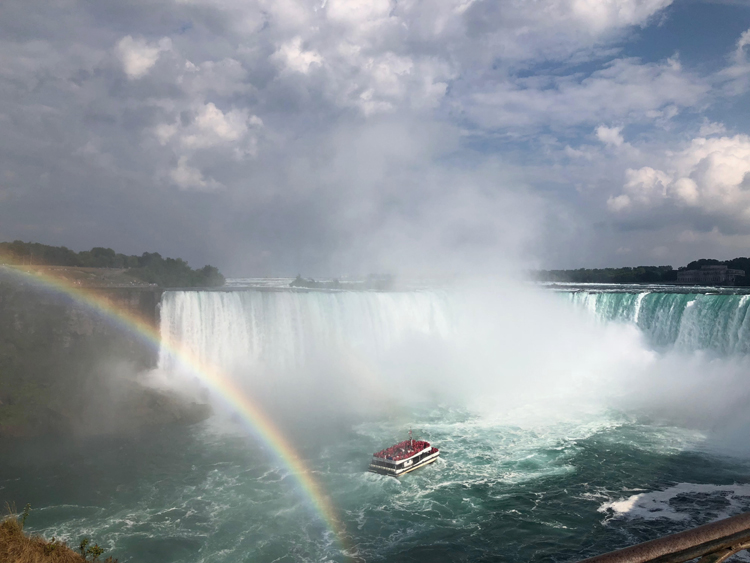 Earlier this month, I shared some details of my family's road trip with our family dog, Mochi, from New Jersey, through Pennsylvania and up to the Finger Lake area, specifically, the gorgeous Keuka Lake. Today I will be sharing our trip to Corning, NY, and the Corning Museum of Glass and up to Niagara Falls and Canada!
I love glassware and paperweights (my husband got me my first paperweight on our honeymoon). My husband decided that our trip to upstate New York had to include a trip to the Corning Museum of Glass . There is literally centuries worth of glass art in the museum! One of my absolute favorite things in the museum is a solid glass sculpture by artist Josh Simpson entitled "Megaplanet." The 100-pound sphere is the 1,000th paperweight in the museum's collection.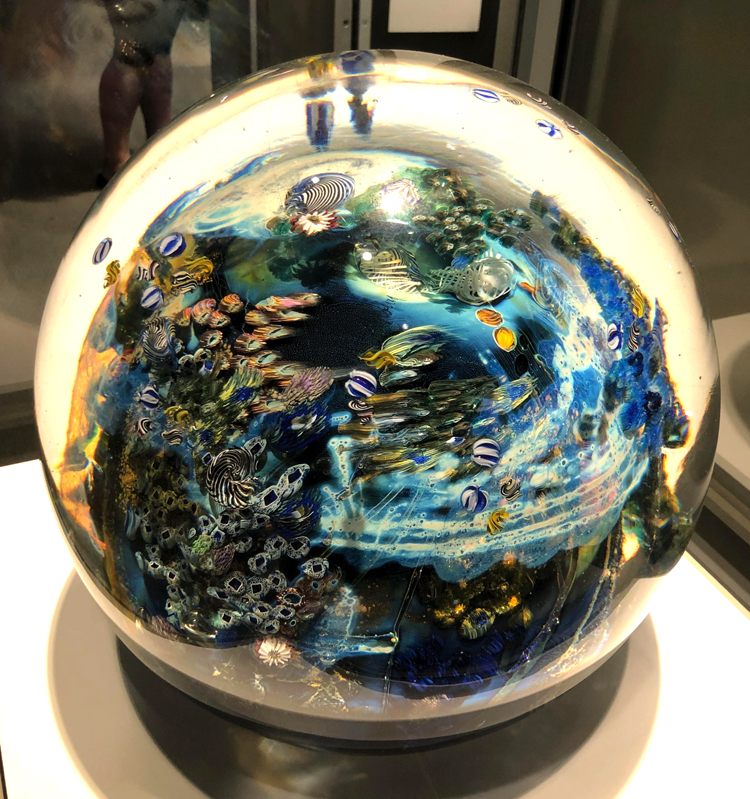 After our visit to the Corning Museum of Glass, my family toured the beautiful Corning downtown. We enjoyed shopping in a rather interesting antique store. (That's our puppy in front of the store in the image below.)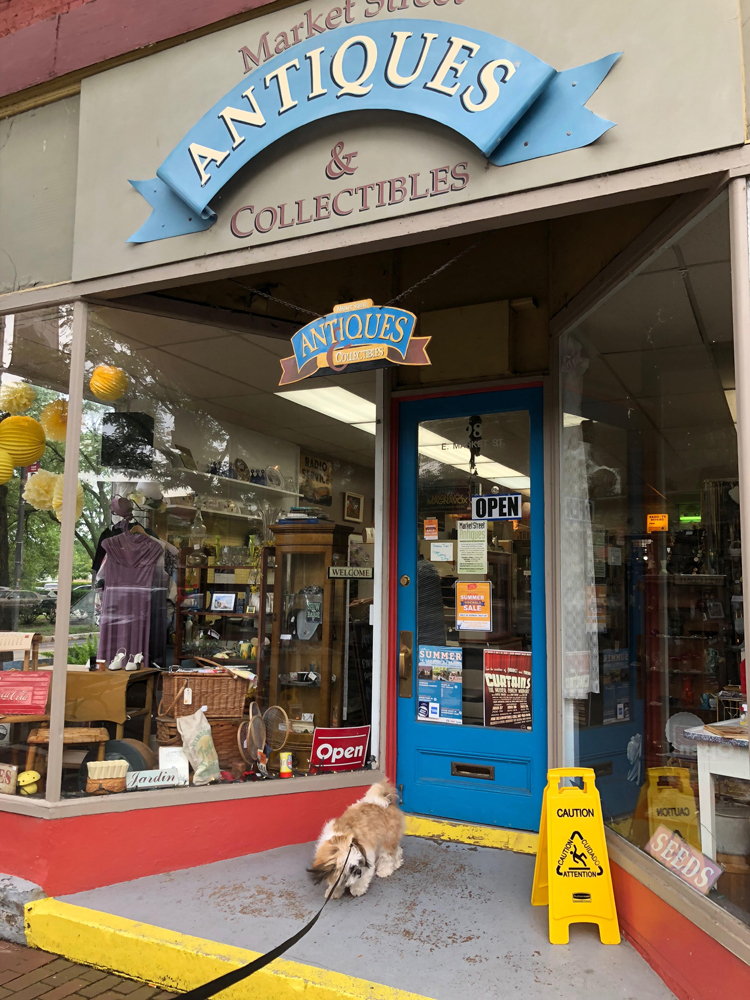 I really enjoyed window shopping in the downtown area. Corning's downtown had some of the most inventive and beautiful window displays I've ever seen!

Road Trip to Niagara Falls
After our day in Corning, NY, my family and I headed up to Niagara Falls. I was so happy to be there — I've been wanting to take my kids to Niagara Falls for years!
Since my family had our puppy with us, I brought along our K9 Sport Sack Air. Our K9 Sport Sack Air made traveling with our now 9-month-old Shih Tzu dog much easier. Whenever he got tired or hot, we put him in his sack and toted him on our backs. The K9 Sport Sack Air is like a backpack. And because our pup is a pampered pooch, he loves to be carried!
K9 Sport Sack provided us a with a large K9 Sport Sack Air. Because my puppy, Mochi, fell in between what's recommended for the medium and large K9 Sport Sack Air sizes, the makers of K9 Sport Sack Air provided us with a comfy booster block . We placed the block in the sack to make it fit our puppy better. I also got to pick out an adorable custom name patch (I chose gray with white lettering).
I was relieved to have the K9 Sport Sack Air when we got to Niagara Falls. There was so much to see and we had a lot of walking to do. It was great tote our Shih Tzu when he got tuckered out! (Shih Tzus are known as "low energy" dogs.)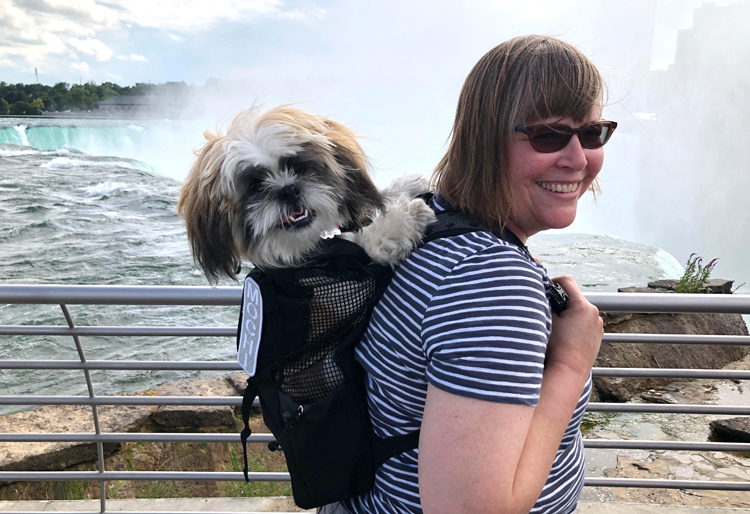 It's quite easy to put our puppy in the sack. It zips open on one side and has large holes for his front legs. The backpack itself is lightweight, but sturdy, and has mesh to allow air flow and to keep our puppy cool.
What's great is that Mom Home Guide's readers can get 15% off any Air or Air Plus K9 Sport Sack with the coupon code, "Mochi"!
My family and I went on the Maid of the Mist boat ride in pairs since dogs aren't allowed on the ride. I was so glad we took the boat ride — the boat takes passengers amazingly close to the falls!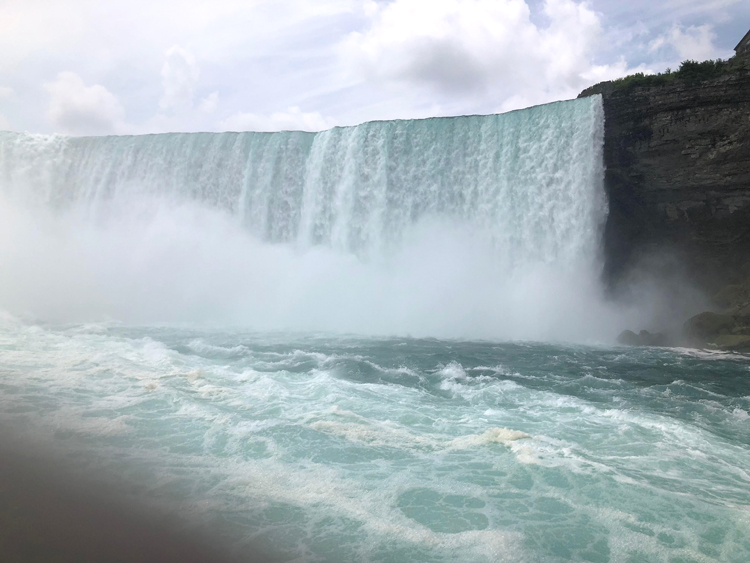 After my family and I saw the sights on the American side of the Niagara Falls, we walked over the Rainbow Bridge to see the Canadian sides. (To cross the border we needed our passports, plus a letter from our veterinarian certifying that our dog is in good health and is vaccinated for rabies.) We found that crossing over the American-Canadian border by foot was a quick and easy process. Plus, we took in some great views from the bridge.
Making the effort to cross the Canadian side of Niagara Falls is TOTALLY worth it — the views of the falls from the Canadian side of the falls are AMAZING!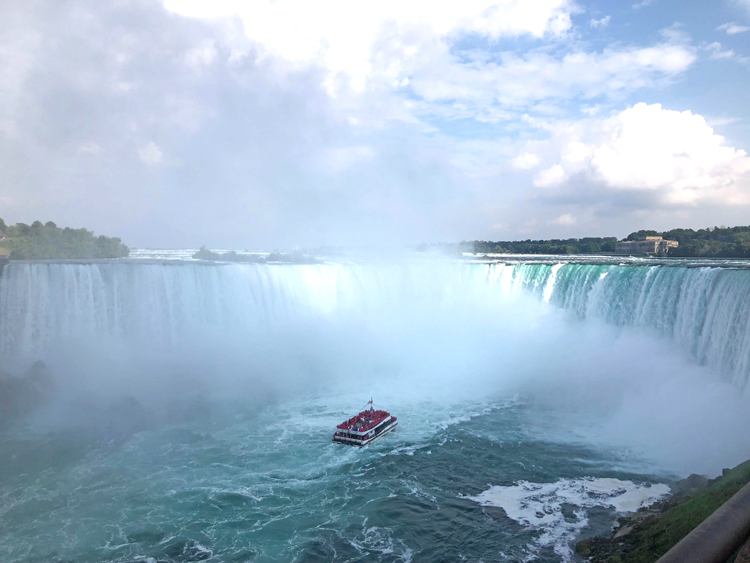 On the way back from Niagara Falls to our home in New Jersey, my family and I spent a day in Ithaca, NY, home to Cornell University.
We first visited the Cornell Botanic Gardens. They gardens were quite beautiful, and we were able to tour them with our puppy.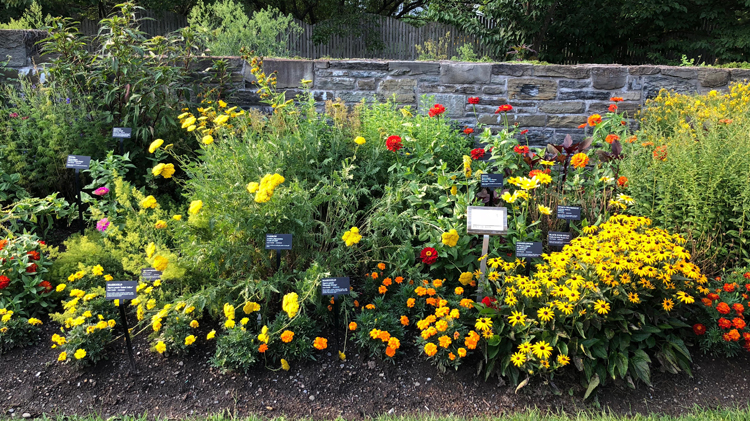 We loved touring the beautiful gorges (with their waterfalls) on campus and the Herbert F. Johnson Museum of Art, also on campus.
Our K9 Sport Sack Air really came in handy. We were a little nervous about having our small Shih Tzu navigate the steep trails through the gorges, so my daughter toted him in our new K9 Sport Sack Air. I think he quite enjoyed the ride!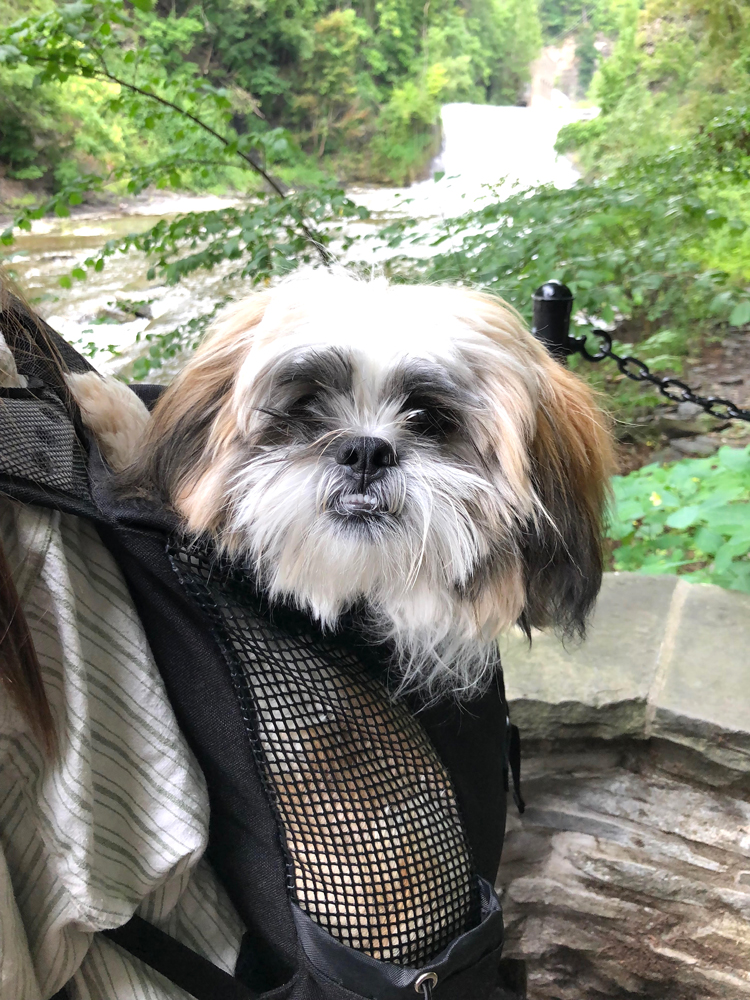 We really enjoyed our trip to Niagara Falls this summer and visiting the gorgeous campus of Cornell University. My family is hoping to take some day trips and perhaps an overnight trip this fall. No doubt we will bringing our puppy and our K9 Sport Sack Air along, too!
Don't forget that Mom Home Guide's readers can get 15% off any Air or Air Plus K9 Sport Sack with the coupon code, "Mochi"!
If you'd like to read my previous posts on my family's summer road trip, see my post on my family's trip to Keuka Lake and our visits to Easton, PA, and Phillipsburg, NJ.