This post contains Amazon affiliate links.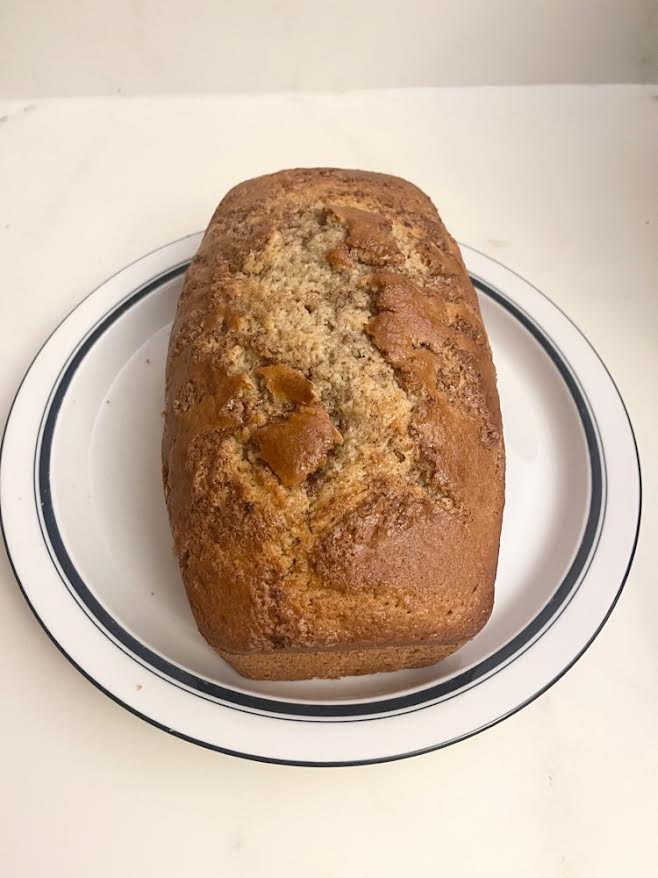 Welcome to the Taste Creations blog hop! The first Monday of every month, my blogging friends and I get together to share recipes along a certain theme—this month's theme is quick breads! I decided to bake and share a recipe for cinnamon quick bread! This bread is super tasty, and you can pull it together in about an hour. It's perfect with a cup of tea or coffee in the morning. Be sure to scroll to the bottom of this post to see the delicious quick bread recipes my friends are sharing!
Quick breads are are made without using yeast—instead, baking soda or baking powder is used to make the bread rise. Quick breads are super easy; you just mix up the ingredients, pour it into a loaf pan and pop it into the oven, and you'll have a tasty loaf of bread in a few minutes!
Cinnamon Quick Bread Recipe
(Recipe from Persnickety Plates)
I chose to use a cinnamon quick bread recipe by Persnickety Plates. (Love that name!) The recipes uses very basic ingredients, save for the buttermilk. But if you don't have buttermilk, you can do what I did—simply add a tablespoon of vinegar (what I used) or lemon juice to a liquid measuring cup, pour in some regular milk (I used organic 2%), and let it sit for five minutes before using it.
Helpful Equipment
or
Hand mixer (You can use a hand mixer if you don't have a stand mixer)
Spoons (These are magnetic and stack – so cool!)
Measuring cup
Pyrex cup (I love my Pyrex cup)
Spatula
Ceramic Bread Loaf Pan (I LOVE the yellow color of this pan!)
or
Silicone Baking Pans (These work well, but it helps to put a baking sheet underneath them in the oven, as they can be wobbly.)
Ingredients
For the Bread
2 cups all purpose flour
1 cup granulated white sugar
4 teaspoons baking powder
1 ½ teaspoons cinnamon
1 ¼ teaspoons salt
1 cup buttermilk (or milk with a tablespoon of vinegar or lemon juice added to it; just let it sit for 5 minutes before using it)
? cup vegetable oil
2 teaspoons vanilla extract
2 large eggs
For the Streusel
2 tablespoons granulated white sugar
1 teaspoon cinnamon
2 tablespoons unsalted butter softened to room temperature
Instructions
Preheat your oven to 350 degrees F.
Spray a 9 x 5 baking pan with non-stick spray and set aside. 
In a large bowl, combine all "bread" ingredients and beat 3 minutes on medium with an electric mixer. Pour into prepared baking dish.
In a small bowl, combine all "streusel" ingredients. (Make sure you start with room temperature butter!) Use a fork to bring it together. 
Sprinkle the streusel over the batter and swirl.
Bake 45-55 minutes or until the center is set and a toothpick inserted in the center comes out clean. (Helpful hint: If you don't have any toothpicks on hand, a wooden chopstick works, too – my family always has some on hand from takeout.)
This bread is so good and will be eaten up quickly! Feel free to double this recipe and make two loafs at a time so you'll have plenty to share. I did, and it worked perfectly!
Other Quick Break Recipes
Be sure to check out my friends' quick break recipes!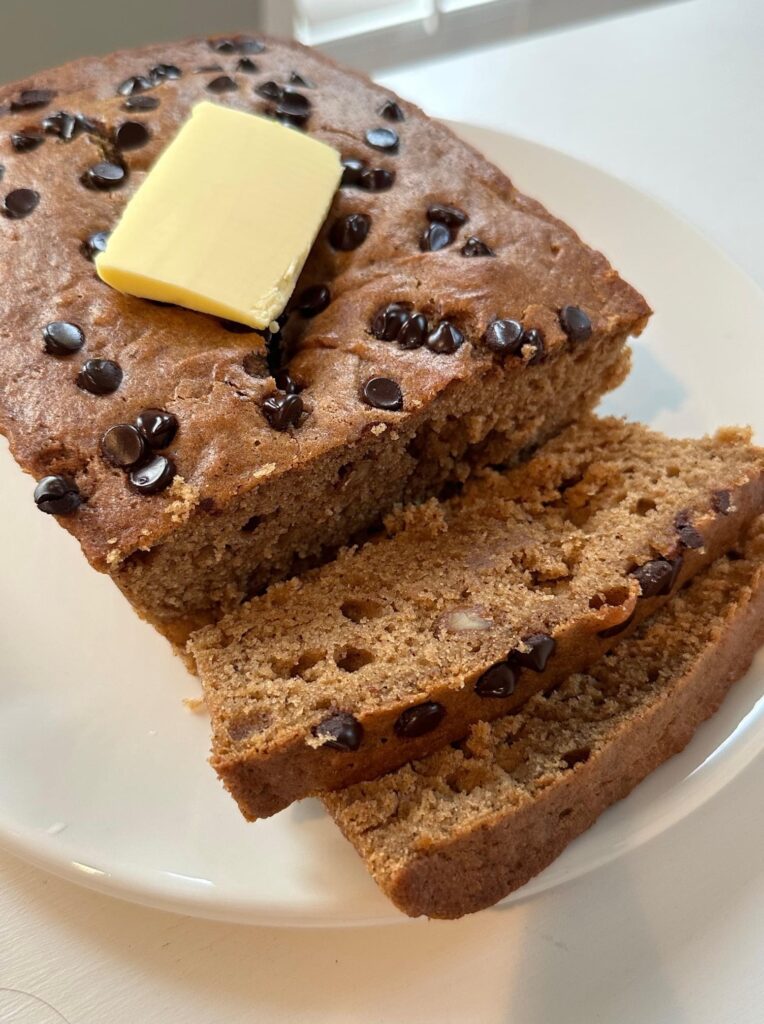 Pumpkin Nut Bread with Chocolate Chips-Our Good Life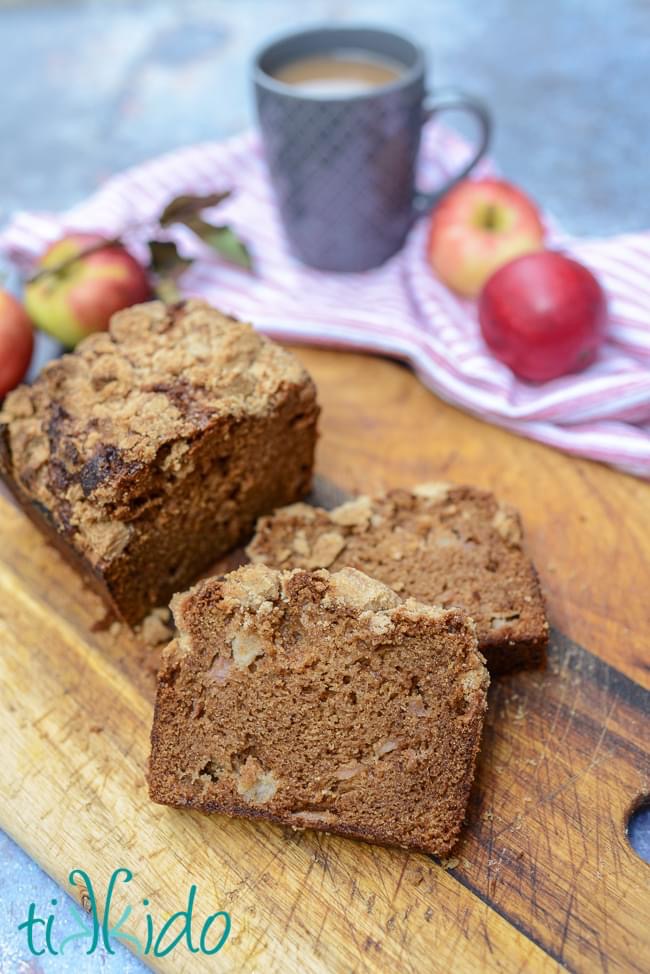 Apple Bread with a Browned Butter Crumb Topping