A few months ago, I shared with you my friend Christine's awesome black and white craft room. Christine converted what might have been only a lightly used space in her home — an area that would normally be a dining room — and converted it into a striking craft room, complete with hand-crafted black and white decor, a card catalog for fabric storage and a highly functional sewing table. I am so excited because that room is now one of the inspiring spaces featured in Cristin Frank's new book, Rooms Repurposed: A Purposeful Home, A Purposeful Life, available on Amazon.com! What an honor for both Christine and me! (Thanks, Cristin!)
By repurposing her home, Christine was willing to throw convention out the window and make her home specifically work for her. That's what I love about Frank's book, Rooms Repurposed
: It shows how homeowners have rethought their spaces to make their homes uniquely purposeful for their own needs. Frank's book features beautiful photos of rooms that have been converted into entertaining spaces, meditation rooms, libraries and game rooms. What bliss!
Rooms Repurposed is a lot of fun for someone like me who has a relatively small house and doesn't want to waste any space for conventional uses like a staid/cookie cutter (but hardly ever used) dining room. In fact, my home doesn't have a dining room, but we do have a "music room"/living room (with a piano), and a "game room"/family room complete with a full-sized pool table, dartboard and pool table cue rack! (That is how we roll in my family!)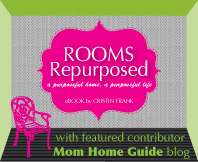 Rooms Repurposed: A Purposeful Home, A Purposeful Life
Rethinking Your Space
Frank's book shows the reader how to get the most out of one's space — Frank shows that you don't have to fill up your home with conventional pieces like a living room sofa and a dining room table if you don't want to! If, like Christine, your home's dining space would be best used as a craft room, so be it! Frank's book has ideas of how you can repurpose spaces in your home into useful spaces — and make them look good while you are at it! For instance, Christine's craft room is one of the first spaces one sees when entering her home, and the room is both gorgeous and useful!
I really like this game room featured in Frank's book — it includes a foosball table, bean bag chairs for lounging, and a desk with laptops that can be used for gaming or surfing the web.
I have friends who would love to have this meditation room (featured in Frank's book). The whole space has a calming, peaceful Zen feel.
Free Up Your Space
For those of us who struggle with clutter in one's home (like me!), Frank's book has lot of of great ideas (and product suggestions) for how to organize and neatly store all of the collections in one's home. In the book are ideas for storing items in an organized pantry, a dressing/closet room, a mud room and wine closets, etc. Frank also includes tips on how to use color and furniture to create most space (or the illusion of space) in one's home.
About Cristin Frank
The founder of Eve of Reduction, a lifestyle movement focussed on controlling comsumption, simple living and upcycling, Frank is also the author of the book, Living Simple, Free & Happy: How to Simplify, Declutter Your Home, and Reduce Stress, Debt & Waste
, also available on Amazon.com.

Other MHG Posts You Might Like