Thanks to Fashom for sponsoring this post. This post contains Amazon affiliate links.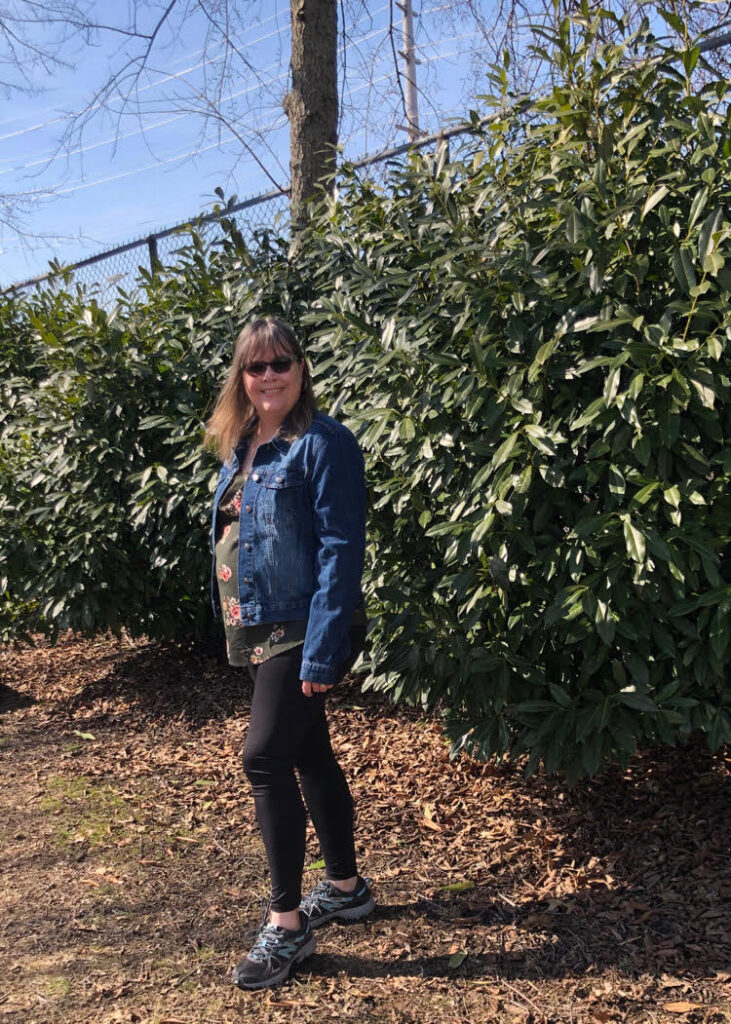 Since my family and I have been mostly home since the pandemic, I've been doing more online shopping. Even though I haven't ventured out to stores or the malls much, I still want some new looks! So I recently ordered myself a spring Fashom fashion box. See the items I received in my spring Fashom box below, and be sure to watch my unboxing video at the bottom of this post!
Since Fashom is a non subscription service, I can request a Fashom box whenever I like.
Fashom is a fun service where a stylist picks five fashion items for you and sends them straight to your door. You get free shipping and pay a $20 styling fee. But if you purchase any item in your box, that $20 fee goes toward your purchase. Plus, your first styling session is free (without the $20 fee).
Being a dog owner, I also like that $1 from every box goes to Second Chance Rescue in NYC. (A pet rescue service.)
Before requesting my spring Fashom box, I took a short quiz about my style preferences and gave details about my height and weight, etc. I got to preview the styles before they were sent out to me.
Ready to see what I received in my spring Fashom box? Let's take a look!
Zenobia Koshibo Floral Print Center Back Spaghetti Top
When I requested my Fashom box, I requested some tops for spring. The Zenobia Koshibo Floral Print Center Back Spaghetti Top ($28) was one of the first items I tried on.
I love the green color of this top and the pretty floral print. Green is my favorite color. It reminds me of being out in nature or walking in a forest, where I love to be.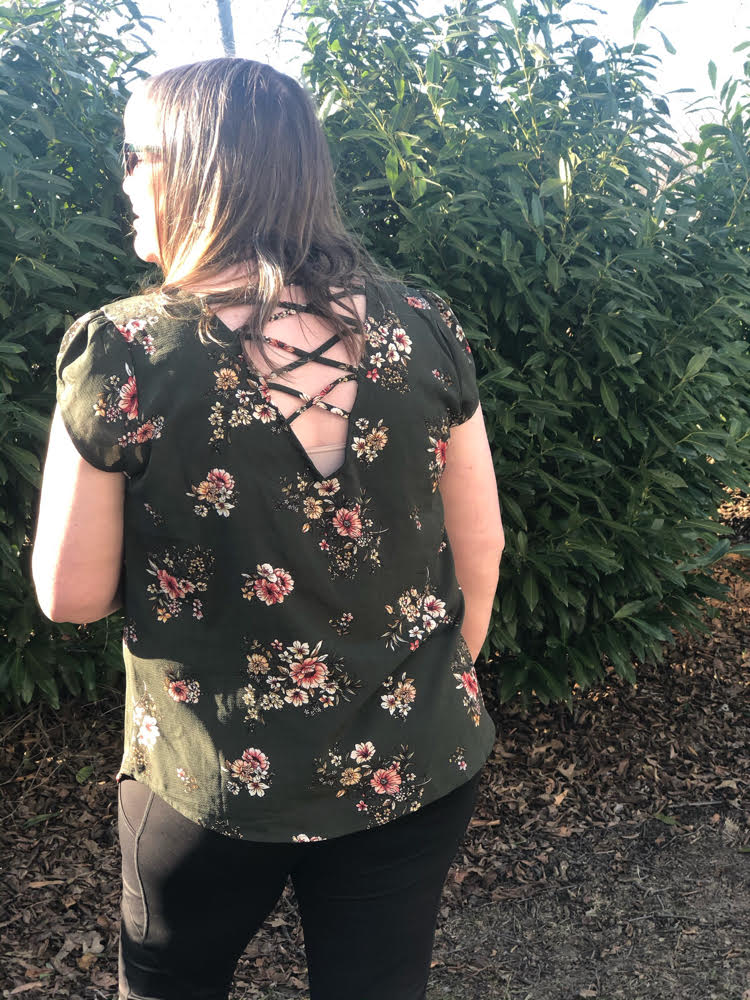 The top falls a little past my waist, which I like. The fabric is light and comfortable – which is perfect for spring. The open spaghetti back is cute, too. I don't often go for things like open backs (I tend to pick no nonsense clothes), but I decided to risk it this time!
Verdict: Kept
Royalty Denim Jacket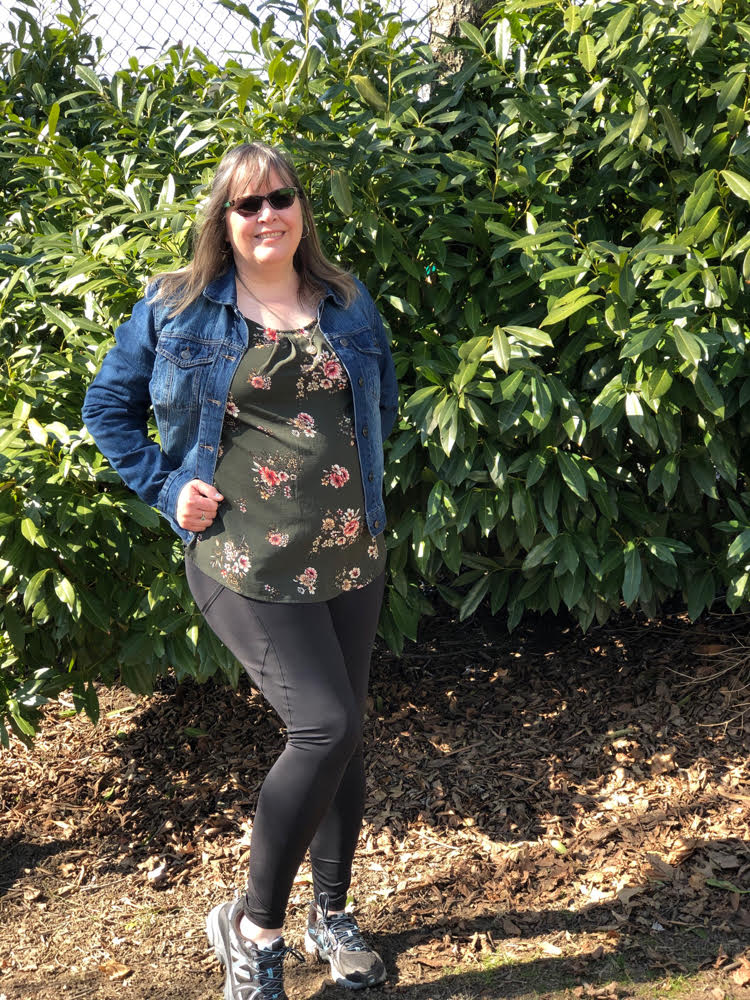 I paired my new floral Fashom floral top with the Royalty Denim Jacket ($56). I had asked my stylist to send a spring jacket. At first I was disappointed that my stylist picked a denim jacket, as I already own one.
But after trying on the jacket, I really liked it. This jacket is more structured than the other denim jacket I own. Plus, this jacket has a lighter wash and is a little more casual. Plus, it really looks good with my new green floral top.
Verdict: Kept
Mono B: Hazel Highwaist Leggings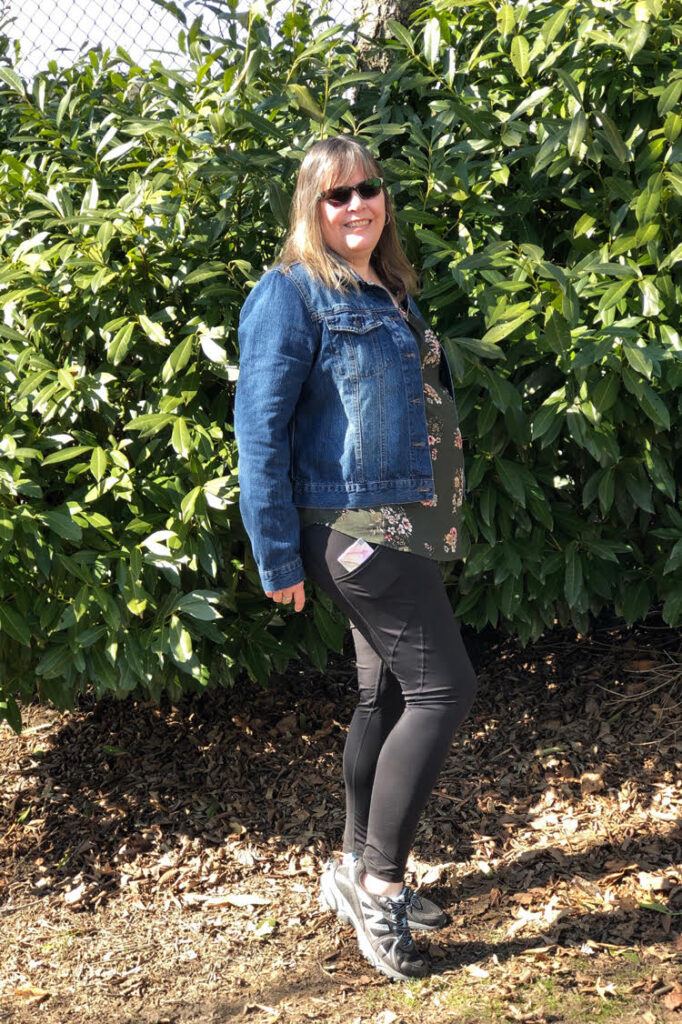 One item I was hoping to receive in my spring Fashom box was some leggings, tights or lightweight sweat pants. Since my family and I have been doing school and work remotely, I've been wearing more casual clothes.
My stylist certainly delivered on this one! In my box was a pair of Hazel Highwaist Leggings by Mono B.
I love these pair of leggings. A big plus are that they are high waisted, which I prefer.
The leggings are also lightweight for spring. Plus, they have a pocket on each leg. The pockets are perfect for stashing my cell phone or my keys while I'm on the daily hour walks that I take with my Shih Tzu pup, Mochi. With these leggings, I can walk just about anywhere with my pup!
Verdict: Kept
Chris & Carol: Mia Front Knot Top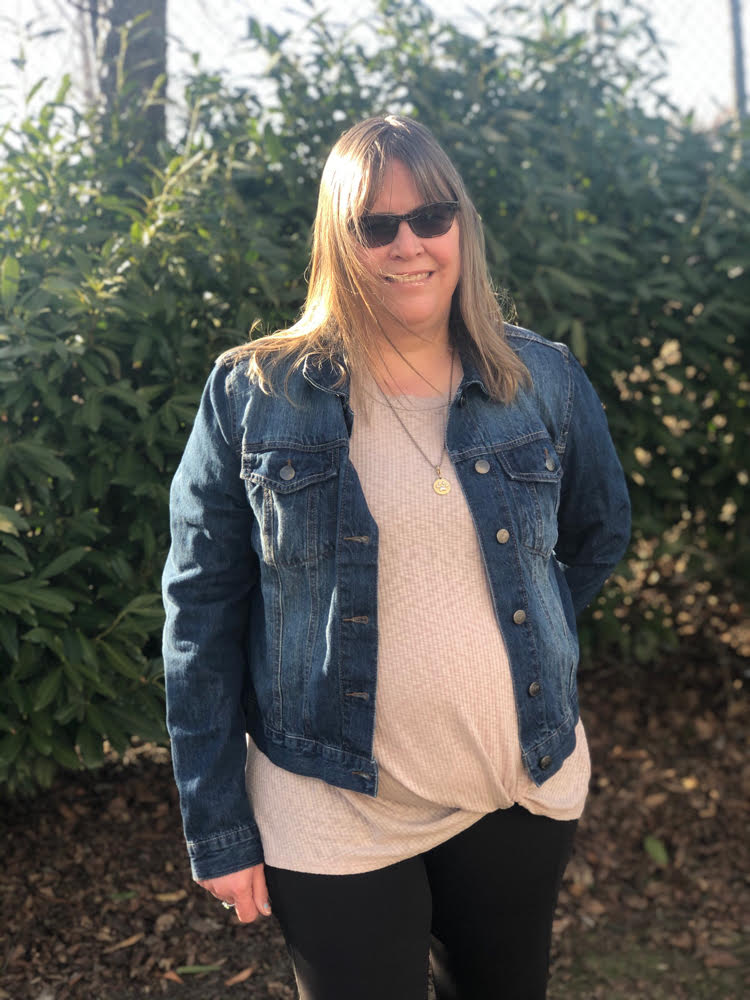 In my box, I also received the Christ & Carol Mia Front Knot Top ($38). This soft, long-sleeved shirt is a good transitional top for spring – when the weather fluctuates between warm and cold.
I wasn't wild about how this top looked on me – I tend to like wearing darker or deeper colors instead of pastels. I was also looking to add some lightweight spring (short sleeved) tops to my spring wardrobe. So I didn't think this item was essential for my wardrobe.
Verdict: Returned
Mittoshop: Jenessa Polkadot Top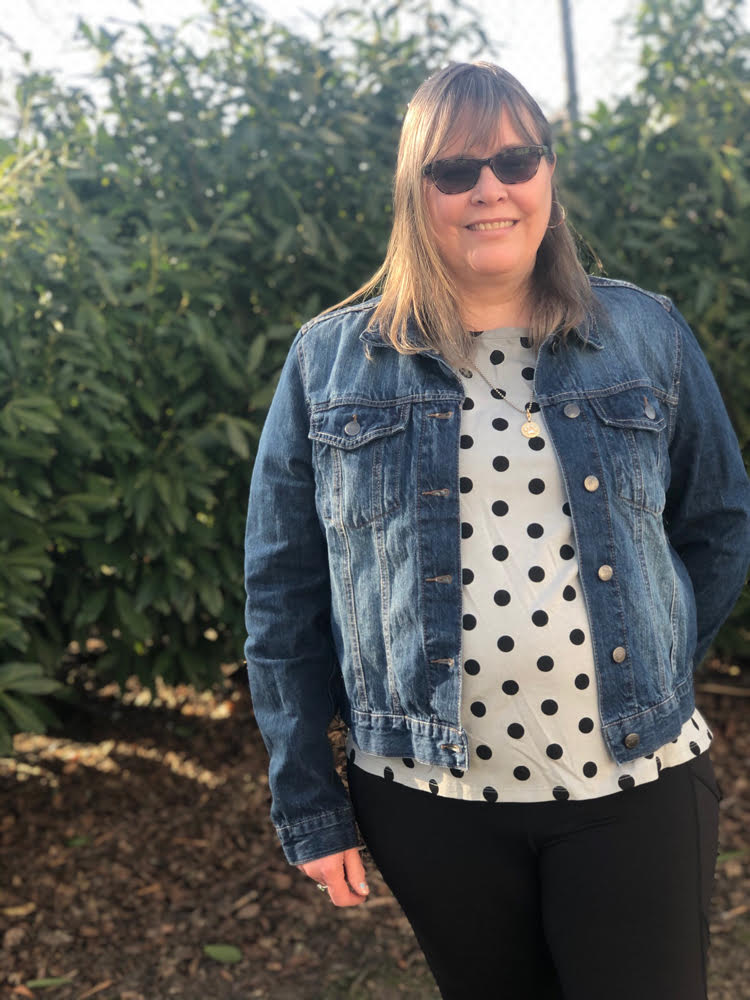 The last item I received in my box was the Mittoshop: Jenessa Polkadot Top ($46). This top looks cute with the denim jacket I received. But I wasn't in love with the super big black polkadots on this shirt, and at $46, this is a pricey T-shirt. So I decided to pass.
Verdict: Returned
Easy Shopping with Fashom
Completing my order with Fashom was easy. All I had to do was go to my order in my Fashom account online and select which items I had chosen to keep and then check out. I then used the addressed, postage-paid Fashom shipping envelope I was given to package the two tops I was returning. I then put the envelope in my mailbox, and I was done! I didn't even have to make a trip to the post office.
Check Out My Fashom Unboxing Video!
What do you think of my spring Fashom box? Please share in the comments.
Pin This for Later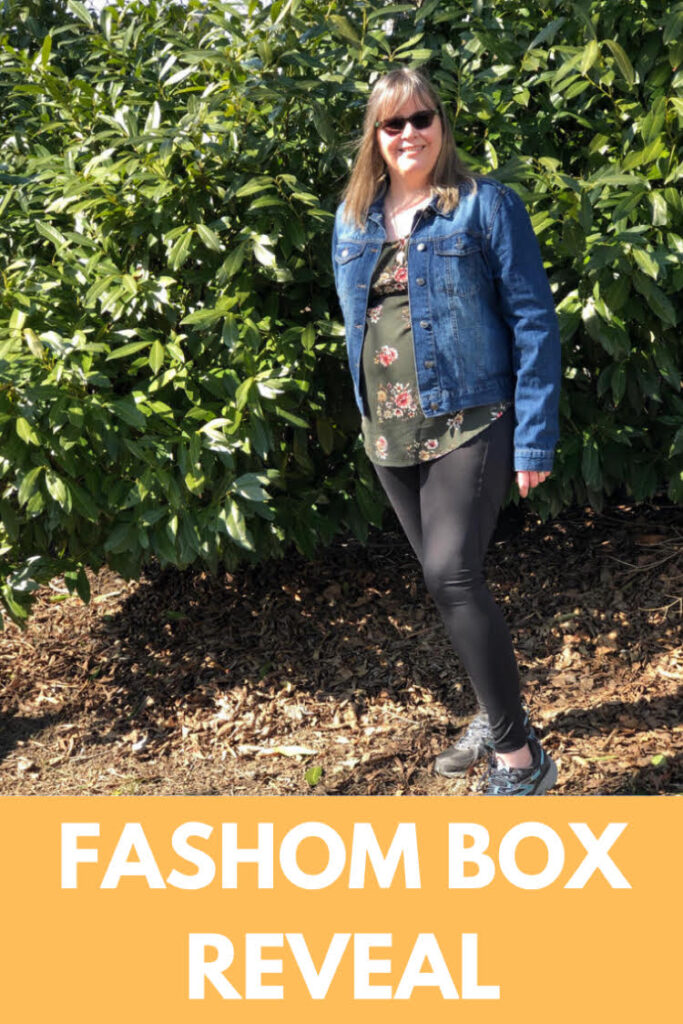 You Might Also Like