*This post contains Amazon affiliate links.
Welcome to 12 Months of Wreaths – March!
Curly Crafty Mom –

Neutral Tulip Wreath


Mom Home Guide –

Spring Forsythia Wreath


The Southern Couture –

Baby Carrot Wreath
Our Co-Host: Real Girls Realm –

Spring Deco Mesh Wreath
Follow your Hosts and Co-Hosts:
Carrie Curly Crafty Mom Blog | Facebook | Pinterest | Instagram | Twitter | Bloglovin'
Lauren at Mom Home Guide Blog | Facebook | Pinterest | Instagram | Twitter | Bloglovin'
Bethany at The Southern Couture Blog | Facebook | Pinterest | Instagram | Twitter | Google+ | Bloglovin'
Mary at Real Girls Realm Blog | Facebook | Pinterest | Instagram | Twitter | Bloglovin'

Thanks again for joining us! We will be sharing a new wreath once a month in 2017! Be sure to stop by all of the hosts and our co-host, Mary at Real Girls Realm, to see what wreath we came up with for the month!

Are you interested in sharing a wreath with us one (or more) months? We are accepting guest hosts! Email carrie (at) curlycraftymom (dot) com if you are interested!
Welcome Back to 12 Months of Wreaths! Throughout this year, I will joining other bloggers in sharing a new handmade wreath each month.
This month I'll be joining Carrie of Curly Crafty Mom and Mary of Real Girls Realm.
For March, I decided to make a forsythia wreath. Forsythia is a blooming flowering plant that always signals that spring is here! I've always adored the bright and sunny yellow flowers of these beautiful shrubs. I'm still trying to figure out where I can plant at least one or two of these shrubs in my yard.
Forsythia Spring Wreath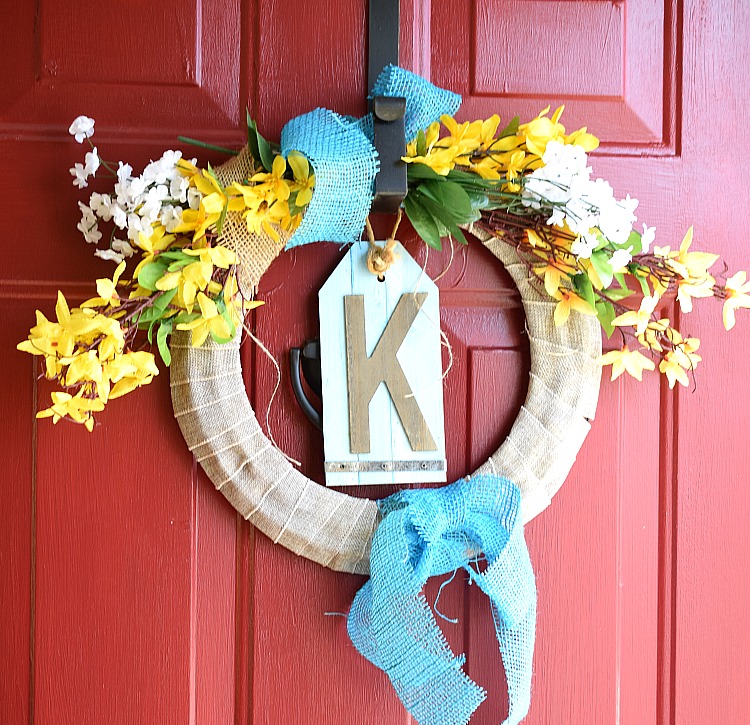 Materials
Wire Wreath Form
(I used my metal wreath form, but kept the burlap on.)
Straight Pins

Scissors

Burlap Ribbon
(I used natural and blue burlap)
Faux Forsythia Branches
Faux Baby's Breath
To create my spring wreath, I used the burlap-wrapped wire-wreath form that I used for my February wreath. (I used straight pins to pin on the decor for my February Pink and Blue Burlap Pinwheel wreath, so I could re-use the wreath form. The burlap is pinned around the metal wreath form,with the pins hidden in the back.)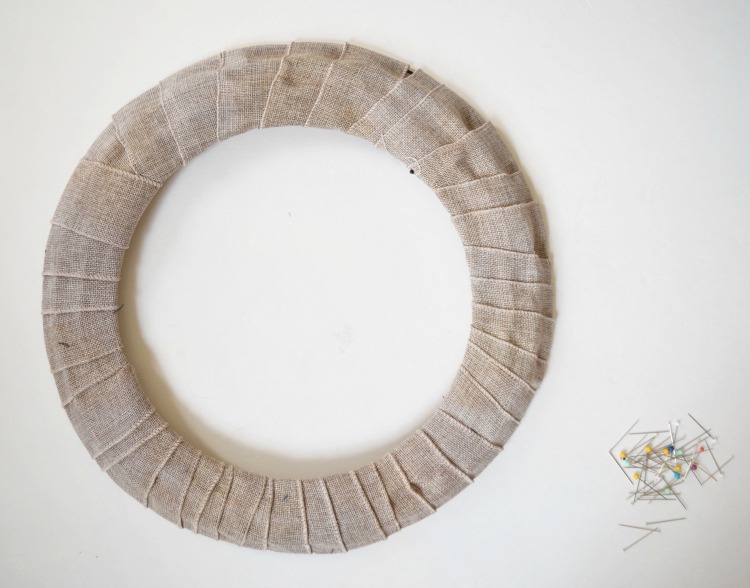 To attach my faux forsythia and baby's breath (I bought both at the dollar store), I simply slipped the branches into the folds of my wrapped burlap wreath. Occasionally I used a pin to secure the branches to the burlap of the wreath so the flordal branches would stay where I wanted them.
When needed, I wrapped some extra burlap ribbon around the floral branches to secure them better. The ribbon that I got from the dollar store was fraying and had long strings of burlap hanging from it. I liked how the strings looked on the wreath, so I kept some of them.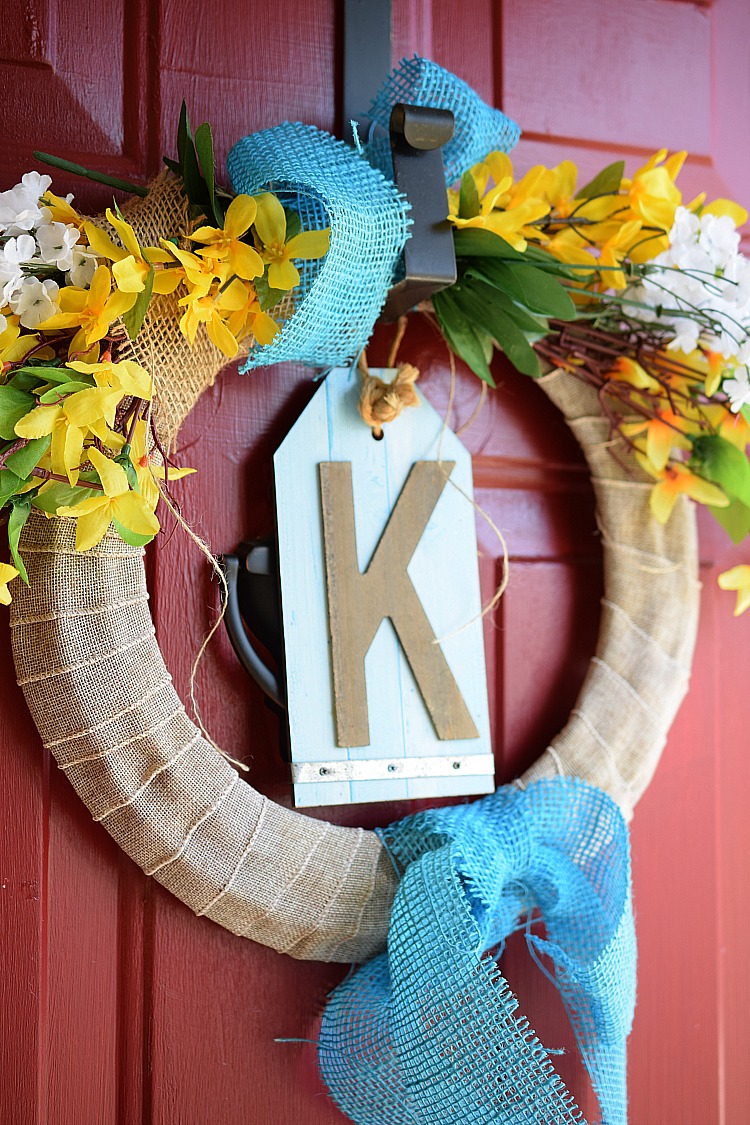 To finish off my wreath I used some of the blue burlap ribbon from my last wreath to tie a small bow on top and a bigger one on the bottom. This wreath only took a few minutes to assemble! I love how this wreath adds beautiful pops of color to my home's front door. (The K monogram you see hanging from the wreath hook on my front door has become a permanent fixture. I love it!)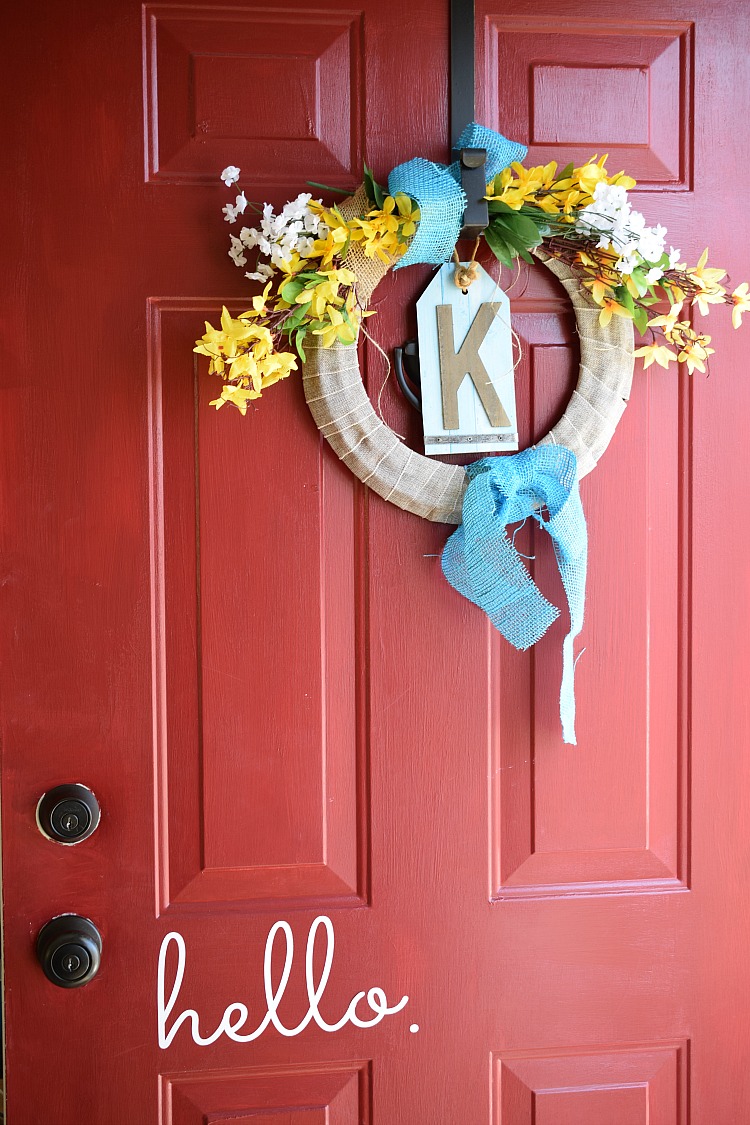 Be sure to stop by my friends' blogs to see photos of their wreaths and to see their tutorials!
Curly Crafty Mom – Neutral Tulip Wreath
The Southern Couture – Baby Carrot Wreath
Our Co-Host: Real Girls Realm – Spring Deco Mesh Wreath
This tutorial was shared at Welcome Home Wednesdays, Party in Your PJS, Tutorials & Tips Link Party, Bee Party, Welcome Home Wednesdays, Pin Junkie Pin Party, Creativity Unleashed Link Party, & Wow Us Wednesdays