This post contains affiliate links for your shopping convenience. They don't cost you anything, but I can earn a small commission through these links that help to support this blog. Thanks!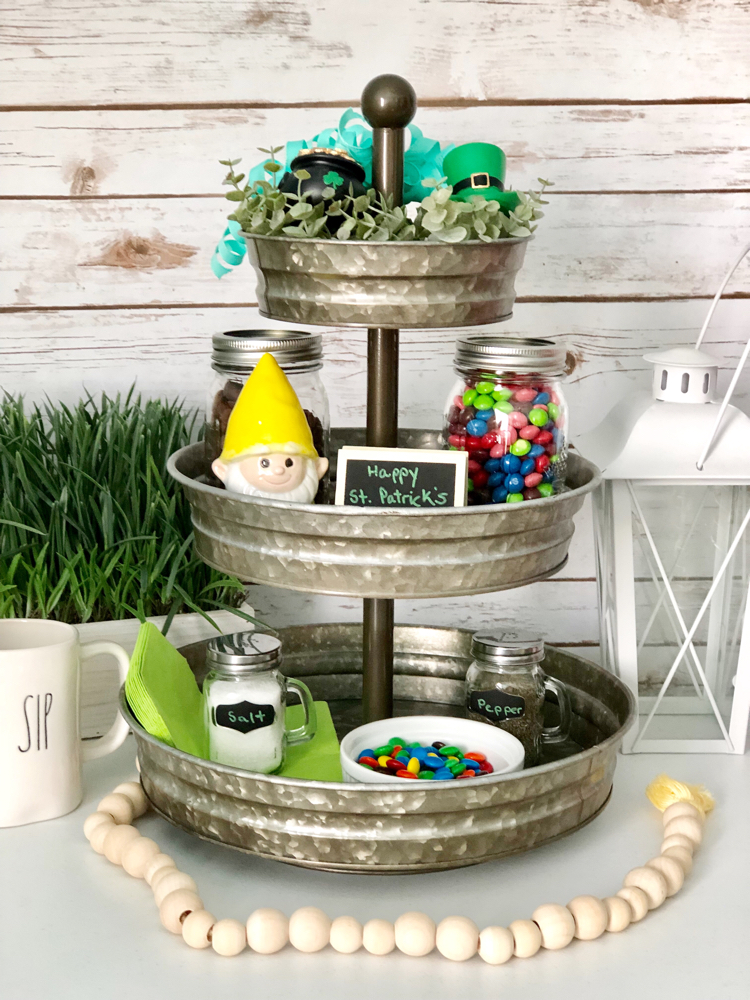 I'm loving the tiered tray trend! I only got my tiered tray a month or two ago. I've been finding that it's fun and easy to decorate a tiered tray for just about any holiday. Today I'm sharing how I styled my tiered tray for St. Patrick's Day.
Just the other day I spent $3 for three cute St. Patrick's Day decor miniatures from my local Target – a shamrock, a pot of gold and a leprechaun hat. I combined these pieces with some other inexpensive items and knickknacks I had on hand. In minutes, I had a sweet St. Patrick's Day centerpiece for my home. I have this cute tiered tray in my home's family room.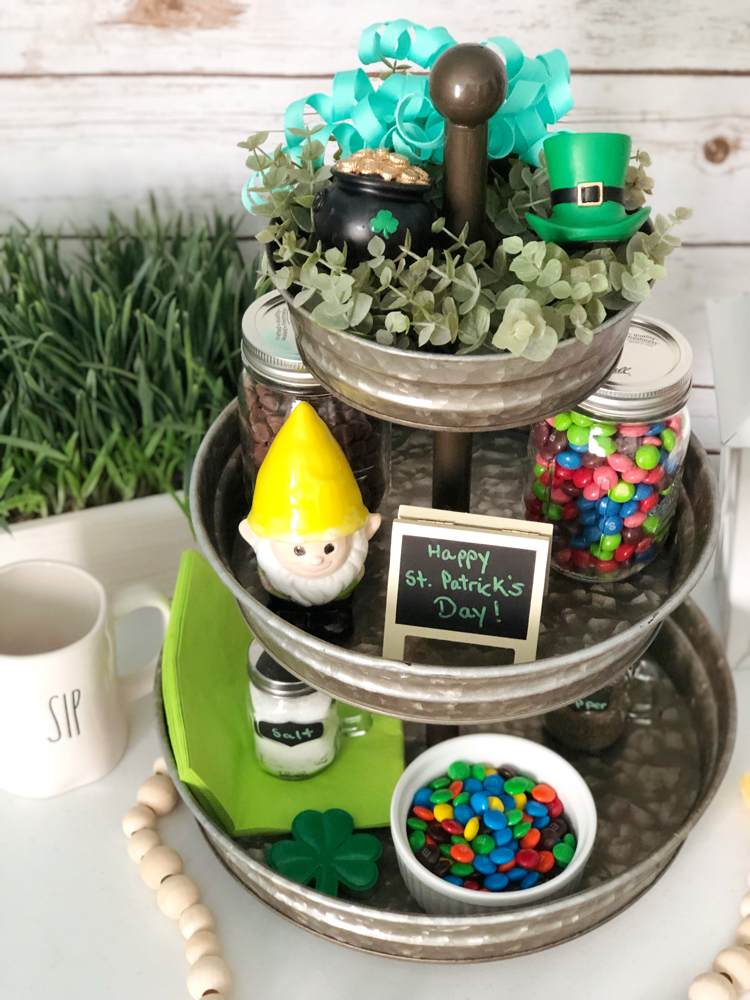 Decorating a Tiered Tray for St. Patrick's Day
A tradition in my home is giving rainbow-colored treats to my daughters for St. Patrick's Day. So on my tiered tray is a small bowl filled with colorful M&Ms and a mason jar containing Skittles candies in a bright array of colors. I let my daughters enjoy some of these treats when they got home from school. The jars are a little less full now than they were in my photos! They also like snacking on the chocolate chips in the other mason jar.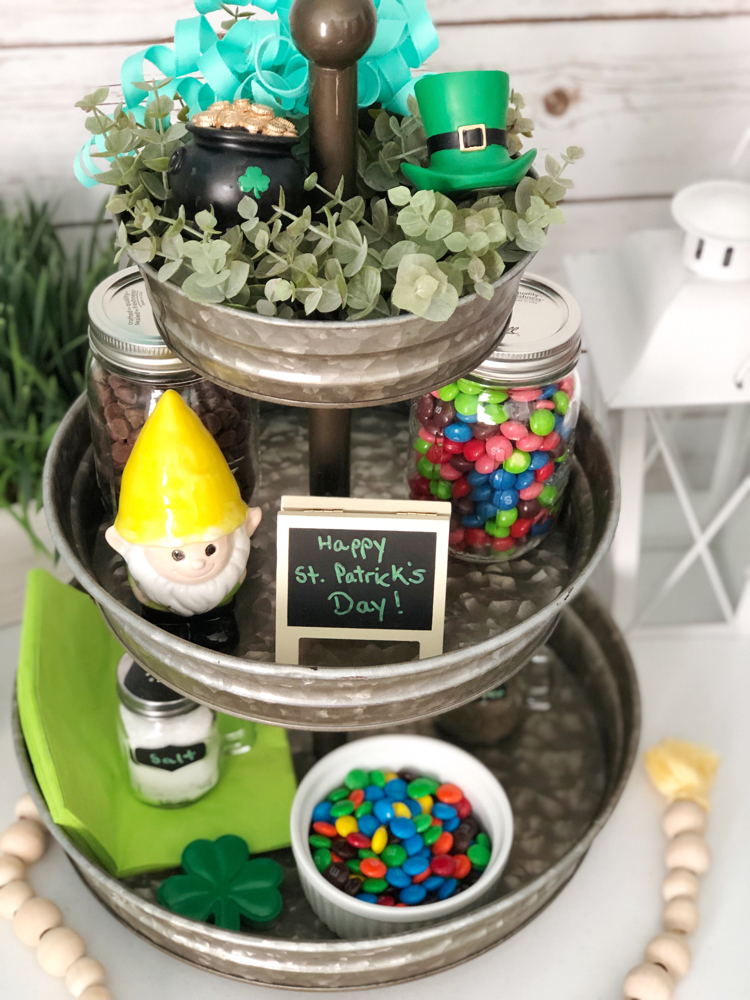 On the tray is a "leprechaun" that I painted a few years ago. (My daughters and I had each painted our own "leprechauns" at a local pottery place.) For my spring tiered tray I called him a "garden gnome" – I think he could pass as either!
I have a thing for salt and pepper shakers — I tend to collect them, especially when I find them for super cheap at my local Ross or TJ-Maxx stores. Last week I found a really cute set of mason jar salt and pepper shakers for just $3. I like that the shakers have mini chalkboard labels. I'm staring to amass a collection of salt and pepper shakers – my daughter said I need a place to display them now!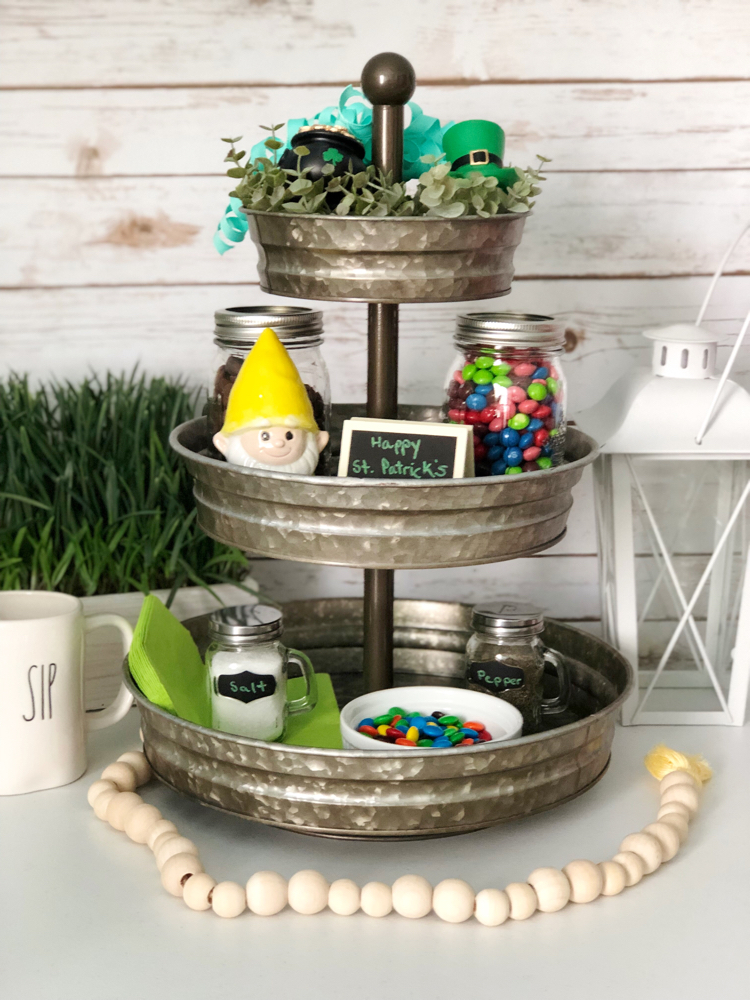 I picked up a bunch of mini chalkboard signs a while ago at my local craft store. They are fun because I can wipe them clean after I've used them and reuse them again.
The "Sip" Rae Dunn mug you see is the one Rae Dunn item I own. I happened to spot it while out shopping just before Christmas. The wood bead garland is a favorite item of mine – you have probably seen it in several of my photos! It was handcrafted for my by my good friend, Carrie of Curly Crafty Mom.
Here's wishing everyone a happy St. Patrick's Day!
You might also like:
Dollar Store St. Patrick's Day Wreath