*This post contains affiliate links. This is not a compensated review.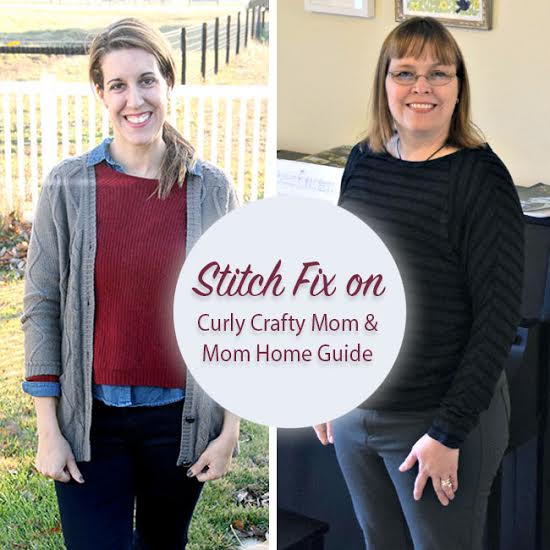 I've read so much about Stitch Fix , and I just had to try it! So when I discovered that my friend, Carrie of Curly Crafty Mom, is a Stitch Fix fan, I just had to sign up! (She's gotten the cutest Stitch Fix outfits!) Stitch Fix is a personal styling service. Stitch Fix charges a $20 styling fee for their service, but if you buy something from the Stitch Fix box that you receive, the fee will go toward the items you purchase! You get three days to decide on your Stitch Fix — Stitch Fix provides packaging for you to return your unwanted items in, and pays for the shipping!
This is one of Carrie's ensembles from her Stitch Fix box this month — I love the whole outfit! I really like the layered look! Stop by Carrie's blog at Curly Crafty Mom to get the full details!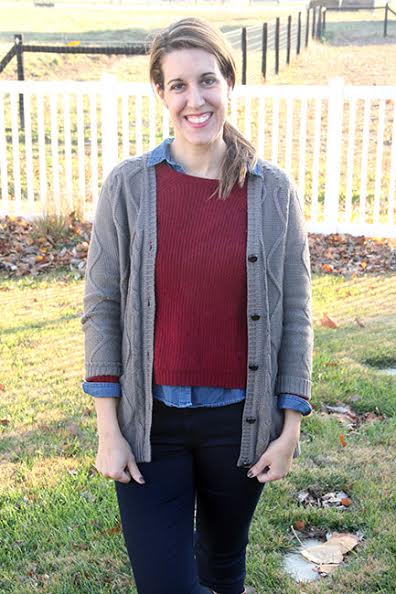 My Stitch Fix Box
I was supposed to receive my Stitch Fix box on a Monday, but when I got home from shopping with my daughters one Saturday, my Stitch Fix box was already at home waiting for me! (My husband brought it in for me.) I was so excited!

I love how neatly packed everything was — everything looked so pretty! I couldn't wait to check out all my items!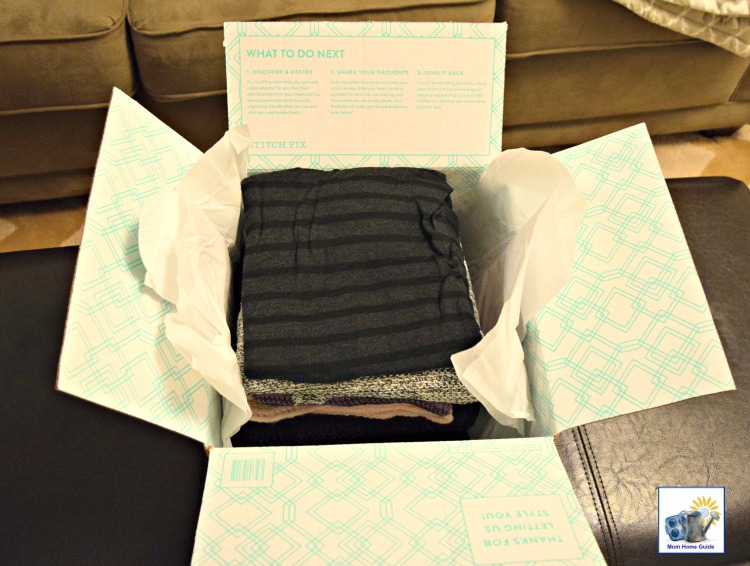 In my box was a striped long-sleeve top, a long open cardigan, a knit turtleneck with a long back, a beautiful multi-colored ombre scarf and a pair of skinny pants. I was thrilled, because I was hoping for some long fall sweaters!
My stylist, Erika, noticed that I pinned a lot of striped tops on my Pinterest board, so she sent me the Sonny Crew Neck Knit Top by Le Lis. I love the black/grey striped top, and it feels so soft and silky! I also adore the Terrell Cardigan from Face, which goes well with the striped top! They both pair well with the Anita Skinny Pant from Liverpool that I received. This is what the striped top, gray cardigan and skinny pants look like together! I wore this outfit to my daughter's flute recital over the weekend!

The Jolee Turtle Neck by RD Style also pairs well with the grey skinny pants — burgundy is the color of the season, my stylist says! (Sorry — busy weekend … didn't get a good shot of me in the sweater!)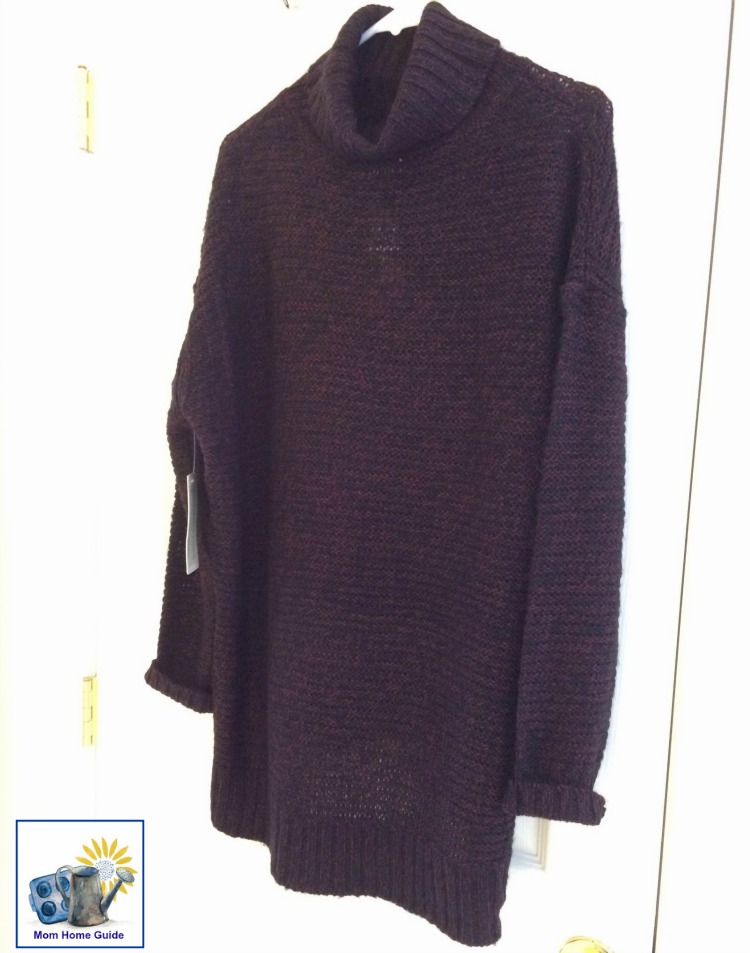 This is the scarf I received — the Hannah Ombre Striped Infinity Scarf. I love infinity scarves! This infinity scarf will also pair well with my black winter coat!

How to Get the Best Stitch Fix
Once you sign up for Stitch Fix, you fill out your personal profile. The profile will help your stylist to determine your style, size, shape, clothing needs and preferences. The next thing I did was create a My Style Pinterest board and shared it with my stylist, so she knows exactly what I like! On my board I pinned images of the type of item's I'd like to receive in my fix — like long sweaters and cardigans and clothes to layer this fall. I also pinned a photo of myself, so my personal stylist could get a sense of what might look good on me!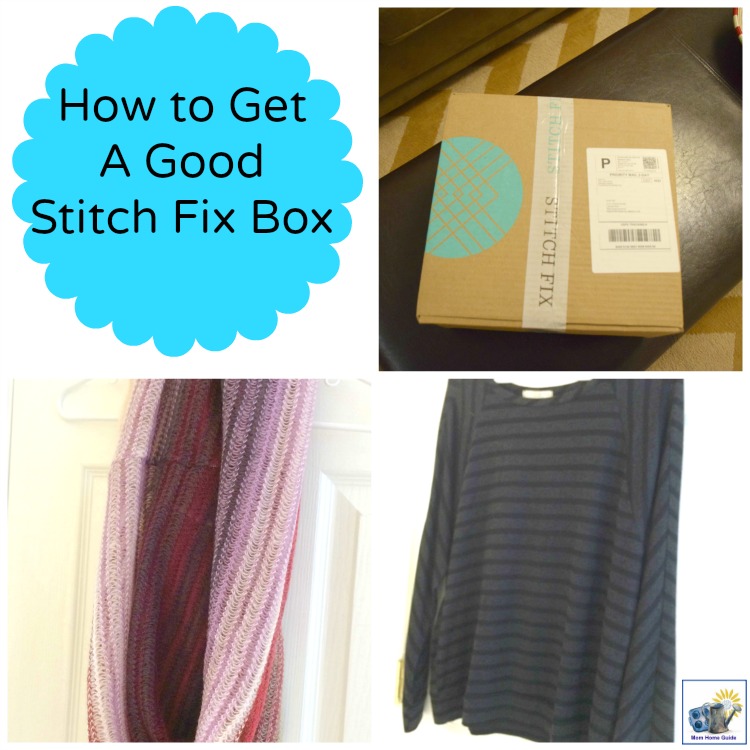 I am so happy with how my Stitch Fix box turned out. I didn't have to drive to the mall or spend a long day shopping! Plus, I got to try on the clothes in the comfort of my own home. It was fun modeling the clothes for my tween daughters! If you would like to check out Stitch Fix, click on my referral link!
Give the Gift of Stitch Fix
Did you know that you can give the gift of Stitch Fix for the holidays? I would LOVE that! The gift card can be delivered by mail, email, or you can print one out to give to a friend or loved one! Stop by Stitch Fix for more details!
You Might Also Like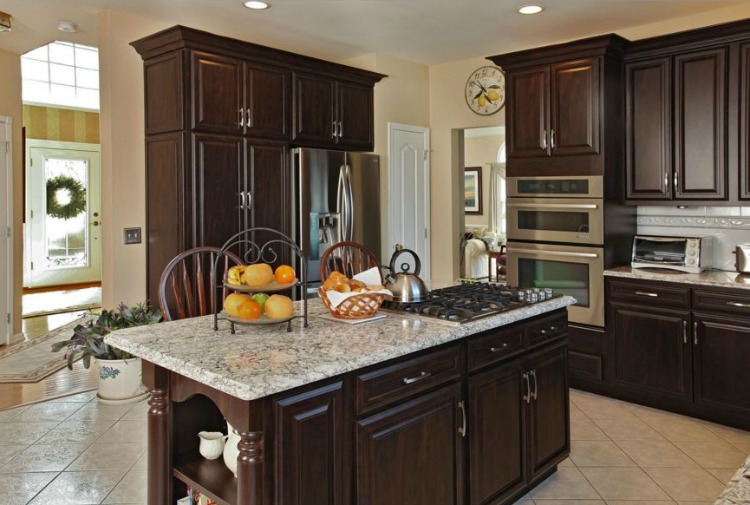 Budget Kitchen Remodel
This post was shared at Pin Junkie Pin Party