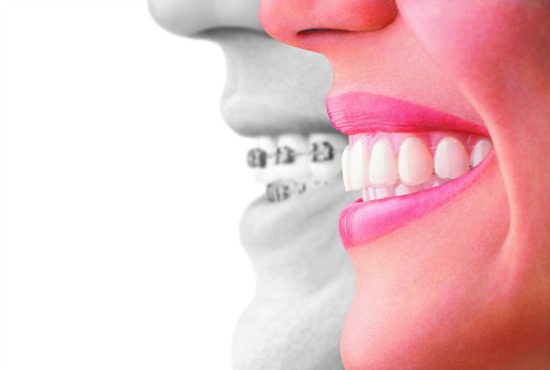 This is a sponsored post written by me on behalf of Invisalign.
My daughters are just 11, but already one has had braces and retainers, and one is most likely going to need some orthodontic work any day now. For my daughter who has already had braces, her braces made her self-conscious, and she was embarrassed to be seen in her braces. That is why I am so happy to be working with Invisalign and their Invisalign Teen Straight Talk campaign and their Straight Talk Sweepstakes — Invisalign will award one sweepstakes winner a full Invisalign treatment for an adult or child! (Check out the Rafflecopter sweepstakes form in this post!)
Invisalign uses virtually invisble aligners instead of wires and brackets to effectively straighten teeth, so nobody has to know about your kid's braces besides you and your pre-teen or teen! Nice!
Invisalign Teen for Pre-Teens or Teens
I am glad that there is Invisalign Teen for both pre-teens and teens. With Invisalign Teen, my daughter who's already had braces won't have to relive the embarrassment of wearing traditional wire braces, and my other pre-teen won't have to experience traditional braces, even if her teeth does need some straightening at some point.
That is because Invisalign can work just as well as regular braces and straightens teeth without traditional wires and brackets. So a mouth full of metal isn't required for getting straight teeth!
That's great because when my daughter wore braces, she experienced some discomfort and trouble with the wires of her braces, which required a trip back to the orthodontist. I also love that Invisalign is removable to make brushing and flossing easier — I always worried that my daughter's teeth weren't getting properly cleaned when she had to wear her braces.
As a mom of two kids who are likely to need braces soon (and at the same time!) I am happy to learn that Invisalign costs about the same as braces do. It's also covered by most dental insurance policies. For more information on cost and insurance coverage, visit the Invisalign website.
Find an Invisalign Doctor
Not all orthodontists specialize in Invisalign Teen, however. Visit www.invisalign.com and select "find a doctor" to locate qualified Invisalign and Invisalign Teen doctors in your area.

Enter to Win
Interested in Invisalign? Then you'll want to enter the Invisalign sweepstakes: One grand prizewinner will win a full Invisalign treatment for themselves or their child! (ARV: $5,500.) That is a great prize! You can find the Rafflecopter widget for the sweepstakes in this post or on Invisalign's Facebook page. (To enter, be sure to like the Invisalign Facebook page.)
The Sweepstakes will run from now to September 30, 2014 at midnight PST. Terms & Conditions for this Sweepstakes are included in the URL at the bottom of the Rafflecopter widget. Good luck!
a Rafflecopter giveaway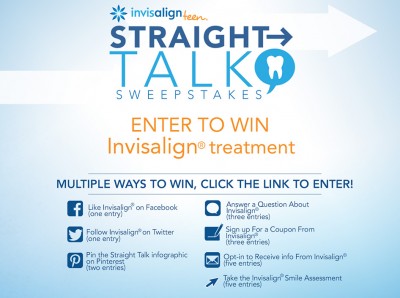 Learn More About Invisalign
Want to find more about Invisalign? You can find Invisalign at these places on the Web:
Share Your Comments
Have you or someone you've known used Invisalign? Please share in the comments!
This is a sponsored post written by me on behalf of Invisalign. However, all thoughts and opinions are my own.