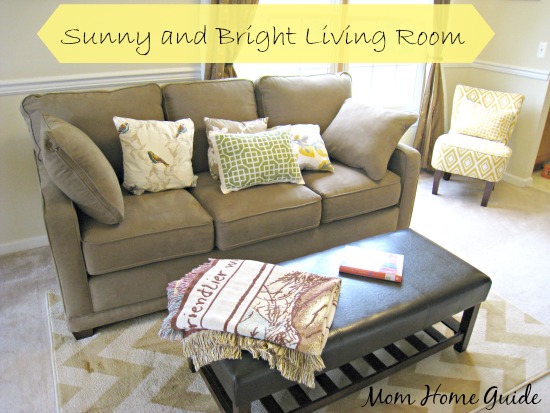 *Mohawk Home provided an area rug for this makeover. 
Hi, everyone! I have been loving my new living room! It has been through quite a transformation. It has gone from an unattractive area with two toy boxes and lots of toys, to a space that actually looks like a grown-up  and complete room! My kids, who are now tweens, are enjoying the more sophisticated space, too!
Since friends have asked where I found  my furniture and decor for my new living room, I've decided to follow the lead of fellow blogger Abby from Just a Girl and Her Blog and create a source list for my new living room. Abby recently pubbed a source list for her newly decorated feminine (and lovely) home office on her blog, and I thought that her idea was just genius! Be sure to stop by her blog to take a look at her gorgeous home office!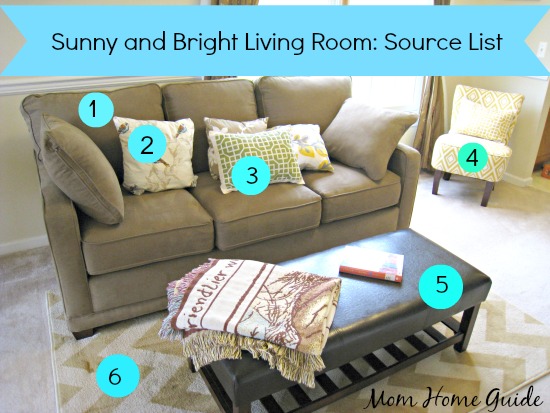 Modern Living Room Source List
These are the new items in my home's living room, and where I got them:
1. Kennedy sofa in acorn from La-Z-Boy
2. DIY napkin pillow made from cloth napkins purchased on clearance at Target
3. DIY placemat pillows made from cloth Threshold Trellis Placemats purchased at Target
4. "Summer Wheat Diamond Ikat" accent chair from Target
5. Espresso Cocktail Ottoman from Target
6. Cream and gold chevron twill rug by Mohawk Home
As you can see from my source list, I am a big Target shopper!
New Ottoman and Slipper Chair
My home's living room is looking even more like a finished space, now that I've added a "Summer Wheat Diamond Ikat" accent chair to the space. I got the new chair from Target.com last week. I love how the slipper chair's cheery and modern yellow and white print brighten up the living room! The chair's diminutive size works perfectly for my narrow living room.
Skyline Accent Chair: Upholstered Chair
I've since jazzed up the chair a little bit with a throw pillow that I made from a Threshold Trellis Placemat – Yellow that I got from Target.
The other pillow, Threshold Trellis Placemat  – Green,  sits on my new sofa.
I spotted the ottoman at Target yesterday when I was on a quick evening shopping trip for items to pack in my kids' lunches. When I spotted the ottoman,
which was on sale
, I knew that it would suit the room perfectly! Since I wasn't up to bringing the piece home with me last night, I ordered it online and arranged for a store pickup. I was able to pick it up this morning after dropping the kids off at school!
I really like  how the new ottoman looks with the sofa and the
Mohawk Home
rug! I love that the ottoman gives my family a place to put our feet up ("casual" is our family's motto!), while the shelf beneath provides a place to stash books and magazines — my home's living room has become a favorite reading spot for my daughters!
DIY Living Room Decor
As you can see, I've been having fun finding inexpensive and DIY ways to furnish and decorate my home's living room. Target was also the source for the DIY throw pillows that I made for the space, like the tan throw pillow that I made from two of these Room Essentials Floral Napkins from Target.
Homemade Wall Art
There's more to come — I am working on creating easy DIY art for the living room walls to add even more color to the space! I am also working on making DIY curtains for the room — Jessica at Mom 4 Real has a really great tutorial on making curtain panels that I am going to try. I have already ordered my fabric!  I hope to share my new living room wall decor on the blog soon!
Let's Stay in Touch!
To keep up with what's the latest projects and posts here at Mom Home Guide, please sign up for my emails or follow me on Bloglovin. Thanks for stopping by! 
I shared this party at: Best DIY Project of the Year