Disclaimer: There are no affiliate links in this review. I am an independent product reviewer. I only review products I am truly interested in. I received product, not payment, for this review.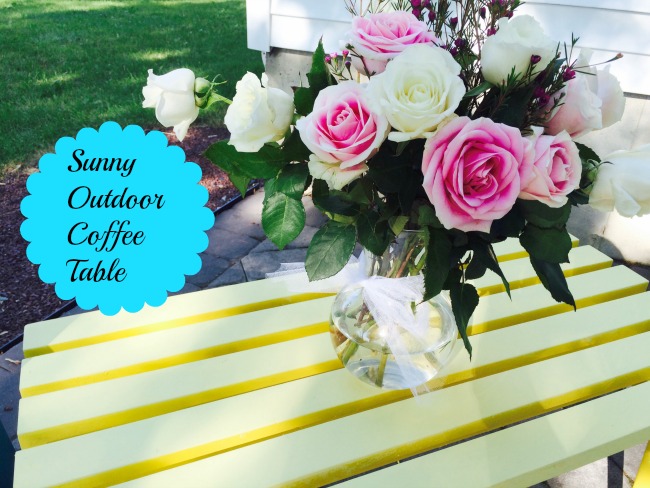 Happy Monday, everyone! Now that summer is almost here, I have been enjoying entertaining on my home's backyard patio! In past years, I didn't have much furniture for my home's patio. So this year, I decided to repurpose some items to give my family more entertaining space! One project I recently completed is a sunny outdoor coffee table for the patio!
I've had an old coffee table since my college days. The table once sat in a common living room area that I shared with my senior year roommate! The small slatted coffee table, which is at least 40 years old, had seen better days. I thought that Homestead House Paint Company's Milk Paint in Ochre would be a good fit. I opted to use the Hemp Oil  by HomeStead House, a Canadian milk paint manufacturer, to give the table a waterproof finish.
The great thing about Homestead House Milk Paint is that the milk paints are organic, eco-friendly, biodegradable and zero VOC! (That means no harmful chemicals will be released into the air when you paint.) Milk Paint is an traditional organic paint with ingredients like milk protein (casein), limestone, clay and natural pigments. When used on a porous surface, milk paint is supposed to not chip or peel.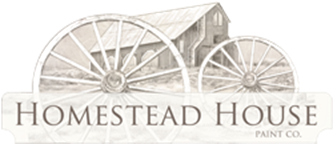 This is what the table used to look like – not too pretty: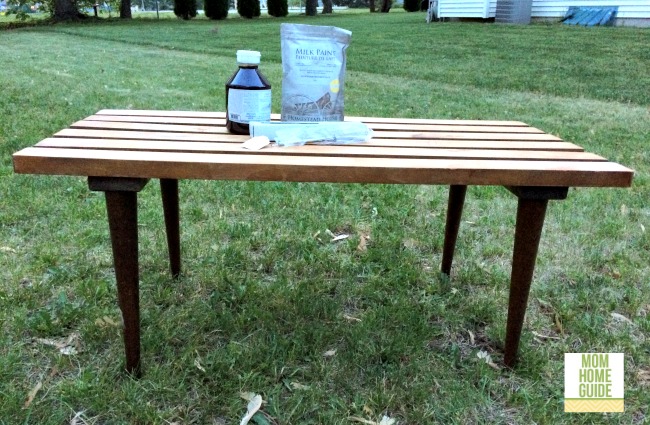 Here is a closer look at the products I used for my sunny coffee table transformation: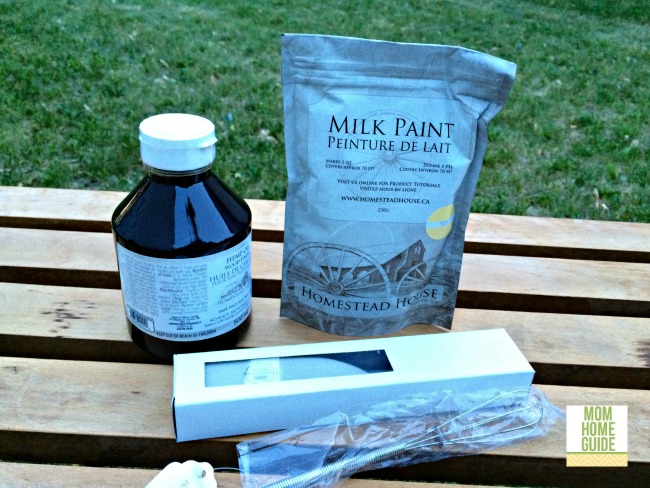 I used the Homestead Milk Paint and their Hemp Oil to transform my table. I used Homestead's milk paint mixer for mixing the paint — which was quite fun! (The milk paint is a powder that is mixed with water.)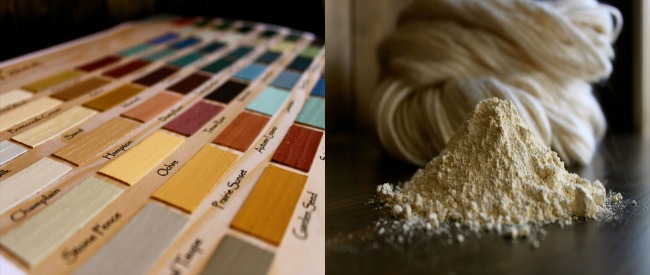 The milk paint was super easy to work with and dried fairly quickly! The milk paint coated my surface really well, even though the only prep work I did before painting was wiping off the table with a wet rag. I like that the paint is zero VOC since I did my painting in my home's garage and didn't want to breathe in paint fumes!
I love the fun vibe that the pretty yellow table adds to my patio! I think the yellow goes well with the new blue color on my outdoor patio chairs. (You can check out my tutorial on how to spray paint outdoor furniture here.)
This post was shared at: Motivatoinal Monday Party, Inspiration Spotlight Linky Party, Pin Junkie Pin Party, Talented Tuesday Link Party, Hit Me With Your Best Shot and Work It Wednesday
Related articles across the web