This post was sponsored by Velvet Caviar, who provided me with a phone case, portable charger and phone ring in exchange for my review.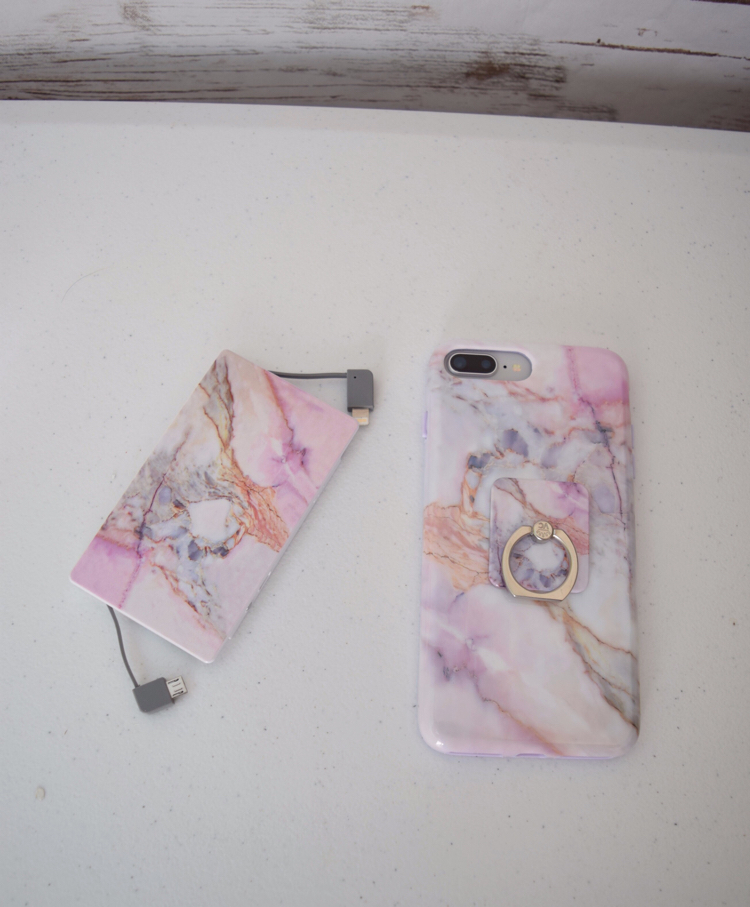 One of my resolutions for 2019 is to be more organized. I tend to be an artsy kind of person and never been an extremely organized, list-making kind of person. I admire people who are, though, and see how it can make life run more smoothly! This year I've acquired some new tech and organizational items and accessories, and I think they are really improving my game. I decided to share them all here with you!
Velvet Caviar Phone Case, Ring & Portable Phone Bank
When the tech items in your life look good and work well, the day seems calmer and more productive. I recently updated my iPhone with a "Violet Sky" phone case, phone ring and portable phone bank from Velvet Caviar. The case and phone ring both look great. The portable phone bank helps me charge my iPhone when I am out and about and my phone dies. I love the marble look of the accessories with their swirls of purples, blues and oranges.
My new Violet Sky iphone case ($30) has a raised lip around the entire edge of the phone and around its camera lens to prevent cracks or scratches during drops. The Firm Flex technology of my new iPhone case
is made to absorb impact and distribute shock from distances of up to 8 feet. The glossy case is manufactured to resist fading or cracking. The slim and light case is compatible with wireless charging. It wasn't hard to put the case on my phone and it is easy to grip and hold.
I like that I was able to add a phone ring ($10) in the matching Violet Sky pattern. With the ring, I can more comfortably hold my phone and snap pictures. I can also use the phone ring to make it easier to watch videos, newscasts, etc., on my phone.
I am constantly on my phone, so the Violet Sky 4000 mAh portable power bank phone charger($35) is quite handy. The charger is relatively small and lightweight and provides my phone with two full charges. The power bank, which has a full year guarantee, has both an Android and an iPhone charging cord. Battery indicator lights tell me how fully the power pack is charged – 25%, 50%, 75% and 100%.
New Apple MacBook Air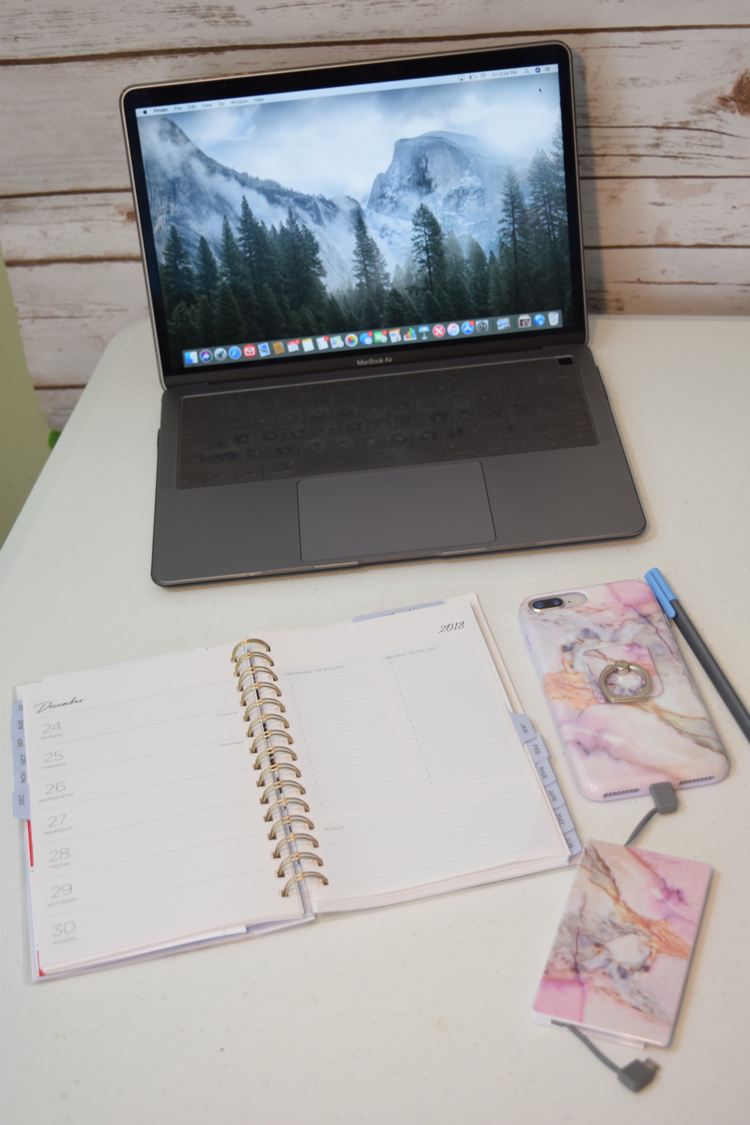 I recently traded my old PC laptop for a MacBook Air. I am really happy I made the switch! I am still learning how to best use my Apple Macbook Air, however. The laptop is much smaller than my old PC laptop, it runs cooler (my old laptop used to be feel quite hot on my lap) and is so easy to use. I just have to figure out how to coordinate photo storage between my iPhone and my Macbook Air — my iCloud storage is full, so I wind up emailing photos from my iPhone to my computer, instead of having them readily available to me on my Mac. I love that texts from my iPhone are sent directly to my MacBook Air.
Macbook Sleeve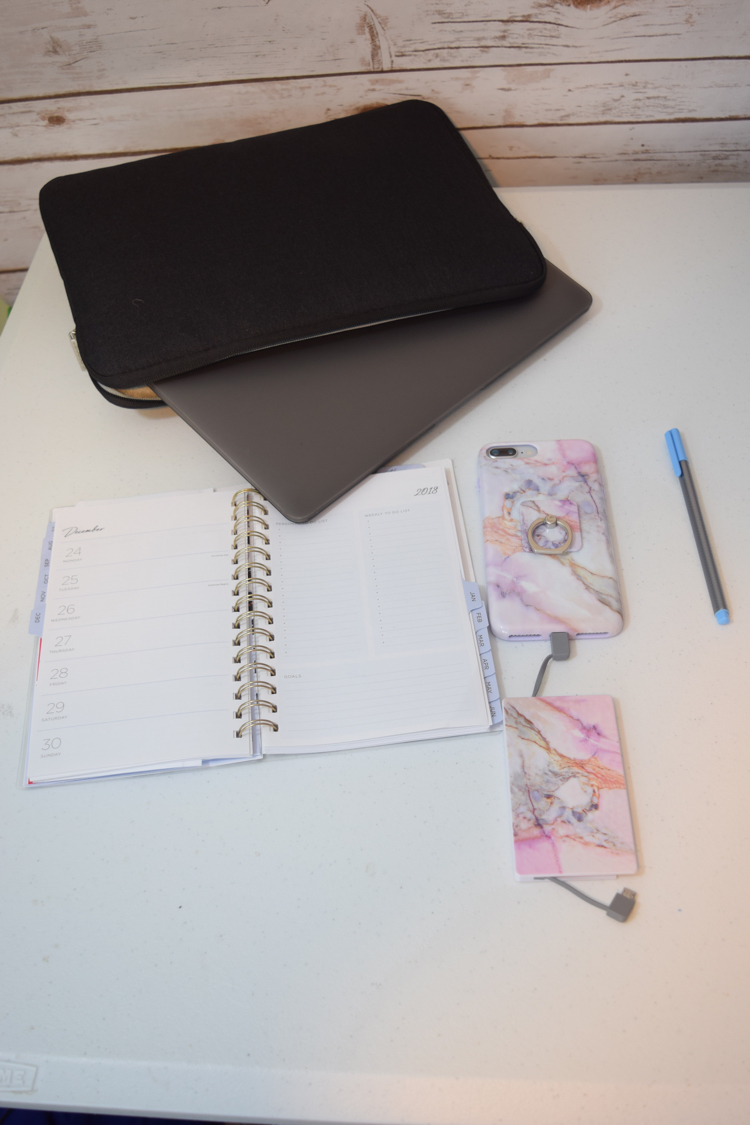 I often take my new MacBook Air on the go with me, so I wanted to get a practical and protective laptop sleeve for my new computer. I picked out the MOSISO Macbook Laptop Sleeve Case
. The case is lightweight, but very protective for my new laptop. It's outside zipped pocket is big enough to hold my laptop's power cord, plus my new power bank phone charger and some other accessories.
Academic Planner
With two daughters in high school, I like to use a 12-month academic planner. The planner helps me to better plan out and note their activities for the school year. I currently use the Blue Sky Noteworthy 2018-2019 Academic Year Weekly & Monthly Premium Planner
. The planner has monthly calendar for each month, so I can see every day of the month at a glance, and weekly calendars where I can plan each day and week out more in depth. For a while I tried to use the calendar on my iPhone or Google Calendar to keep track of appointments. It didn't work for me. I guess I'm a little old school – I need to see everything on paper. It's also more fun using fun pens and stickers in my planner to note my appointments.

Now that I have my new laptop and all my tech accessories and my planner in place, I'll hopefully be more organized this year. That is, if I can get my home office cleaned up and organized! Stay tuned – that's one of my next projects!