Recently, I finally got around to updating my kids' bathroom. Even though my daughters are tweens now, their bathroom until only a few days ago still sported the same kids decor that I put up for them when they were toddlers. So, I decided to take down the tot stuff and add some tween bathroom decor.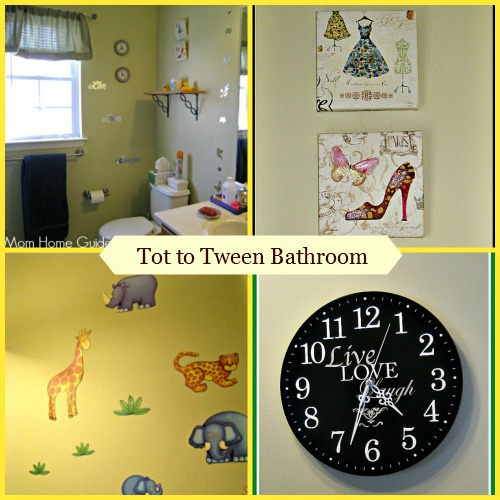 I am the sentimental type — it's hard for me to get rid of toys, even home decor, that remind me of my children's younger days — it's difficult for me to let go when they graduate to the next stage of childhood! Everything seems to happen way too quickly for me. I can't believe that my girls are approaching their tween years!
But now that my daughters are 10, I decided that they need a more sophisticated bathroom and that it was time to banish the cute animal decals that decorated their bathroom walls! It was time for some tween bathroom decor.
So, one day when my daughters were at camp, I went to a local bed and bath store and bought them new tween bathroom decor for their bathroom. After they went to bed one night, I took down the old zoo animal wall decals and the vintage shower curtain and went to work redecorating their new space.
My kids were startled and surprised when they entered the bathroom the next morning to get ready for camp and were greeted with a new bathroom! They like the way their new tween bathroom decor looks — I do, too.
I thought my daughters would miss the old animal wall decals (one daughter told me recently that she liked them), so I saved them after I took them down just in case.
But it turns out that my daughters like their new bathroom decor so much better! They love the new shower curtain (that came with decorative shower curtain hooks), the mirrored inspirational words on the wall and the cute fashion prints. (I got the prints on sale at Michaels for just $2 each!)
I just happened to find a clock with the same words ("Live, Laugh, Love") that are on the mirrored wall decals. The clock helps keep my girls on schedule when they have to get to camp, and I am sure the clock will be a big help when they go back to school in September!
But while the bathroom is complete for now, I have more work to do … now that my kids are getting older, I am sure they will want their own bedrooms soon. I have another project to do!
You May Also Like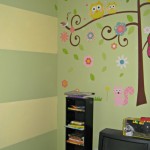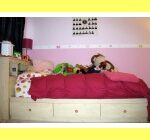 Storage for Children's Bedrooms