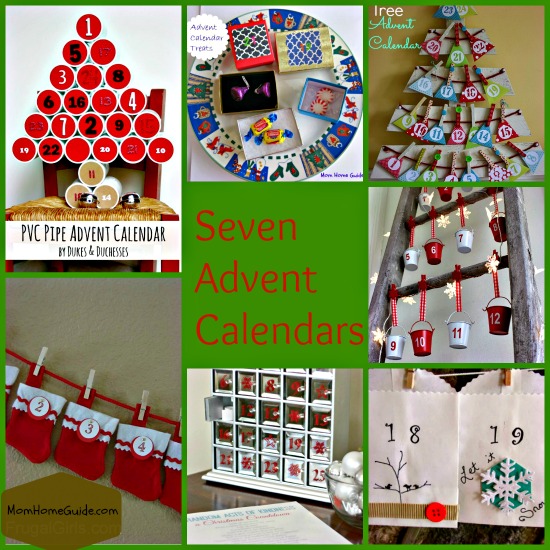 I just love advent calendars. Since I've created my gift box advent calendar for my kids, I've been noticing other really great advent calendars from other blogs. I'd love to create one of these other advent calendars and add to the fun my kids and I have been having with our advent calendar!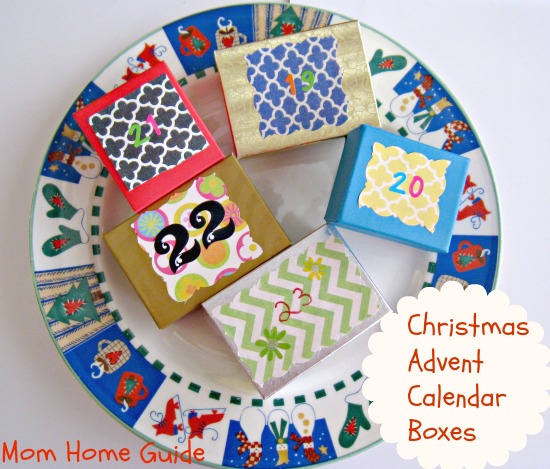 Gift Box Advent Calendar
To create my family's advent calendar, I gathered some of the mini gift boxes I've saved over the years. I used some scrapbook paper to decorate the boxes, and either hand numbered them or used number stickers to number each box. In each box, I placed special treats like gum and candy for my kids to open each day before Christmas! I used one of our Christmas plates to hold the advent calendar boxes. My kids have been having fun opening up the boxes each morning to find a new and delicious treat!
Vintage Ladder Advent Calendar
I keep my family's advent calendar on my kitchen table. But if you're looking for an advent calendar that can double as Christmas decor, I think that the vintage ladder advent calendar by Carolyn of Desire Empire would be just the thing! The calendar features sweet numbered red and white tin buckets hung with pretty red and white ribbon, and white snowflake Christmas lights. Carolyn's advent calendar is just gorgeous!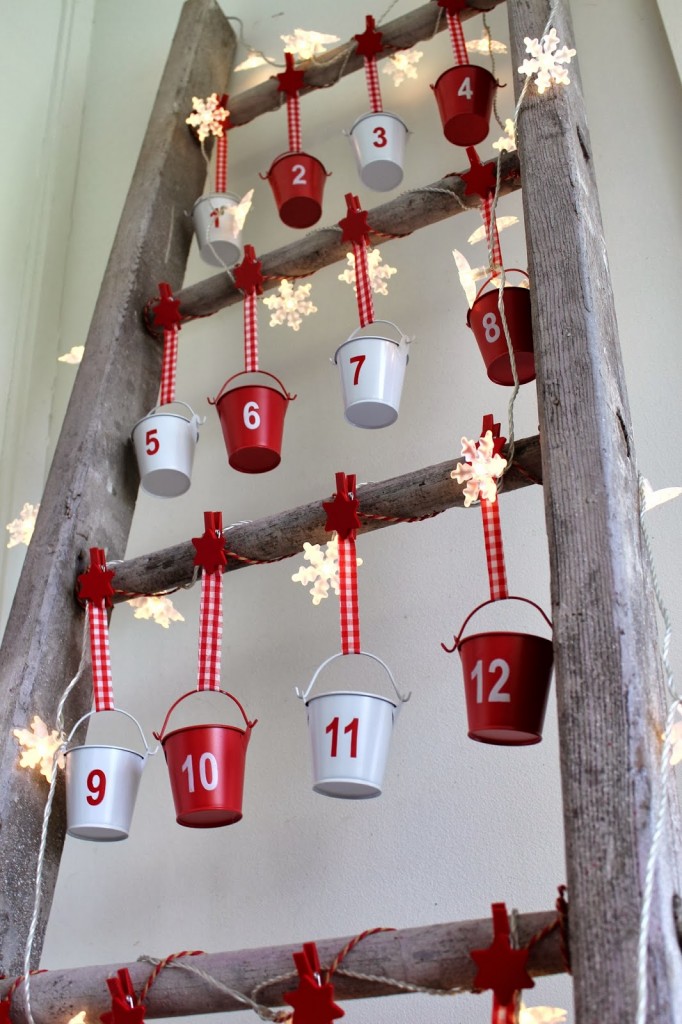 White Envelope Advent Calendar
Linda at Crafts a la Mode made a really cute advent calendar using simple white envelopes and string, clothes pins, stickers and various craft supplies. The result is an adorable Christmas advent calendar banner that would be quick to make and fun for the kids! This is a project I am sure that many kids would love to make, too.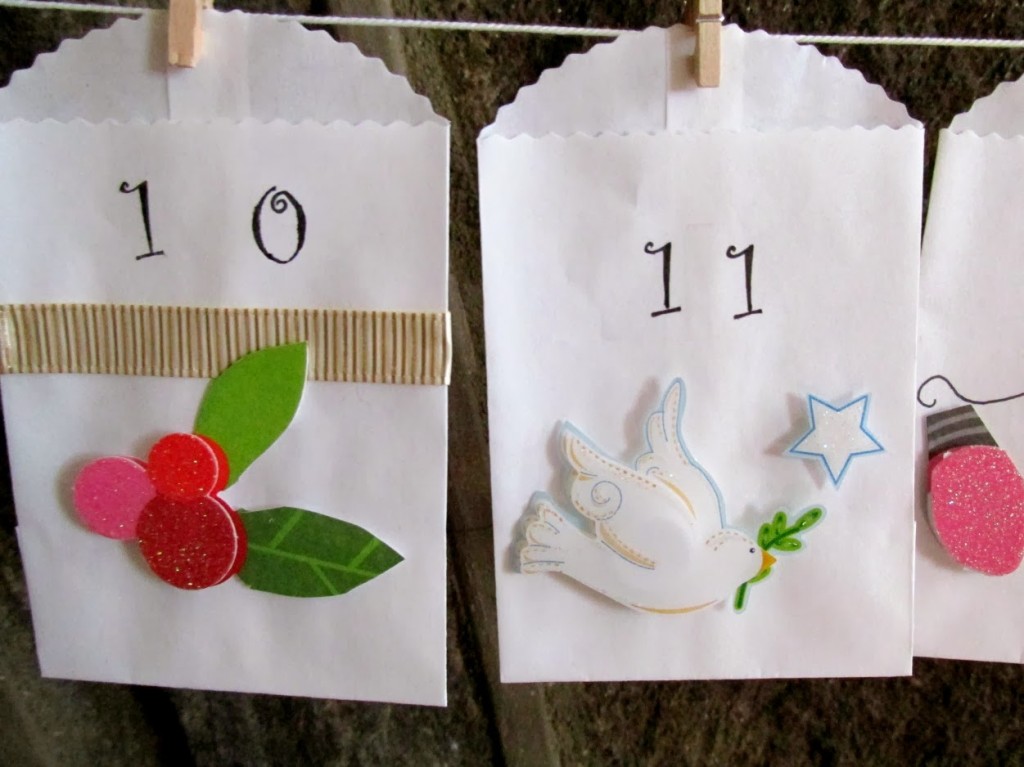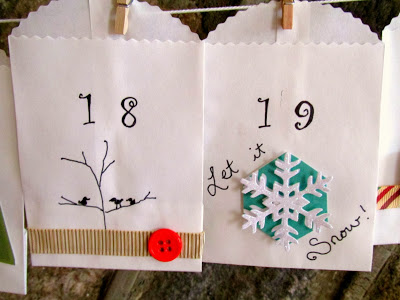 Christmas Tree Advent Calendar
I love the Christmas Tree Advent Calendar by Aniko of Place of My Taste. She created a really cute Christmas tree advent calendar with wood pallets, twine, clothes pins and scrapbook paper. I might have to make this advent calendar next year — it would look great in my home's family room! I saw some pallets out by the trash at my kids' school just this morning…I'll have to go get those!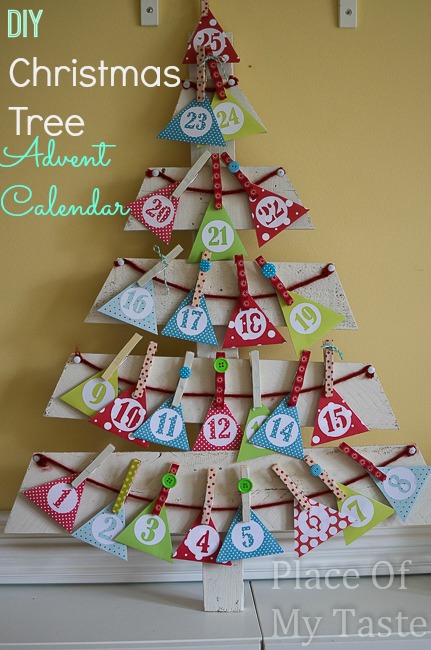 Christmas Stocking Advent Calendar
Kids love Christmas stockings, so the Christmas stocking calendar by The Frugal Girls is just perfect! What's awesome about this advent calendar is that it is super easy to put together! All you need to do is purchase some miniature Christmas stockings, and hang them from some red cord with miniature clothes pins — you can even print out the numbers for your advent calendar on your computer! Easy peasy.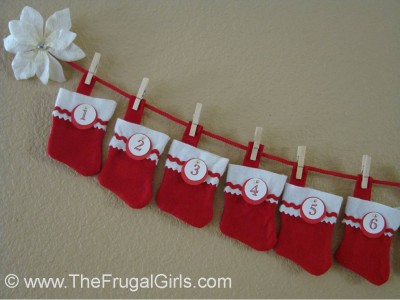 PVC Pipe Advent Calendar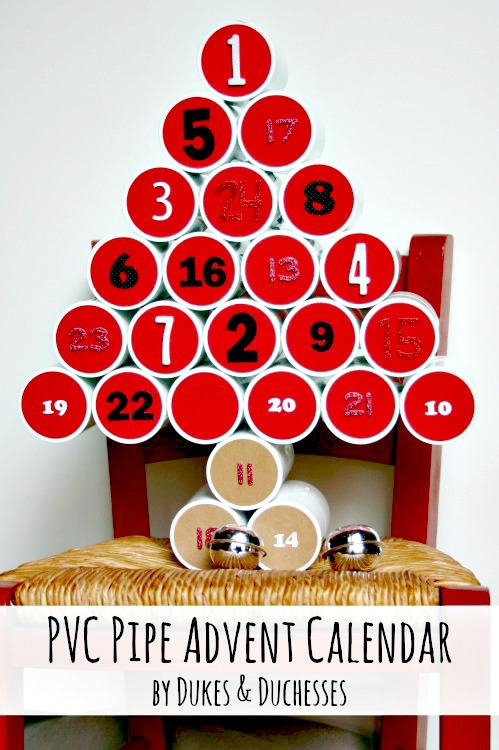 Randi of Duke and Duchesses created an impressive Christmas-tree shaped advent calendar made out of PVC coupling. The super smart part about the advent calendar is that by using the coupling, Randi didn't have to cut the PVC at all — all she did was hot glue it together. She then used circles of red cardstock to cover the coupling openings and numbered the containers with scrapbook stickers. I love the way the PVC advent calendar looks — what's also great is that I am sure that the PVC containers can contain a lot of fun surprises for the kids!
Gifts of Caring
While I have been filling my advent calendar boxes with treats this year, another fun thing to do is to fill your advent calendar with suggestions of ways your kids can give back to others during this holiday season. Melissa of The Happier Homemaker did just that with her Good Deed Christmas Countdown Advent Calendar. I just love it!!
For her advent calendar, Melissa took a beautiful mirrored advent calendar box (the box has compartments for each day before Christmas) and filled each compartment with a printed suggestion of something nice her children could do for another that day — such as, visit a nursing home to sing carols, donate toys to a local shelter and drop off treats to the local police department.
I love this idea — I like this idea so much that I might have to craft another advent calendar this year, so I can implement this idea for my family! I've been wanting to make a banner-style advent calendar to hang on the fireplace anyway! I can get started by printing out Melissa's free printable list of holiday good deeds to complete.
Happy holidays, everyone!
You Might Also Like