Thanks to Winnie's Picks for providing me with a free Winnie's Picks paint by numbers kit. I was not paid for this review. This post contains Amazon affiliate links for your shopping convenience.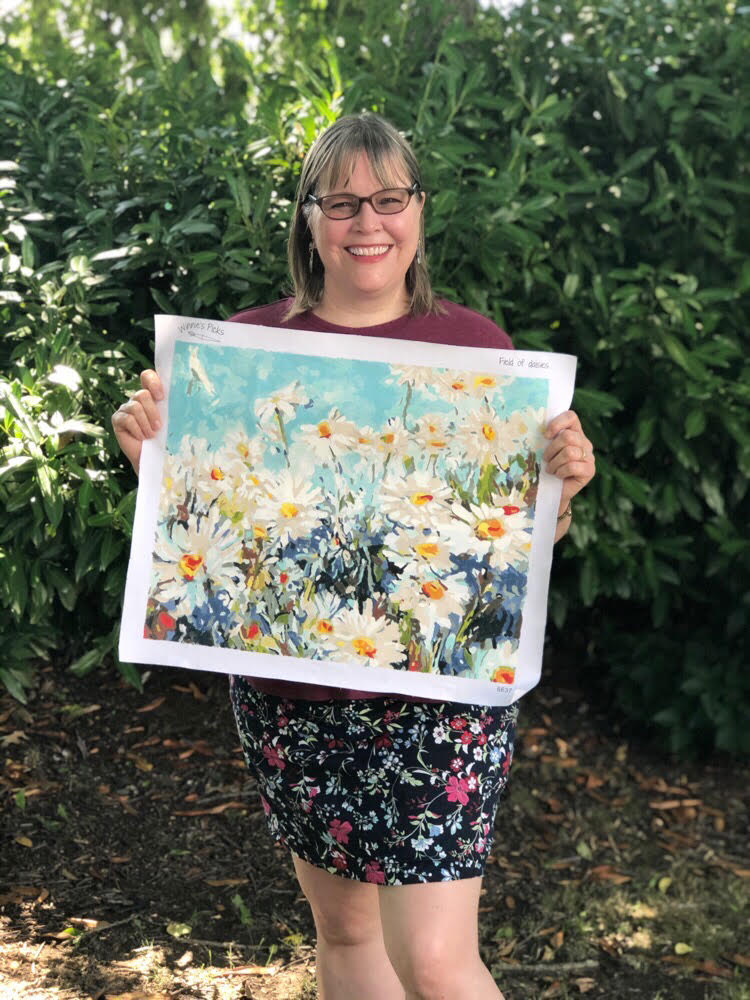 I have never painted a canvas – that is, until recently! I love hanging custom artwork in my home. I also happen to have a lot of extra time on my hands even since my state went into shutdown mode in March. So, when premium paint by numbers company Winnie's Picks reached out to me to try out one of their paint by numbers' kits, I happily agreed!
Most of Winnie's Pick's regular paint by numbers kits are shipped straight from San Bernardino, CA, and arrive within a week. All Winnie's Picks paint by number kits arrive in a sturdy Winnie's Picks packing tube.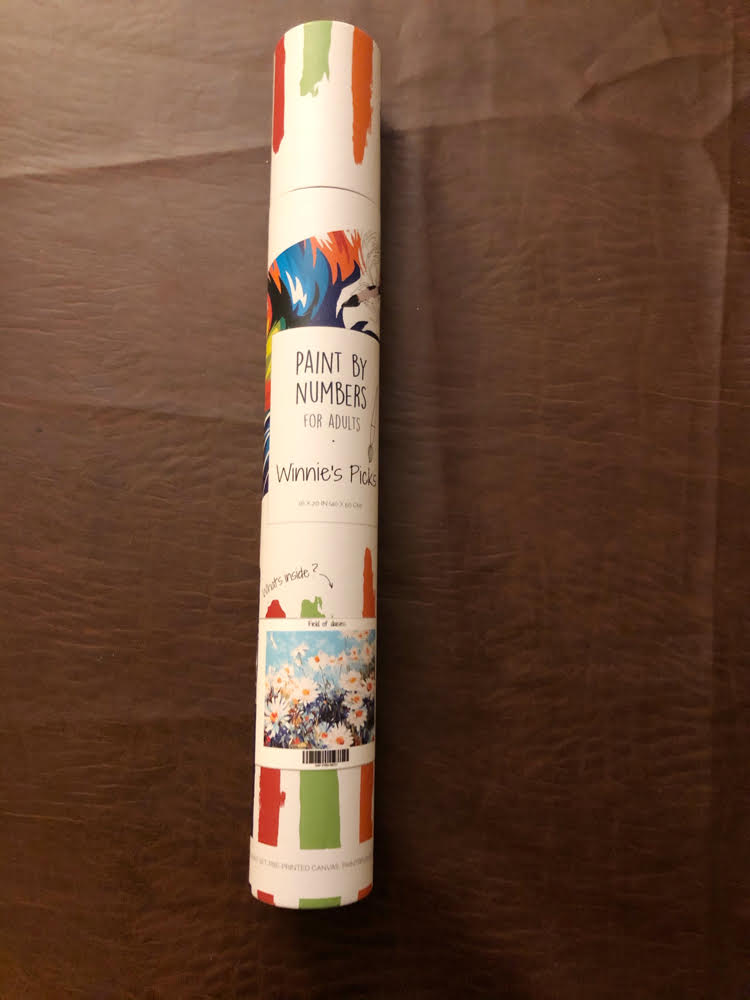 My tube contained everything I needed for my project – the paint by numbers 16″ x 20″ canvas, brushes and acrylic paints. My kit also contained hanging hardware.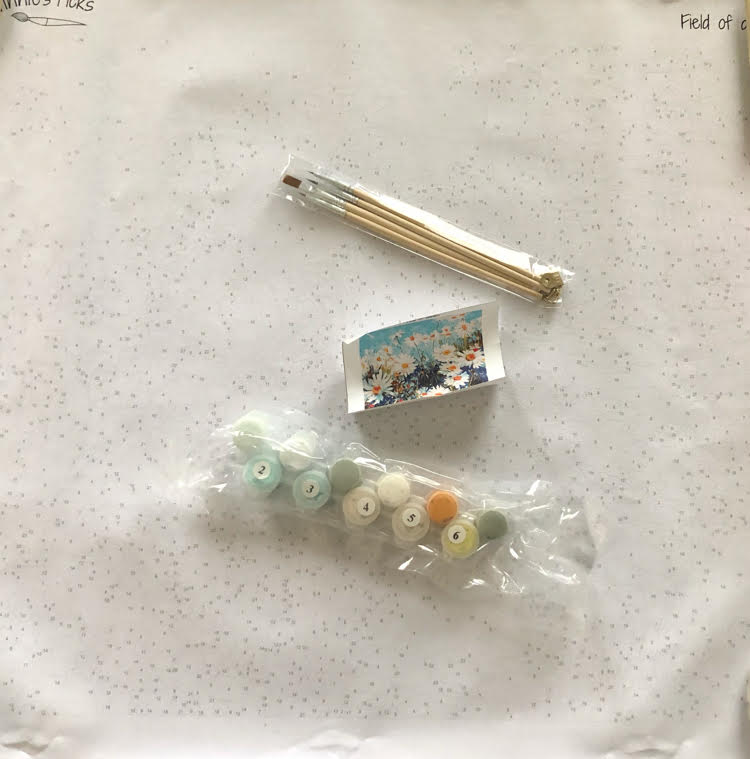 Winnie's Picks paint by numbers kits also come with a mini color printout of your painting and a "map" of your canvas to help you keep track of what color goes where. (If you are like me, you might miss a spot here or there and not be sure what color goes in an open spot when you discover it later.)
My kit came without a frame, but you can order Winnie's Picks paint by number kits with a frame for an additional cost.
Winnie's Picks Field of Daisies Paint By Number Kit
I adore daisies, so I picked out the Field of Daisies paint by number kit to work on from Winnie's Picks. I love the sunny, happy daisies in that modern-looking scene!
I actually received my paint by numbers kit last fall but didn't get around to painting it until recently! Being home nearly 24/7 during this shutdown has given me the time to enjoy my paint by numbers kit!
I got a slow start to painting my paint by numbers kit. With my eyes (that are both nearsighted and farsighted), I found it hard sometimes to view all the teeny tiny areas that I was to paint — and the numbers that marked each tiny spot.
I also found the paint brushes that came with the set to be a little too imprecise and too big for me. I am such an inexperienced painter that I need a tiny, very well-formed brush to properly stay within the lines! So I got this acrylic paint brush set from Amazon to help me better paint my canvas.
I also go myself a lighted magnifying glass
, which really helped to view all the tiny numbered painting areas! The magnifying glass was especially helpful for extra lighting since I mostly painted my canvas on a mini rolling computer laptop desk by my couch as I half watched or listened to the TV.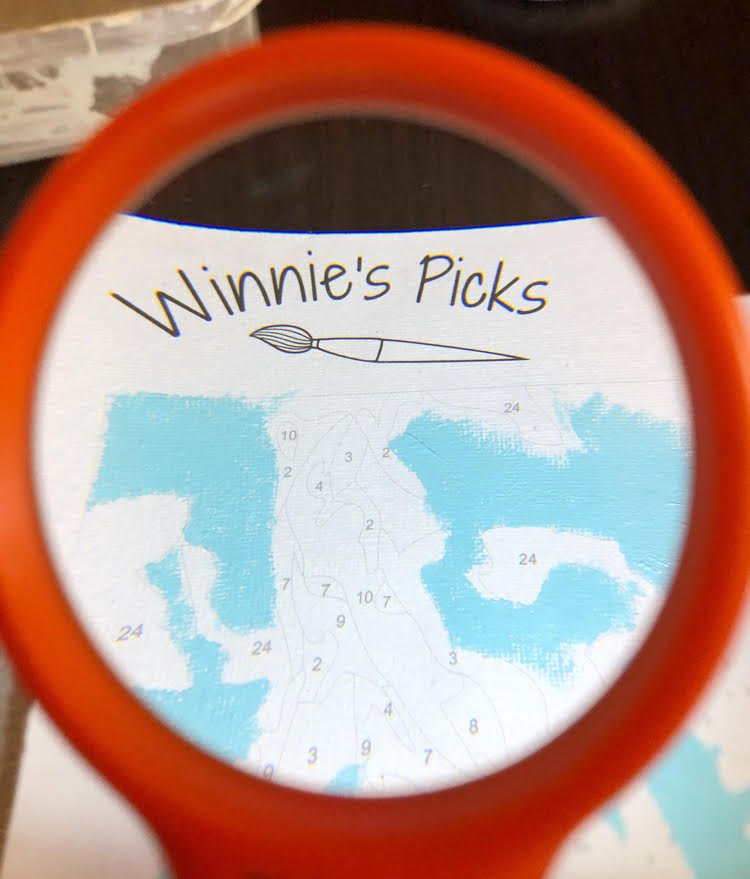 I found that the kit provided plenty enough paint to complete my paint by numbers canvas. I discovered, however, that one of my paints was not soft and more like a rubber eraser. Luckily, my daughter has a big collection of acrylic paints and lent me a tube of the red color I needed. (I just needed a tiny bit.)
Paint By Numbers How to Tips
Since I've never painted on canvas before or tried a paint by numbers kit, my progress was a little slow going at first.
At first, I tried to stick with a certain color and paint all the sections with that color I could find. I found that method to be a bit slow going, however. (I spent a lot of time searching the canvas for specific numbered color sections.)
I found it faster to start with one area of the canvas and paint in that area for the most part before moving to another section of the canvas.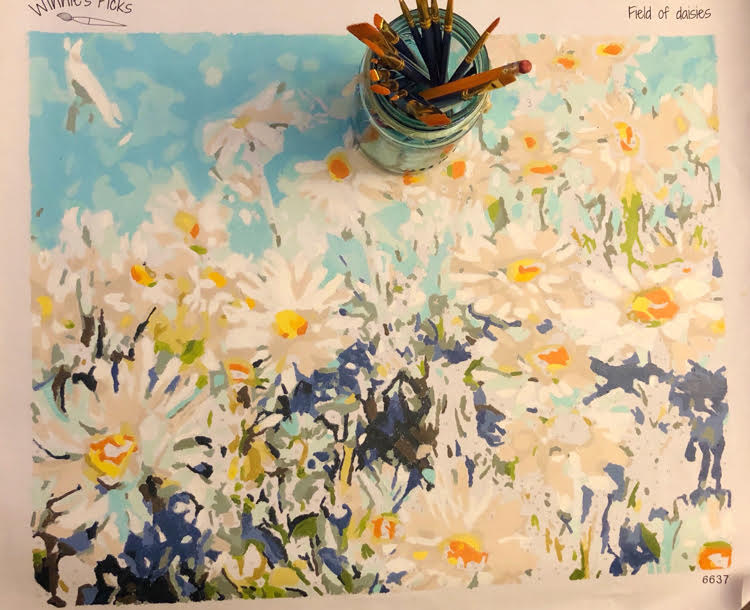 I started in the left corner of the canvas and moved to the right, and then down. I left the darker colors for last in each section. Since I am an imprecise paint by numbers painter, I didn't want to go with a darker paint first and accidentally paint over a different color's section.
I discovered that it's best to start with just a little bit of paint and to build on that paint if needed. Since the sections on a paint by number canvas can be quite tiny, you don't want a big glob of paint in one little spot.
I also discovered that it's sometimes necessary to paint over the printed number in a section a few times to completely cover the number.
After I completed the painting for the most part, I went over my canvas with my magnifying glass. (Since my eyes aren't the best.)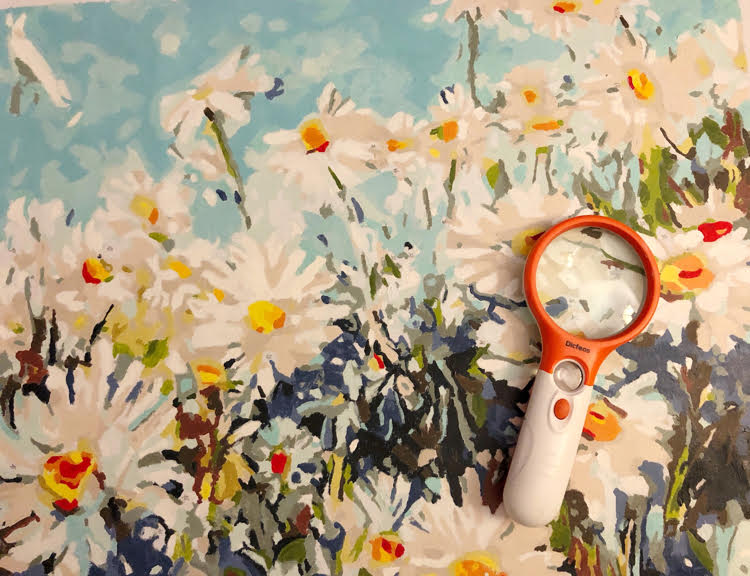 I discovered that in a few areas I had missed a spot or two. I also found that in some cases, I didn't completely finish painting a section. (The sections can curve around each other and be a little hard to follow. Also, I sometimes lost my place when I went to add more paint to my brush or to clean a brush. lol)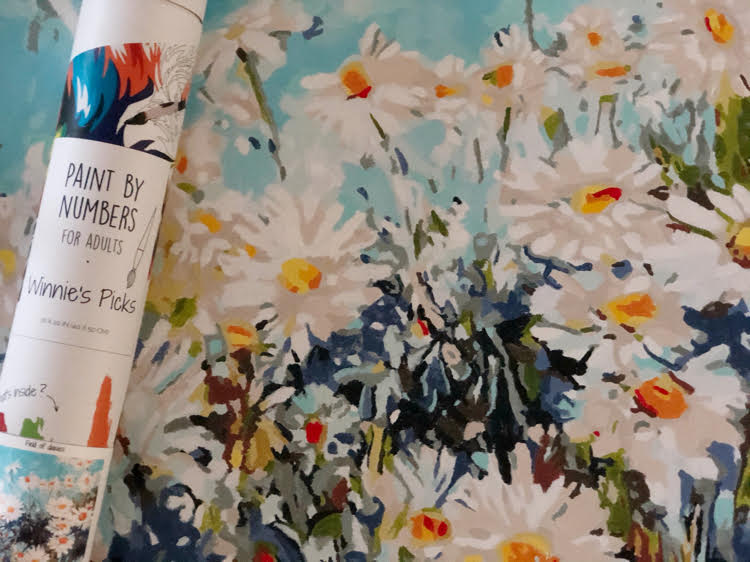 In some cases, I used my map to determine what color should be painted in the spots I missed. (Since in most cases, the number for that section was already painted over.)
Toward the end, however, I winged it and painted the color I preferred in those mistakenly missed spots.
You gotta break free sometimes and do your own thing, right?
I also went back and lightened up a portion of the canvas that I felt was too dark. I figured why not improvise a little and modify the colors more to my liking? That's just the way I roll. For the most part, however, I stuck to the colors specified on the canvas.
At one point, I thought I would never complete my paint by numbers canvas. I think I've read online that it's possible to paint the paint by number canvas I tried in just 3 hours. I estimate it took me at least 5 times as many hours as that! But again, I have never painted a canvas before! Also, although I like to craft, but I don't consider myself to be terribly artistic.
My patience is limited, and the painting seemed tedious at times. But after a while, I came to enjoy it (as I made more progress). I would actually consider doing another paint by numbers canvas.
Now, I just need to figure out how to frame and hang my painting. I could go with canvas stretcher bars Or, I could just wrap the canvas around a piece of thick poster board and hang it that way.
I am looking forward to hanging my new bright and uplifting painting – I am thinking of putting it in my living room!