This post was sponsored by Photowall. I received free product in exchange for my completely honest review.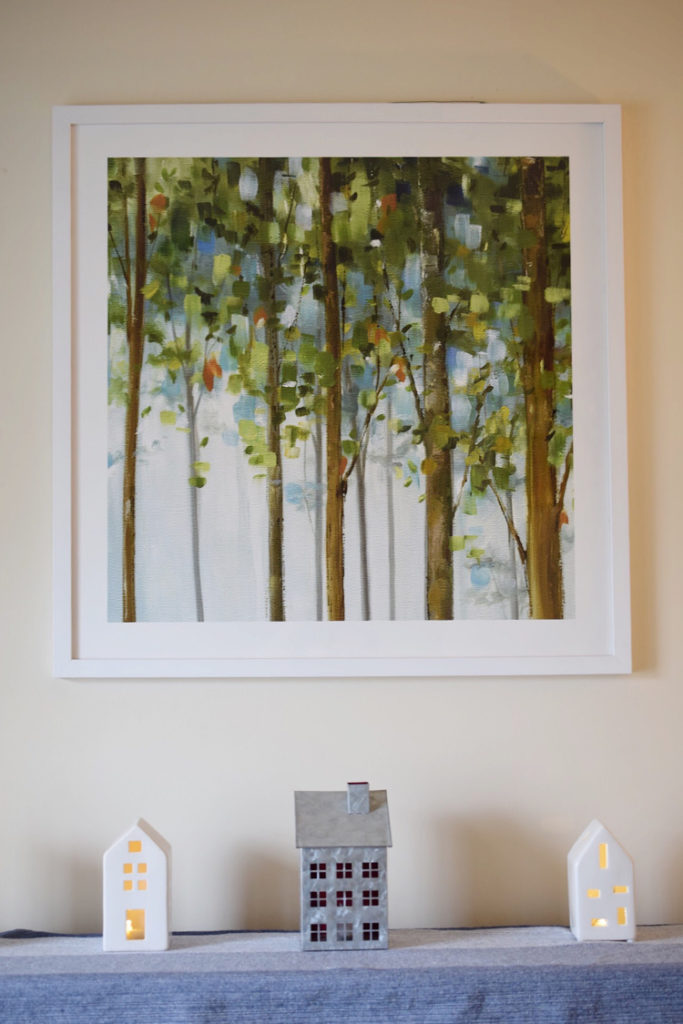 I love bringing representations of nature into my home. Throughout my house, you'll find photos and prints of things I love — forests and trees, the ocean and flowers. These days, as we are spending more time at home, I find that it's especially important to bring depictions of nature into my house. Nature can be calming! I've heard wonderful things about the beautiful wallpaper, posters, wall murals and canvas prints by Swedish wall-art company, Photowall. When they offered to collaborate with me, I happily agreed!
Be sure to scroll down below to get your coupon code for 25% off a Photowall purchase!
It didn't take too much browsing on Photowall's website of gorgeous wallpaper, wall murals, posters and canvas prints to find a print that I absolutely love! I chose the framed print, "Forest Study 2" by Canadian artist Lisa Audit. My 28-inch by 28-inch print is surrounded by a white border and is framed with a white frame. (I could have also chosen to have no border and/or a black frame, too.)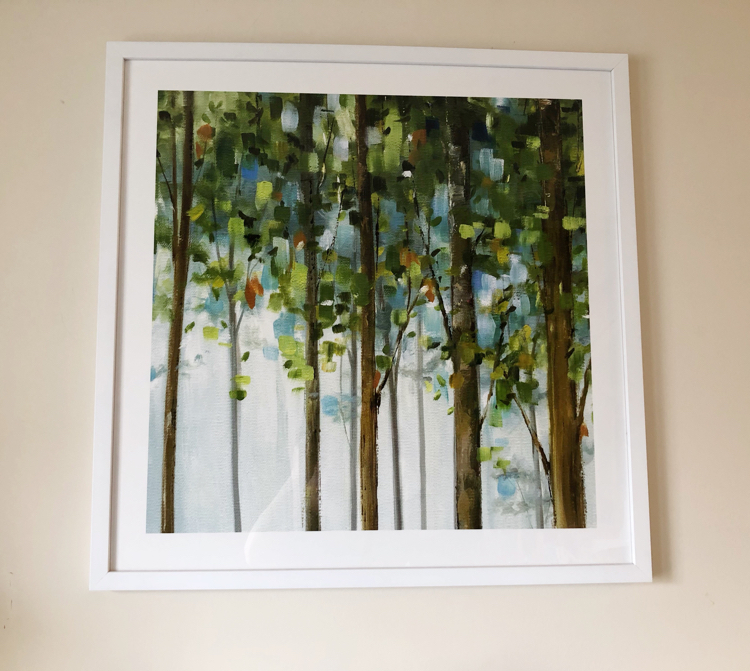 The paper the print is printed on is of high quality – my framed print looks more like a painting than a print. (The paper reminds me of watercolor paper.) The print I chose very much resembles a watercolor, and has an appealing mix of greens and blues. The print gives the sense of being in a serene forest.
Once I placed my order, I was emailed confirmation of my order and was provided with a tracking link. My framed print arrived within the same week that I placed my order. All Photowall products are shipped free. My print came safely packed in a durable corrugated cardboard box with corner protection. My framed print also had the necessary hardware for hanging the print already attached.
I decided to hang my gorgeous new print above the piano in my home's living room. The piano is only a few feet from my home's front door, and is one of the first things one sees upon entering my home.
One of my daughters plays the piano, and she mentioned to me that she especially loves this print. (She was hoping I would order this one – there were quite a few Photowall prints that I really liked!) So I figured that above the piano is a good place to hang this idyllic print.That way, my daughter can enjoy the print every time she plays the piano!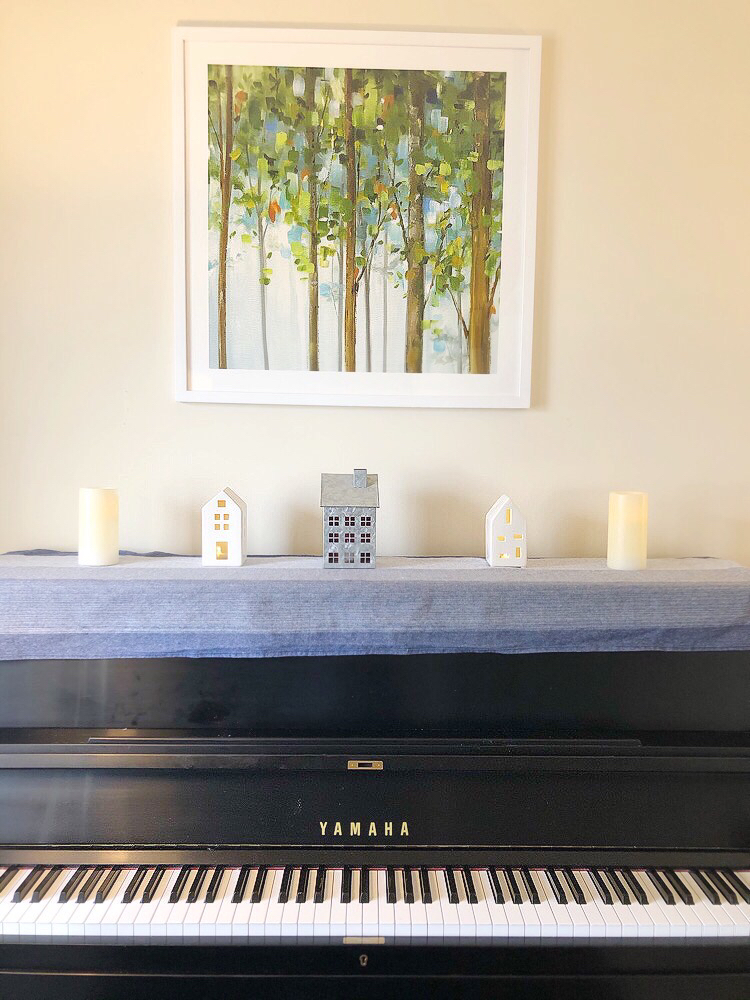 I think our pup, Mochi, loves our new print from Photowall, too! He also loves the outdoors.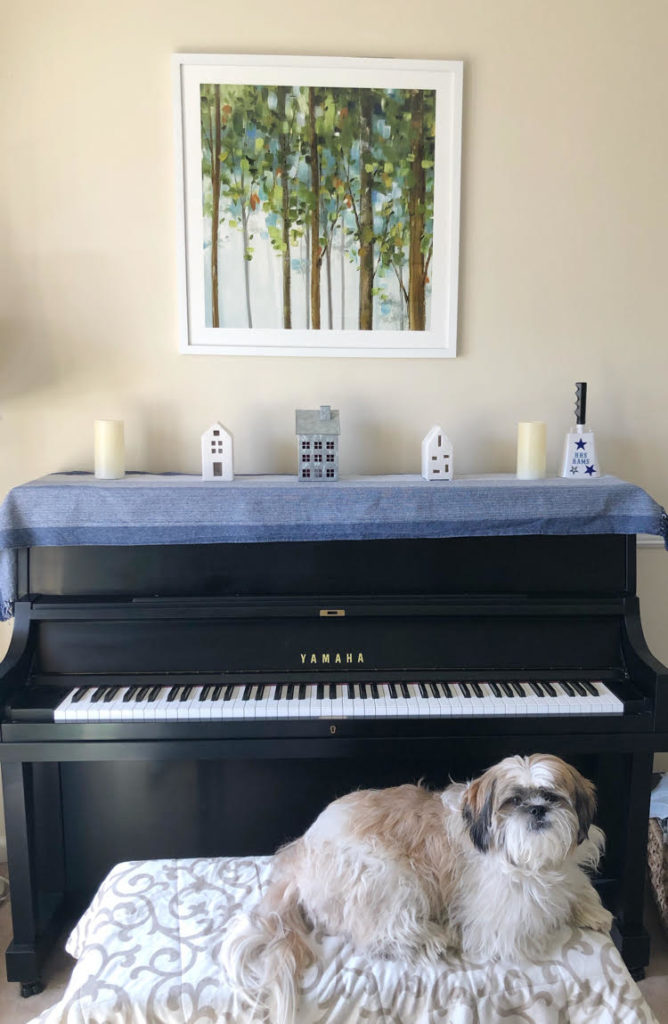 Get 25% Off Your Photowall Purchase
Special gift for Mom Home Guide's readers: Use my exclusive coupon code, momhomeguide2020, to get a 25% discount off any of Photowall's products. It can be used toward Photowall's beautiful wallpaper, wall murals, canvases and prints! This coupon is valid until May10, 2020.
What would you pick out from Photowall for your home? Please share in the comments!