Thanks to Winnie's Picks for supplying me with the paint by numbers kit shared in this post. This post contains Amazon affiliate links.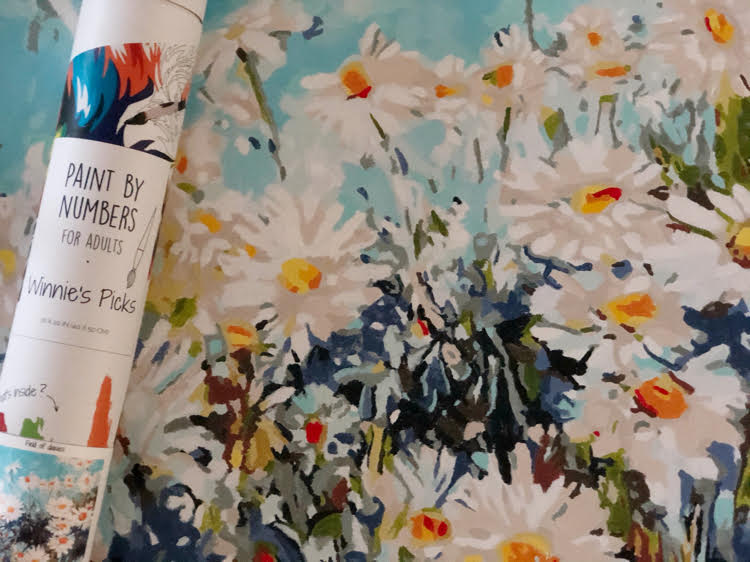 I recently completed a beautiful paint by numbers kit by Winne's Picks called Field of Daisies Paint by Numbers Kit
." I love the happy colors in the painting, and am looking forward to framing it. I am so happy that I completed the painting – at first I thought I never would! It took a while – I encountered a few problems at first. But once I discovered some ways to make the painting go easier, I enjoyed painting more! Today I am sharing what I learned!
Choose A Quality Paint by Numbers Canvas Print
If you are going to complete a paint by numbers kit, be sure you pick a paint by numbers that's printed on a quality canvas – it will look more like a quality painting when you are done. Some paint by numbers are printed on paper instead of a canvas.
Buy Your Own Brushes If the Kit's Brushes Don't Work for You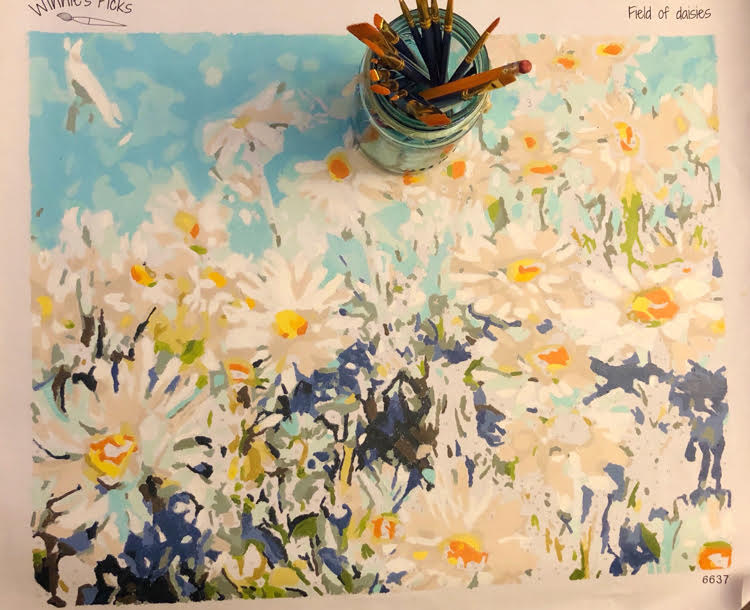 I wound up purchasing my own set of brushes for my paint by numbers kit. The brushes that came with the kit worked for me for a while, but after a while, I felt that I needed smaller brushes that would help me to be more precise. As a beginner, it was getting difficult for me to get my paint in each tiny numbered area without accidentally painting in an adjacent spot. I bought an acrylic paint brush set on Amazon that worked very well for me.
If You Use Reading Glasses, Get a Lighted Magnifying Glass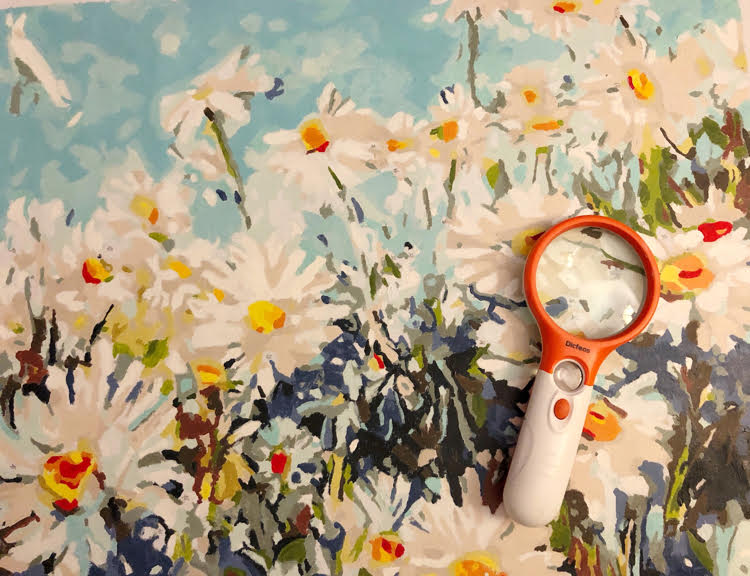 When I started working on my paint by numbers kit, I discovered that it was sometimes hard to see the numbers and the faint lines that marked the sections to paint in. Especially since I tended to paint in front of the TV with not the best light. So I bought myself a lighted magnifying glass from Amazon. The lighted magnifying glass was a HUGE help and helped me to complete my paint by numbers kit more accurately and quickly!
Less Is More
A key to paint by numbers is controlling your paint. It can sometimes be hard to keep your paint in just the tiny sections marked on your canvas. I found that it was best to only put a little paint at a time on my brush and add more paint as needed.
Different Strokes for Different Folks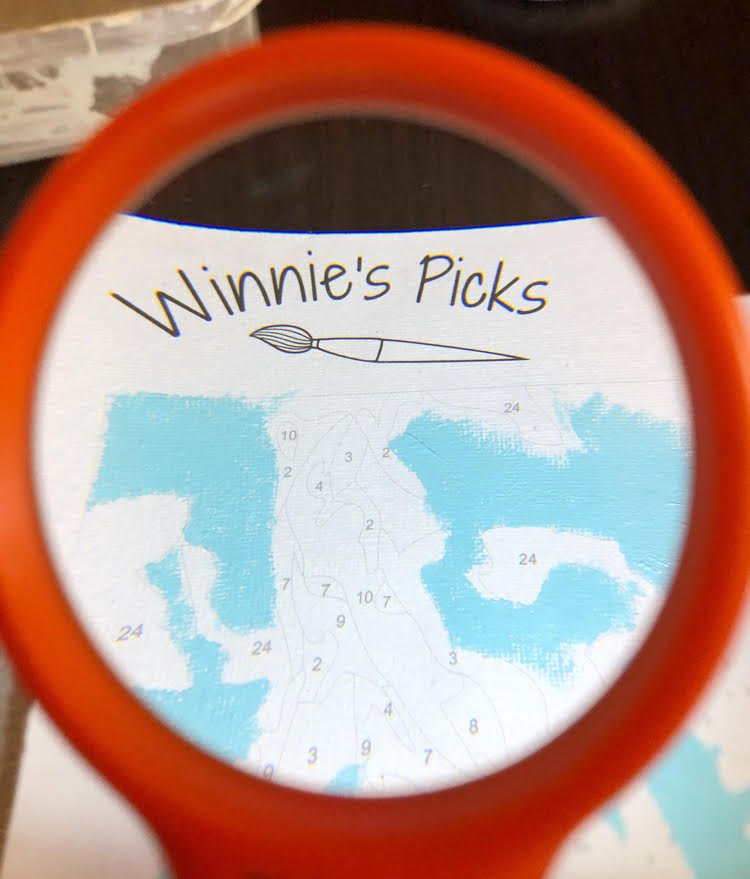 I found it useful to try a variety of painting methods when painting my paint by numbers canvas. In some cases, painting with typical brush strokes worked. But at other times, especially for very tiny areas, it helped to dab or pounce/dab on the paint (as in stenciling).
Cover the Numbers
While it's best to use only a little paint at a time on your brush, you also have to make sure you cover the numbers. With my paint by numbers kit, I found it necessary to put several coats of paint even on the darkest paint sections to completely cover up the numbers. I was surprised at how the numbers could show through even a dark blue or red acrylic paint.
I've read online that using white pencil helps to cover up the numbers and lines on a paint by numbers canvas – I am going to try that next time.
Use a System That Works for You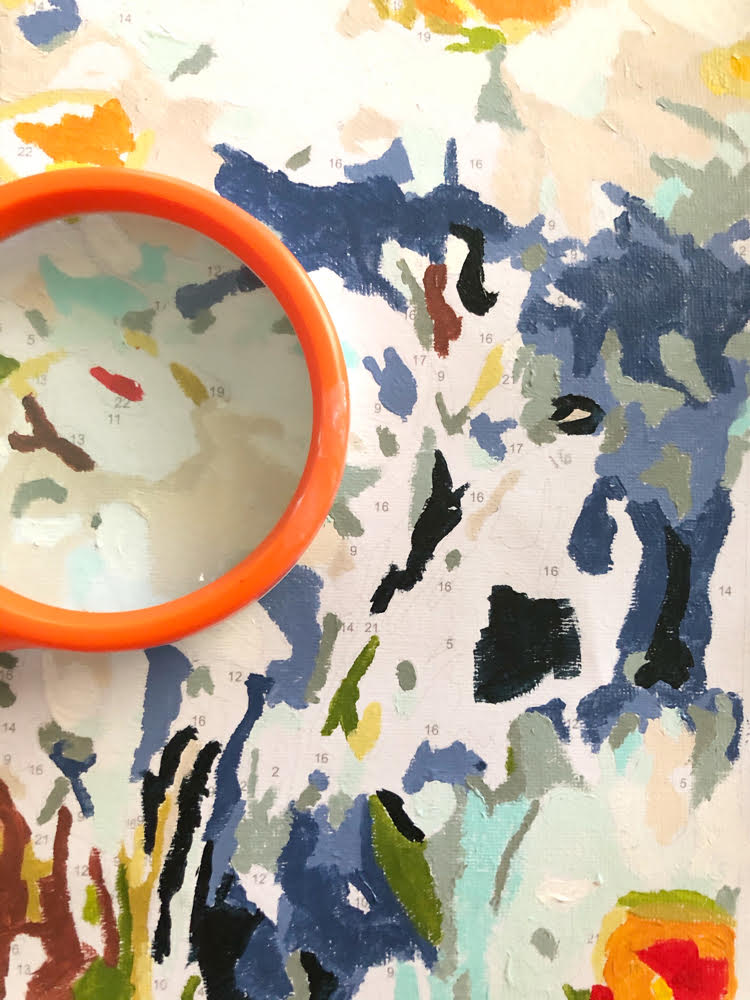 Before starting my paint by numbers kit, I read some tips on how to best complete a paint by numbers. One tip I read was working on one color at a time. That method worked for me at first when I started at the top of the canvas to paint the sky. There were a lot of the blues in that section, so finding those colors on the canvas in that area was easy.
When I finished that color and went to another color, however, I found the method of sticking to one color tiring. Looking for the next color I chose to work with meant scanning the canvas constantly for the next number. It was very slow going.
After that, I decided to work on one small section of the canvas at a time, instead of searching the whole canvas for a particular number.
This method, which meant I had to clean my brushes more frequently as I changed paint colors, turned out to be a faster painting method for me.
I found it worked best to start at the top left of the canvas and work my way to the right and down. I think working from top to bottom and left to right helps to avoid smudging already painted sections, too.
Protect and Clean Your Supplies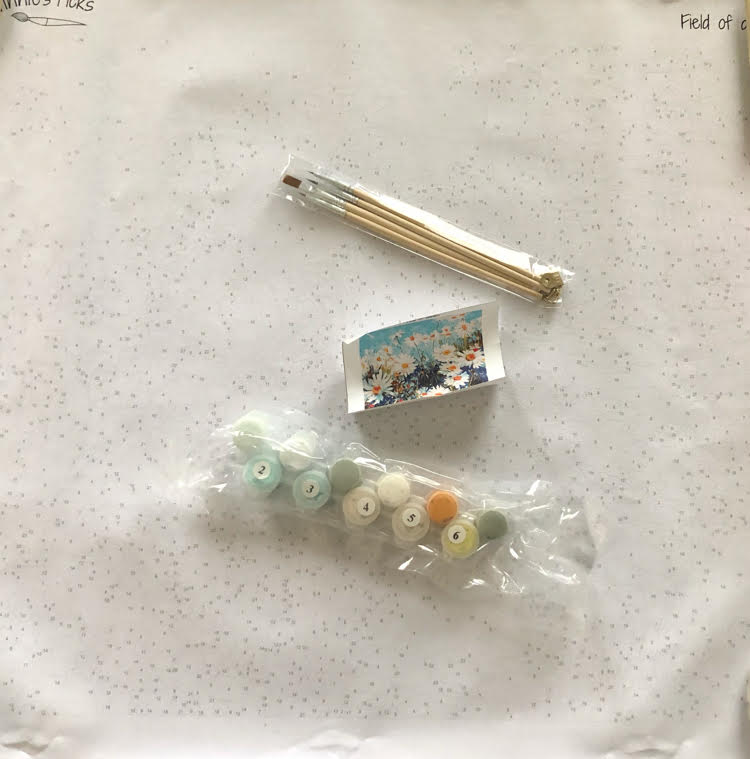 Since I found it easier to work on a small section of a canvas at a time, I was constantly cleaning my brushes as I switched colors. As I purchased a fairly large acrylic paint brush set, I could have chosen to switch brushes as I moved onto the next color.
This would have resulted in a lot of dirty brushes with dried paint on them. I found that to keep the brushes in optimal condition, it's best to wash them frequently and not to let paint dry on them.
I kept a paper towel and a plastic bowl of water by my side as I painted to frequently clean my brushes.
I also found that it's necessary to tightly close each pot of paint as soon as you are done with them. I wound up having extra paint after I completed my paint by numbers, but each pot of paint in my kit were fairly small. Since the pots are small, the paint can dry up quickly. To close each spot securely, I needed to press down firmly on the lid of each pot of paint.
Choose A Workspace
At first I thought I'd work on the big craft table that I have in my upstairs craft room. Then I decided to work in front of the TV and at first painted on my family room's coffee table. I found that I was leaning over the table a lot to paint, however, so searched for another place to paint.
The best place for me to paint turned out to be an adjustable mobile laptop desk
. I could raise it to be the correct height and could fit most of my canvas on the table. It worked for me since my process was only to paint one small area of the canvas at a time.
Break Some Rules
When I first started my paint by numbers, I was very intent on following the numbers exactly and not breaking any rules. But, as I got closer to completing my paint by numbers kit, I started breaking the rules a little.
There were some background areas in my painting that were quite dark — all these dark sections were in the bottom center of the painting. To me, it looked like a big bug!
So, as I was completing my painting, I started swapping out pretty shades of dark blue for the extremely dark sections instead.
To break the rules, though, you have to be very careful to know your paint by numbers kit very well. My Winnie's Picks canvas also came with a paper copy or map of the paint by numbers canvas.
With the paper map of my canvas, I was able to map out where the important elements of my painting — the daisies – were.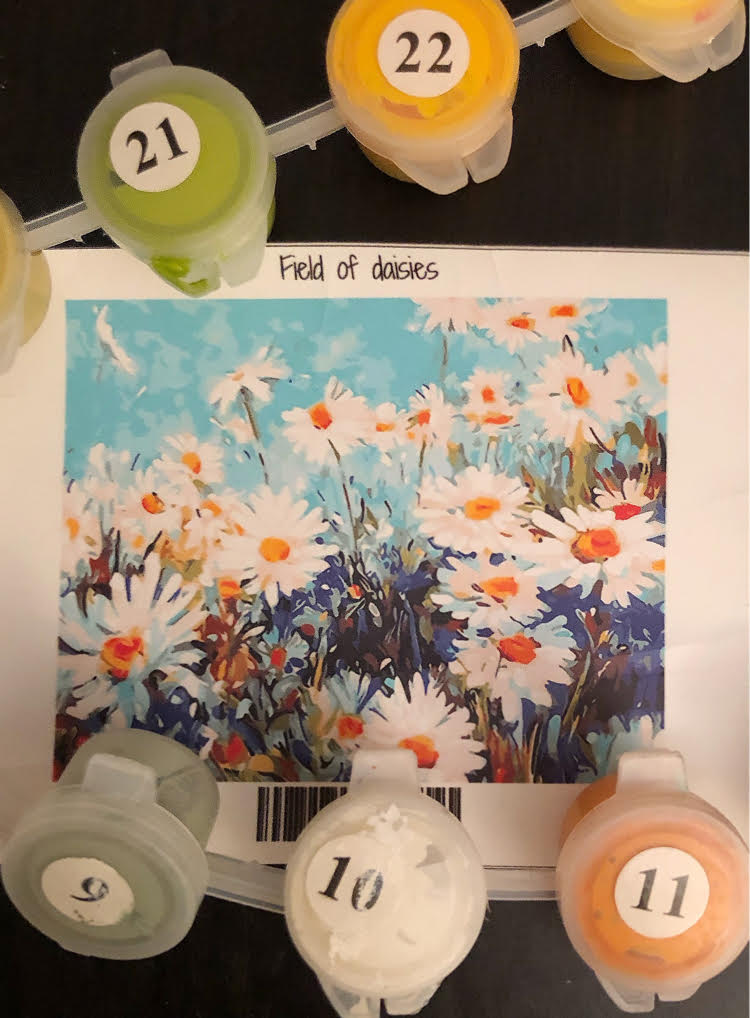 I also referred to a small color print of my paint by number painting that Winnie's Picks included in my kit. This color printout helped me to determine which rules could be broken, and which shouldn't.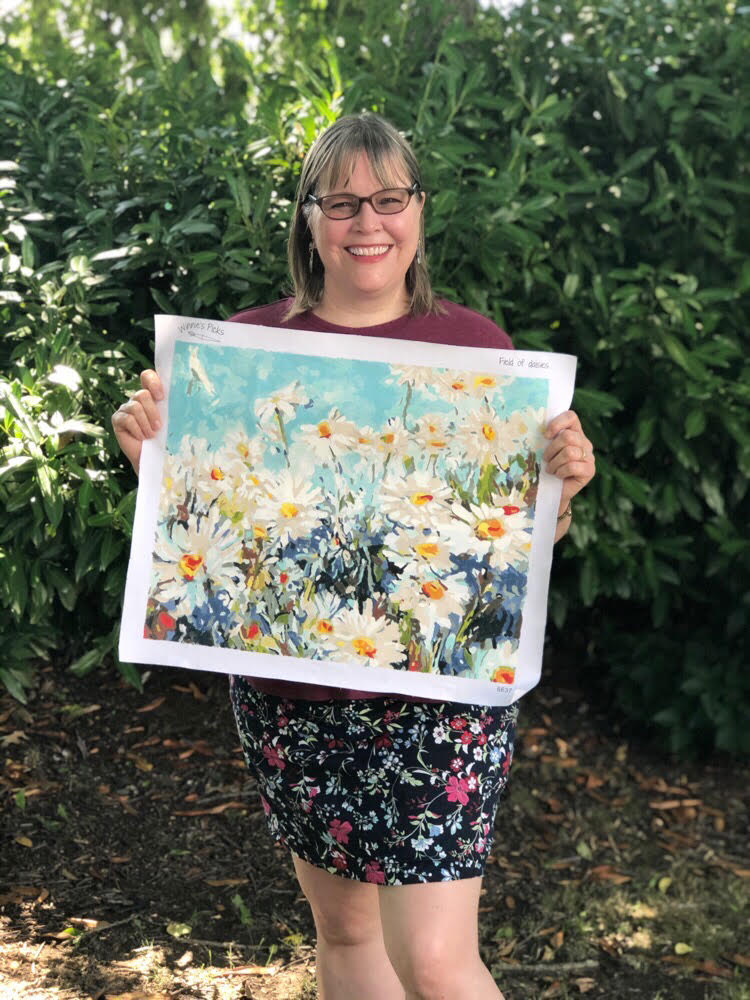 Now that I completed my paint by numbers project, I am actually contemplating starting another one! I have my eye on a pretty Sunflower Paint by Numbers Kit
next.