This post contains Amazon affiliate links.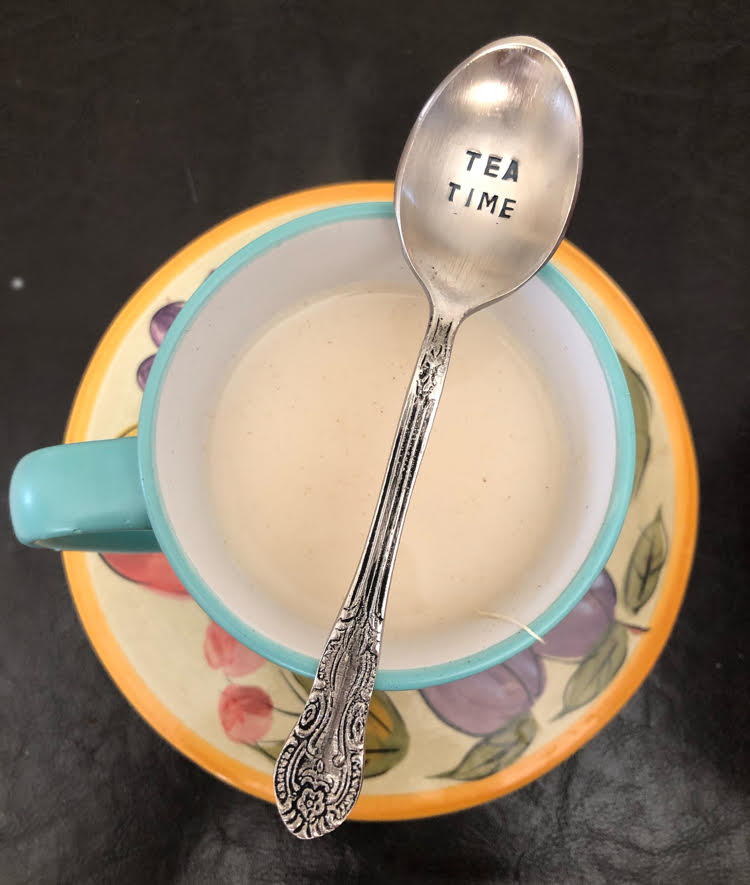 I admit it – I love tea. (It might actually be true that I drink more tea than plain water. Which I admit, is bad.) I love iced tea (Snapple Lemon Tea being my favorite), chai tea, bubble tea, some green teas, and Twinings English Breakfast Tea
. So, not surprisingly, tea accoutrements and accessories are some of my favorite things. One of my newest additions to my tea items is a cute set of engraved tea spoons given to me by my friend, Carrie of Curly Crafty Mom, for my birthday. (Thanks, Carrie!) Using these cute spoons when I'm drinking cold or hot tea makes me smile. (Sometimes it's the little things that makes me the happiest.) Call me boring, but I drink far more tea than margaritas (which I adore), for example.
I am sharing some of my favorite tea accessories and teas today as part of my weekly column, Friday Finds. On Fridays, I like to share with my blogging friends products I've tried and love!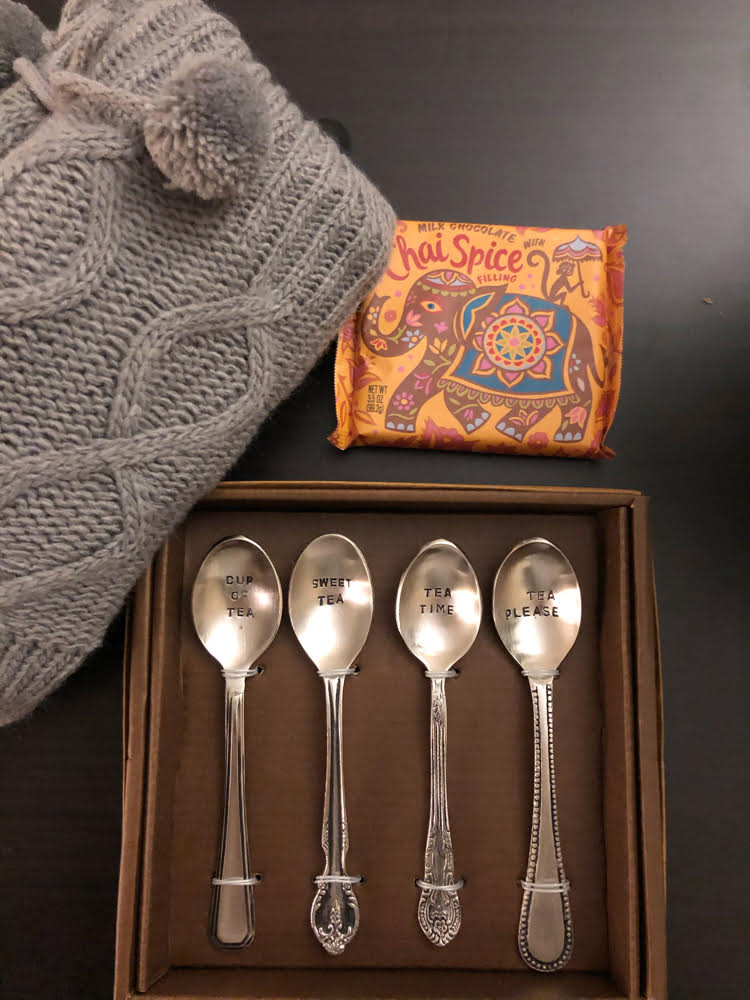 Teatime Accessories
My new set of engraved teaspoons
is from World Market. Each spoon in the set is unique and different.
Each hand-stamped teaspoon has a different saying stamped on it, and each teaspoon has a different design/style.
Carrie also sent me a chai spice bar of chocolate and a set of cozy slippers with my set of teaspoons. (I love chocolate!)
The slippers and the chocolate are perfect for a relaxing teatime at home. (I haven't tried the chai tea chocolate bar yet – my husband gave me a ton of chocolate for Christmas and my birthday that I'm still working through.)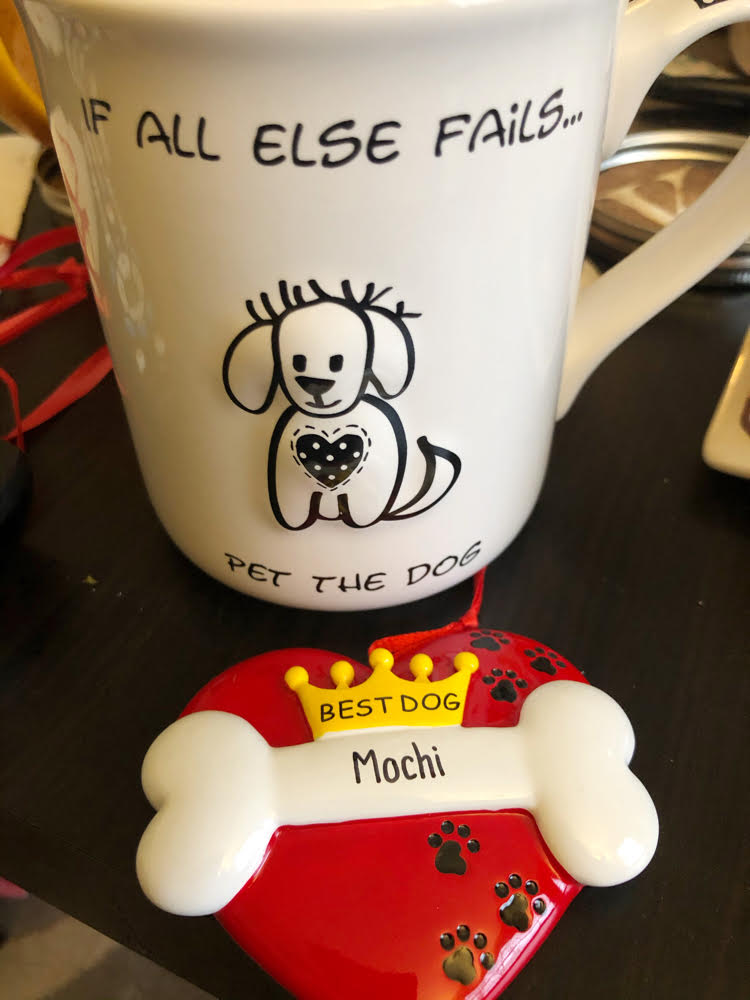 When I drink my tea, I love to have the tea in a fun tea mug
. My husband got me a cute dog lover mug (and personalized ornament) for Christmas this year. This puppy mug reminds me of our adorable pup, Mochi.
I don't always drink my tea in mugs. When my daughters and I make iced boba or bubble teas, we like to drink our tea out of mason jars
. We often drink our boba tea out of stainless steel straws
, too.
I used to make my tea in the microwave, but recently got an electric tea kettle that allows me to heat up a whole tea kettle of water about as quickly as it used to take me to heat up one cup of water for tea in the microwave. I just heat the water in the kettle, add a teabag to my cup, and pour the hot water over my tea.
When I boil a kettle of water, there is usually at least one other family member who wants to use some hot water for some hot tea or hot chocolate.
I love the fun cool blue light my Mueller kettle emits when it's heating up. My family's new electric tea kettle automatically turns off once the water boils. (A funny thing is that my puppy always comes running when he hears the water boil – he knows that I often add milk to my tea, and he loves milk. Silly pup!)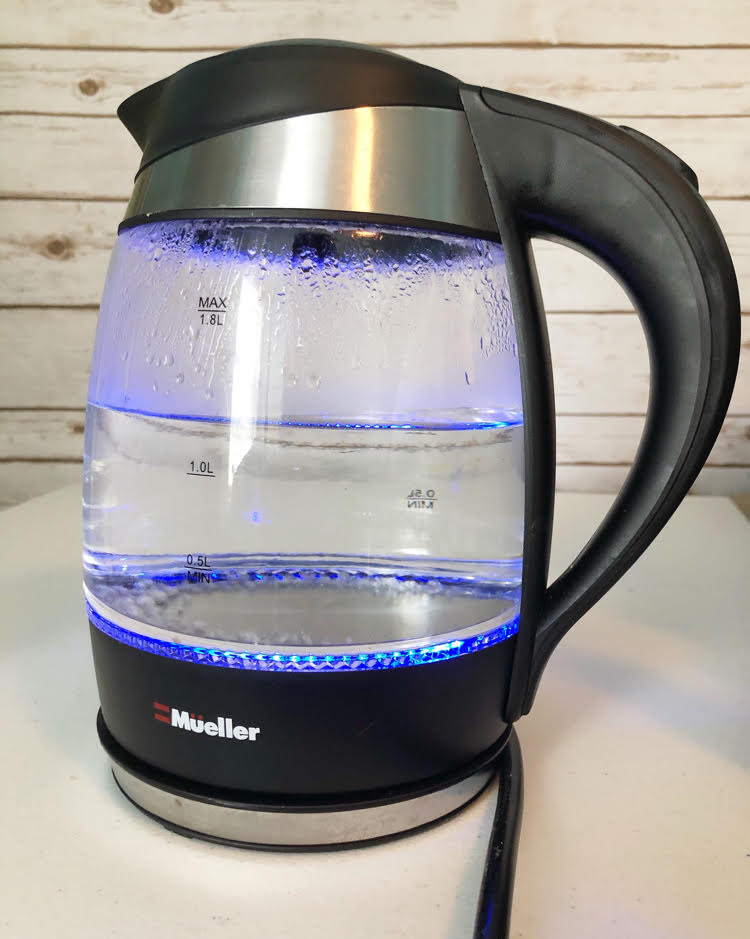 I often make chai tea. When I do, I make Equal Exchange Organic Chai tea
. I like that when I drink this tea I can enjoy it without sugar. (When I drink English Breakfast Tea – one of my faves – I love to add milk and sugar to my cup. Maybe that's something I picked up during my semester abroad as a college student in London!)
I feel that the Equal Exchange Organic Chai tea is super tasty without any sugar, although I do add 2% organic milk. This organic tea is flavored with ginger, cardamom and cloves. I think this delicious mix of spices make the addition of sugar unnecessary.
My daughters and I also like to make frothy warm matcha tea from Matcha Sweet Green Tea Powder
– in fact, hot matcha tea is the favorite of one of my daughters! To make that drink, we simply heat up some milk for a few seconds in the microwave, add a tablespoon or 2 of the powder, and whip the tea up with our mini Milk Frother. Yum!
Do you have a favorite tea or tea accessory? Please share in the comments!
You Might Also Like
Dark Chocolate Mocha Hot Chocolate Bombs