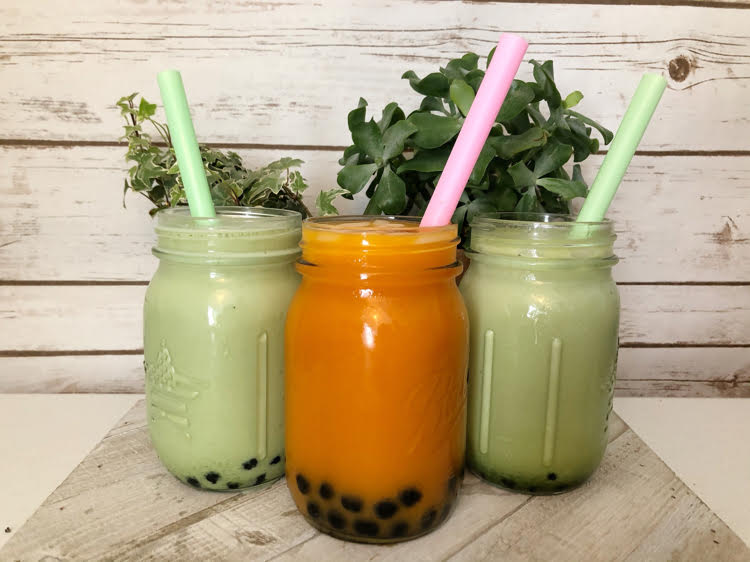 This post contains Amazon affiliate links.
Last Tuesday, I shared my family's easy and delicious raspberry thumbprint shortbread cookies recipe as part of my new weekly feature, Tasty Tuesday. Today I am back with another extra yummy (and easy) recipe. I'm sharing how to make boba and bubble teas! My family and I make two kinds of bubble tea: Thai bubble tea (my fave) and matcha green tea bubble tea (my daughters' favorite).
Before I get started, I would like to thank my beautiful and talented daughters for the awesome photos and video in this post!
Bubble tea, also called boba tea, is a cold drink made from brewed tea that is iced and mixed with added flavors and boba/bubbles, or tapioca pearls.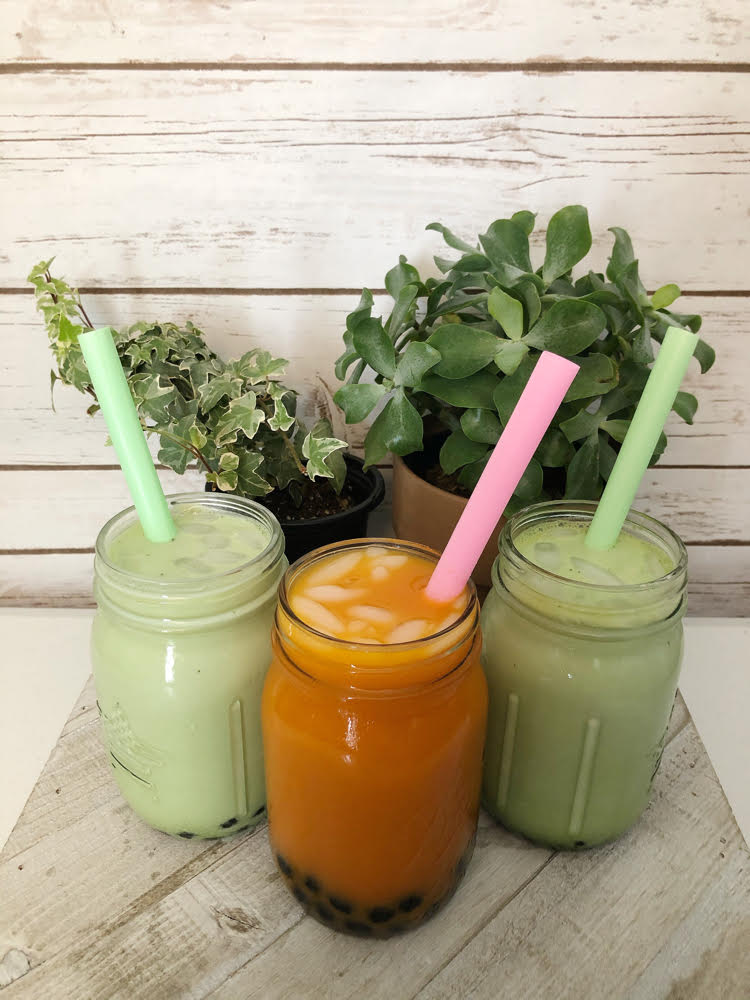 (If you'd like to skip to the recipes at the end of this post, scroll down to the recipe card.)
The boba teas I'm sharing in this post are milk bubble teas. (Both have milk added to them). We use low-fat milk, but you could also use a non-dairy milk like almond milk instead. My daughters often like almond milk in their bubble teas. Bubble/boba teas are popular in Asia, and have become quite popular here at home, too!
My daughters and I first discovered bubble teas at one of our favorite spots, Fruity Yogurt, in Princeton, NJ. We like to get bubble teas and hang out at the Fountain of Freedom at Princeton University on Washington Avenue. We usually bring our pup, Mochi! We haven't gone to Princeton much this summer. So, it's great we've learned to make these tasty drinks at home!
We've also found a wonderful place to get bubble teas close to home for boba teas – Baguette Bistro, a wonderful Vietnamese eatery in East Windsor, NJ.
How to Make Boba & Bubble Tea at Home
To make boba and bubble tea, you need bobas. My family and I often buy our bobas at Woo-Ri Mart, a Korean grocery store in Princeton Junction, NJ.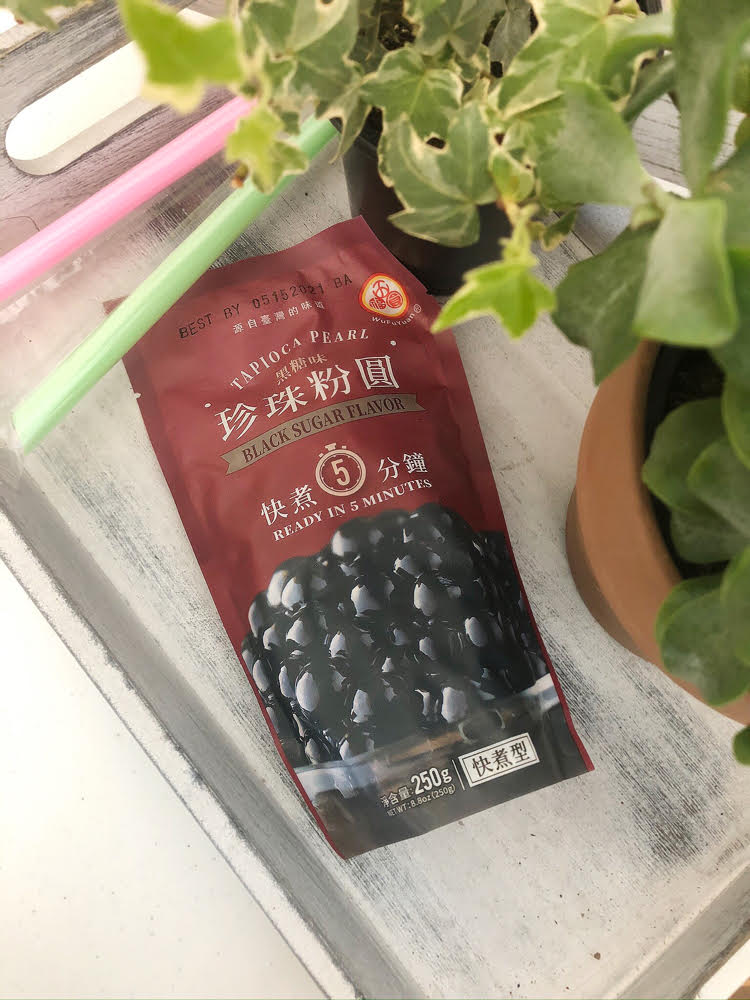 The bobas/bubbles (Tapioca Pearls
) are also available on Amazon.
To make the bobas, we first put them in boiling water and cook them according to the package's directions. We usually make a whole bag at once – my daughters have no problem with eating up the leftover boba. (You should use the boba immediately after cooking it.)
After we cook the boba, we drain them and stir in 2-3 tablespoons of sugar – you can add as little or as much sugar as you like. If you have more time, the Numi Tea Blog suggests soaking your boba overnight in a simple syrup (which is made with equal amounts sugar and hot water) or in honey.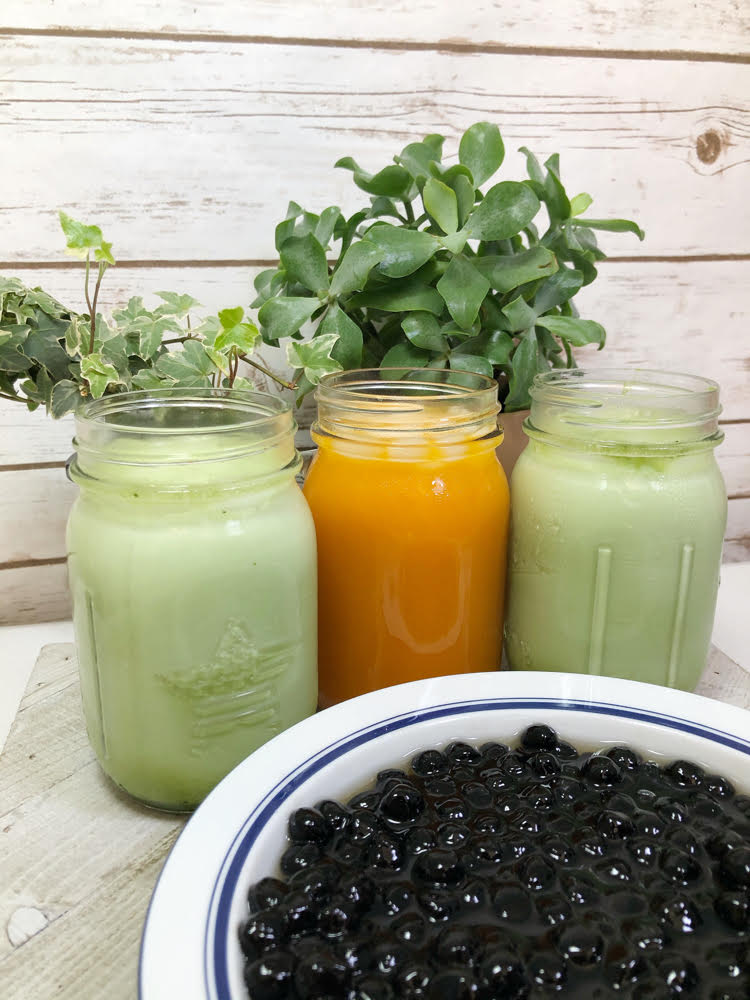 We brew Thai tea from teabags for Thai bubble tea. (We use these Thai tea bags.)
For a glass of Thai tea, I let the teabag sit in boiled water until it cools. (You want the tea to be strong, since it will get watered down with the ice.)
When I make my Thai boba tea, I use about 2-3 tablespoons of 2 % milk. I pour the tea into a glass filled with ice and then add the boba. How much boba you add is up to you – I tend to like fewer boba, while my daughters like more boba in their tea.
I also stir in 1-2 tablespoons of sugar, depending on how decadent I am feeling!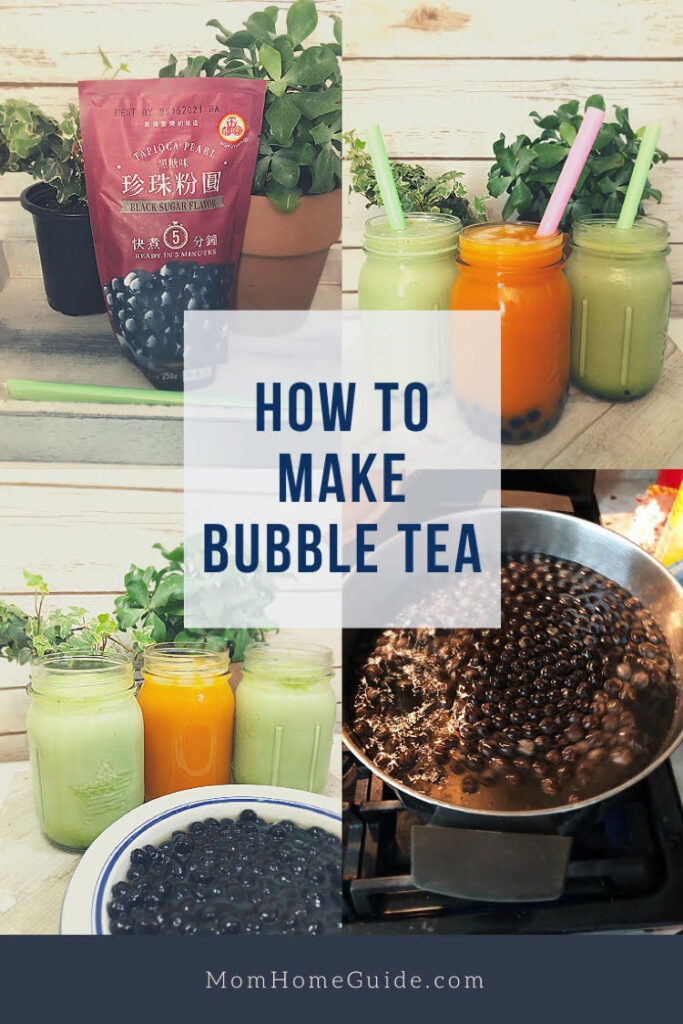 For matcha boba tea, we fill about 1/4 of the glass with ice. We then fill the glass to about half way with cold milk. We add cold water, leaving some room for boba. We mix 3-4 tablespoons of matcha tea powder in. (We use Ito En Matcha Green Tea powder
). This green tea powder is already sweetened, so there's no need to add sugar.
My daughters and I like to use mason jars for drinking our bubble teas. We also use extra wide boba tea straws
. Otherwise, the bobas will get stuck in your straw when sipping your bubble tea!
Check out the full recipes and the recipe video at the end of this post!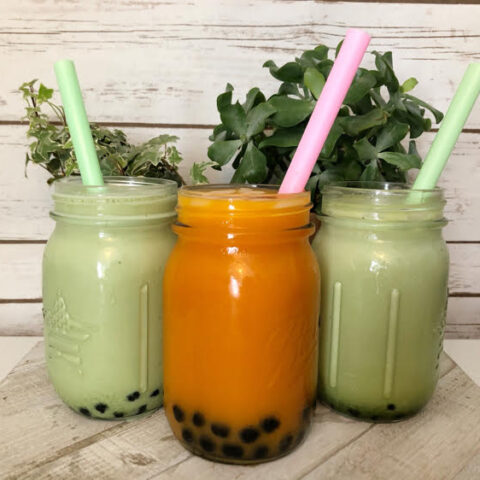 Thai Bubble Tea
This sweet and refreshing drink is made with Thai tea, milk and boba (tapioca pearls.)
Ingredients
1 Thai Tea Bag
A few tablespoons of cooked and sweetened boba
2-3 Tablespoons Milk
1-2 tablespoons sugar
Instructions
Fill a cup with boiling water.
Add 1 teabag of Thai tea.
Let the teabag sit in the cup until the water cools.
Add 2-3 tablespoons of 2 % milk.
Stir in 1-2 tablespoons of sugar to taste.
Add ice to a separate glass.
Pour tea over ice.
Add boba. (I use 2-3 tablespoons of boba generally.)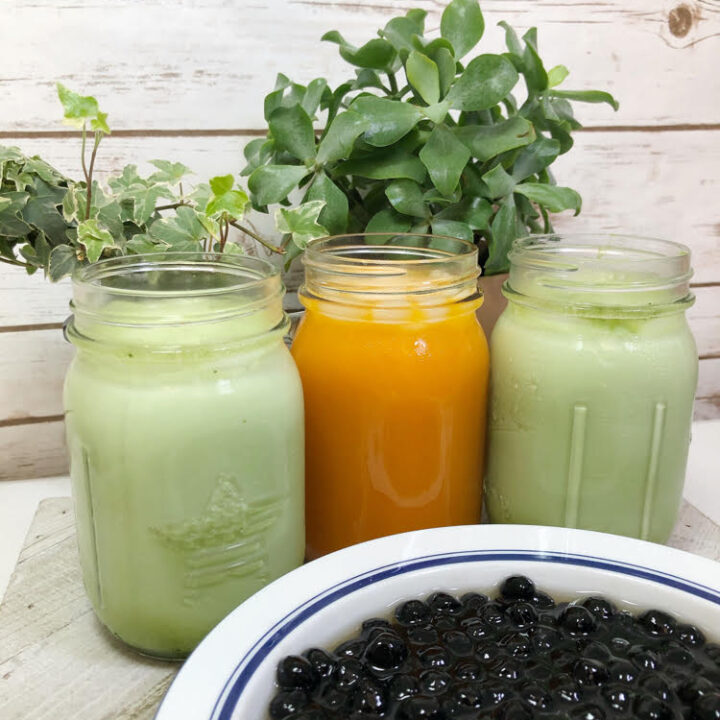 Matcha Boba (Bubble) Tea
This matcha green boba tea is made with green tea powder, milk, water and tapioca pearls.
Ingredients
3-4 Tablespoons Matcha Green Tea Powder
2 % MIlk (approximately 1/4 cup)
Water
2-4 Tablespoons cooked and sweetened Boba
Ice
Instructions
Fill a mason jar or glass about 1/4 full with ice.
Fill the glass with milk until the glass is about half full.
Add water, leaving room for boba.
Add 3-4 tablespoons of matcha tea powder and stir.
Add 2-4 tablespoons of boba, or more if you like.