Welcome to the Taste Creations blog hop! I can't believe that it's February already! My blogging friends and I get together the first of each month to share recipes. Today we are sharing pink recipes for Valentine's Day! I am sharing a Pink Strawberry Cheesecake Pie. After I made this pie, one of my daughters declared that it has become one of her favorites! Most of this pie recipe is no bake, except for the easy to make (and amazing) pretzel crust.
Pink Strawberry Cheesecake Pie Recipe
My Pink Strawberry Cheesecake Pie recipe is quite simple to make and only requires a few ingredients. It is light and creamy with fresh strawberries, a fun pink center and the the savory and sweet pretzel crust. This is a dessert I'll be making regularly for my family. I adapted my recipe from the Strawberry Delight recipe from Spaceships and Laser Beams. (Thanks, Stephanie for your fun recipe!) Stephanie makes her pie with a graham cracker crust.
I decided to make a pretzel crust because my daughter loves another strawberry pie with a pretzel crust I make, Festive Strawberry and Cheesecake Pie. That recipe uses the same basic ingredients, but has a Jello layer instead of being strictly a cheesecake. It turns out that this Pink Strawberry Cheesecake Pie is easier to make, and is in our opinion, much better!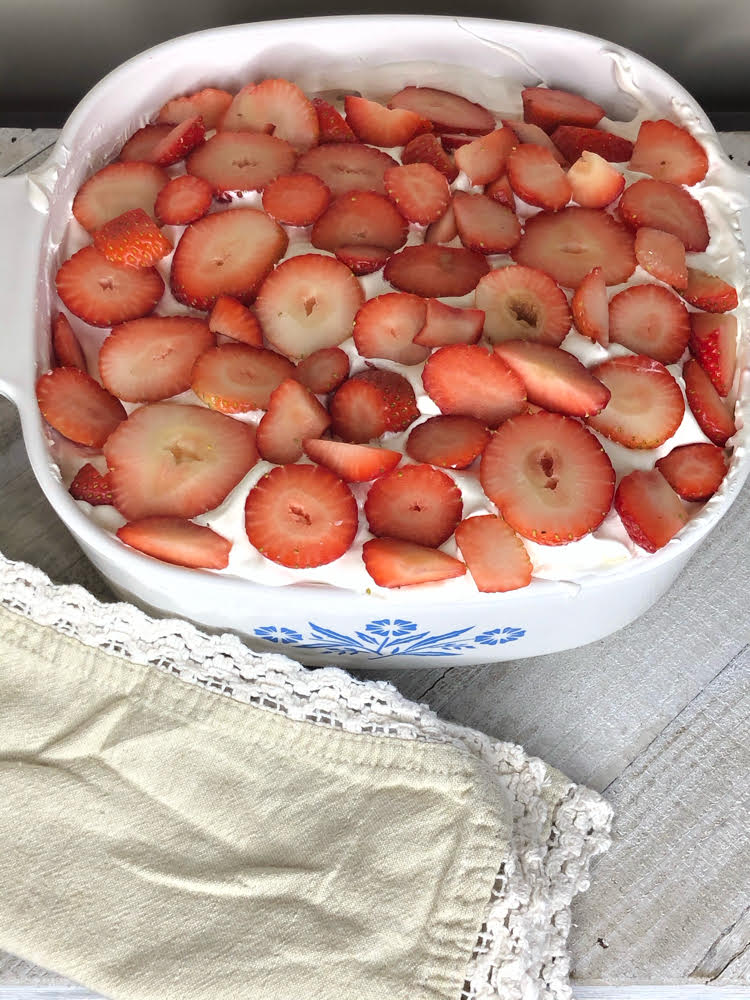 Ingredients
Layer 1 – The Crust:
1 2/3 cups crushed pretzels. (I put the pretzels between layers of plastic wrap and used a meat tenderizer to crush the pretzels into smaller pieces.)
2 Tbsp. sugar
1 stick butter, melted
Layer Two – Strawberries:
10 strawberries
Layer Three – Cheesecake:
1 cup of heavy whipping cream
16 oz. of Philadelphia cream cheese (2 bricks of cream cheese)
3/4 cup of powdered sugar
1 teaspoon of vanilla extract
2 teaspoons of lemon juice
Layer Four – Strawberry Cheesecake:
1/2 of the cheesecake mix from layer three
3 tablespoons of strawberry gelatin
Layer Five – Cool Whip:
8 oz. of Cool Whip
Note: I haven't tried this, but Stephanie of Spaceships & Laser Beams says you can make your own Cool Whip, or stabilized whipped cream, if you don't have or want to use Cool Whip.
You can do this by beating 1½ cups of heavy whipping cream along with ¼ cup powdered sugar and 1 teaspoon of gelatin (dissolved in 1½ tablespoons of water).
Use an electric mixer to whip the mixture on a high setting for 5 minutes. I might try this with my next recipe instead of using Cool Whip.
Allow the cream cheese to come to room temperature before preparing this recipe.
Make the Crust
Melt the butter and pour it into a medium mixing bowl along with the crushed pretzels and sugar. Stir to combine. Press the pretzels into the bottom of an 8×8-inch baking dish. Bake at 350°F for 10 minutes. Cool.
Make the Second Layer – Strawberries:
Slice ten strawberries and lay them evenly on top of the pretzel crust. Put the dish into the fridge while you work on the next layer of the pie.
Make Layer Three – Cheesecake:
STEP ONE: Use a mixer to combine the softened cream cheese, powdered sugar, vanilla extract and lemon juice until the mixture is light and fluffy with no lumps. (I used my stand mixer.) Set aside.
STEP TWO: In a clean mixing bowl, beat the heavy whipping cream for about 5 minutes until stiff peaks form. Add the heavy whipping cream to the cream cheese mixture and fold together with a rubber spatula.
STEP THREE: Spoon half of the cream cheese and heavy cream mixture on top of the strawberries in your baking dish. Set the other half of the mixture aside. Place the baking dish back in the refrigerator while you are preparing the next layer.
Make Layer Four – Strawberry Cheesecake:
STEP ONE: Take the remaining cream cheese and heavy whipping cream mixture and sprinkle the strawberry gelatin on top. Use the rubber spatula to gently fold the gelatin into the mix until it's completely combined. You want the mixture to be pink with no streaks of white.
STEP TWO: Spoon the mixture on top of the cheesecake layer.
Layer Five – Cool Whip:
STEP ONE: Spread the Cool Whip on top as the last layer.
STEP TWO: Chill for at least one hour before serving.
This pie should be stored cold in the refrigerator.
Try These Tasty & Delicious Pink Recipes!
Pin This Recipe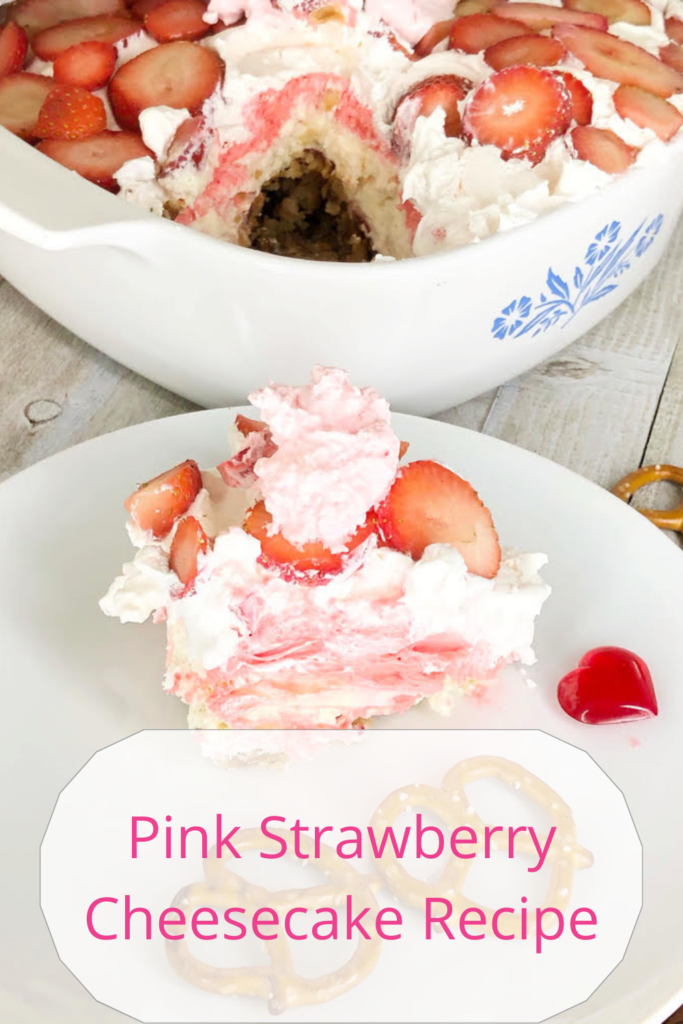 You Might Also Like