This shop has been compensated by Collective Bias, Inc. and its advertiser. All opinions are mine alone. #SoHoppinGood #BlueBunny #BombPop #CollectiveBias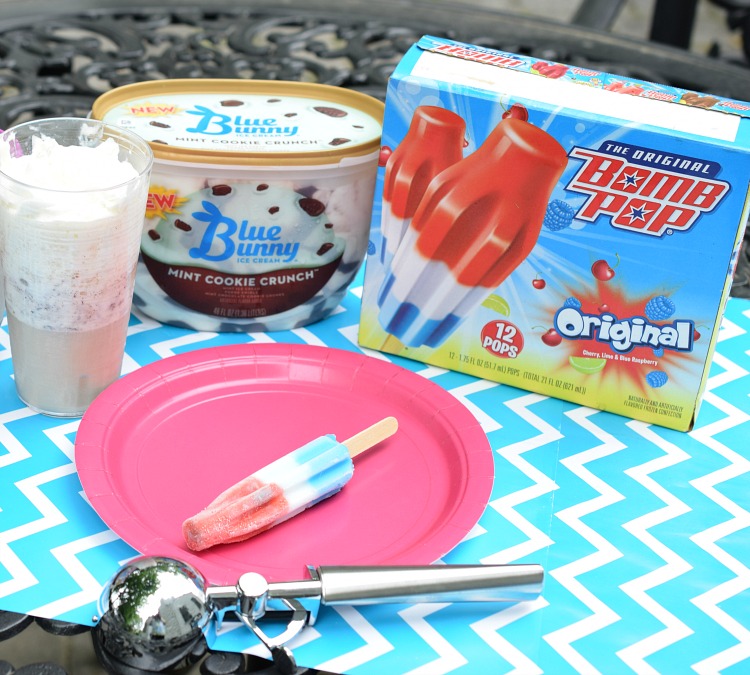 My family had a great weekend — my husband and I hosted a combination birthday/graduation party for our twin daughters. They had a blast! Their birthday falls around the Memorial Day holiday, but because of everyone's busy schedules, we only just got to throw them a party on Saturday. A big part of the celebration was the ice cream soda float bar that I put together for them and their friends with Blue Bunny® ice cream and The Original Bomb Pop®. My daughters and their friends had a great time mixing up their own ice cream soda floats!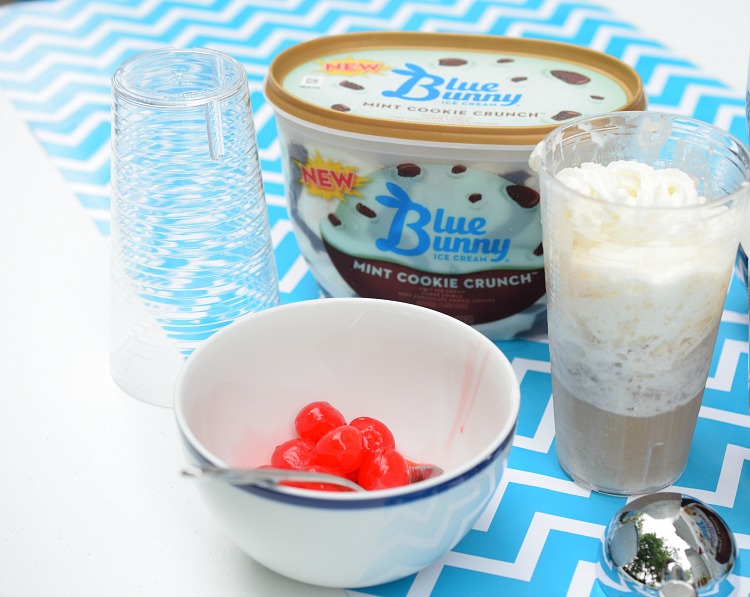 Now that my daughters are teens, they pretty much run their parties themselves. All I had to do for their party was order the pizza, get the ice cream and treats, and we were set to go! For the ice cream soda bar, I set out ice cream, some cola, and fixings like whipped cream, maraschino cherries and sprinkles.
To make the ice cream soda floats, all my daughters and their friends had to do was fill a glass with soda, and add 2-3 scoops of ice cream. They could then top their ice cream soda floats with whipped cream, cherries and/or sprinkles!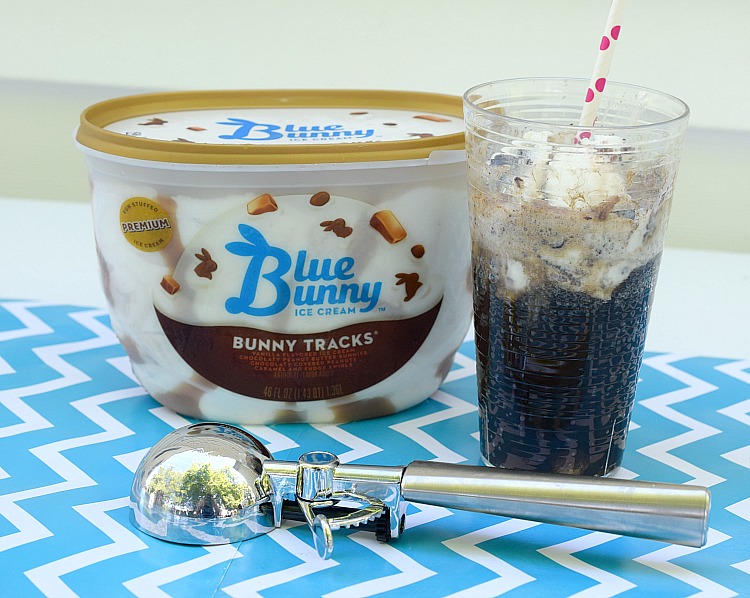 Blue Bunny® has been making fresh and delicious ice cream for more than 80 years and is sold in Walmarts nationwide. I found the Blue Bunny® ice cream in the freezer/ice cream section of my local Walmart.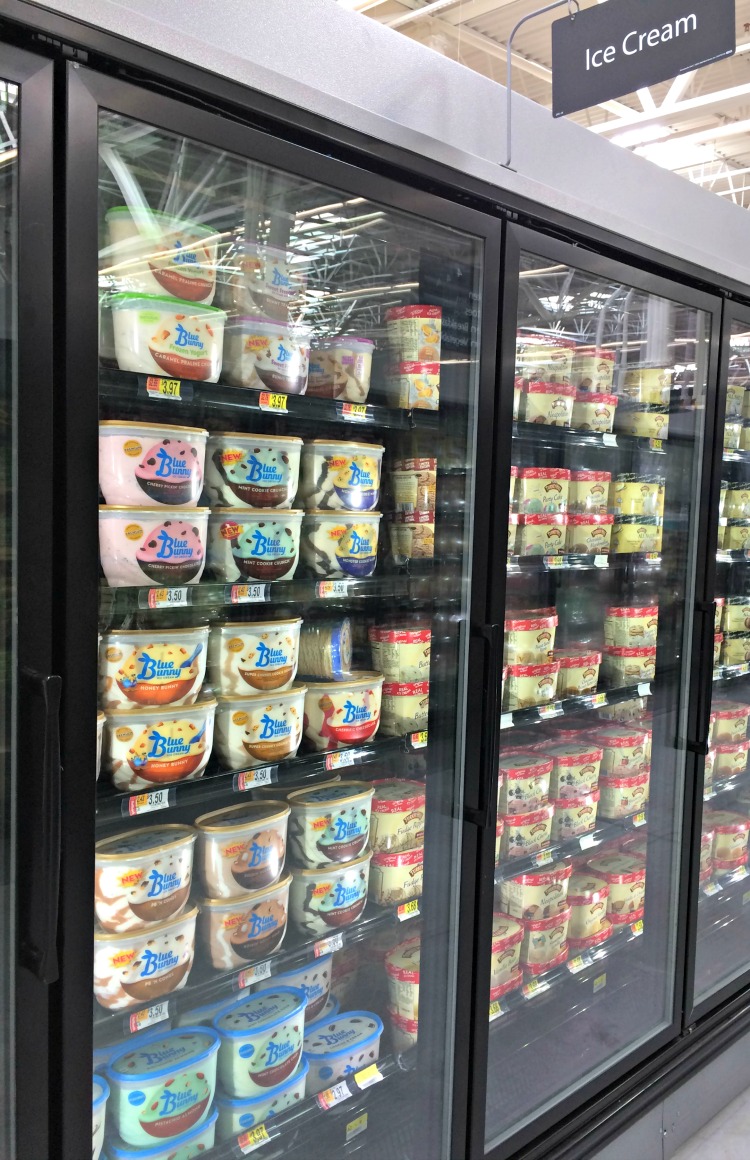 I picked up some Blue Bunny® Mint Cookie Crunch and Bunny Tracks® ice cream. I also got two packages of The Original Bomb Pop®, because who doesn't love those! I also found boxes of The Original Bomb Pop® in the ice cream section at Walmart.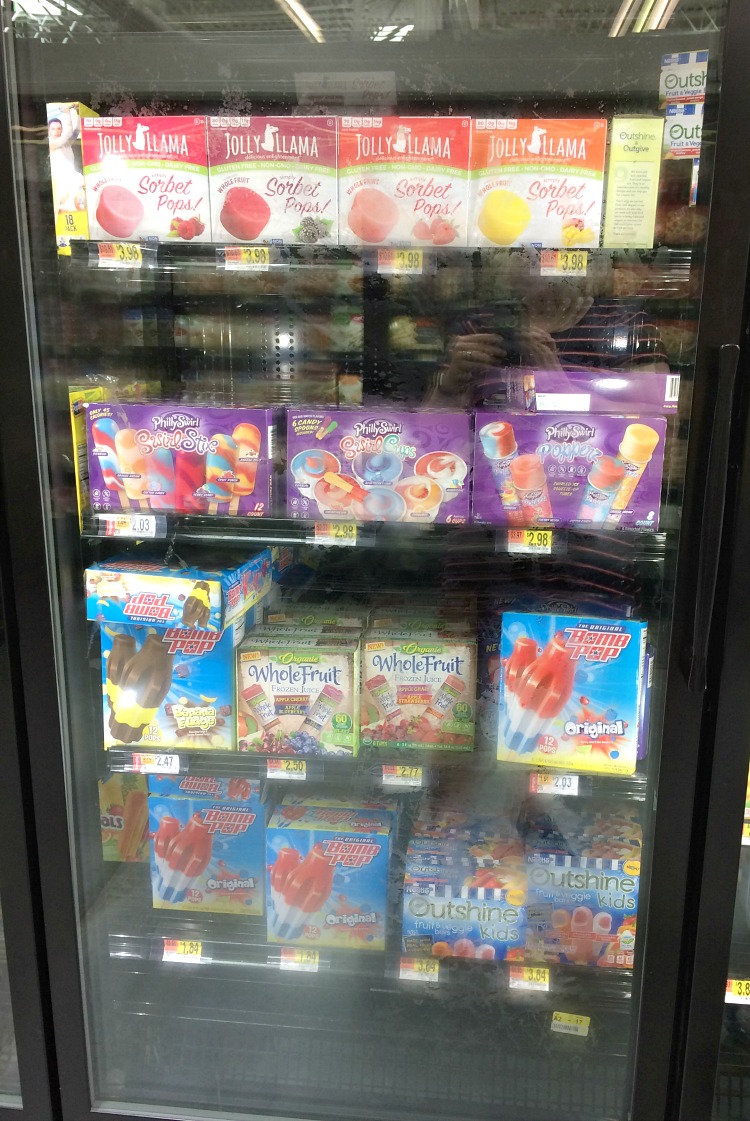 Bunny Tracks® is my favorite, with vanilla flavored ice cream with caramel and fudge swirls, chocolaty covered peanuts and peanut butter filled chocolaty bunnies. Mint Cookie Crunch has mint ice cream, fudge swirls and mint chocolate cookie chunks — that's my daughters' fave!
I love how Blue Bunny® adds a fun twist to classic summer fun ice cream flavors!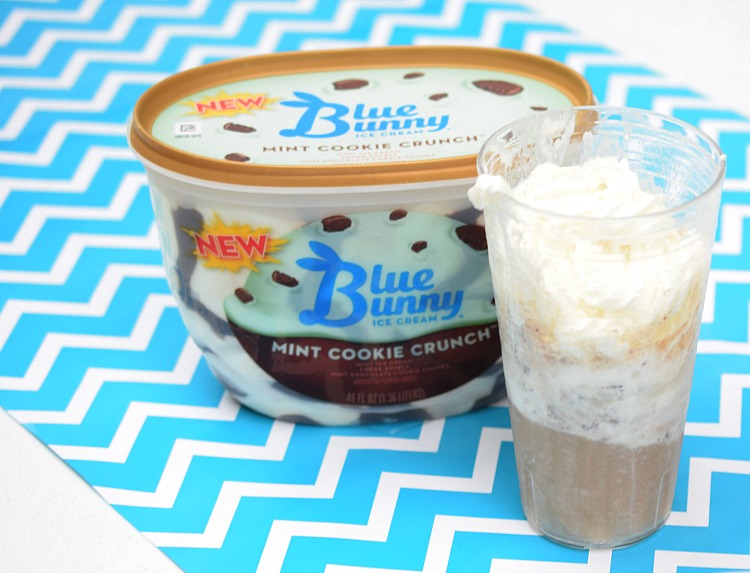 I put three different kinds of soda on our ice cream float soda bar — regular cola, cherry cola and root beer. Ice cream soda floats are more fun when you can choose your flavor of soda!
Since the party was a combination birthday/graduation party for my daughters, I made a birthday banner for them in blue and white, the school colors of the high school they'll be going to in the fall. I simply cut the pennants out of some cardstock paper, and strung them together with some washi tape.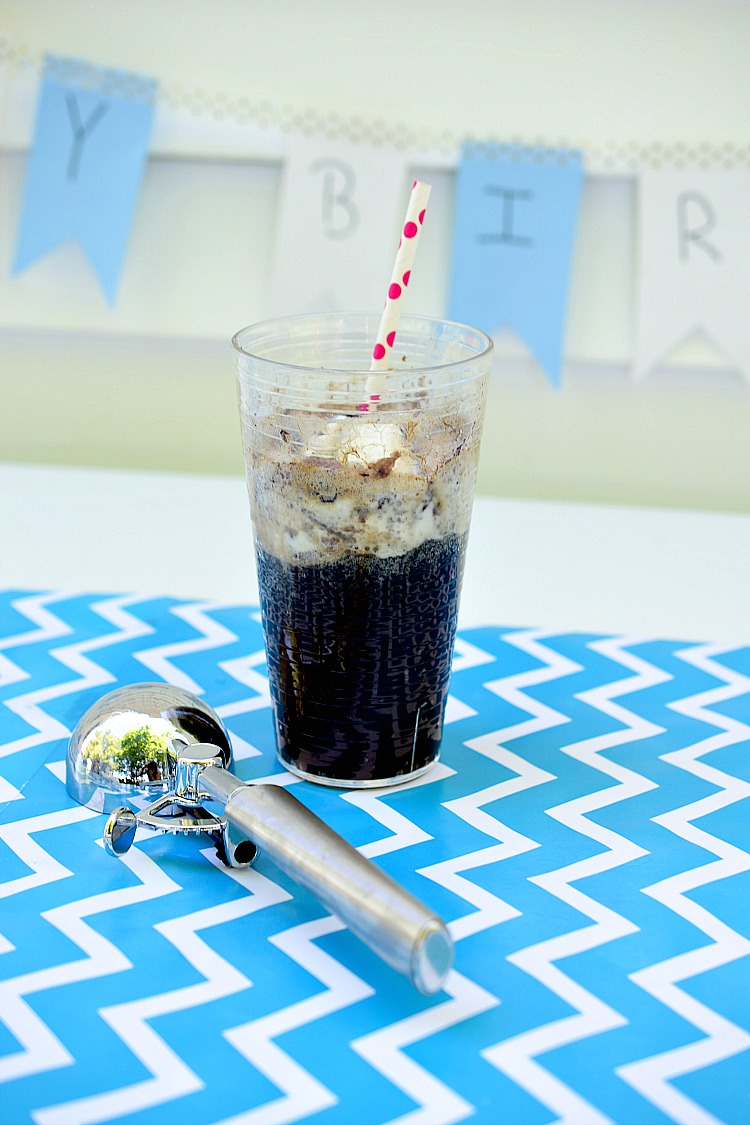 I served the The Original Bomb Pop® on the side for extra fun! (But of course, some kids thought it was fun to dip the The Original Bomb Pop® in their ice cream sodas!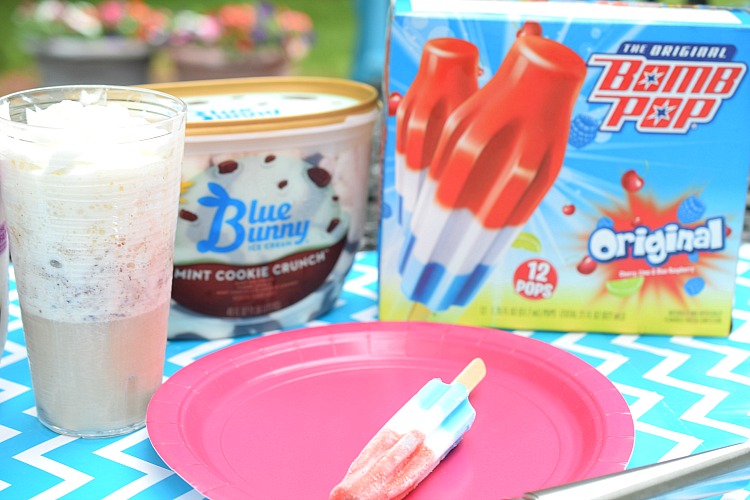 This summer The Original Bomb Pop® is pairing up with Snapchat to create a custom lens. Users hold up their camera phone while in the app and watch as their face transforms into a Bomb Pop and blasts off across the sky! On National Bomb Pop Day (June 29th) the lens will be available to Snapchat users nationwide.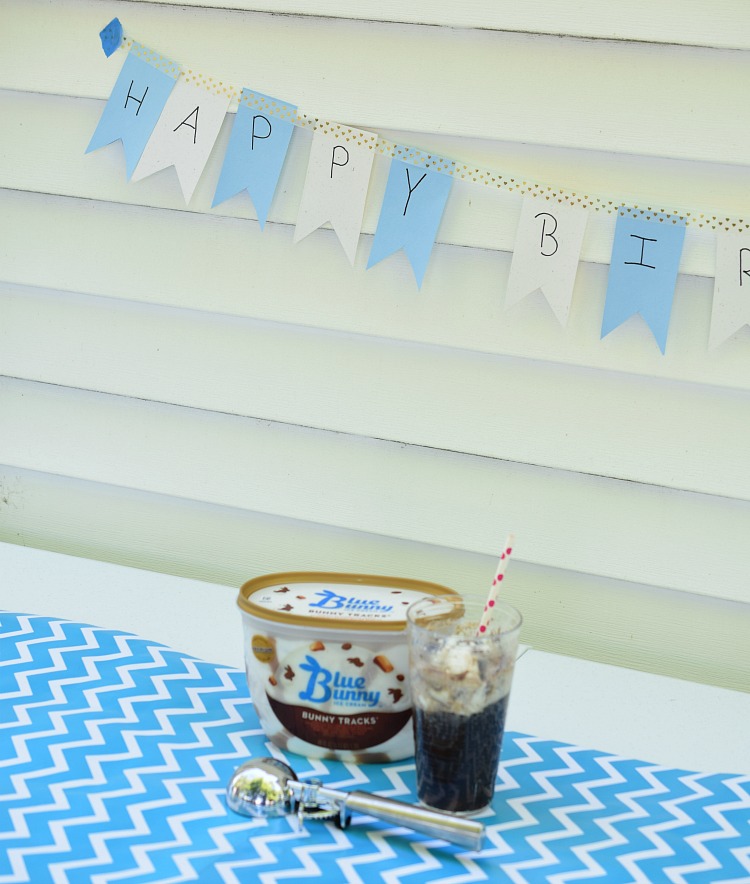 My girls will have to invite some of their friends over so they can have a fun summer Snapchat party with The Original Bomb Pop!®