*Thanks to Oriental Trading for sponsoring this review. I received free product in exchange for my honest review. This post contains Amazon affiliate links.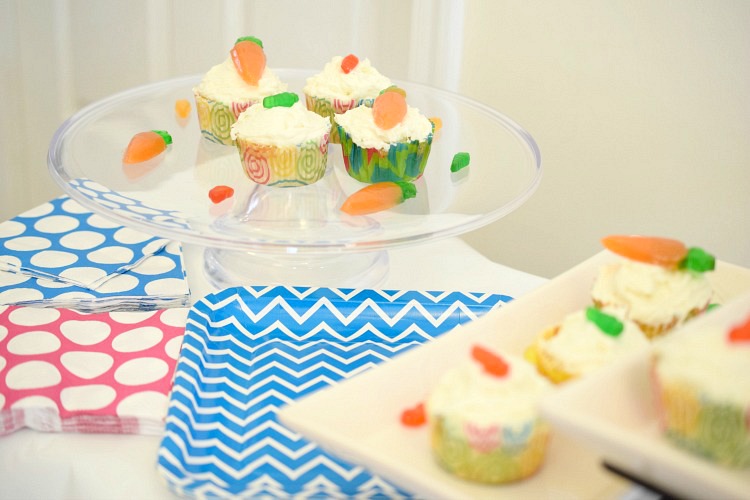 Now that spring is here and Easter is around the corner, I thought it'd be fun to come up with a party idea should my twin teens want to host a mini get-together with their friends. They all love cupcakes, so I came up with an idea for a fun spring/Easter cupcake party! The centerpiece of the party are delicious vanilla cupcakes with buttercream icing that my daughters and their friends can decorate. The recipes for the cupcakes and icing are so easy that my kids can bake them themselves.
Vanilla Cupcakes with Buttercream Icing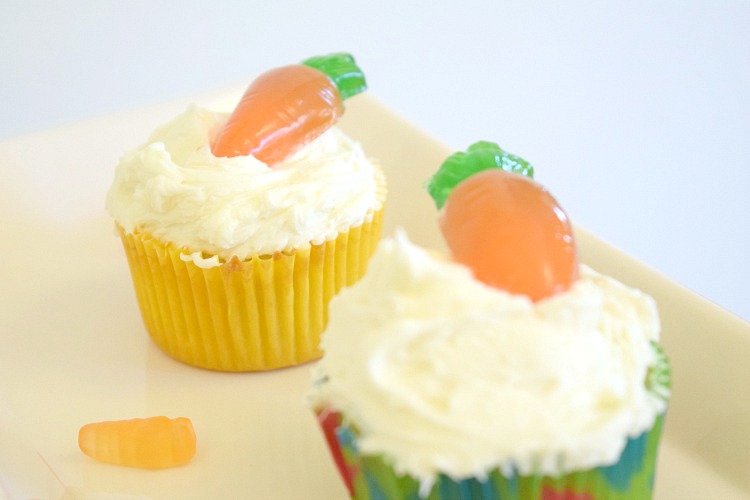 50 minutes to prepare
Yield: 12 cupcakes
Preheat oven to 350 degrees F. Line a 12-cup muffin pan with Paper Baking Cups/Liners
. Use a basking whisk
to mix the flour, baking powder and salt in a mixing bowl
. Beat the butter and sugar in a mixer (I use a KitchenAid Stand Mixer
) fitted on medium-high speed until fluffy for about 4 minutes. Beat in the eggs, scraping down the bowl with a baking spatula
as needed. Beat in the vanilla with the mixer. Reduce the mixer speed to medium low. Beat in half of the flour mixture, then all of the milk, then the remaining flour mixture until combined.
Fill the muffin pan
with batter, each about three-quarters full. Bake about 18 to 20 minutes, or until a toothpick inserted into the center of a cupcake comes out clean. (Rotate the pan halfway through baking). Transfer the pan to a Cooling Rack
and let cool 5 minutes. Remove the cupcakes to the baking rack to cool completely. Top with icing (see recipe below).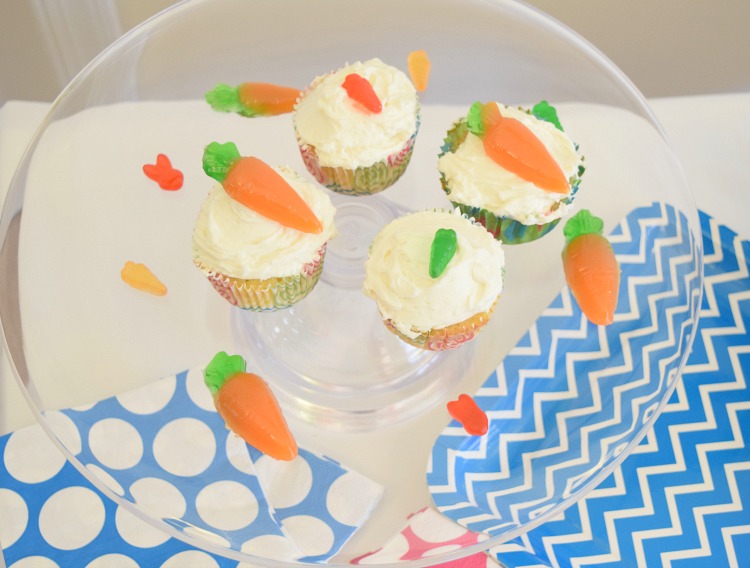 Vanilla Buttercream Icing (recipe from Food Network)
12 minutes to prepare
Yield: 10-12 servings
Mix sugar and butter together in a stand mixer. Start on low speed until well blended and then increase speed to medium and beat for another 3 minutes.
Add vanilla and cream and continue to beat on medium speed for 1 minute more, adding more cream if needed (for spreading consistency).
Easter and Spring Cupcake Party
I got many of the Easter and spring items for the cupcake party from Oriental Trading. Oriental Trading is great source for party supplies and ideas!
One item I got for the party is a footed cake stand. This clear plastic cake stand is perfect for displaying the cupcakes that my daughters and their friends will create!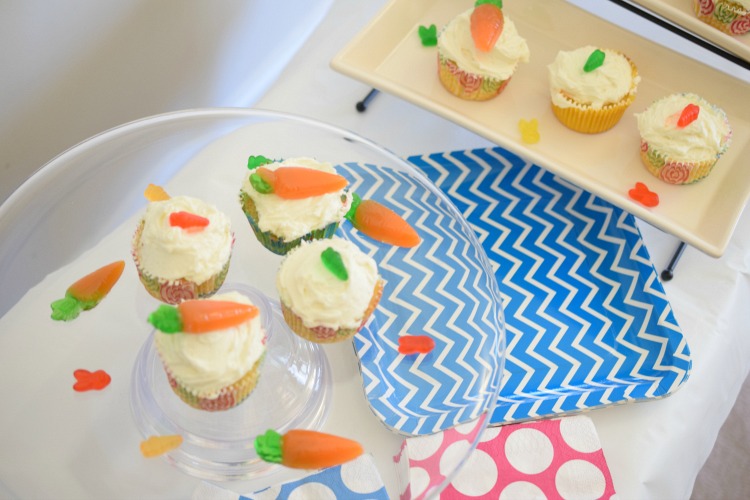 I got cute Easter Carrots Gummy Candy and Haribo Happy Hoppers Gummy Candy for decorating the cupcakes — aren't they cute? The Haribo Happy Hoppers Gummy Candy has a sweet mix of gummy carrots and bunnies in multiple colors.

The decorated cupcakes are displayed on a 3-Tier Serving Set from Oriental Trading. The set is a fun way to display the decorated cupcakes!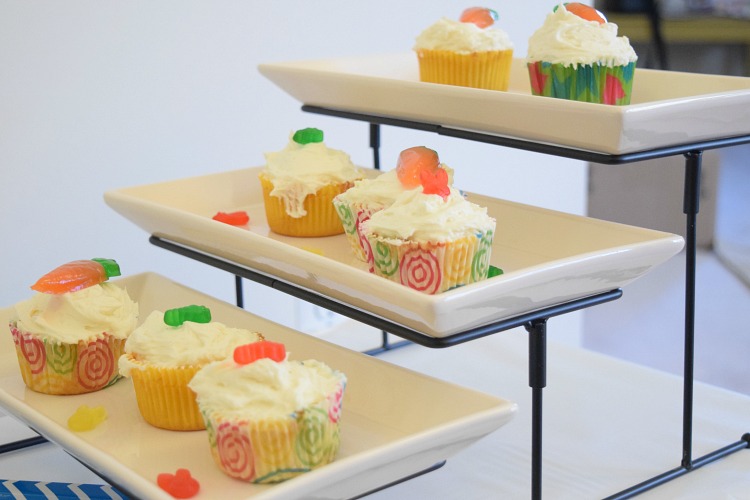 To the table, I added some pretty Turquoise Large Polka Dot Napkins, Hot Pink Large Polka Dot Napkins and Turquoise Chevron Dinner Plates for enjoying the treats. Eating cupcakes can be messy, so I covered the table with a White Plastic Tablecloth from Oriental Trading.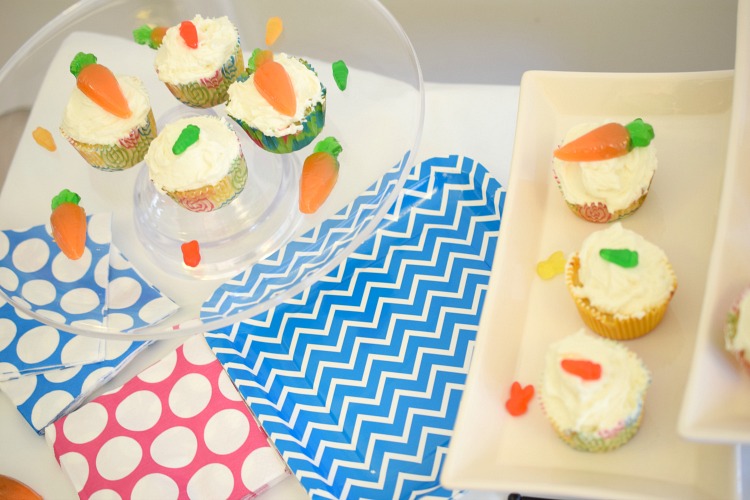 I don't think there is any way to not enjoy a spring and Easter cupcake party like this one!
This party tutorial was shared at the Creative Corner Link Up Party