This past spring, I created a fun hangout / study space / playroom for my kids in an upstairs hallway. The hallway used to have a big desk in it that nobody in my family was using and bare, white walls. So I decided to make the large hallway into a cool space my kids could use. A new feature of the wall is our a striped chalkboard paint wall.
I painted a green accent wall, added a fun wall decal and added some beanbag chairs and a TV. Now, my daughters like to play and read on their Kindles and watch TV in the new hangout space / playroom. I also moved their Calico Critters dollhouse to the space, which has given my daughters a fun area in which to play with their dollhouse.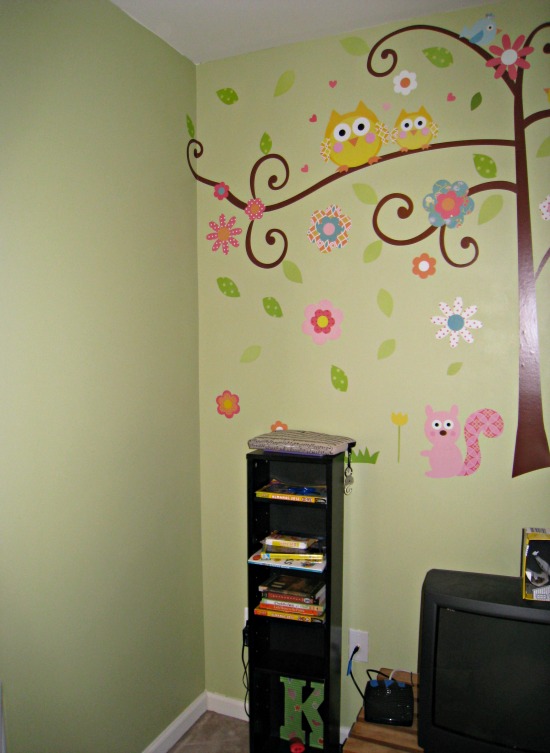 DIY Chalkboard Paint Walls
I was given the chance to try out the chalkboard paints from Lullaby Paints. I was happy to, since Lullaby Paints' low-VOC paints are made without the toxic chemicals found in so many other paints, so the paint should be safe for my kids and their playroom. Lullaby Paints come in a variety of colors — they can also color-match colors to make your own personal shade.
I chose their "Starlight" yellow chalkboard paint, a happy color that goes well with the greens, blues and yellows in the wall mural in my kids' new hangout space. I decided to add two yellow stripes on one wall in their space to add a splash of color and two chalkboard areas where my kids can write and draw.
Lullaby Paints sent me a chalkboard kit complete with everything I needed to paint my chalkboard paint wall: A tube of paint to cover 30 square feet of wall space with two coats of paint, a mini plastic paint tray, a foam paint roller and a roll of blue edging tape. The kit also included a few pieces of chalk.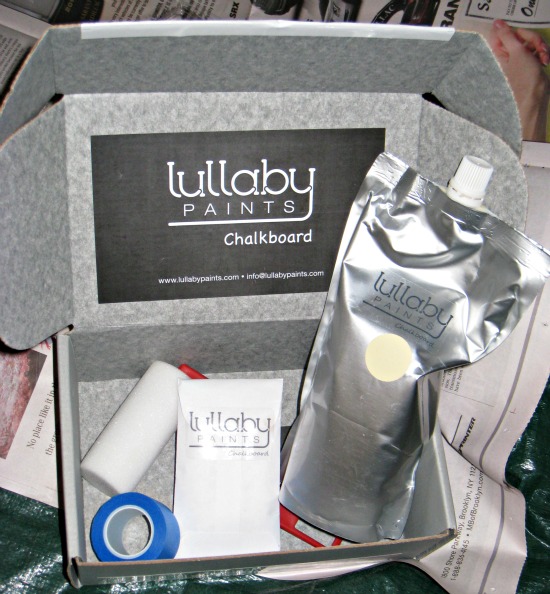 Painting a Striped Wall
Creating my striped chalkboard paint wall was easy: I measured out my wall and figured I could paint two equally sized chalkboard stripes on the wall. I made painting my striped chalkboard paint wall easy by putting my strips of chalkboard in the middle of my wall, so I wouldn't have to paint up against the white ceiling or the white baseboard.
After taping off my two chalkboard areas and putting down a painting tarp, I got to work. I put a piece of the edging tape in each area I didn't want to paint to make sure I didn't add my stripes in the wrong place! (LOL)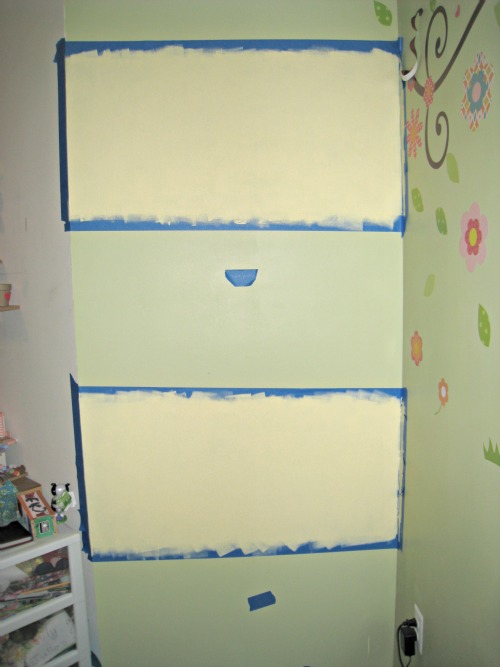 It took less than an hour to paint my two chalkboard areas. I let the paint dry for two hours before applying my second coat, but I probably didn't have to: The paint dried so quickly!
Chalkboard Paint Wall
In less than an afternoon's time, I had a pretty yellow and green striped chalkboard paint wall.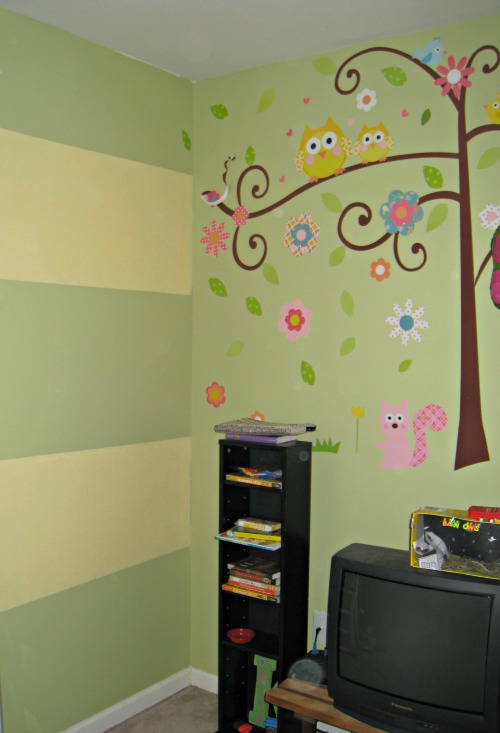 My kids love using their new chalkboard paint wall!
Plus, I have lots of chalkboard paint left. I am thinking of painting the old wood coffee table in that space (that now serves as a TV stand) to add even more color to the space! I will have to let you know how that project comes out.