This post was sponsored by Krusteaz, maker of premium pancake and waffle mixes, in exchange for my honest review and opinion. This post contains Amazon affiliate links.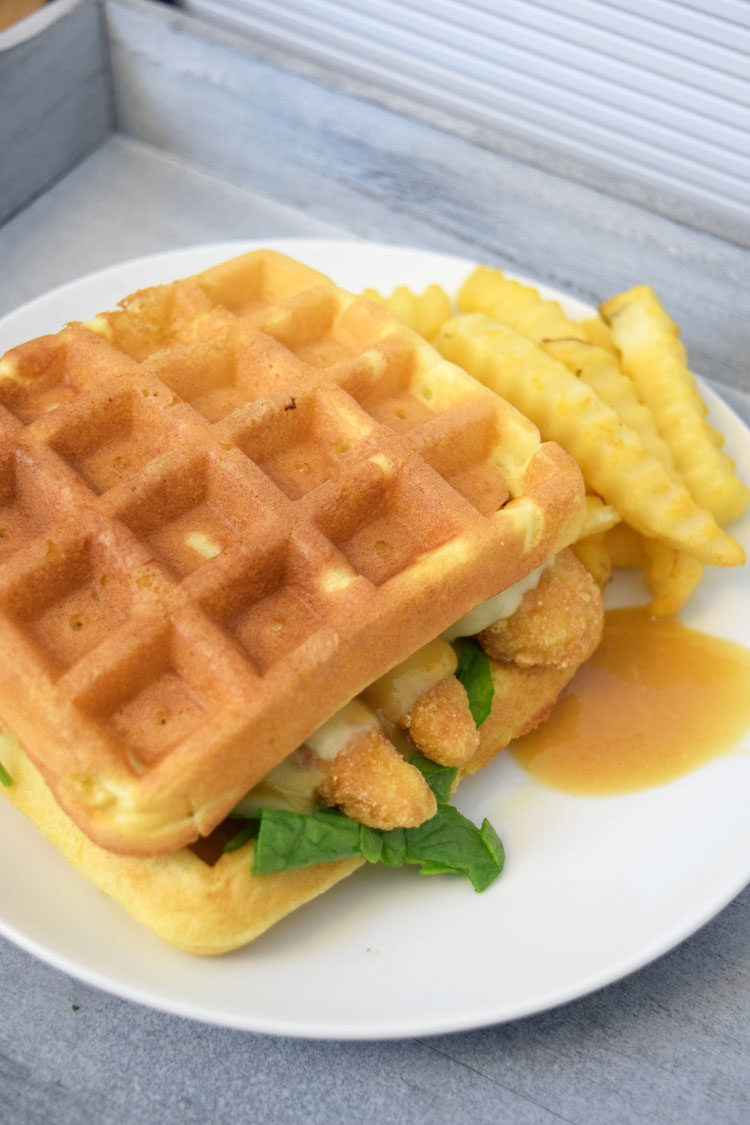 It can be difficult to come up with new dinner recipes every week. I adore breakfast — especially waffles, so I thought it would be fun to cook up a breakfast-themed dinner for my family. My daughters were excited about the idea, so I made my breakfast for dinner recipe yesterday. It was a fantastic dinner! I think I'm going to work this new meal idea into our weekly meal rotation.
If you'd like to give my recipe a try, this month — February — is a great time to try it! That's because February is National Hot Breakfast Month. So why not celebrate with a delicious breakfast for dinner meal?
I recently received some pancake and waffle mixes from Krusteaz, maker of premium pancake and waffle mixes. I received some Buttermilk Pancake Mix, Protein Buttermilk Pancake Mix and Belgian Waffle Mix.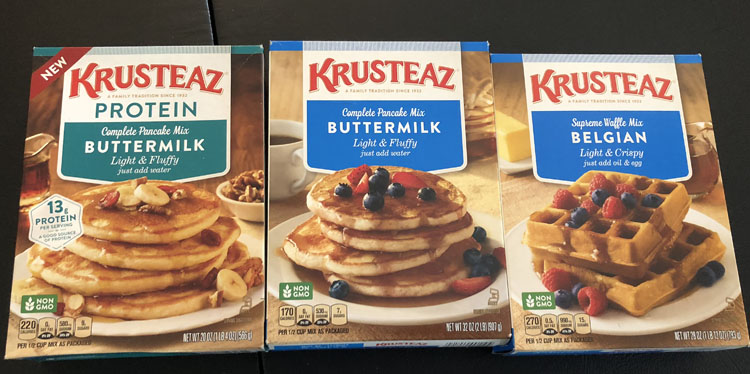 Chicken & Waffle Sandwich Recipe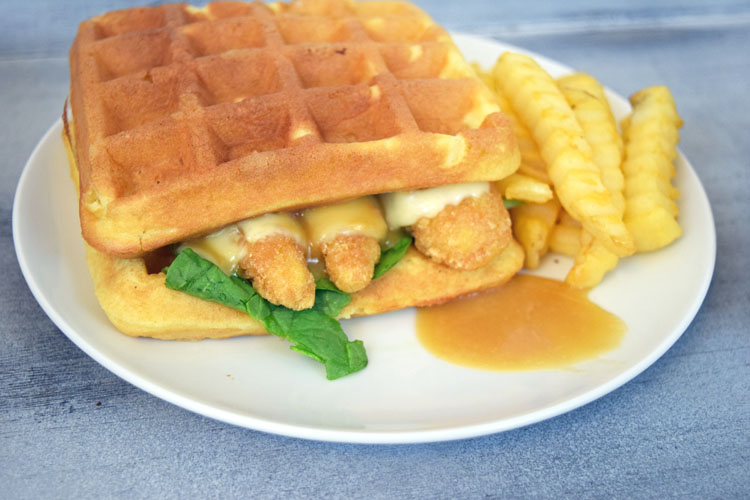 I'm a fan of Belgian waffles, so I decided to use Krusteaz's Belgian Waffle Mix for my recipe. The mix makes it easy to whip up some Belgian waffles — I just need to add egg, water and oil to the mix, and heat up the batter on my waffle maker.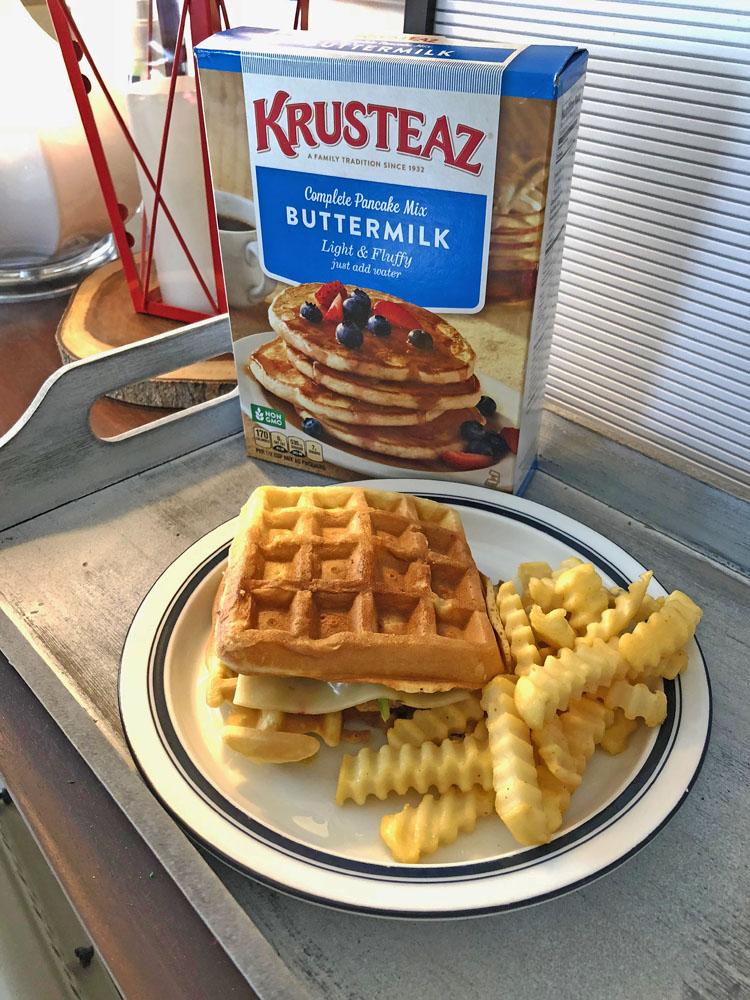 Up until yesterday, I had never eaten chicken and waffles. I was always curious about the dish and thought it would be fun to make my own version by turning this classic American dish into a sandwich!
Ingredients
Krusteaz Belgian Waffle Mix (make two waffles per person)
Water, Egg and Oil (Amount as noted on Krusteaz Belgian Waffle mix box)
Pepper Jack Cheese slices
Frozen cooked chicken tenders (enough for 3 tenders per person)
Spinach
Honey Mustard
Maple Syrup
Directions
Heat up a waffle iron
. Prepare the Krusteaz Belgian Waffle mix according to the recipe on the box, being sure to fully mix in the egg, water and oil.
Following the instructions for your waffle iron, make two waffles per person. (On my waffle iron, I cook each waffle for two minutes and 10 seconds. Your waffle iron may require more or less time.)
Prepare the chicken tenders (as specified by the product. The chicken tenders I used recommended microwaving 2-3 tenders at a time for about two minutes.) Place tenders on a waffle. Add a slice of pepper jack cheese and some spinach or lettuce. (If desired, add some maple syrup honey mustard sauce — see recipe below).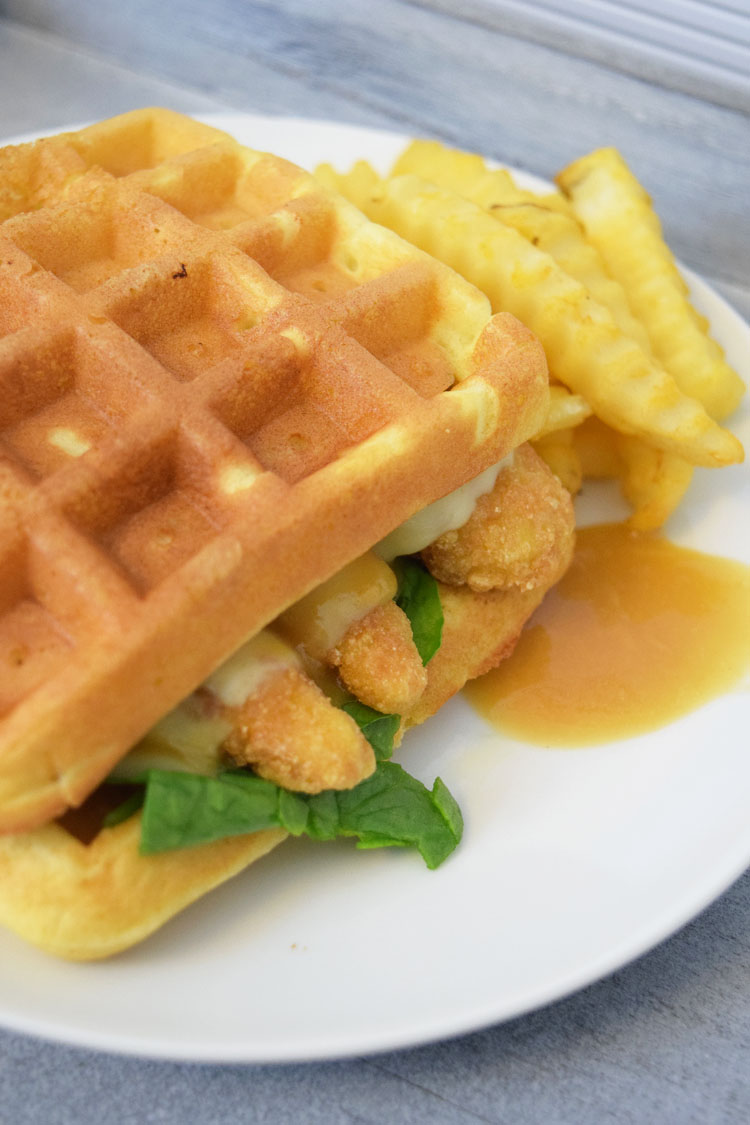 Microwave the sandwich for about 30 seconds, or until the cheese has melted.
If desired, serve each chicken and waffle sandwich with French fries. (I simply heated up some frozen french fries in a toaster oven.)
Maple Honey Mustard Sauce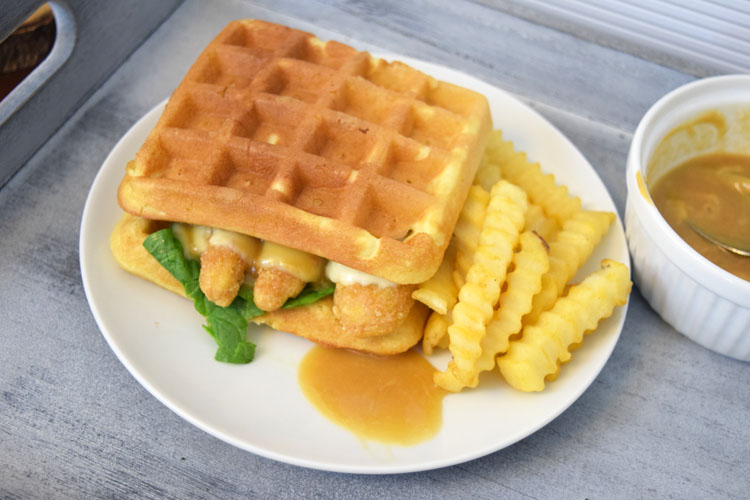 Maple syrup is a must (in my opinion) and one of my daughters love honey mustard with fried chicken, so I decided to combine the two to make a delicious maple honey mustard sauce for our chicken and waffle sandwiches. To make the sauce, I simply mixed about 1/4 cup honey mustard with two tablespoons of maple syrup. This sauce is perfect as a condiment for the chicken and waffle sandwiches and for a side of fries!
My family and I liked this breakfast for dinner recipe so much that I plan to schedule another waffles for dinner meal. I'm thinking maybe bacon and egg sandwiches or waffle grilled cheese. If you have ay waffle sandwich recipes you think I should try, let me know!