I just love casseroles – who wouldn't? I am a big fan of cheese (which most casseroles include), and I adore the ease of making a casserole for dinner. All I have to do is assemble the ingredients, add them to my casserole dish, place it in the oven, and I am done! It's also great that I can get a casserole started for dinner while my kids are in school.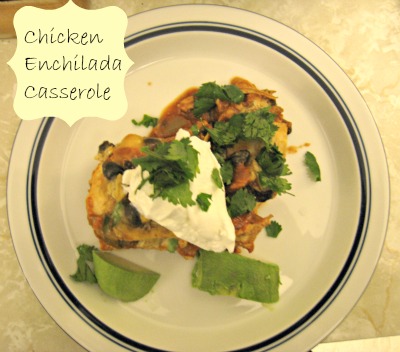 Easy Weeknight Dinner
My kids like Mexican food like tacos, fajitas and enchiladas, so recently, I made them a chicken enchilada casserole for dinner. The meal is a cinch to prepare, and the best part about it is that the dish can be tailored for each person's tastes. I serve the unadulterated version of this casserole to my kids, serve the casserole with some sour cream for myself, and on both my husband's and my portion of casserole, I add cilantro and slices of avocado on top. I just love avocado! For those of you who would like to try this dish, check out my recipe below.
Enter to Win
Perhaps you have a casserole recipe that your friends and family rave about. If so, you might want to enter it in the Country Crock Stars contest. To enter the contest, visit the Country Crock Facebook page and share a photo of your favorite casserole, and share in 100 words how you demonstrate creativity and resourcefulness in the kitchen. Three finalists will win $5,000 – that's a lot of enchiladas – and a trip for two to New York City. Twelve semi-finalists will win cookware. Good luck!
Chicken Enchilada Casserole Recipe
6 to 9 large flour tortillas
3 cups cooked and shredded chicken
1 1/2 cup jarred salsa
1 can black beans
1 tsp. chili powder
1 tsp. cumin
1 8-oz. bag shredded cheddar cheese (or mix of Mexican cheeses)
1 (10-oz)  can enchilada sauce
2 tablespoons Country Crock® Spread
Instructions
Preheat your oven to 350 degrees F.
Lightly coat the bottom and sides of your casserole dish with Country Crock® Spread.
In a large bowl, combine your cooked/shredded chicken, beans, salsa and spices and stir until well-mixed.
Line your casserole dish with three tortillas
Spread your chicken mixture over the tortillas
Evenly cover the chicken mixture with shredded cheese
Coat the chicken/cheese topping with about 1/3 of your enchilada sauce
Add layers of tortilla, chicken mixture, cheese and enchilada sauce, ending with a layer of cheese.
Cover your ingredients and your casserole dish with foil and bake at 350 degrees for about 30 minutes covered, and an additional 5-10 minutes with the casserole uncovered to melt the cheese.
Enjoy!
I was selected for this opportunity as a member of Clever Girls Collective, and the content and opinions expressed here are all my own.